Arrivals at the Port of San Francisco: 1800s
---
Steamships at San Francisco
° Clippers ° Steamships ° Shipping Lines ° Ship Builders ° Vessels and Rigging ° Shipwrecks
Note: The following list is incomplete. The main focus is passenger ships, however, other
West Coast steamships are added as details are located and time permits.
SS Alaska
July 29, 1874, Los Angeles Herald
San Francisco, July 28: The Alaska took 346 passengers for China and Japan, 570 tons of merchandise, and $217,000 treasure.
October 2, 1874, Daily Alta California
The "Alaska" on the Rocks at Hongkong
New York, October 1st.— The Pacific Mail Steamship Company have received a dispatch stating that the side-wheel steamer Alaska, while undergoing repairs at Aberdeen, five miles from Hongkong, was blown ashore in the late typhoon, but was not sinking or leaking. The despatch also states that she will come off at next highwater. Another despatch from Hongkong states that in the typhoon of September 21st the steamship Alaska was blown ashore, and is now on the rocks. Up to the present she has made no water, and hopes are entertained that she may be got off. The vessel is worth $500,000 insured.
December 24, 1874, Daily Alta California: The steamer Alaska is afloat. She makes no water and shows no strain. We must change her shiaft, and can dispatch her January 6th.
SS America
Builder/Owner: William H. Brown, New York. Launched: April 1853. Wooden side-wheel steamer. 2 decks, 3 masts, round stern, no head. 922 tons. 201 feet.
Sailed from New York for Aspinwall with passengers on October 20, 1853. Continued to San Francisco, where she entered the coastwise service northward to Humboldt Bay, Crescent City, Port Orford, and the Umpqua River. Burned at Crescent City, June 1855.
SS America
Built at Niagara-on-the-Lake, Ontario, 1854-55. Original Owner: Great Western RR Company. Rebuilt by Samuel Sneeden, Greenpoint, 1858. New Owner: Peter A. Hargous. Name changed to Coatzocoalcos in 1859. Sold.
Chartered to the Quartermaster's Department, War Department in 1861 and 1862 from $1200 to $1400 per day. Name changed to America in 1862. Operated from New York to San Juan del Sur, Nicaragua for the Central American Transit Company. Her last sailing from San Francisco for the Transit Company was on February 15, 1868. The America burned at San Juan del Sur on April 11, 1869.
SS America
1880: Liverpool to San Francisco July 14, 1854: The steamship America was sold, under a judgment of the United States Court, to Messrs. Lucas, Turner & Co., for $95,000 (not sure if this is the same vessel).
SS Antelope
Builder: Bishop and Simonson, New York. Launched: June 17, 1847. Sailed form New York for San Juan del Sur on May 18, 1850. She operated between Panama and San Francisco for George Law between October 1850 and March 1851, when she was sold to the Pacific Mail Steamship Company for $92,000 to become one of fourteen steamers comprising Pacific Mail's fleet during the early 1850s. The Antelope was a smaller steamers of the line and ran routinely between Panama and San Francisco, and to Northern ports such as Astoria, Oregon.
SS Ariel
1,290 tons burthen
Daily Alta California, January 31,1863
What Com. Vanderbilt says of the Capture of the Ariel
Before the return of the Ariel to New York, one of the reporters of the N.Y. Tribune visited Commodore Vanderbilt to obtain for publication any suggestions he might choose to make respecting his line of California steamers and the capture of the Ariel. He said he knew nothing of the capture and detention (for three days) of the Ariel, except what he learned from the newspapers. In his judgment, one strong and swift war steamer would be sufficient to guard the California gold. Let such a steamer be sent to Aspinwall and be employed as a convey to accompany each California vessel two days into the Caribbean Sea and within a short distance of Cuba, where we have ample protection. Months ago, he made a suggestion to the Government that such a vessel, making ten or twelve miles an hour, could follow each California steamer two or three days through the dangerous passages, and not be occupied more than half the time. Such a steamer could go from Aspinwall to the north end of Cuba in three days, return in three days more, and have four days to spare before the arrival of another vessel from California; since the California steamers sail ten days apart. The Commodore said the Ariel was sufficiently well armed to have protected herself. She is a steamer of 1,290 tons burthen, and had on board 120 marines for the Pacific squadron. There is no doubt, she could have run down the Alabama. We have over 400 vessels in our Navy, and the Commodore thinks it is passing strange that we have not yet captured that pest of the seas, the rebel Alabama. When her commander (Semmes) proclaims his intention to steer toward Europe, we have every reason to believe he will take a different course.
Australia
Daily Alta California, February 10, 1876
The following will be interesting to our Australian neighbors and all intending passengers on the Australian route, as descriptive of the two British steamers of the service: The "Zealandia" and "Australia" are sister steamships, built specially by the well-known firm of John Elder & Co., Glasgow, for the new mall service between San Francisco anil the Colonies of New South Wales and New Zealand. For the purposes of the service five powerful steamships are required: three of these— the "City of San Francisco," "City of New York" and "City of Sydney," each 3500 tons, 600 horse power, have been built by the Pacific Mall Company, at Chester, Delaware, U. S. A. The "Zealandia" and "Australia" complete the fleet, and have to proceed by the Cape of Good Hope to Australia to take up their stations on the mail route. They are expected to make the voyage to Melbourne within 43 days.
The "Australia" is now at her loading berth in the southwest India Dock. The dimensions are: length 370 feet; beam, 371/2 feet; depth from base line (bottom of floors) to spar deck, 28 feet, 8 inches; depth of hold from top of floors to main deck, 19 feet; tonnage, about 3,000 British measurement. The engines, of 500 horse-power, nominal, working up to 2400 horse-power, effective, are compound, with two cylinders of 62 inches, and one cylinder of 45 inches in diameter; stroke, 4 feet, 3 inches. They take three grips of the crank shaft, instead of two, as is usual in marine engines, and the result is a steady, quiet movement, almost, inaudible in the saloon, even when the engines are working at high pressure.
The sleeping cabins for first-class passengers are of a very superior character, most of them being placed on the main deck, forward of the spacious dining saloon. A number of state rooms on the upper or hurricane dock are arranged for two passengers only, while a few are admirably adapted for families, they are covered by a light and elegant deck, affording an elegant promenade for passengers during the day time, and projecting sufficiently over each side to provide both an awning for the cabins and a roomy sheltered walk. The windows and venetian blinds, with which these cabins are fitted, must make them exceedingly light and airy. The dining saloon is very handsome, extending across the ship from side to side, with four tables running fore and aft the entire length. It ' measures 60 feet by 38 feet, with sixteen inside ports, and is lighted and ventilated by a lofty dome-shaped skylight, which is one of the most striking features of tbe ship. Contrary to custom, the saloon is placed forward of the funnel, thus escaping the smoke and heat from the engtue room. The "Australia" has accommodation tor 164 first-class, 24 second-class, and 85 thlrd-class passengers. The American overland route to the Australian Colonies promisos now to be reliable and efficient, and intending passengers will find every information willingly supplied to them by Messrs. Lawrence, Clark & & Co., of Great St. Helens, the London Agents for the line. - Illustrated London News. Jan 15, 1876.
SS Brother Jonathan
Builder: Perine, Patterson and Stack at Williamsburg, New York, 1850-51. Engines: Morgan Iron Works. Original Owner: Edward Mills, who was also superintendent of construction. Launch: November 2, 1850. 1181 tons, 221 feet. (Note: One source cites her as 230 feet over all, and 1360 tons.) Hull: White oak, live, oak, locust and cedar. She had two decks, two masts, round stern, and a sharp bow with a short bowsprit. Her main salon was 70 feet long with 12 staterooms on each side, and she had berths for 365 passengers.
The following article from the Daily Alta California was located and transcribed by John Ireland:
Daily Alta California, March 3, 1851
New Steamship Brother Jonathan -- A private letter from Edward Mills, Esq., of New York, speaking of the new and magnificent steamship Brother Jonathan, which is now preparing to sail for this port, says: She is one of the finest steamers ever built here and is equal to any other in point of speed - she has fine lines and great power - no boat has so much in proportion to her size. Her dimensions are 220 feet keel, 36 feet beam, 21 feet deep - solid floors, iron diagonal braces from Coaged and Kelson. In fact, she is as strong as wood, iron and copper can make her, and will only draw on the river 8 1/2 feet. Her cabins are well ventilated for warm climates, and the saloons finished with white enamel gold. The engine is 72 inch cylinder, 11 feet stroke, flue boiler 12 feet schell and 28 long; wheel 33 feet in diameter, 9 feet face, 30 inch bucket and 4 feet dip. She is the same power as the celebrated steamers Oregon, Vanderbilt and Bay State, and I know no reason why she should not have nearly even speed. I think she is worthy of the regards of the Californians.

The Brother Jonathan, from all we can learn, is superior in point of comfort to any vessel yet launched for this trade, and was built under the direction of E. Mills, Esq., her owner.
She sailed between New York and Chagres in 1851 and 1852. In 1852 she was sold to Cornelius Vanderbilt who rebuilt her, extending her capacity to 750 passengers, then cleared New York for San Francisco on May 14, 1852 to become one of Vanderbilt's San Francisco -- San Juan del Sur ships. She was under the command of Captain James Henry Blethen, Sr. during part of this time.
January 3, 1856, Daily Alta California.
STEAMER FOR NICARAGUA.
We understand that the representatives of the Nicaragua Republic have decided to make the purchase of the Brother Jonathan, provided she will ear the inspection to which she will be submitted by a competent committee upon her arrival from the upper coast whither she went a few days since. We learn from Col. Kewen that he has had ten thousand applications from persons anxious to join the expedition, but are deterred from going for want of a suitable means of transportation. If the Government can succeed in obtaining a steamer the desires of these applicants can be gratified.
On April 22, 1858, the big side-wheeler Commodore steamed out through the Golden Gate bound for Victoria on Vancouver Island. Crowding Blacks in Gold Rush California, Rudolph M. Lapp wrote: On this voyage one group of passengers had mixed reasons for leaving California. Two hundred and fifty African American men, women and children had booked passage that April 22nd, anticipating the economic opportunities the latest Western mining rush had to offer, and leaving behind what they regarded as a state with a troubled racial climate. California's state legislature seemed to be moving rapidly toward passage of a law restricting Negro immigration. The more congenial racial climate of British Columbia, along with economic opportunities associated with the Fraser River gold rush, swayed opinion in favor of Canada. The majority of the 250 voyagers on the Commodore came from San Francisco, but a fair number came from Sacramento and other Central Valley communities as well. Other African-Americans followed in the Commodore's wake, despite the fact that the anti-immigration bill failed. The Brother Jonathan was subsequently sold to Captain John T. Wright and the California Steam Navigation Company and extensively rebuilt at San Francisco in 1861. Captain Wright renamed her the Commodore and sailed her between San Francisco and Seattle.
Sailors say it is bad luck to rename a ship, and indeed, even though her name was changed back to Brother Jonathan soon after that voyage, her sailing days ended in one of the worst disasters in California Maritime history when the 1,359 ton steamship sunk on July 30, 1865 under Captain Samuel de Wolf's command. Ignoring Captain de Wolf's desires, shipping agents severely overloaded the vessel. Enroute to Portland from San Francisco she struck St. George Reef (near Crescent City) and sunk, taking at least 166 persons with her to the bottom. This was one of the worst disasters in Maritime history. At least 166 people went with her to the bottom.
The following was received June 1, 1999 from Bob Smith, author:
Maritime Museums of North America

I was particularly interested to see if you may have included the ill-fated Brother Jonathan in your listings. And, of course, you have. My interest stems from a little article I wrote a few years ago about one Victor Smith who, in 1865, "stole" the customs house in Port Townsend (WA) and transferred to the community he created 40-or-so miles west called Port Angeles. There's more to the story but suffice to say, Victor and his arch enemy in Port Angeles were both aboard the Brother Jonathan when she sank -- and died. And now, Deep Sea Research (DSR) has successfully prevailed in legal actions started by the State of California claiming that the State owned the wreck found by DSR. Not so, says the Supreme Court. So the salvage has begun including the sale, just last week (5/20/99) of one artifact for $100,000 which will be displayed by the new owner. But more important, DSR is making it possible for all to become much more familiar with this shipwreck, its passengers where only about 19 survived of the over 200 on board, and all about the vessel itself. So, you might want to update your Brother Jonathan item with a bit of information on the discovery and salvage.
SS California
Builder: William H. Webb, New York, 1848. Original Owner: Pacific Mail Steamship Company. Launch: May 19, 1848. 199 feet, 1,057 tons, 2 decks, 3 masts, round stern, 1057 tons, with a capacity of 210 passengers. She cost $200,082 to build.
The first of three Pacific Mail steamers to depart for the newly acquired Pacific Coast of the United States. She was equipped to accommodate 60 saloon passengers and 150 in steerage. The side-wheeler cleared New York on October 6, 1848 almost empty for lack of business.
However, On December 5, 1848, President James Polk officially acknowledged to Congress that gold had been discovered on California's American River. By the time the California reached Panama on January 17, 1849, she "was greeted by a mob of gold-seekers, mostly Americans, demanding passage north."
The vessel, which was built to carry cargo, not passengers, was pressed into service and immediately overcrowded to "utmost capacity" with passengers trying to get off the Isthmus to California. She was the first steamship to arrive in San Francisco Bay (February 28, 1849), and was followed by Pacific Mail's Oregon and Panama, both of which were also filled beyond capacity at Panama with gold seekers. On April 24, 1852, off the Island of Santa Cruz in the Santa Barbara Channel, enroute from Panama to San Francisco, and crowded with 500 passengers, the California had a a complete breakdown of her machinery. The weather and sea were calm, so she was able to enter San Pedro under sail.
The California was soon dwarfed by much larger ships built to carry passengers to the gold fields and was converted into a sailing ship, but she operated regularly between San Francisco and Panama from 1849 to 1854, then was put to use as a spare steamer in 1856. She made voyages from San Francisco to Panama in 1860, 61 and 66. The California was then sold to Holladay and Brenham's California, Oregon and Mexico Steamship Company, but returned to the ownership of Pacific Mail in 1872. In 1874, she was sold to Goodall, Nelson and Perkins, who operated her in local coastwise service from San Francisco until the end of 1875, when her engines were removed and her hull sold to N. Richard. Rigged as a bark, she was engaged in the coal-and-lumber trade until she wrecked near Pacasmayo, Peru in 1895.
SS Carolina
Builder: Charles and William Cramp, Philadelphia, 1849. Original Owner: S.H. Reynolds.
The Pacific Mail Steamship company bought her immediately and she was put into dry dock to be coppered and have her upper cabin extended for the San Francisco-Panama route. She sailed from New York for San Francisco on January 9, 1850, arriving in San Francisco on May 7, 1850. On her May 7, 1850 sailing to San Francisco from Panama via Acapulco, Mazatlan, San Diego and Monterey, she established the quickest time on record as of that date for any class of vessel on the same route, either steamer or sail. She operated on the San Francisco-Panama line until the end of 1851 and was sold for service in China in 1854.
SS Chesapeake
By mid-1863, the steamship Chesapeake was part of the Civil War fleet. In June, she left Brown's wharf armed with two rifled six pounder guns, about 30 men from the 7th Maine regiment and about 30 civilian volunteers. As the wind was "a meerest puff of a south wind" about 50 sailing ships were becalmed in the harbor. During the Civil War, the Chesapeake was seized by privateers who used a forged Confederate letter of marque. Although privateering was legal, because of the forged document the raiders were tried in Halifax.
SS City of New York
The City of New York" was an iron built, 3,019 gross ton, screw propulsion steamer with a speed of 14 knots. She was built in 1875 by Roach, Chester, PA for the Pacific Mail Steamship Co. and sailed on her first voyage from San Francisco to Kandavau (Fiji) and Sydney on 24th April 1876. On 26th October 1893 she was wrecked on Point Bonita, San Francisco Bay. The company ran a service between San Francisco, Fiji, Honolulu and Australia / New Zealand ports and from 1879, advertised in the London Times "An overland route from Britain to Australia, New Zealand, China, etc, via New York and San Francisco in connection with the Anchor Line from London or Glasgow to New York. Through tickets are available."
SS City of Para
Click to view sailings and other information.
SS City of Pittsburg
Daily Alta California, December 7, 1852

THE STEAMSHIP CITY OF PITTSBURG
DESTROYED BY FIRE

The steam propeller, City of Pittsburg, from New York for this Port was entirely destroyed by fire in the harbor of Valparaiso on the night of the 24th of October. She was a fine new steamer of 3,368 tons measurement, and cost $300,000.00, for which amount we understand she was insured in New York and England, but which is less than the owner's loss, as she had a large supply of provisions and stores on board and outfits in Rio and Valparaiso to the extent of $100,000.00 uninsured. The following extract of a letter from Mr. Thompson, chief engineer, gives the particulars of the disaster.
Valparaiso, October 28, 1852

We arrived here on Sunday night from Coronel and Talcahuano, having about 1400 tons of coal on board. Having lost an anchor at Coronel, I deemed it most advisable to bank our fires and keep them in readiness for an emergency, having the regular fireman on watch, raising steam from the midship boiler to pump ships, wash decks, etc.

About 10 P.M. Saturday night, I, as usual, before turning in, took a look through the engine and fire-rooms, and around the steam chimney casing the steerage, which latter place was, and had bene, regularly inspected every two hours.

About 20 minutes after 2 P.M. Sunday morning, I was awakened by two of the sailors conversing outside my window relative to a smoke in the forecastle; turned out and ran forward, followed by the chief officer. The crew were turning out of their bunks; all the smoke I could see was from their hatch. (Missing pages . . . will add when located.)
SS City of Rio De Janeiro
On the morning of February 22, 1901, the Pacific Mail Steamer Rio de Janeiro was feeling her way toward San Francisco in one of the famous coastal fogs. She was inbound from Hong Kong with 227 passengers. Visibility was zero. Captain William Ward paced the bridge as crew stared blindly into a damp, gray void. Shortly after five o'clock, the liner neared the Golden Gate. She was a little too far south on her course when she struck the jagged rocks near Land's End and Fort Point. The blow was devastating. 200 of her passengers rushed up on deck, while the steamer sank fast amid the wail of her whistle and the sound of escaping steam. Passengers fought for a seat in the lifeboats, only to overcrowd and sink the boats. Fist fights broke out over life jackets.
Captain ward issued orders calmly to try to prevent panic from setting in. The lights flickered out as the power sources went dead. Using lanterns the stewards went below to warn passengers and to get them up to the lifeboats. Many of the passengers stubbornly stayed in their cabins gathering valuables. The passengers failed to realize the gravity of the situation. Of the 11 lifeboats only three managed to get lowered and two of those, lowered improperly were submerged. One boat got off. The bow of the Rio went under and eight minutes later she leaned to starboard, rolled over and sank to the ocean floor. The boilers exploded below and debris started popping up everywhere. Luggage, sofas, chairs, and clothes littered the ocean. The ebb tide started sweeping everything in its path to the open sea. People desperately tried to swim, but in the fog many simply swam the wrong way and drowned. A number of Italian fishermen in the area hearing the ships calls, came through the fog and assisted in minimizing the death toll. 131 died that morning. In less than 18 minutes, she was inundated by the Pacific's frigid waters.
At final count, only 81 people survived; 129 had perished, among them the Captain, who had gone down with his ship. In the aftermath of the tragedy, reports of quantities of gold and silver estimated as high as $3 million were reputed to have been lost with the liner, yet her manifests listed no treasure.
SS City of San Francisco
Steamship of 3400 tons, a sister ship to the City of New York. Pacific Mail Steamship Mail carrier with some passengers on service between San Francisco, Honolulu, Fiji, Sydney and New Zealand under contract to Governments of NSW, Australia and New Zealand. She was a mail carrier until the company ran into financial difficulties after 1876 and the company ceased operations.

The Press, June 19, 1876 Arrival of the City of San Francisco at Auckland


Auckland June 17th: The City of San Francisco arrived this morning. She connects with the Zealandia at Kandavau on the 13th. The latter left San Francisco on 25th May.

Passengers - C Ferguson, W Crake, Hendle and Manning. Third class- Messrs Ross, Elliott, Michael, Casey. For Wellington-Captain Bower and wife; third class Mr Burke wife and sister. For Lyttleton -second class : Miss McCadam. For Port Chalmers- Cabin: Rev Coleman Creigh and Messrs Clows, Hall and Cuff.

Cargo-For Wellington, 100 cases goods 25 bales hops; for Lyttleton, 2 samples, 25 bales hops; for Port Chalmers 25 pieces redwood timber, 50 cases salmon, 1 sample.

Arrival of The City of San Francisco at Napier The Evening Post June 19, 1876: The R M S S City of San Francisco arrived at Napier last evening at six o'clock, making a very quick run of 31 hours from Auckland. She left again at 9 p m for the port, and should arrive here before dark this evening. We understand she will not be brought along-side. She proceeds South two hours after arrival.

Arrival of The City of San Francisco at Wellington
The Evening Post June 20, 1876: The R M S S City of San Francisco delivered the inward English Mail (from London, May 4) in this port at 8.30 p m yesterday, having been delayed by head winds on the run down from Napier, which occupied 23½ hours, averaging only 8¼ knots per hour. Her previous run from Auckland to Napier, 31 hours (not 19 as stated in error by our morning contemporary, which would have involved a continued sped of 20 knots per hour) was, however, a very good one, averaging 12½ knots. We may remark here that the new boats will have their work cut out to beat the performance of the ill-fated Mongol while employed on the temporary service. That steamer made the run from Wellington to napier in 14 hours, 20 minutes, averaging 14 knots, and from Auckland to Kandavu in 3 days, 17 hours, or at the rate of 13 knots per hour.

Arrival of The City of San Francisco at Lyttleton

The Press, June 21 1876: This magnificent steamer arrived yesterday (20th June 1876) at 2:30pm. The SS Moa was waiting with steam up and directly the signal was made that the mail boat was inside the heads , she started to meet her with agents , reporters and visitors on board. The Customs steam launch was first to reach the vessel and with commendable promptitude the mails were at once placed in that vessel , in order that the 3:20pm train might be caught to carry up the Christchurch portion to town. In spite however of the efforts used , the launch arrived a minute late but the mails were forwarded by the 3:30pm goods train, so that few minutes were lost. After discharging her inward cargo and taking on board a few passengers, The City of San Francisco sailed for her destination at 4 p.m. The steamer was beautifully clean throughout, and as on her first visit was much admired. We append a report of the trip from Sydney furnished us by the purser.

The SS City of San Francisco, J.S. Waddell, commander, left Sydney June 2nd 3.5 p.m., fine weather up to 9th, when heavy squall, accompanied with rain, lightning and thunder set in, lasting three hours; 8am anchored in Kandavau; 2pm SS Australia came in, and left at 12 midnight; 12th frigate H B M Pearl came in ; 4 p.m. Zealandia came in transferred mails, freight and passengers ; 5:30 p.m. Pearl left for Sydney ; 13th 1:45am sailed from Kandavau in company with Zealandia; 16th strong breeze, very heavy sea; 17th at 3:15am arrived Auckland; left same day at 11am, arrived off Napier 18th at 6pm; left at 9:30pm after delivering receiving mails and passengers; 19th very heavy weather, strong head winds, squally , very high sea; arrived Wellington at 9pm; did not leave until 11pm owing to our being detained forty minutes by pilot, arrived Lyttleton, at 2;30pm.

The City of San Francisco

The Press June 30, 1876: This fine steamer was signalled at 2:30pm yesterday and arrived at 3pm. Quite a crowd of people went off to her in the SS Moa. The outward San Francisco mail consisted of twenty-two bags, an usually large one. The City of San Francisco left Port Chalmers at 8:30pm on Wednesday, and had strong NE gale in her teeth during the run up, arriving as above. She sailed north at 5:30pm last night.
On 16 May 1877 the City of San Francisco was wrecked on Tartar Shoal, near Acapulco, Mexico, but without any loss of life.
SS Colorado
Builder: William H. Webb, New York, 1863. Engine: Novelty Iron Works. Cost: $1 million. Owner: Pacific Mail Steamship Company. Launch: May 21, 1864. Wooden side-wheel steamer with 3 decks, 3 masts, round stern, 314 feet, 3,728 tons. She had 52 staterooms on the main deck and berths for 1500 in steerage.
The Colorado was the largest San Francisco-Panama route liner to ever ply the Pacific. In 1865 she was armed with two 20-pound field pieces on her quarters, two 30-pounders forward. She sailed from New York for San Francisco via Rio de Janeiro, Callao, and Panama on April 1, 1865. She was originally brig-rigged, but was altered in San Francisco in 1866 to enter the China service. At that time a mizzen-mast was added, and she was ship-rigged. In 1867 the Pacific Mail founded the first regular steamship service across the Pacific Ocean. The Colorado was retrofitted for the maiden voyage while Pacific Mail constructed four new ships specifically for that route. Those four ships were the China, Japan, Great Republic and America, and they were the largest and last of the great sidewheelers. In 1873 the first iron, screw steamer entered the trade and by 1879 the life of the trans-Pacific sidewheelers came to a close. In 1867, the Colorado became the first American liner to carry mail across the Pacific to the Orient, which helped pave the way for a rapid expansion of trade between California and the Orient. The Colorado was one of the ships that brought Chinese immigrants to San Francisco. In 1876 was laying in the stream with 800 Chinese in steerage. Soon after leaving Hong Kong four of the Chinese passengers were attacked with small-pox and left in the hospital at Yokohama. San Francisco's Quarantine Officer did not want to risk introducing small pox to the City. The steamer was anchored off Mission Bay, passengers unloaded, and she was inspected and fumigated. The Colorado was scrapped in 1879.
SS Columbia
Builder: Westervelt and Mackay, New York. Engine: Novelty Iron Works. Original Owner: Pacific Mail Steamship Company. Cost: $169,0443. Wooden side-wheel steamer, 3 decks, 3 masts, round stern. 777 tons, 193 feet. She had a light deck above the main for promenading and a 70 foot-long dining saloon flanked by staterooms along each side. Lower cabins accommodated 150 passengers.
She was one of the fourteen steamers comprising the Pacific Mail Steamship Company's fleet during the early 1850s, and was originally intended for mail service between San Francisco and Astoria, Oregon. However, because of the Gold Rush crush, she was occasionally pulled into service between 1851 and 1854 for the run between San Francisco and Panama. She was sold to Chinese owners in March 11, 1862. She sailed from San Francisco to Shanghai under British colors on April 17, 1862.
Daily Alta California, May 15, 1852
THE COLUMBIA -- The P.M.S. Company's steamer Columbia, Captain Dall, will leave Long Wharf for Panama this morning at 7 o'clock, having on board 120 passengers, $1,836,845 on freight, and the U.S. Mails.

| | |
| --- | --- |
| Adams & Co. | $506,707 |
| Page, Bacon & Co. | 378,000 |
| B. Davison | 177,280 |
| Burgoyne & Co. | 100,000 |
| Drexel, Sather & Church | 25,600 |
| Argenti & Co. | 10,491 |
| E. Delessert, Ligeron & Co. | 9,730 |
| Jos. A. Haines | 10,000 |
| Flint, Peabody & Co. | 25,000 |
| D.L. Ross & Co. | 15,067 |
| J. Seligman & Co. | 24,000 |
| Statz & Newhouse | 10,000 |
| Cunningham & Brumajin | 10,000 |
| Alsop & Co. | 14,790 |
| J.B. Thomas | 17,360 |
| Wyckoff & Co. | 14,000 |
| Case, Heiser & Co. | 35,000 |
| Macondray & Co. | 24,000 |
| Gildemester, De Fremery & Co. | 32,485 |
| D. Gibbs & Co. | 39,500 |
| Godefroy, Sillem & Co. | 21,200 |
| Collins, Cushman & Co. | 10,308 |
| Beck & Elam | 27,570 |
| D.O. Mills & Co. | 15,300 |
| Rhodes, Purdy & McNulty | 12,800 |
| Reynolds & Co. | 10,000 |
| TOTAL AMOUNT | $1,836,845 |
SS Columbus
Builder: Reeves and Brothers, Allowaystown, New Jersey, 1848. Engine: Rainey, Neafie and Company, Philadelphia. Wooden screw steamer, 2 decks, 3 masts, scroll figurehead, 460 tons, 148.8 feet.
She was sent to the Pacific by George Law for San Francisco-Panama service. She sailed from New York February 12, 1850, arrived at Rio de Janeiro, March 11, 1850 and in San Francisco on June 6, 1850. In early 1851, the Pacific Mail Steamship Company bought her for $120,000 and ran her on the San Francisco-Panama run until 1854. She was chartered for a short time by the US Navy, then sold to the Panama Railroad Company and operated along the west coast of Central America. She was lost at Punta Remedios, Central America, December 9, 1861.
SS Commodore Stockton
Builder: Davis and Burton, Philadelphia, 1850. Original Owner: R.F. Loper. Wooden side-wheel steamer, 2 decks, 3 masts, carved eagle on stern, scroll head. 435 tons, 153.7 feet.
She went from Philadelphia to San Francisco in 171 days. She was advertised to sail from San Francisco for Panama on June 12, 1851 for J. Howard and Son's Empire City Line to connect with Vanderbilt's steamers on the Atlantic. She sailed from Panama for San Francisco on June 30, 1851 with over 100 passengers. Two days later she was back at Panama, having sprung a leak. In 1852, when operating for the Independent Line, she was condemned, then purchased by Valparaiso owners in February 1853. She was placed under the Chilean flag and her name changed to Coupolican.
SS Constitution
Paddle steamship Built 1850 in New York, funded by Sam Ward (the famous lobbyist) and Rodman Price (later Governor of New Jersey). She sailed to San Francisco for service.
The SS Constitution also sailed Hawaiian waters before returning to the West Coast to become part of the Empire City Line, when she regularly sailed between San Francisco and the Puget Sound area, and from Panama via Acapulco, Mexico and San Diego to San Francisco. Like many steamships of the era, it was also built with masts for sails as the steam boilers of the time were notoriously unreliable. Many Captains pushed the boilers to the limit in order to make speed records or beat other ships to port, only to have the boiler break down or even blow up. In this event, they relied on the sails.
On January 15th, 1863, the Secretary of War gave permission to enlist Californians for the Civil War. The next day a notice appeared in the Alta California requesting enlistees fo.
". . . three years or the war, under the Massachusetts Quota, and will leave for New York on the 11th of February next. Transportation has now been provided for and sufficient funds are now under the control of hon. Ira P. Rankin to pay all necessary expenses of the organization. Uniforms, quarters, subsistence and necessary outfit will be furnished to the men as soon as accepted."
Fifty applicants signed up by the 19th and by February 10th, the day before sailing, 185 enlistees were on hand. The departure date was postponed and additional recruiting offices opened. The enlistees bunked at Platt's Music Hall and drilled daily in addition to making an impressive showing at a few parade and reviews. On March 20th and 21st, the volunteers were mustered into service. There were only three complete companies ready to sail on the S. S. Constitution on March 23rd. Captain David A. De Merritt stayed behind to complete recruiting his company and did not reach Boston until mid May. Those that sailed that beautiful clear March day were treated to the "traditional" parade, speeches, and salutes. Throngs cheering from the shore and boats must have offset, temporarily at least, the trepidations one should feel when going to war. It was another wonderful send-off for the patriots from California even though it belied what waited ahead. The voyage aboard the S.S. Constitution was miserable and a stop had to be made in Mexico to take on fresh provisions to quell insurrection. Guard duty caused the Battalions first casualty: Hiram Townsend of Walnut Grove fell overboard while on guard duty one evening leaning on a rail while seasick.
In 1860, the S.S. Constitution was rebuilt as a barque.
Another S.S. Constitution was launched in 1861 for the Pacific Mail Steamship Line, which on February 12, 1864 carried $1,620,421.81 in treasure shipment out of San Francisco.
SS Cortes
Builder: Westervelt and Mackay, New York. Engines: Double walking-beam engines by Morgan Iron Works. Original Owners: Davis, Brooks and Company. Launch: March 28, 1852. Wooden side-wheel steamer, 3 decks, 2 masts. 1,117 tons, 220 feet.
The Cortes was originally christened Saratoga and intended to run from New York to Richmond. However, she sailed from New York for San Francisco on July 10, 1852 and operated between San Francisco and Panama by the New York and San Francisco Steamship Line through 1853 when she was purchased by Cornelius Vanderbilt for his San Francisco-San Juan del Sur, Nicaragua run. In August of 1854, an attempt was made to sink the Cortes, "by some persons who secretly climbed on board of her as she lay at the Jackson Street Wharf. They succeeded in getting below, without being discovered, when they turned off the blower cock attached to the boilers, and the water rushed in rapidly. Before her condition was discovered, she had filled to the second deck. The ship's pumps being inadequate, the great steam pump of the Saucelito Water Company was brought into requisition, which, after working all day long, towards evening pumped her dry. The bedding and furniture was much injured, but the vessel received no serious damage." (Annals of San Francisco, August 1854) In 1860, the Cortes was purchased by the Pacific Mail Steamship Company and entered its Panama service. In February 1861, she was sold to Flint and Holladay and left San Francisco for Shanghai on April 14, 1862. She burned in Shanghai in 1865.
Costa Rica
August 11, 1874, Sacramento Daily Union
From San Diego — Arrival from Panama — Touched at Several Points on the Coast.
San Diego, August 10th. The steamer Costa Rica arrived at this port thbis alternoon. She left Panama July 18th, touching at all ports in Central America and Mexico. At Punta Arenas, July 16th, she met the company's steamer Pacific, for Panama. At San Jose de Guatemala, on the 25th, spoke H. B. M. Petrel, and tbe company's steamer Honduras; at Acapulco, August 1st, the company's steamers Ancona and Granada, for Panama ; August 2d, 9 p. m., in latitude 18 20 N.. longitude 13 40 W., spoke the schooner Sonora, Captain Clark, of Guaymas, 16 days from Acapulco, and short of provisions; furnished all they required; August 3d, communicated with H. B. M. steamship Reindeer; all well. She has 28 passengers, 2,681 packages and 412 tons of freight, and $49,617 in treasure lor San Francisco.
October 29, 1874, Daily Alta California
On Tuesday evening the first officer of the steamer Costa Rica, with five men, in a small boat, arrived at San Diego. They reported that on Sunday morning, at one o'clock, the steamer broke her shaft while about 100 miles south of here, and forty miles from land. The Captain was going to try to get in and anchor under Cape Colmett until relief came.
SS Crescent City
The Crescent City, first of the new U.S. Mail Line between New York and New Orleans, made 16 knots on her trial trip, May 30, 1848. On her first voyage to New Orleans, she was credited with reducing the running time to six days, which seems probably in view of the fact that she made the round trip in 20 days, including stopovers, arriving back in New York with 180 passengers. On the day before Christmas, 1848, to the cheers of thousands assembled on the docks to see them off, the Crescent City, with the Isthmus, were cleared for Chagres to deliver gold seekers to the Atlantic side of Panama. On December 14, the New York Herald reported: "four large steamships cast off their lines along West Street and proceeded to sea in stately procession, the Cherokee, Crescent City, Ohio for Chagres and the Great Western for Bermuda.
The Crescent City's voyage was ill-fated.
Daily Alta California, Wednesday Morning, February 6, 1850
ACCIDENT TO STEAMER CRESCENT CITY!
The schooner Sarah A. Smith, from Belfast, Maine, arrived at Chagres, on Sunday evening last, (30th of December). She brought 32 passengers from the unfortunate steamship Crescent City, which vessel she encountered at sea on the 16th ult. We are indebted to Mr. W. W. Leland, brother to the editor of the Pacific News for the following narrative of the disaster on the Crescent City, and the events which transpired down to the arrival at Chagres.

Gentlemen,-- Knowing that there is a great deal of anxiety felt in relation to the disaster which attended the noble steamship Crescent City, I am happy to impart through the Echo a brief account of the accident, and our trip here. We left New York on the 13th ult., precisely at 3 o'clock. The Cherokee left a few moments before us – the Ohio shortly after. At about 10 o'clock that evening, we lost sight of the Cherokee, two points off our starboard bow and the Ohio, two points off our larboard quarter. It was at this time snowy and squally. We came on at the ship's usual rate, 10 to 12 knots per hour, until Sunday evening, the 16th ult., it being a smooth sea, and the passengers, as usual after tea, had gathered on deck, and were making calculations on reaching Panama in 11 days. All at once there was a tremendous crash; of course it made a great stir. We soon found that the cross tail, and other parts of the engine was completely used up. Capt. Stoddard gave orders at once to make sail, but as there was scarcely any wind, and she had but small sails, we did not scarcely move. The cannon was fired, and rockets, at intervals, until morning – when we heard the glorious news from the mast head," sail ahoy!," "where away?" "off our weather bow!" All hands were looking with intense anxiety but to appearance the vessel bore away. The Capt. Gave orders, and manned the small boat – put provisions aboard for the men, and sent them to bring her to our relief. There was no wind, and they pulled the oars to good effect. They reached the schooner on Monday, the 17th utl. About three o'clock. The Captain called a meeting of the passengers. About one-half determined if he would charter her, they would embark on her for Chagres. Some wished to remain on board, and have the steamer got to Nassau, as we were only 600 miles from that port. The accident happened in lat. 28:9, and long. 72:56. The Schooner reached us only on the morning of the 18th and proved to be on a voyage to Key West from Belfast, Maine, loaded with lumber and provisions. Her name was Sarah A. Smith, 94 tons burthen. Captain Stoddard purchased the cargo at 100 per cent over cost, and threw overboard lumber enough to make sufficient room for the passengers to sleep in the hold. The passengers who did not choose to come aboard the schooner, the Captain paid back one-half of their fare, and they went aboard of two brigs loaded with lumber, and bound for Havana. We left the Crescent City, on the evening of the 18th ult., and reached Jamaica on the 16th, and Chagres on the 30th. We were all glad to get a release from the hard fare of the country schooner. We arrived in this city on the evening of the 3d January, twenty-one days from New York. .
In late February 1850 she was purchased by George Law for operation on the New York-Chagres run.
SS Fremont
Builder: T. Birely, Philadelphia, 1850. Original Owner: Pacific Mail Steamship Company. Cost: $98,424. Wooden side-wheel steamer, 2 decks, 3 masts, carved head. 559 tons, 162 feet.
She was sent from New York to San Francisco in 1851, where she arrived on July 29, 1851. She ran between San Francisco and Panama until the Spring of 1851 when she entered Pacific Mail's coastal service between San Francisco and the Columbia River. In 1853, she was noted as ringing 150 tons of freight along the Umpqua River in Southern Oregon. There, settlers had occupied many of the valleys and were putting in crops, placer mining in Jackson County and nearby Northern California was successful. Trade increased and the Fremont was billed for semi-monthly trips. In February, 1861, she was sold to Flint and Holladay for their coastal service.
SS Georgia
Daily Alta California, October 11 and 13, 1853
The steamship Georgia, which sailed from New York on the 5th of September, encountered a heavy gale soon after getting to sea, and sprung a leak. The hands and passengers assisted in bailing her out, and she was with difficulty enabled to reach Norfolk, Virginia, the nearest port, on the 9th. About the time of reaching here, the leak increased so rapidly that the fires were extinguished before she could be got into shoal water, and she went down in 20 feet of water. The passengers were brought to Aspinwall by the Crescent City.
We are informed by a passenger who was on board the Georgia, that of the packages of express matter on board, sixteen packages of Wells, Fargo & Co., and twenty of Adams & Co., were thrown overboard. Had it not been for the unnecessary excitement of the passengers this loss would not have occurred, as much heavier material was on board, which would have relieved the ship much more without causing one half the loss.
From later accounts, we learn that the Georgia had not sunk, but would leave Norfolk for New York soon after the departure of the Crescent City. .
Particulars of the Loss of the Steamship Georgia.
In our issue yesterday, we announced the loss of the steamer Georgia, but want of space in our columns prevented us giving the full particulars.
As already published, the Georgia sailed from New York on the 5th inst. for Aspinwall, with the mails, passengers, and express goods for California. Shortly after getting to sea she encountered a heavy gale, which lasted several days, during which time the vessel sprung a leak.
For some time the hands were able to keep her clear of water, but the leak gaining on them, the passengers were obliged to assist in bailing out the water with buckets, and the captain deemed it necessary to make for the nearest port, Norfolk, Virginia, which he reached with great difficulty on the 9th. About the time of reaching this port, the leak increased so rapidly as to extinguish the fires before the vessel could be got into shoal water, and almost immediately after disembarking the passengers and mails, she went down in twenty feet of water. We learn that Adams & Co.'s Express good were saved, but the majority, if not all of the other expresses, were lost. A telegraphic despatch was at once forwarded to New York, and on the 11th inst., the Crescent City was despatched thence to embark the mails and passengers at Norfolk, and bring them down to Aspinwall.
SS Gold Hunter
By 1852, she had been renamed Active and was running as a United States Survey steamer.
SS Golden Age
Builder: William H. Brown, New York, 1853. Engine: Vertical beam by Morgan Iron Works. Cost: $400,000.
The Golden Age had quite a history before joining the Pacific Mail Steamship Company's fleet in August 1864. She was originally named the San Francisco and slated for service between Australia and Panama. She sailed from New York on September 30, 1853 and went via Liverpool, the Cape of Good Hope, King George's Sound (Australia), and Melbourne to Sydney. She operated coastal service in Australia until sailing for Panama on May 12, 1854. Pacific Mail purchased her at Panama in August 1854 and used her on their San Francisco-Panama run through 1869. She was later transferred to the Yokohama-Shanghai branch of Pacific Mail. The Golden Age was sold to the Mitsubishi Mail Steamship Company in 1875 and renamed Hiroshima Maru.
SS Golden Gate
Builder: William H. Webb, New York. Keel laid July 1, 1850. Engine: Two oscillating engines by Novelty Iron Works. Wooden side-wheel steamer, 3 decks, 3 masts, round stern, spread-eagle head. 2,067 tons, 269 feet x 40 feet x 30 feet 6 inches. Her wheel diameter was 33 feet 6 inches and she had a draft of 10 feet 2 inches or 13 feet 8 inches loaded.
Her first run to San Francisco left New York in September 1851 and arrived in the City on November 19, 1851. (Note: A second source has her leaving New York on August 2, 1851 via Rio de Janeiro, Valparaiso, and Panama and arriving in San Francisco on November 19, 1851. San Francisco press hailed her as "the largest and swiftest steamer in our waters," and she was called the "finest specimen of naval architecture on the Pacific." She was seized on September 2, 1852 for taking taking on too many passengers. Apparently, along with the Columbia and SS Lewis, they had been placing more than two tiers of berths in their cabins and steerage. Her passage from Panama to San Francisco of eleven days, four hours, stood as a record until 1855. Unfortunately, like SS Brother Jonathan, even though she was fast, she was plagued with problems, including an outbreak of cholera in 1852, which resulted in 29 deaths (a second source reports 84 deaths). In 1853, she nearly collided with the Vanderbilt steamship Sierra Nevada off the coast of Mexico, her shaft cracked twice, and she went aground at Point Loma in 1854.
January 3, 1856, Daily Alta California

TWO STEAMERS -- Rates of Passage -- Number of Passengers.

The Golden Gate, of the Panama Line, and the Uncle Sam, of the Nicaragua Line, are advertised to sail this morning at 9 o'clock, and will probably get off about noon. The Golden Gate will take between four and five hundred passengers, and her rates of fare are in the First Cabin, $250; Second Cabin, $175; Steerage, $100. The Uncle Sam will have about four hundred passengers, and her rates are in the First Cabin, $225; Second Cabin, $150; and in Steerage, $95. There are a large number desiring to go down to Nicaragua, but up to a late hour yesterday, only twelve tickets had been sold. The parties were holding back for a reduction in the price of passage, which has been fixed for this steamer at $75. The Cortes carried down for $60. Most of these who are negotiating for tickets to Nicaragua are from the interior. The sad news received yesterday of the death of three well know young men from this city has cast a gloom over the wide circle of their bereaved friends, and this intelligence will have a tendency to dampen the zeal for those who may have been longing for the charms of Central America.
January 3, 1856, Daily Alta California DEPARTURE OF THE STEAMERS -- The Steamer Golden Gate sailed yesterday, at half past 2 P.M., carrying about 400 passengers and $1,276,928 treasure.
July 27, 1862: Between San Francisco and Panama, about 15 miles from Manzanillo, Mexico, fire was discovered in the engine room, and the vessel was headed for what is now called Playa de Oro to beach. Many of the passengers sought refuge in the stern, but the flames spread in that direction, and when boats were launched in the heavy surf the occupants were crushed against the ship or drowned; the ship broke up in the surf. Reports of between 175 and 223 passengers and crew lost their lives, together with the baggage, mail, and nearly all the cargo of $1.4 million in specie. Survivors arrived in San Francisco in August, and the Daily Alta California published reports of the disaster from those survivors and from Capt. W.W. Hudson and Capt. R.H. Pearson. August 6, 1862, Received August 7, 1862, 11:45 a.m. W.L. Halsey, care of Geo. K. Otis, 88 Wall Street:, New York
I was saved from the burning ship by lashing myself to the forecastle ladder. I then jumped overboard; passing under the port wheel while the vessel was still underway. Fortunately I sustained no serious injury, and was picked up by the ship's boat. We were in the boat fully 20 hours before reaching Manzanillo. Poor Flint was lost. -- BEN J. HOLLADAY
Holladay's injuries weren't severe, but references by others make it clear that he didn't pass under the wheel uninjured. Mrs. Thomas Gough, rescued in one of the lifeboats, was dining with Capt. Hudson when the word came to his table of a fire aboard ship. "Oh, nonsense! I don't believe it," he responded to the sailor with the news, but immediately left the table to investigate. She was in one of the first boats launched, which tossed all aboard into the sea during the failed lowering. A sailor jumped into the water, then righted the boat, after which the boat reloaded. The boat eventually began to take water, but encountering the boat of Mathew Nolan, first mate, he ordered the survivor to use a portion of Mrs. Gough's dress and handkerchiefs to top the leak.
Nolan also organized the boats together, as several were launched while the Golden Gate was still about two miles from shore. "The first mate then ordered one of the boats to go back and taken the surplus boats in tow, and follow in the wake of the ship, which was headed for the shore," another account in the Daily Alta California relates. "All the after part of the ship was now one sheet of flame, and her passengers were all crowded into the bow.&quot.
By the time we had reached the ship, many were ashore. After rowing about the ship until we could find no more floating there, we then went back, still searching for those who had left the ship before she struck, and found some five or six who were floating upon boards and timbers, among whom were Ben Holladay and Mr. Storms." There were a number of men floating in life preservers; Mrs. Gough's boat was full with 28 people, so those swimming to the boat were told to hang onto the sides. They rowed through the night for Manzanillo, encountering a thunderstorm around midnight. Finally the boat reached harbor around 1:30 p.m. on Monday. Other lifeboats continued to arrive through the afternoon.
Gold valued at $300,000 was recovered from the wreck and brought to San Francisco by the Pacific Mail steamship Constitution in February 1863.
Daily Alta California, January 23, 1863.
From the Wreck of the Golden Gate
The pilot boat Potter, of San Francisco, arrived here on Sunday last from Manzanillo, having recently visited the wreck of the steamship Golden Gate. T.J.L. Smiley, of San Francisco, who was one of the party accompanying the the pilot boat on her expedition to the wrecked steamer, has given us some interesting particulars of the excursion. Mr. Smiley says portions of the wreck are still visible, but from observations made around and about it, he is of opinion that the sides of the vessel must have given way since the wreck, and that the treasure aboard the ill-fated steamer has drifted out, and been buried in the sand. The New York and foreign underwriters had been to the wreck endeavoring to obtain the treasure, but had abandoned the enterprise before the Potter reached the ground.

Mr. Smiley also gave us an interesting account of a man names Yates, an old resident of Manzanillo, who has been near the wreck a greater part of the time since the steamer was burned. About ten days after the disaster, Yates, prompted by a desire to recover the steamer's treasure, went to the beach near where the wreck occurred, and there erected a tenement, in which he now lives. His hopes of obtaining the treasure not having been realized, he has devoted himself to the humane occupation of interring much of the lost by the sad disaster as he might chance to fall in with. Yates keeps a careful record of each body interred by him, taking from each an article of clothing or other mark of identification, to which he gives a number corresponding to the number of the grave in which the body is buried, and thus is enabled to assist materially such parties as may be in search of the remains of lost kindred or friends. One instance only of the efficacy of Yates' plan of procedure we will mention in detail: Mr. Isaac Josephi, of San Francisco, had a brother who was among the lost by the Golden Gate disaster. Immediately after learning the sad intelligence of his brother's death, Mr. Josephi telegraphed New York to ascertain if there was any particular mark about the deceased which would aid in identifying the body. In reply he was told that his brother had had some teeth inserted by a dentist, who had placed a certain number upon the gold plate used by him. With this information, Mr. Josephi started for the wrecked steamer, and on his arrival at the scene of the disaster, he sought and obtained an interview with Mr. Yates, and ascertained that the latter had taken the gold plate from the mouth of the deceased, and had numbered it correspondingly with the number of the grave in which he had placed the remains. This enabled Mr. Josephi to recover his brother's body without further difficulty. Such humane conduct as Yates has displayed is certainly commendable in a high degree, and we trust that for the troubles and privations he has sustained in his no less singular than humane undertaking, he may meet with a commensurate rewards.
Daily Alta California, Sunday, February 8, 1863
.
CITY ITEMS
Recovery of part of the Golden Gate's Treasure
The steamer Constitution, which arrived yesterday, touched at Manzanillo on her upward trip, where she took aboard a large amount of specie, consisting of Mexican dollars. After leaving that harbor, the steamer ran down to the scene of the wreck of the Golden Gate. Here fifteen boxes, containing the sum of $820,000, being a portion of the treasure sunken on that ill-fated vessel, were taken on board. This unexpected recover was effected by the party which sailed from this port two month since, on the clipper schooner William Irelan. The gentlemen of that name was the superintendent of the enterprise, and with him a party of ten assistants. The dumb agent, which took the most active part in the securement of the money, was Commodore Allen's steam engine, called the Andrew Jackson. This being fastened on a scow, was run into the breakers and secured. The water here is about twelve feet deep. The dredger was then set in motion and the dredging process began. The engine worked so quickly and powerfully that twenty-eight hundred pounds of sand or other materials were raised per minute by the dredger. This work was done over the supposed locality of the treasure vault, which, although broken up, the boxes would, of course remain in a narrow compass. The sand being partially removed, the diver would descend; and finding a box, fasten it to the lines, when the machinery would hoist it aboard. A steam pump and hose were also used in cleaning off the sand from the submerged boxes. The weather was fine, sea calm, and everything favorable for continued successful operations. After seven days labor the sum of $820,000 was secured, and when the Constitution left, the work was progressing so favorably as to justify the sanguine expectations of the Company, who believe that a million of treasure will be saved. We have been informed that a number of the boxes as soon as hoisted, were seized by a bank of prowling Mexicans and bore off. The amount thus stolen, as represented to us, was $200,000. The Constitution passed within two or three ships' length from the wreck. The schooner lay at anchor some fifty or sixty yards from the shore. It is not impossible that the entire amount of treasure still buried will be recovered within the 60 days next ensuing. The sum brought up on the steamer, and which belongs to the enterprising experimentalists of the city was duly deposited in the banking house of Parrott & Co. We are not surprised that other unsuccessful parties, who had embarked heavily in a similar expedition, feel somewhat chagrined that they came so near reaping the first fruits of their pioneer efforts in endeavoring to draw up the drowned dollars.
SS Goliah
Builder: William H. Webb, New York, 1848. Walking beam steamer with large paddle wheels. She was the second American vessel built expressly as a tug, she was generally used as a passenger steamer. She rounded the Horn from New York to California in 1851, and ferried passengers up and down the Sacramento River and along the Pacific Coast, undergoing reconstruction and enlargement in the process. In 1864, Captain Millen Griffith purchased her and placed her in service as a tug. In 1871 she was sold for service in Puget Sound where she operated until 1899.
SS Granada
From Hutchings California Magazine, Vol. IV, No. 12 June 1860.
The ill-fated Steamer Granada, wrecked upon the rocks at Fort Point on the night of October 13, 1860. The Granada was a vessel of about 1400 tons, six years old, and had been running in the line between Aspinwall and Havana. She was one of the two vessels, the Moses Taylor being the other, purchased by Marshall O. Roberts and intended for the Pacific side of the new line between San Francisco and the Atlantic States by way of Tehuantepec. She left New York on her way to San Francisco on July 14, 1860, came through the Straits of Magellan, and after 14,000 miles of ocean voyage, without an accident, was wrecked upon endeavoring to enter her harbor of destination.
She had taken on board a pilot before passing Point Lobos, and it was doubtless owing to his rashness that the vessel was lost. He attempted to bring her in at evening and during a very heavy fog. A short time before the vessel struck, he had ordered a full head of steam to be turned on; and the ship was going at full speed when breakers were observed at her bow. The order was given to reverse the engines, but it was too late; she was already firmly imbedded in the sand and on the rocks -- and there she remained.
There was no freight and no passengers on board but a son of Mr. Roberts. There was no loss of life. Strenuous attempts with steam-tugs and by pumping were made to save the steamer, but all failed and the wreck was dis-masted. It was sold at auction "for the benefit of whom it might concern" on October 18th for $9,400; ad measures were immediately taken to remove the engines, boilers and other valuable parts.
The rocky shore where the wreck lies has become famous for wrecks. It is the same where several previous ones took place, among them the Jenny Lind and Golden Fleece, the Chateau Palmer only a few years ago, and the General Cushing. The ship Euterpe went ashore there a few months since, but was fortunately recovered. .
SS Hermann
Builder: Jacob A. Westervelt & William Mackey, New York, the second of two steamships for the Ocean Steam Navigation Co., at a cost exceeding $360,000. Launched September 30, 1847. Three-decked, side-wheel steamer at 1,734 tons, 234 feet, 3 mast bark rigged. She was named for a German hero. Accommodations for approximately 180 passengers in 1st class. Her grand saloon was over 85 feet long. She originally was to carry mail between New York and Europe. Because of construction problems, including insufficiently sized boilers, she suffered mechanical difficulties on her initial sailings, which included Bremen, and Southampton. She was sold, together with her sister ship the SS Washington, in July of 1857. In 1853, she left New York for San Francisco under the command of Edward Cavendy, with over 500 passengers and only $300 to finance the voyage. Enroute, the Hermann was turned over to command of first officer Mr. Patterson, and arrived in San Francisco on November 27, 1858. In February of 1859, she was seized at San Francisco to cover debts and sold to Captain George Wright for $40,000. The Pacific Mail Steamship Company purchased her and in August 1866 and commissioned her for Yokohama coastal service. In 1869, she wrecked on Point Kawatzu, with a loss of over half the 350 Japanese troops aboard.
SS Independence
Builder: William H. Brown, New York. Launch: December 25, 1850. Owner Cornelius Vanderbilt. Wooden side-wheel steamer, 2 decks, 2 masts. 613 tons, 211.6 feet.
Sailed from New York for San Francisco on January 13, 1851. She reached San Francisco with passengers from San Juan del Sur, Nicaragua on September 17, 1851. She remained on the San Francisco-San Juan del Sur run until wrecked on Margarita Island near Baja, California.
Daily Alta California
, April 2, 1853
SS John L. Stephens
Builder: Smith and Dimon, New York. Engine: Oscillating engine by Novelty Iron Works. Launch: September 21, 1852. Owner: Pacific Mail Steamship Company. Wooden side-wheel steamer, 3 decks, 2 masts. 2,182 tons, 274.3 feet. Two stacks: one forward and one aft of the walking beam engine. Fitted with Pierson's Patent Steam Condenser to supply fresh water for the boilers. 250 berths were on the upper deck and 550 single berths on a lower deck. The John L. Stephens was brigantine-rigged, and carried eight large lifeboats.
She cleared New York for San Francisco on December 17, 1852, and arrived in the City with passengers from Panama on April 3, 1853.
Daily Alta California, May 10, 1853
The P.M.S. Co's. Steamship John L. Stephens -- The above steamer will come down from Benecia, and be open for inspection at Long wharf Thursday, 12th inst. at 3 P.M. Since her arrival from new York she has received extensive alterations and is now the best ventilated and most comfortable vessel afloat, and combined with speed, will no doubt be the boat of the Pacific. It is expected that passengers leaving in her on the 16th inst., will connect at Aspinwall with the new steamship George Law, and be landed in New York in a shorter time than passengers by any previous steamer. The public are invited to visit and examine her accommodations.
Daily Alta California, May 15, 1853
San Francisco, California
STEAMSHIP JOHN L. Stephens -- The members of the press of this city, by special invitation, dined on board this splendid vessel yesterday, after having been shown the various improvements, accommodations and superiority evident in every part of her. It would be impossible in a paragraph to notice every admirable arrangement on board, or to mention many as they deserve. Commencing with her model, little or nothing is left to be desired throughout. For ventilation she has no equal on the Pacific or Atlantic. Her ports are large windows, and all her cabins are decks must be as well purified, if wind can do it, as is the human blood in the lungs which breathe. Her machinery has all the improvements which other ships have proved such, and besides, many which cannot be found on any other. Her state-rooms are superior to any on this side of the continent, while comfort seems stamped upon all the preparations made for the steerage.

The culinary department is superior to anything afloat. She has four decks, with an awning to extend over the entire extent of the upper one, which reaches her whole length from stern to stern, scarcely interrupted in its immense area by anything save the chimneys. If comfort and health and safety can be confidently predicted for passengers at sea, this most majestic and perfect specimen of ocean beauty may be trusted. Nothing seems to have been left undone about her, which being done would increase her claim upon the just confidence of the pubic.

The dinner was all that could be desired. Wine was abundant, and the politeness of the agent, Capt. Knight, was only equalled by the hearty cordiality of Capt. Pierson and the perfection of the ship he commands. It may be safety predicted that no one will complain of the John L. Stephens, except those who are never satisfied. She will undoubtedly prove a favorite and safe ship.
Daily Alta California, December 21, 1853:
Compliment to the J.L. Stephens and Capt. Pearson. It affords me much pleasure to express to you not only my own gratification, but also that of my fellow travelers, at your selection of state rooms on board this fine ship. We are now -- at noon 20th instant -- ten days out, and off San Juan, so that you will see the Stephens is not a slow boat. All the arrangements on board are capital; ship well found, manned by sailors, officered by gentlemen, and commanded by Capt. Pearson, which expresses all I can say upon that point. In truth, he is the man to perform his duty without making a "fuss" about it, and sure to see that all on board attend to theirs. As you know I travel with some invalids, I have had many opportunities to judge of the excellent qualities of the Surgeon of the ship, Dr. McNaughton, and would, with much pleasure, recommend him, as well for skill as for his kind attentions. We have seen nothing of the Pacific since we left the Gate, and at the rate we were then leaving her, suppose her to be far behind.

At our present rate, we shall be in Panama on Monday next, probably inside of twelve days, notwithstanding we met with some detention by some San Francisco "Filibusters," and heavy head wind on the 23d and 24th . . .
The John L. Stephens operated between San Francisco and Panama for Pacific Mail until October 1860. In 1864 she began the San Francisco-Columbia River run, and was still in that service for the Oregon Steamship Company in 1876. Sisson, Wallace and Co. bought her in 1878 and sent her to Karluk, Alaska, for use as a floating cannery. She was scrapped in 1879.
SS Liverpool
Builder: Brown & Bell, New York. Engine: Novelty Iron Works. Launch: Spring 1843. Owner: New Line: Woodhull & Minturn. 1,077 tons (which was considered an underestimate as the surveyor eliminated the third deck in his estimate -- her tonnage was revised to 1,364). 3 decks (the first 3-deck liner to be built), with a full length figure of Lord Liverpool carved by Dodge on her bows and the cote d'armes of the City of Liverpool on her stern. This square-rigged 3-masted sailing ship, measured 175' 6" x 36' 6" x 22' 3" (length x beam x depth of hold). She had the longest continuous line service of any sailing packet: 1843-1849 in the Liverpool New Line, 1849-1855 in the Liverpool Blue Swallowtail Line, and 1855-1880 in the London Red Swallowtail Line.
Lengthy newspaper articles greeted her launch. The Liverpool had cabins for smokers, bathing houses, apartments for cuisine, houses for cows, sheep, swine and poultry, pantries for making pastry. The main saloon was large enough for forty cabin passengers and "high enough for any man under eight feet in his booths." Second class passengers had their own dining room, shower baths, with "pure salt water dipped from the ocean." The third deck was noted as being able to hold 1500 bales of cotton and 500 steerage passengers. Papers reported that six thousand iron bolts, ninety tons of iron, and twelve tons of copper fastenings were used in building this grand lady. Captain James Blethen was master of the SS Liverpool in 1848 from Liverpool to New York. Presumably this was one of the ships which brought thousands of Irish to the East Coast of the Americas during Ireland's potato famine. The plight of Ireland was so great that few captains ever sailed one of these ships more than once or twice. Captain James H. Blethen is listed as having made two sailings.
SS Major Tompkins
Daily Alta California, March 16, 1853
The steamer Major Tompkins is running regularly between Monterey and San Francisco. Wrecked January 23, 1851 when she exploded on the Sacramento River, California.
November 22, 1849
ALTA CALIFORNIA (From the Placer Times of November 3)
Arrival Extraordinary -- Our city was surprised and pleased by the appearance on Saturday evening last, of the steamer McKim from San Francisco. As she came up to her berth she was announced by the discharge of cannon and cheered by the acclamations of the thousands who crowded to the river's bank to witness the arrival of this first large steamer intended to play upon the waters of the beautiful Sacramento. Nothing could exceed the gratification and joy of our citizens at learning that large and deep as she was (drawing 8 feet water) she had made the trip in seventeen running hours from San Francisco, and that she had met with only one delay, by grounding on the bar formed by the embouchure of the Ulpinos cree, a few miles above the city of Suisun.
The McKim left San Francisco at 12 M on Friday, the 26th ult. She made the passage to Benicia against a strong ebb tide, in a little less than live hours. Owing to the difficulty of navigating the Suisun Bay, she laid lor the night at Benicia. Leaving there early on Saturday morning, she thredded without delay the serpentine channel of the Suisun, and reached Sacramento City in twelve running hours, having laid for more than an hour on the bar spoken of above.

California, Sacramento
One reason why the McKim was detained on the bar alluded to was the fact that a large sloop was lying aground directly in the channel and the McKim, in attempting to pass outside of her, necessarily came into shoal water. It is believed, therefore, that there is not the slightest danger of this accident occurring again, specially as it is supposed that, by relieving her of her spars and other unnecessary sea furniture, she may be so lightened as never to draw over seven feet of water
The McKim is a propeller, having an engine of two hundred horse power of the Ericsson patent. She is a staunch vessel, having been built for the coast and gulf trade on the Atlantic. She has been newly fitted up, cleaned and painted, and has sixty excellent berths. The best arrangements are made for the accommodation of her passengers, and as she has an excellent steward, we have no doubt she will soon secure the public patronage she so well deserves.
Capt. Macy, and her second captain, Mr. Brenham are highly spoken of by the passengers who came up on her trial trip; and all unite in praise of Lieut. Blair, U.S.N., who acted as pilot.
The McKim came up again in line style on Wednesday, and left on Friday morning, crowded with passengers. Her departure was attended with all the bustle and confusion occasioned by the leaving of an Atlantic steamship in New York or Boston.
Advertisement , October 17, 1850, Daily Alta California: STEAMER MCKIM FOR SALE. A fine boat for the Oregon or Southern Coast Trade. The commodious and popular steam propeller McKim, in complete running order, together with new boilers and other machinery, daily expected to arrive from the United States, is offered for sale. Apply to Everett & Co., Howison's Wharf.
The McKim's journeys were plagued. Click to read a list of her journeys.
SS Montana
Builder: Webb and Bell, Greenpoint, Long Island. Engine: Vertical beam by Novelty Iron Works. Launch: February 25, 1865. Owner: Pacific Mail Steamship Company. Wooden side-wheel steamer, 3 decks, 2 masts. 2,676 tons, 318 feet.
She entered the San Francisco-Panama service of the Pacific Mail in October 1866 and remained on that run until 1869. She was broken up in November 1877.
SS Monumental City
Builder: A.A. Chapman, Baltimore, Maryland, 1850. Engine: Two oscillating engines designed and built by Murray and Hazelhurst, Baltimore. Launch: November 14, 1850. Owner: A.A. Chapman. Wooden screw steamer. 737 tons, 180 feet. She was built with a flush promenade deck and had accommodations for about 250 first and second cabin passengers. Bark rigged.
She made two voyages from San Francisco to Panama for the Empire City Line in the Fall of 1851 and the Spring of 1851, and one San Francisco-San Juan del Sur voyage in the Spring of 1852 for Cornelius Vanderbilt. The Monumental City was the first steamer to cross the Pacific, sailing from San Francisco on February 17, 1853, and arriving at Sydney via Tahiti on April 23. She entered the coastal trade between Sydney and Melbourne, but was wrecked off Malacouta Bay on a small island close to Cape Howe on May 15, 1853 enroute from Melbourne to Sydney. Out of 86 people on board, 33 lives were lost when she went down. (Note: Queens of the Western Ocean, Carl C. Cutler, states that "with a loss of 32 of the passengers and crew; 54 being saved.
SS Moses Taylor
Builder: William H. Webb, New York, 1857. Engines: From El Dorado. Launch: August 1, 1857. Owner: Marshall O. Roberts. Wooden side-wheel steamer, 3 decks, 2 masts. 1,372 tons, 246 feet. The Moses Taylor sailed on her first voyage from New York to Aspinwall for the United States Mail Steamship Company on January 5, 1858, and remained on that run until September 1859 when she was withdrawn. She sold at auction to Cornelius Vanderbilt on February 27, 1860 for $25,000. She was brought to the Pacific and operated from San Francisco to San Juan del Sur by the People's Line from November 1862 until August 1863.
Daily Alta California
, January 5, 1863
CITY ITEMS.

SHAFT FOR THE MOSES TAYLOR -- During the past week the workmen in Donahue's foundry, First street, have been engaged in the important work of forging a new shaft for the steamship Moses Taylor, an undertaking of great magnitude and only attempted to be carried out in the first establishments of the world. It will be remembered that the Moses Taylor lost her shaft while on a voyage to Panama, a few weeks since; and the necessity of replacing it at once was imperative. Heretofore a job of this size had not been attempted in San Francisco. Mr. Peter Donahue, determining to keep up the reputation of the city, readily assumed the task of performing the work in his foundry. Last Monday the furnace was brought to bear upon the massive iron, and every night and day since fire an steam have been employed to forge the rugged metal into proper shape. Saturday night a large number of gentlemen were present to witness the forging of the shaft. At about ten o'clock, the doors of the furnace were opened, and the iron -- white and clear - placed under the steam hammer, whose heavy blows came quick and heavy on the soft substance. This process has been going on for several days, and the nature of the work has excited a good deal of interest in mechanical circles. It is under the direction of Messrs. Austin, Hawkins, and McWilliams, who give to it a considerable amount of attention. Mr. Donohue undertook the work under circumstances very creditable to his enterprise, and when successfully completed, will be highly honorable to California. Up to this time we have been accustomed to look to New York or Boston for such work. Now Mr. Donahue shows it can be performed here. Ladies and gentlemen who visit the Union Foundry to-day or to-morrow, will be shown the process of forging the shaft.

Captain James H. Blethen sailed her between March 1863 and October 1867. In 1864, his son, Captain James H. Blethen, Jr., sailed with him as Second Officer. The Moses Taylor sailed from San Francisco to Panama until May 1864. In September 1864, the Moses Taylor began running for the Central American Transit Company on the San Francisco-San Juan del Sur run, and continued for this company and its successor, the North American Steamship Company, until May 1868. Between 1871and 1873, she operated on William H. Webb's San Francisco-Honolulu-Australia line, and Captain James H. Blethen (we don't know if it was Sr. or Jr.) sailed her from Honolulu to Auckland, New Zealand on March 1870.&nbsp.

On March 13, 1871. A bill, filled in by hand on a printed form, is addressed to William H. Davis and signed by C. A. Hughes, Purser of the steamship Moses Taylor. (An engraving of the Moses Taylor under full steam, sail and with paddle wheel spinning, appears on the top left.) The bill is for a total of $4.72, representing $4.50 for four packages measuring 30 feet plus 22¢ for 5% "primage".
She was purchased by the Pacific Mail Steamship Company in 1873, and converted into a store ship in 1875. She was nicknamed Rolling Moses, although contemporary accounts state that this was undeserved.
SS Nevada
Builder: Jeremiah Simonson, Brooklyn, New York. Engine: Vertical-beam by Morgan Iron Works, New York. Launch: March 18, 1865 as the Paou Shan. Original Owner: Captain Thomas W. Dearborn. Wooden side-wheel steamer, 3 decks, 2 masts. 1,691 tons, 281 feet (Heyl cites 2,145 tons, 286 feet).
Thomas W. Dearborn had her built on speculation – he planned on selling her to the U.S. Government for use during the Civil War. It appears that she was sold to a Thomas Dexter, who then sold her to William H. Webb on November 9, 1866, and her named changed to Nevada. She sailed from New York on her trial trip on May 9, 1867 and made three voyages from New York to San Juan de Nicaragua for the North American Steamship Company in 1867. She operated on the San Francisco-Panama run from December 1867 through October 1868 and then, when the North American Steamship Company couldn't cover its debt to William H. Webb, ownership of the Nevada, and North American's other ships, reverted to him. Webb, with Ben Holladay, organized the California, New Zealand & Australia Steamship Company and turned this ship, along with the Nebraska, Dakota, and Moses Taylor (which had also been sailed by Captain James H. Blethen, Sr.) over to this line. The Nevada remained in that service from 1871 to 1873 when the California, New Zealand & Australia Steamship Company discontinued its services as it was insufficiently lucrative. Every ship that ever sailed has stories that would fill tomes. The vessels were important in ways beyond imagination because of current access to various types of mass transit and information at our fingertips. For example, the New Zealand Letter, written in Auckland on May 21, by a correspondent of the Alta California reports that whole towns turned out in New Zealand when Captain James H. Blethen, Sr. sailed "the magnificent Steamer Nevada" into port: "In Auckland, after the signal had been run up that she was making for the harbor true to her time almost to an hour – the excitement was intense, and thousands crowded on the wharf awaiting her arrival.&quot.
A luncheon had been arranged where the Governor of the Colony, 150 merchants and the townspeople honored Captain Blethen, Mr. Webb, Jr., the American Consul for Victoria and the Defense Minister. She was greeted thusly at every port. Because of gold strikes down under, population in Australia had gone from 405,356 in 1850 to 1,647,756 in 1870, vastly increasing the import of ships that brought in goods and mail. In 1873, she was purchased by the Pacific Mail Steamship Company, which placed her on its Yokohama-Shanghai branch line. On an 1875 passage between the Sandwich Islands and Tahiti, a passenger wrote a detailed account of a journey on her in the South Pacific, under the command of Captain James H. Blethen. The writer details the poor state of the steamer in her last days. The Nevada spent her last years as the Saikio Maru as part of the Mitsubishi Mail Steamship Company. Australia Steamship Company, 217 Sansome, Honolulu-New Zealand, Australia.
SS Newbern
The Newbern was purchased in the East by the California Navigation Company, of which John Bermingham was agent, some eighteen years ago. Together with the Montana, a steamer of about her tonnage, was used in the line between this port and Guaymas. At the latter point, connection was made with a line of small stern-wheel boats owned by the same company, which navigated the upper part of the gulf arid the Colorado River as far as Yuma. The two lines did a large business, as all freight and passenger traffic between this city and places in Arizona and the Northwestern Mexican States had either to go by sea or take a tedious and oft-times dangerous journey overland from Los Angeles. On the completion of the Southern Pacific through Arizona, however, the traffic by sea fell off and the company disposed of their river boats to the railroad people and only kept the steamships. About this time the Montana was burned at sea on a voyage between here and Guaymas. The Mexico was built to take her place, but as business continued to decline she was disposed of to the Pacific Coast Steamship Company, who placed her on the Puget Sound route. A few years since the Newbern, as the last floating property of the old Gulf of California Company, was disposed of to the Pacific Coast Company and had been retained by them on the route between this port and Guaymas, making monthly trios.
Daily Alta California, February 1877.
San Francisco Call, October 16, 1893
THE NEWBERN WRECK
She Is Slowly Settling Into the Ocean.
Divers Will Endeavor to Bring Up the Submerged Silver Bullion.
Redondo, Oct. 15.— The Newbern's position remains unchanged. She is slowly going to pieces. The Coos Bay arrived on the scene this morning and has succeeded in saving considerable of the furnishings. Passengers with their baggage were transferred to the Corona and proceeded on their trip at noon. Divers will arrive to-morrow and endeavor to recover the S25,000 of bullion still in the hold. Conveyances and excursion craft from Redondo visited the wreck. Many souvenirs were obtained, and everybody is smoking genuine imported Mexican cigars. The weather is clear and the sea is very calm. Had the whistling buoy, which was petitioned for by the Redondo Beach Company a year ago been received, this wreck would not have occurred. Such a buoy is absolutely necessary at this point.
NOT YET DECIDED.
No steps Taken Toward Putting on Another Steamer.
Captain Charles Minor Goodall was seen by a Call reporter at his residence, in Oakland, last evening. He stated that his company had not yet determined what will be done in regard to putting on another boat in place of the Newbern. The company will hold a meeting to-day or tomorrow, when the matter will be discussed. Captain Goodall stated further that he did not know anything about the report that the North American Navigation Company intends to place the St. Paul on the route over which the Newbern sailed, but any action that her owners or charterers may take will affect his company, should it be decided to put on another boat to take the place of the lost steamer.
SS New Orleans
Daily Alta California, August 4, 1851
San Francisco, California
The steamer New Orleans (sold at auction in Panama on the 12th July, in pursuance of a decree from the Circuit Court) was purchased by Mr. Ralston, of the firm of Garrison & Fretz, for $50,000, and was to be despatched for San Francisco on the 15th August.
Daily Alta California, March 16, 1853
San Francisco, California
The steamer New Orleans, Capt. Wakeman, left this port on the 11th inst., for Australia. She had on board 110 passengers, and would touch at Tahiti for coal and provisions.
SS New World
June 4, 1851, Sacramento Daily Union
DREADFUL DISASTER
Bursting of New World's Chimney!
Attempt to Fire San Francisco!
The steamer Senator arrived at her landing this morning, at 1 o'clock. Mr. Tannatt, Clerk of Freeman & Co., gives us the following information as to the melancholy catastrophe:
At 5 o'clock p.m., as the steamer New World was on her way down the river, opposite Cache Creek, the upper sheet of the steam chimney exploded, killing one man instantly and badly scalding those whose names appear below. In the excitement two or three persons jumped overboard, and two whose names are unknown, are supposed to be drowned. The damage to the boat is trifling. Dr. K. S. Aldrich, late of the Navy, was on board, and done all in his power to relieve the sufferers.
The Wilson G. Hunt was a short distance behind when the accident occurred. She immediately came up and took the New World in tow. About 6-1/2 p.m., the Clay came alongside, and took a line from the W. G. Hunt, to assist in taking her down.
Too much praise cannot be awarded to Capt. Hutchins. He was everywhere, giving orders with the greatest coolness, thereby preventing the usual confusion on such occasions. At the time the explosion took place, they were running slowly, and with a moderate amount of steam. The accident was deemed unavoidable by all who knew, and not from any want of care on the part of the Engineer, Mr. Van Wort. Mr. Galloway, Pilot of the Hunt, gallantly plunged overboard, and rescued one man from drowning.
All the names of the sufferers are contained in the appended list.
Charles Tromans, Mass., dangerously.
Fred. Geo. King. Oliver street, N. Y.
Michael J. Sullivan, N. Y.
Chas. W. Haskell, Boston
Peter Marks, flasgow, Scotland, dangerously
Chas. Fouche, Ills.
Baron Sands, N.Y.
Thos. Gaskill, Roxby, Massachusetts
Wm. J. Spence, California
Edward N. Jackson, Sacramento
Jas. Reynolds, Boston.
H. M. Cohen, N. Y.
Thos. Swain, Ireland
Frederick Traulskey, Ireland
Henry Brook, Boston.
One dead, name unknown, 2 supposed to be drowned.
We have received the following letter from Capt. Hutchins in relation to the disaster to the New World yesterday afternoon:
Editor Union: Dear Sir—While running from Hog's Back to Cache Creek, under a low head of steam, we started one of the sheets of the steam chimney near the top, thereby filling our forward cabin, fire room, and engine room full of steam. As soon as the steam cleared away, we made search for the wounded, and found one man dead in the forward cabin, and five or six others badly scalded, and a number of others slightly. One of our firemen is badly scalded, one deck hand slightly, barkeeper slightly; all of our officers fortunately escaped. The greater part of the passengers who are scalded were in the forward cabin at the time of the explosion, and I think they are generally deck passengers. W. Hutchins
SS North America
Builder: Lawrence & Sneeden, New York, New York. Engine: Vertical by Morgan Iron Works. Launch: September 14, 1850. Wooden side-wheel steamer, 2 decks, 4 masts, round stern, no head; 1,440 tons; 260 ft. 6 in.x33 ft. 9in.x20 ft. 6in.
At the time of her launching, she was slated for the San Francisco-Panama run, but actually operated between New York and Chagres for the Norwich and New London Steamboat Company. She began operations for Vanderbilt's Independent Steamship Line after sailing from New York to San Francisco via Panama on June 24, 1851 under the command of Captain James H. Blethen, Sr.
In 1851, Hon. Phineas T. Barnum became a part owner of the steamship North America, which he proposed to run between America and Ireland as a passenger and freight vessel. This idea was presently abandoned, and the ship was sent around Cape Horn to San Francisco and put into service on the Pacific Mail Line, Commodore Cornelius Vanderbilt having purchased a one-half interest in it and Mr. Barnum retaining one-third interest in the remaining half. After she had made several trips Barnum called upon Mr. Vanderbilt at his office and introduced himself. It was their first meeting, and this is Barnum's own account of the interview:
"Is it possible you are Barnum?' exclaimed the Commodore, in surprise, 'why, I expected to see a monster, part lion, part elephant, and a mixture of rhinoceros and tiger! Is it possible,' he continued, 'that you are the showman who has made so much noise in the world?' .

"I laughingly replied that I was, and added that if I too had been governed in my anticipation of his personal appearance by the fame he had achieved in his line, I should have expected to have been saluted by a steam whistle, and to have seen him dressed in a pea jacket, blowing off steam, and crying out 'all aboard that's going.'.

" 'Instead of which,' replied Mr. Vanderbilt, 'I suppose you have come to ask me to walk up to the Captain's office and settle.' .

"After this interchange of civilities, we talked about the success of the 'North America' in having got safely around the Horn, and of the acceptable manner in which she was doing her duty on the Pacific side..

" 'We have received no statement of her earnings yet,' said the Commodore, 'but if you want money, give your receipt to our treasurer, and take some.'.

"A few months subsequent to this, I sold out my share in the steamship to Mr. Daniel Drew.&quot.
In February of 1852, after a year of record-setting runs between San Juan del Sur, Nicaragua and San Francisco, she was wrecked off the coast of Mexico. All 900 passengers were saved, but Captain Blethen and the Vanderbilt Line suffered from scathing press, which was surprising given that hundreds of ships sunk in the not-so-pacific Pacific Ocean off of the Americas.
SS Northern Light
Builder: Jeremiah Simonson, New York. Engine: Two direct-acting lever-beam engines by Allaire Iron Works. Cost: $290,000. Launch: October 25, 1851. Original Owner: Cornelius Vanderbilt. Wooden side-wheel steamer, 3 decks, 3 masts. 2,767 tons (2,056 in 1865), 253.6 feet. Brig rigged. The hull was of live oak, locust and cedar, with round lines, not flat or hollow. The hull was painted dark green, with red and white lines at the guard streaks. Accommodations for 250 first-class, 150 second-class, 400 to 500 in steerage. The first-class dining salon was on the main deck and extended across the vessel. 253.6
She sailed the New York-San Juan del Sur route from May 5, 1852 through February 1856.&nbsp.
Daily Alta California, January 20, 185.
The Tribune of the 25th, gives the following account of the departure of the Northern Light. The steamer Northern Light, of the Nicaragua Line, while on her way down the bay yesterday afternoon, with passengers and freight for San Juan de Nicaragua, was brought to by a shot from the United States revenue cutter of Washington, and compelled to return and anchor in the North River. It appears that District Attorney McKeon received a telegraphic dispatch from Washington, at 2 o'clock in the afternoon, ordering him to prevent the sailing of the Northern Light. Messrs, Reyer & Cook were immediately deputized to board her from her wharf and seize her in the name of the Government. They found about three hundred and fifty young men on board, the majority evidently belonging to the class of "roughs," many of them poorly clothed and obviously in destitute circumstances. The seizure was ordered on the ground that the people on board were not bona-fide passengers, but adventurers going out to enter Walker's army. Preparations were being made to get the vessel off when the officers went on board. As the captain was ashore, they found the Chief Engineer and ordered him not to start her engines. Shortly afterward Captain Tinklepaugh went on board the steamer with a Custom House clearance, when the officers informed him of the order from Washington. The captain said he knew nothing about filibustering. Mr. White, the agency of the Company, said that the steamer would sail at her appointed hour, notwithstanding the warrant officer Ryer then stated that he had orders to seize certain articles on board; upon which Mr. White said in that case the vessel would not leave. The captain and Mr. White then went to the District Attorney's office. The greatest confusion ensued on board an don the dock at the turn which affairs had taken, and one man got pushed overboard, but according to the old proverb he must be destined to a different fate, for he was not drowned. Captain Tinklepaugh returned, the hawser was cast off, and the steamer put out into the river, and proceeded down the bay on her voyage, with the United States officers on board. The United States revenue cutter Washington was made fast to a steam tug, and towed after her. A blank cartridge was fired from the cutter, and then a ball was shot across the steamer's bow, to bring her to. She stopped before reaching Quarantine, and by order of the commander of the cutter, but back, and cast anchor in the North River, opposite Pier No. 3. The latter anchored a little below her, and during the night kept watch over her movements. The passengers were ordered to remain on board, but a member of them were smuggled ashore in the course of the evening by the Battery boatmen. The Express, in its account of the departure, says:
Captain Tinklepaugh and Mr. Coles offered every facility to the Deputy Marshal, both while the steamer was at the dock and after coming to anchor in the stream. They offered to have the vessel searched at both places.

As the steamer was just putting out Mr. McKeon arrived on the wharf, and ordered her to be stopped, but it was no go. The crowd (some 500) made a desperate rush to get around him, several cried "Throw him overboard." Mr. McKeon, much excited and very pale, got upon a plank and commenced talking to the crowd, requesting them to immediately leave dock, that they were creating a riot, and if they did not he would have the police called. Just at this moment, some young urchin threw an apple at the Honorable District Attorney's head, which just missed his hat and fell into the water. Finding he could not be heard, he started off, and soon had the revenue cutter Washington in chase of the steamer.

As the steamer was going down, the Battery was full of people in a high state of excitement looking on. The Morning Express of Wednesday, the 26th December, says:

The greatest excitement still exists throughout the city and vicinity, respecting the Northern Light and the Filibusters. At an early hour on Tuesday morning, Deputy Ryer proceeded on board the Northern Light to release Deputies Norton and Cook, who had been on guard all night.

About two o'clock yesterday morning, one hundred and eighty nine of the Filibusters were put on board the pilot boat Edward Griffins, and were transported over to Pier No. 3 when they were all set at liberty.


On putting them on board the pilot boat, the greatest excitement was manifested: they d----d the United States officers, and swore that if ever they caught Frank Pierce in New York, he should never be allowed to leave before they had tarred and feathered him. Some were for throwing the officers in charge of the steamer overboard.

One little fellow, could could not have been over eight years of age, "and who was among those who were to do all the fighting," was heard to exclaim: "If the boys want to get along the authorities won't let them. We could soon have land of our own, if they would only let us off."

A fellow about eight feet high, replied, "O they want us to make boots at Sing Sing. Little fellow, I be d---d if I do.
Some thirty or forty were arrested and put on board the revenue cutter, and two of them becoming noisy were put in irons . . . it seems that fifty marines were stationed on board the Northern Light while she lay at Bedlow's Island . . .
In September 1857, she was placed on the New York Aspinwall line of the United States Mail Steamship Company, went back to sailing for Vanderbilt in March 1859, was chartered by the Quartermaster's Department, War Department between 1862 and 1865 at $792 to $1200 per day. In 1864, she was sold to Russell Sturgis and in 1867 was chartered by Ruger Brothers to open the New York and Bremen Steamship Company. She changed hands again when Henry F. Hammill purchased her on October 1, 1870 for $25,000. She was broken up in 1875.
SS Northerner
Builder: William H. Brown, New York. Engine: Side-lever by Novelty Iron Works. Original Owners: Spofford, Tileston & Co. Wooden side-wheel steamer, 2 decks, 3 masts. 1,102 tons, 203.6 feet. Launch: 1847.
She was intended for New York and Charleston service for Spofford, Tileston and Company. She was sent to San Francisco, arriving August 15, 1850, 16-days out of Panama with 415 passengers. After one journey to Panama for the Empire City Line, she was purchased by Pacific Mail Steamship Company in December 1850. Although she wasn't a fast steamer, she remained on that route until May 1853, at which time she became a "spare" steamer. Traffic went both ways early in California's development. At the end of 1851, the Alta California reports that this steamer left San Francisco with 600 Eastbound passengers and $1,700,000 in gold, and Erik Heyl notes her clearing in August 1853 with $1,154,000 in gold. On January 5, 1860, northbound from San Francisco to the Columbia River and Puget Sound, she struck Blunt's Reef, about twenty miles south of Humboldt Bay. She was breached, but lost 38 lives from the wreck (Heyl cites 32 lives lost).
SS Ohio
Daily Alta California, September 8, 1851
Accident to the Steamship Ohio
The Panama Star of the 15th ult. gives the following particulars of another accident which occurred to the steamer Ohio on a recent trip from New York to Chagres. When about a thousand miles from New York, it was discovered by a few of the officers that the ship was on fire; but so excellent is the discipline maintained on board by Capt. Schenck, that although the fire lasted upwards of three hours, scarcely one of the passengers knew anything about it. It originated, as was afterward found out, from the culpable carelessness or stupidity of one of the "stokers" about the engine, who accidentally broke off one of the "supply cocks,#&34 and instead of informing the engineer of it, foolishly undertook to repair damages himself. This of course, he had not the skill to do, and the consequence was that the boiler, becoming red hot, as we are informed by a passenger, had set fire to its wooden casing, thence communicating to the adjoining woodwork. It is the greatest wonder that the boiler did not explode; and the engineer who was on duty at the time, displayed a negligence of his duties that should debar him hereafter from ever again being allowed to fill so important a station.

The day after the fire, another serious accident occurred, by the breaking of the main shaft, which rendered useless one of the engines, and consequently the ship had to perform the balance of the voyage with one wheel. The damage done by these two accidents cannot be repaired for less than $25,000 to $30,000. There were upwards of three hundred souls on board, and had they had a less cool and experienced commander then Captain Schenck, there is no telling what, between the fire and machinery, would have been their fate.
SS Oregon
Builder: Smith and Dimon, New York. Engine: Side lever by Morgan Iron Works, New York. Launch: August 5, 1848. Original Owner: Pacific Mail Steamship Company. Wooden side-wheel steamer, 2 decks, 3 masts, dragon head. 1,099 tons (1,052 tons in 1865), 202.9 feet.
This steamer, along with the Pacific Mail Line's vessels California and Pacific, were among the first to reach California just as the discovery of gold was breaking. She sailed from New York on December 8, 1848 for San Francisco via Rio de Janeiro, Valparaiso, Callao, Paita and Panama. Her running time to Panama on that trip was 55 days, 8 hours and she arrived in San Francisco on April 1, 1849. On one of her southbound trips, thieves bored a hole through the strongbox and stole $10,000 in specie. They refilled the hole with wax and no one found out until she reached Panama. She stayed on the San Francisco-Panama route until 1856 when she was placed on the San Francisco-Columbia River run. In 1861, Holladay and Flint bought her. In 1869 her engine was removed and she was converted to a bark for use in the lumber trade. She sank in the Strait of Juan de Fuca when she collided with the bark Germania in 1880.
(Note from Reader June 2007: Most histories do state that the SS Oregon sunk in the Strait of Juan de Fuca. However it was towed to its home port of Seabeck, Washington, where it sunk. I wrote an article about her which appeared in the Puget Sound Maritime Historical Society's "The Sea Chest" , March 1982, and included information about her in the book that I authored, "Seabeck: Tide's Out; Table's Set."— Fredi Perry. The book is available through the author.
SS Orizaba
Builder: Jacob A. Westervelt and Company, New York. Engine: Vertical-beam by Morgan Iron Works. Cost: $241,000. Launch: January 14, 1854. Original Owner: New York-New Orleans-Vera Cruz line of Morgan and Harris. Wooden side-wheel steamer, 3 decks, 2 masts. 1,450 tons, 246 feet. Accommodations for 1,028. Fifty-six first-cabin staterooms, 30 of which were on deck with 26 opening into the main salon. The second cabin was divided into 35 staterooms, which was an innovation on the Pacific at the time of the Orizaba's arrival. In steerage there were berths for 590, and "60 standees." (Note: Unclear as to what "standees" means as of this date – that passengers had to actually stand on the journey?!) She had an icehouse with a capacity of 30 tons, tanks for 18,000 gallons of fresh water and carried four large lifeboats and two quarter boats.
The SS Orizaba, was launched in 1854 for the New York to Panama passenger business. Vanderbilt bought her and sent her to the Pacific in 1856 for his Nicaragua-San Francisco route. She made her first trip to San Francisco, where she arrived on October 30, 1856, in sixty-one days at sea from New York via Rio de Janeiro, Lota, Valparaiso, Talcahuana and San Juan del Sur, Nicaragua. She plied those waters for ten years, then was sold to the California Steam Navigation Co, then the Pacific Mail Line and, in 1875, to Goodall, Nelson and Perkins. She remained in the local coast trade between San Francisco and San Diego until 1865. Unlike many of her contemporaries, the Orizaba was a lucky ship in that she did not end up on the rocks like, but finished out her career as a coastwise liner, serving ports from San Francisco to San Diego until retired in 1877.
SS Pacific
Click on the SS Pacific above to be taken to the story of her sailings.
SS Panama
Builder: William H. Webb, New York. Cost: $211,356. Launch: July 29, 1848. Original Owner: Pacific Mail Steamship Company. Wooden side-wheel steamer, 2 decks, 3 masts. 1,087 tons, 200.4 feet. This steamer, along with the Pacific Mail Line's vessels California and Oregon, were among the first to reach California just as the discovery of gold was breaking. After a false start in December 1848, when she had to return to New York for a cylinder repair, the Panama left New York for San Francisco on February 15, 1849 and arrived in San Francisco on June 4.
She was on regular San Francisco-Panama service through 1853, was a spare steamer through 1857, then put on the San Francisco-Columbia River run until 1861 when she was sold to Holladay and Flint. They presented the Panama to the Mexican government in 1868, armed with two 30-pounder Parrot guns and four 12-pound long guns, as part of an agreement in relation to a mail contract.
Tri Weekly Alta California, April 9, 1849
San Francisco, California
ACCIDENT TO AN AMERICAN STEAMER -- The new American steam packet Panama, Capt. Comstock, belonging to the Pacific Company's line, between Panama and Oregon, left New York in November last, for the Pacific, to take her place on the route. When five days out, from some unaccountable cause to those on board, the steam cylinder and piston became crooked, and the engine of course useless. The vessel was immediately put about for New York under canvass, where she arrived about the middle of December. A survey was then held to ascertain the cause of the accident, when it was found that a piece of pine wood, 7 inches long and 4 inches square, had, by some means been introduced into the cylinder, and the immense force of the piston striking upon the wood, had finally broken the piston, and so damaged the cylinder, as to render them both unfit for use. The Panama is a strong and splendid vessel. Her failure to reach Panama at the appointed time, will be a serious inconvenience to those bound to California via the Isthmus. She is now repairing, and sails February 15th, via Cape Horn.
SS Peytona
Daily Alta California, August 1, 1853
ANOTHER STEAMER FOR THE SAN FRANCISCO AND SANDWICH ISLAND TRADE--A propeller called the Peytona, originally built to run between New York and Philadelphia, is now fitting at New York to go to San Francisco, to run between there and the Sandwich Islands. The keel of another vessel for the same line has been laid at Philadelphia.
SS Pilot
August 29, 1878, Sacramento Daily Union
Body Recovered
Petaluma, August 28th -- The body of Mrs. Brooks, stewardess of the steamer Pilot, who was drowned four days ago by falling overboard at the steamer landing, was recovered today.
May 28, 1883, Sacramento Daily Union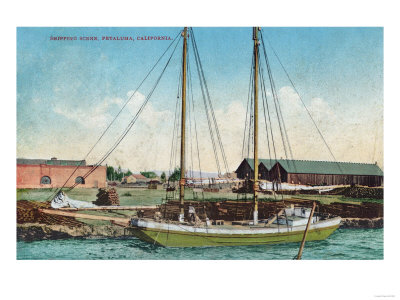 A Shipping Schooner Scene
Petaluma, CA
Six bodies are still unrecovered from the wreck of the Pilot in Petaluma creek. The inquest familed to elicit the cause of the explosion.
The Steamer Pilot Disaster
Petaluma, May 27. The body of A. G. Blackwell, a Pilot victim, was recovered at 10 a. m. today, 1,800 feet below the wreck. It was brought up with grappling irons, and brought to this city. His neck was broken, arm broken; and the left leg below the knee. The sum of $83 in coin was found on his person. Six or seven boats have been in operation throughout the day, dragging the creek, and fifteen guns were fired to raise the bodies, but to no purpose.
April 15, 1884, Daily Alta California
Suit for Insurance.
M. J. Miller has brought an action against the California Insurance Company, to recover $3,000 claimed to be due on a certain policy of insurance issued by defendant company to N. Gould upon the steamer Pilot, which was destroyed by an explosion of its boiler May 25, 1883, in Petalama Creek.
May 27, 1885, Daily Alta California
San Francisco, California
Suit for a Father's Life.
John J. Haegen was killed on the 25th of May, 1883, by an explosion of the boiler of the steamer Pilot in Petaluma creek. His heirs have brought suit against N. Gould, owner of the steamer, to recover $10,000 damages. The complaint alleges that the accident was due to the unsafe condition of the boilers and carelessness on the part of those in charge.
SS Pioneer
The Pioneer was a large new propeller, one of the Vanderbilt Nicaragua Line. She wrecked on her first voyage from the East Coast to San Francisco via Cape Horn, and never reached the city.
Daily Alta California
, August 21, 1852
LOSS OF THE STEAMSHIP PIONEER
PASSENGERS ALL SAVED
The Seabird from San Diego brings the intelligence of the wreck of the Steamer Pioneer at St. Simon's Bay about 200 miles South of this port. On her passage around Cape Horn, and while in the Bay of Talcahuano coaling, she dragged her anchors in a gale of wind and ran on a reef, receiving so much damage as to cause a leak, which increased on her passage to Panama to such an extent as to require the pumps to be kept in constant operation. She proceeded, however, to San Juan, taking on board at that place a full complement of passengers. After leaving Acapulco her machinery became a little deranged and it was soon discovered that she was out of coal and two of the flanges of her propeller had been carried away. In this crippled condition, without coal and without propelling power, she was overtaken by a heavy head sea; and although the pumps of her steam engine, together with all her side pumps worked by 50 men, were in constant motion, the water made so fast that it was deemed absolutely necessary for the preservation of the lives of the passengers, to run the ship into some place of shelter where they could be landed without risk. She was, accordingly, run into St. Simon's Bay on the evening of the 16th. The water on the following day having gained on them so fast as to reach the furnaces extinguished the fires. To prevent her sinking she was run on shore where she soon after filled.

The pumps of the engine and four small pumps were kept going by a gang of men in the hope of freeing her sufficiently to save whatever might be of value.

The steamer Seabird fortunately passing on the 18th inst., on her trip to San Diego, went to her assistance and took off 24 of her passengers, who reached here this morning. Twenty passengers died on the trip.
SS Prometheus
Sailed from San Juan del Norte to New York in January of 1851. Nicaraguan port officials claimed she owed them $123, which the Captain of the Prometheus refused to pay and sailed. The Nicaraguan official reported them to the British Consul, who sent out the British gun boat Express. The Express ordered her to stop and when the Captain refused, she fired close to her and threatened to fire a shell into her. The Prometheus returned and paid the dues.
SS Republic
Builder: 1849. Engine: Two oscillating by Murray and Hazlehurst, Baltimore. Original Owner: Baltimore Steam Packet Company, G. S. Norris. Wooden side-wheel screw steamer.
Early in 1850 she was sold to Howland and Aspinwall for $135,000 and sent to the Pacific Coast in April 1850. She entered the Panama-San Francisco service for George Law, was sold to the Pacific Mail Steamship Company in January 1851 for $197,000, and entered its service in May 1851. She remained on the Panama run through 1855, was sold to Holladay and Flint in 1861. In 1864 her engines were removed and placed in the Del Norte. She finished her life as a coal hulk and supply ship for the California, Oregon and Mexican Steamship Company.
SS Samuel S. Lewis
Builder: Captain R.F. Loper, hull by Theodore Birely and Son, 1851. Engine: Geared-beam by J.T. Sutton and Company, Philadelphia. Launch: June 12, 1851. Original Owner: New England Ocean Steamship Company, Herndon and Company's Boston-Liverpool Line. Wooden screw steamer, 3 decks, 3 masts. 1,103 tons, 216.9 feet.
When the New England Ocean Steamship Company failed, Vanderbilt purchased her in 1852 for his Nicaragua Line. She sailed from New York on March 5, 1852, arrived in San Francisco on July 7, 126 days from New York and 26 days from Panama. Because of overloading and unsanitary conditions, she received bad press, but then, many of Vanderbilt's ships received bad press from the Daily Alta California, so much so that one historian has suggested that the articles sounded as though the Daily Alta California was in the employ of the Pacific Mail Steamship Company. On April 9, 1853, the steamer ran aground on Duxbury Reef, North of the Golden Gate near the little coastal town of Bolinas. All passengers were saved, but she was a total loss.
SS San Francisco
Click on SS San Francisco above to be taken to the story of her sailings.
SS Sarah Sands
Builder: James Hudson and Company, Brunswick Dock, Liverpool, England. Engine: Oscillating. Launch: September 1846. Original Owner: Sands and Company. Iron screw steamer, 4 masts, bark-rigged. 1,400 tons, 215 feet. Watertight compartments on lower, main and spar decks. The forward cabin ran the full width of the ship, making possible seating for 70.
She sailed on her first voyage from Liverpool to New York on January 20, 1847, arriving February 10. She operated across the Atlantic until she was chartered by the Empire City Line and sent to San Francisco where she arrived June 5, 1850. Pacific Mail purchased the Sarah Sands and operated her until July 1851, even though she was a very slow steamer. She was again sold, cross to Australia, returned to England, and again on the Liverpool-New York run as of April 1852. She was chartered by the British government for service in the Crimean War and in 1857, while carrying troops to India, she was struck by a gale and then gutted by fire. She remained afloat, her engines removed, returned to England under sail, and wrecked near Bombay in 1858. (Note: Two accounts have her as wrecking near Bombay; Heyl cites her as having been wrecked on the Laccadive Islands.)
SS Sierra Nevada
Builder: William Collyer, New York. Engine: Two vertical-beam by Morgan Iron Works. Launch: October 25, 1851 as the Texas. Original Owner: S. Dayton. Cost: $210,000 (one source cites a cost of $240,000).
The steamship Sierra Nevada was built in New York in 1851 by Charles Morgan, who intended her for the Texas trade. She was afterward sold to Commodore Garrison. Although she was advertised as the Quartz Rock, she made her trial trip as the Sierra Nevada and operated from New York to Chagres from February until October 1852 by the Empire City Line. She made three trips to Chagres, then sailing from New York for San Francisco, December 12, 1852, in Command of Capt. J. D. Wilson, who died at Panama and was succeeded by Captain Tanner, who completed the voyage.
Her first work on arrival was on the San Juan route, in charge of Captain Blethen. She was one of the fastest of the old line of steamships, and, while she might be considered a slow packet to-day, in 1862 she made a record from San Francisco to Portland of 72 hours, which was not beaten for several years.
The steamer first came to Portland in charge of Dall, who was succeeded by Wakeman, Conner, Johnston, Williams, Huntingdon, Fauntleroy, and others, of whom Conner was longest in command. During his time the old steamer carried 500 and 600 passengers per trip.
She was purchased by Vanderbilt and sent to San Francisco, where she arrived March 23, 1853 for the San Francisco-San Juan service. She remained there through 1857, was purchased by the Pacific Mail in 1860 and placed in the San Francisco-Oregon service. In February 1861. When Holladay and Brenham started the California, Oregon & Mexican Steamship Company, the Sierra Nevada was sold to them.
On October 17, 1869, the steamship Sierra Nevada, an old-timer on the northern route during the Fraser excitement, struck a reef three miles north of Pedro Bianco while en route from San Francisco to San Luis Obispo in October, and twenty minutes later keeled over and filled and was pronounced a total loss. (E. W. Wright, The Alaska Purchase, Advent of Many Fine Steamers on Puget Sound, Lewis & Dryden's Marine History of the Pacific Northwest. New York: Antiquarian Press, Ltd., 1961., p.180.)
SS Sonora
Builder: J.A. Westervelt and Company, New York. Engine: Two vertical-beam by Morgan Iron Works. Launch: October 1, 1853. Cost: $302,000. Owner: Pacific Mail Steamship Company. Wooden side-wheel steamer, 3 decks, 2 masts. 1,616 tons, 269 feet.
The SS Sonora was part of the Pacific Mail fleet, along with the Saint Louis in the early 1850s. Both were described as "fine steamers registering a trifle over 1600 tons." She cleared New York for San Francisco on March 11, 1854, arriving May 31. She was on the San Francisco-Panama run through May 1863. In "To California by Sea," James P. Delgado writes: In August 1854, Yankee Blade ran out of coal off Coiba Island near Panama. The Pacific Mail steamer Sonora passed but did not stop in response to Yankee Blade's guns and distress rockets. Some of Sonora's passengers reported the steamer's plight on arriving at Panama." Yankee Blade made it to Panama before a rescue ship could be sent to rescue her. The Sonora was dismantled and broken up on the beach at Sausalito, across the Bay from San Francisco, in 1868.
SS Tennessee
Please click on the Tennessee's name to read her story.
SS Uncle Sam
Builder: Perrine, Patterson & Stack, Williamsburgh, NY, 1852. Machinery: Allaire Iron Works, New York, New York. Launch: January 1853. Owners: Edward Mills, New York, NY 1852-53; New York & San Francisco SS Co. 1853; Cornelius Vanderbilt (Independent Opposition Line) 1853-54; Nicaragua SS Co. 1854-56; US Mail SS Co. 1856-59; Atlantic & Pacific SS Co. 1859-60; Pacific Mail SS Co. 1860-66; James S. Herman & Co. 1866-78; Hong Kong Owners 1878. .
Daily Alta California, January 12, 1853
Marine Affairs

STEAMSHIP UNCLE SAM. -- In a description of the trial trip of this handsome vessel, which we take from a New York paper, a tribute is paid to the energy of her owner. From a personal knowledge of Mr. Mills' indomitable energy of character, we are free to say that it is well merited.

Through his untiring perseverance the successful navigation of the ocean by American steamships was first practically demonstrated in the establishment of the present New York and Bremen line of steamers.

"Mr. Edward Mills, who is justly entitled to the honor of being the Pioneer in Ocean Steam navigation, having completed another "floating palace," -- the Uncle Sam -- gave her a showing off, yesterday, by a trial trip up and down the River, and around the Light Ship.

The Uncle Sam was built by Messrs. Perine, Patterson & Stack, at Williamsburgh, and is intended to run in the California line. Her dimensions are as follows: -- Length of keel, 240 feet; deck, 250 feet; beam, 36 feet; actual tonnage, 1800, but owing to her peculiar construction the government measurement is 1435 tons. The accommodations are for first-class or saloon passengers, 150; second-class, 250; steerage, 458. The machinery is from the Allaire Works. The engine is 66 inch cylinder and 12 feet stroke; the boilers are 28 feet long, 12 feet shell, and 12-1/2 front: the wheels are of iron, and are 32 feet diameter.

A more beautiful model we have never seen; it is, perhaps, even an improvement on the Ericsson, recently launched from the same yard -- a ship, by the way, upon which the eyes of the whole scientific world are just now turned. Her "trial trip," will come off next week.

We have not space to give a minute description of the internal arrangements and economy of the Uncle Sam; but they struck us as the very perfection of the noble art of marine architecture. Strength, speed, safety, comfort and luxury have all been provided in this beautiful vessel; and that, too, at less cost than in any other ship afloat of equal accommodations. She made yesterday 18-3/4 miles an hour, while carrying only 22 pounds of steam; and at this rate of speed there was less vibration to the ship than we have ever felt on board of any ship.

The Uncle Sam is now running to Aspinwall, but we understand she will come around to this side in the spring.
From The Daily Alta California's New York correspondent:"
. . . Among other marine items I can mention the departure of the fine steamer Uncle Sam. Mr. Edward Mills, her owner, has withdrawn her from the Chagres line and expended a large sum in order to maker her entirely acceptable to the California public. She is indeed a fine boat, well ventilated, and as we all know, fast. She leaves today for San Francisco via Cape Horn, and on her arrival in the Pacific will take her place between Panama and your city. Mr. Mills is building a larger and even finer vessel to connect with the Uncle Sam on this side, which he intends to call the Yankee Blade. She will be ready about December next. "
On June 22, 1853, she left New York for San Francisco. While she was at sea, she was taken over by the Independent Opposition Line. Upon arrival in San Francisco on September 20, 1853, the Uncle Sam was put on the San Francisco-San Juan run. In September 1855, the Uncle Sam came into San Francisco with cholera aboard – out of 650 passengers, 104 died at sea and nine more died after they had been landed.
January 3, 1856, Daily Alta California
TWO STEAMERS--Rates of Passage--Number of Passengers.

The Golden Gate, of the Panama Line, and the Uncle Sam, of the Nicaragua Line, are advertised to sail this morning at 9 o'clock, and will probably got off about noon. The Golden Gate will take between four and five hundred passengers, and her rates of fare are in the First Cabin, $250; Second Cabin, $175; Steerage, $100. The Uncle Sam will have about four hundred passengers, and her rates are in the First Cabin, $225; Second Cabin, $150; and in Steerage, $95. There are a large number desiring to go down to Nicaragua, but up to a late hour yesterday, only twelve tickets had been sold. The parties were holding back for a reduction in the price of passage, which has been fixed for this steamer at $75. The Cortes carried down for $60. Most of these who are negotiating for tickets to Nicaragua are from the interior. The sad news received yesterday of the death of three well know young men from this city has cast a gloom over the wide circle of their bereaved friends, and this intelligence will have a tendency to dampen the zeal for those who may have been longing for the charms of Central America.
January 6, 1856, Daily Alta California
DEPARTURE OF THE STEAMERS. -- The steamer Golden Gate sailed yesterday, at half past 2 P.M., carrying about 400 passengers and $1,276,928 treasure. The Uncle Sam, of the Nicaragua line, attempted to leave about the same hour, but was detained in consequence of the ship being aground, which delayed her until seven o'clock in the evening. The latter carried about 300 through passengers and 120 for Nicaragua, and $565,304 treasure. Of those who went down to Central America, sixty-five were provided with passage by the agents of the government, and the others went down upon their own account. A search warrant was issued, and a cannon recovered and taken ashore. There was also another small piece taken off in the early part of the day and restored to the owner.
The US Mail SS Co., bought her, the Cortes and the Sierra Nevada to keep them out of Vanderbilt's hands. However, when the award of the mail contract of 1859 went to Vanderbilt, his Atlantic & Pacific SS Co. bought the Uncle Sam, the Cortes and the Sierra Nevada, all for Pacific service. In 1860, the three steamers went back to the Pacific Mail Co.
In March of 1861, the Uncle Sam's machinery had broken down and she was towed by the Golden Gate from Acapulco to San Francisco. Enroute north, the Uncle Sam's captain and a passenger on the Golden Gate played chess. The moves of the chess men were indicated on a blackboard held aloft on each steamer after each move. The Uncle Sam was defeated in 41 moves.
In February 1866, the Uncle Sam was purchased by the Panama firm of James S. Herman & Co., and in February 1878, San Francisco newspapers noted that she was purchased by a Hong Kong firm.
SS Unicorn
Built at Greenock, Scotland, 1838. Engine: Double. Wooden side-wheel steamer. 650 tons, 162 feet.
She operated as a coastal steamer between Glasgow and Liverpool until purchased by the British and North American Steamship Company (Cunard Line) and sailed from Liverpool for Halifax and Boston on May 16, 1840 as the pioneer of the service. She was chartered by the Aspinwall's Pacific Mail in 1849, purchased by him in 1850 and operated occasionally between San Francisco and Panama until 1853. She was sold again, sent to Australia, and her fate it unknown.
SS Union
Daily Alta California, July 21, 1851
LOSS OF THE STEAMER UNION. -- The Union, which left San Francisco July 1, with 250 passengers and $270,000 in gold dust, went ashore on the 4th inst., about 300 miles south of San Diego and will prove a total loss. The passengers and specie were saved, as well as the baggage and provisions. She lies in lat 29 45 N, long 115 50 W, 60 miles distant from San Quentin in a northwesterly direction. She stranded inside of an outer sand ledge, striking heavily, lying about 1-1/2 miles from the shore at high water, a heavy surf breaking over her, rendering approach dangerous.
Daily Alta California
, July 21, 1851
Loss of the Steamer Union.
We have received from Messrs. Haven & Co. the following statement, to which we cheerfully give place:

EDITORS ALTA CALIFORNIA:
We communicate the following particulars relating to the loss of the steamer Union, as calculated to relieve the anxiety which naturally would be felt by those who had friends among the passengers.

The steamer sailed hence the morning of the 2d inst., and had a very fine run until the 5th, on the morning of which day at 3:30 A.M., the weather being very foggy, the vessel struck heavily upon a reef, distance one-half mile from the shore, near Point Beja, about 60 miles to the southward of the Bay of St. Quentin, and after beating over a portion of the reef, became stationary on hard sand, and distance 300 yards, at high tide, from the beach. Preparations were at once made to land the passengers, a task at once difficult and dangerous, owing to the heavy breakers. By 10 A.M. all the passengers were safely landed, and on the same day a supply of provisions, and also the specie, amounting to $270,000 were brought on shore.

A somewhat mutinous spirit having been manifested by a few disaffected persons, prompt and effectual measures were at once taken by a few of the passengers to preserve order and discipline, and sustain the authority of Capt. Marks; and a guard of thirty men were placed over the treasure. On the morning of the 7th, Dr. Hewett, U.S.A., who had kindly and nobly volunteered his services, started for San Diego, distant 400 miles, over a mountainous and rugged road, with intelligence of the disaster, and to secure the necessary relief. Upon the arrival of that gentleman at San Diego, after an arduous ride of four days, without sleep or rest, finding it impossible to secure at the place the means of transportation; and the Tennessee fortunately making her appearance in the course of a week, he at once embarked on board, hoping to meet some of the steamers of the 15th from here and inducing them to touch in at San Quentin and take off the 230 passengers. Capt. Totten, in the true spirit of a sailor and gentleman, promptly acceded to the wishes of Dr. H. in maintaining a vigilant lookout for any vessel bound downward, and had a boat in constant readiness to place him on board of any of the steamers, neither of which was however seen.

It gives us great pleasure to state that upon a representation of the facts to Capt. E. Knight, the agent of the P.M.S. Co., that gentleman promptly, cheerfully, and in great generosity of spirit, consented to dispatch one of the company's vessels to take off the passengers and specie as soon as practicable. We avail ourselves of this opportunity in behalf of Captain Marks and the owners of the Union to express to Dr. Hewit (Editor's Note: Second form of spelling), the deep obligation incurred by the tender of services in conveying the intelligence of the disaster, and his disregard of toil and danger in effecting the journey alone from the wreck to San Diego, as well as for the good judgment displayed in all the steps taken by him to furnish relief to the passengers and crew, all of whom were in good health and amply supplied with provisions. Dr. Hewit speaks in warm terms of the courage, skill and energy exhibited by Capt. Marks and Mr. Berry, the first officer, from the first moment of the disaster and throughout the perilous landing of the passengers and treasure, and make very favorable mention of the Chief Engineer, whose name has escaped his recollection, in compelling the firemen to return to their duty which they had neglected in a moment of panic. At the time Dr. Hewit left, the vessel had broken in two amid-ship and was fast becoming embedded in the sand.
Daily Alta California
, August 3, 1851
San Francisco, California
RETURN OF THE TENNESSEE. -- This steamship, which left port ten days since for San Quentin, for the relief of the passengers and crew of the steam propeller Union, returned yesterday about 12 o'clock. Their errand of mercy was rendered useless, as the steamer Northerner had preceded them. For the annexed particulars of the trip we are indebted to Purser Isaacs: Steamship Tennessee, Captain G.M. Totten, arrived off San Quentin, 28th ultimo, but was prevented by fogs from entering the bay until the next day, when a boat was dispatched ashore with Messrs. Scott, Wethered, Emmett and Conner, who were selected to seek information concerning the passengers. After rowing along the beach for several miles the first officer, Mr. Burns, succeeded in landing the party through the surf. They at once proceeded in a southerly direction, and after traversing marshes and clambering over mountainous ranges discovered signs of the former encampment of the passengers.

Subsequently they encountered a half breed who informed them of the Northerner having taken off all the passengers, and saved what could be recovered from the wreck.

The party then retraced their steps for the vessel, and after passing the night in the open air and enduring much fatigue and exposure, reached the boat the next day and were brought off in safety.
The Tennessee sailed from San Quentin the 30th ult. at 12 M and arrived at San Diego 2 A.M., 31st ult. Thence sailed at 11 A.M., and off the Coronados Islands observed a steamer, supposed to be the California, bound into San Diego; on the 21st ult., off San Pedro, passed steamer Goliah bound southward; on the 1st at once P.M., 100 miles south of Monterey, the Tennessee spoke the steamer Independence for Panama. Daily Alta California, August 6, 1851.

Steamship Carolina, Captain Whiting, arrived at Acapulco on the morning of the 26th, at 5 o'clock. On the 27th, at 8 A.M., steamer Northerner arrived from San Francisco, having on board the passengers, officers and crew of the steamer Union, wrecked near Cape Bajo; the Northerner also had on board the specie saved from the wreck. Passengers generally saved a great part of their luggage; no lives lost.
SS Wapama
The Wapama Steam Schooner, a wooden-hulled steamer, was built in 1915 for the coastal lumber trade, is unique to the West Coast. Click to read her story.
SS Washington
Daily Alta California, July 21, 1851
Arrived in San Francisco from Baltimore on July 21, 1851
SS Wilson G. Hunt
January 25, 1851, Sacramento Transcript
Sacramento, California
Marine Intelligence: Port of San Francisco. Arrived: January 22 - Steamer Wilson G. Hunt, Bowne, from New York via intermediate ports; 26 days from Panama, acapulco 13 days; in ballast, to Vassaulit & Co.
April 7, 1851, Sacramento Transcript
The Progress of Our City
We spent an hour on the Levee, Saturday afternoon, and were forcibly reminded of the vast difference it presents now from what it did when we stocd on the banks of the river two years ago. About half past one o'clock, we observed a steamer rounding the point above, which soon came rapidly along as though it had been urged forward by electricity. Soon it was moored safely alongside the receiving hulk, and we found it to be the Gov. Dana, from Marysville, making the trip in an incredibly short time. A few minutes after her arrival, the noble New World soon began to toss backward and forward, like an impatient charger, which movement was speedily follewed by that crack river boat, the Wilson G. Hunt, and soon these magnificent walking parlors "cast loose" and away they went with their "live cargo" for the Bay City. Before they had rounded the lower point in the river, we saw the smoke of a craft beyond the point, on its way up, and soon it came in full view. It proved to be the San Joaquin from San Francisco for Marysville. As the steamer drew nigh we found it crowded with up-river passengers, and loaded down with freight. This steamer hauled up to the Levee to discharge a part of her cargo, but before she could do so, out shot that swift and fairy-like specimen of a craft, the Union; away went the Union as though it had a notion of overtaking its illustrious predecessors, the Wilson G. Hunt and New World, but we rather guess 'twas no use, as half an hour's start is rather too much vantage. Quickly the Union was followed by that popular boat the H. T. Clay, which is furnished with excellent accommodations, and officered by gentlemen.

Thus, in less than an hour, did four boats leave and two arrive at our Levee, indicating that trade aud travel are both in a progressing state.
March 20, 1851, Daily Alta California
The Wilson G. Hunt. — This fine steamer is now lying at the wharf, at the foot of Jackson street, and will be ready to commence her trips to Sacramento to-morrow afternoon. Since her arrival here, she has been undergoing thorough repairs, an is fitted up in magnificent style, like the Hudson river steamers. She has a splendidly furnished ladies' saloon, and about oue hundred and thirty berths, together with a number of staterooms. She is strongly as well as beautifully furnished. The painting work, done by Mr. C. G. Howard, under the direction of J. N. Wilson, is some of the finest that we ever saw on a boat, and will bear the closest inspection. The glass in the cabin doors is stained with various colors, which throw a mellow light along the cabins. The staterooms are designated by the letters of the alphabet, beautifully painted in gilt. The joiner work was done under the direction of Mr. Lathrop. Capt. Bowne is well known as an agreeable officer, and we doubt not that the Wilson G. Hunt will be well patronised by the traveling community.
March 29, 1851, Sacramento Transcript

The Wilson G. Hunt. — There are reasons why a boat should be known and appreciated by the public, and the Hunt offers them. Her superior accommodations and swift sailing are unsurpassed, and the urbanity and gentlemanly deportment of her officers unequalled— at least the subscriber thinks so, from his experience on her last trip from San Francisco, and he believes it not amiss to to inform the public of it by this notice. --MINER.
May 21, 1851, Sacramento Daily Union
Editorial Correspondence.
San Francisco, May 18, 1851.
My dear Friend L.: Thus far my visit has not lacked incidents of interest, and all surrounding scenes, combined with a brain crowded with thrilling anticipations, produce a degree of excitability almost unfitting me for the duties of a correspondent.

River Docks, Sacramento

I do not indeed feel as if I should be able to do myself justice, or to afford a tolerable response to our mutual wishes in regard to our favorite "Union," to the prosperity ot which we look with so much interest. As far, however, as thoughts under such circumstances can be collected and made subordinate to desire, so far will I endeavor to keep you advised. Some strange fatality induced me to take passage upon the Wilson G. Hunt, and after boarding her, and so far committing myself, that it would have been indelicate to change my determination. I found that I had unwittingly thrown myself into a completely galvanized circle of democracy.

There I was occupying an almost insulated position, and constantly liable to be charged and overcharged with this electropolitical fluid, to the "shocking"' tendency of which I am, as you are aware, so very sensitive. To break up the insulation, and accumulate neutralising forces, I made an immediate search of the premises, in hopes of discovering a few equally unfortunate Whigs. In this I was fortunate, for I succeeded not only in finding a numerical force sufficiently strong to overcome the power of the combination, but what was most agreeable, the discovery of a regular little "Clay Whig," whose only political sin was a little recent electioneering for her esteemed friend Recorder W--n.

With such hastily marshalled elements of defence, we succeeded not only in repelling the broadside first discharged upon us, but a coincidently discovered source of attraction by their leaders, enabled us to keep the enemy at so great a distance, as to make their actions appear more illusory than real. In this attitude, they seemed to be fantastically employed in weighing adverse opinions, in estimating the probable results of personal conflicts, in defining the boundaries of inherent rights, in testing the strength of cohesive attraction where the bodies to be held in bondage had no natural affinity for each other, in fixing limits to official aspiration, and adjusting claims according to their priority and intrinsic merit. In achieving these latter objects, there seemed to be the greatest difficulty experienced. It seemed as if it were impossible to say to the spirit of aspiration, "thus far shalt thou go, and no farther," and to adjudicate the comparative claims of the aspirants, was to all appearance more impracticable than anything else. Indeed, the wisest of them fairly failed to exhibit the indices of full-fledged conclusions in this respect and we do not wonder at it, unless the medium through which we contemplated the scene was entirely deceptive and illusory. There was such an array of glittering virtues brought out to sustain the respective claims, that one could not reproach them on account of their indecision . . . . With such conflicting claims sustained by such an equalization of virtues, it is not wonderful that our enemies were seen now agitated — now calmed —now grouping —now separating — now drinking —and anon fraternizing upon an incoherent and mutually pledged conclusion to refer the whole matter to the approaching Convention, and more sober senses.

By the time this reference of the subject was made, we were entirely relieved from our precarious position by a somewhat irregular and difficult retreat of the enemy's forces from the bottle-scenes of the Hunt, to an old receiving hulk at Benicia. After they left us, we received a fresh contribution of Whigs, and with the gallant craft set our faces towards the ill-fated City of San Francisco. Now, whether it was in punishment for having got into such a Democratic crowd —whether it was because we received on board a modern Jonas at Benicia —or whether it was because all the virtue did really belong to the Democratic branch, I will not at present decide. But this much is certain, that all hands were very near going into a salmon speculation, which I know would not have resulted pleasantly to expectant husbands.

Just as the swift gliding Hunt was turning out of the Straits of Carquinez, a gale of wind and the heavy tide struck her, and caused her to careen just enough to the other side to catch the full force of a huge wave, which, breaking its crest upon the wheel-house, tore the stern portion of it entirely away, and buried this side of the vessel's decks in an immense body of water. At this juncture, to increase the difficulty, the heavy chain-boxes used for trimming the boat, broke loose, and running across the bows with great force, one of them went overboard, and the other could not be moved back until the canted steamer was restored to its former position. Thus matters stood for about five minutes, much to the inconvenience of persons who have a constitutional objection to drowning. There was, of course, considerable excitement and confusion in the premises, and would have been much more, if there had been less decision and coolness manifested by the excellent officers of the boat. The most ludicrous features of the event were the devotional feelings of one gentleman, who having embraced a plank, seemed to be excessively anxious to find a good place for setting sail without the inconvenience of too much company and the strange hallucination of another one, who seemed determined to get a mammoth old grey horse into the Ladies' Saloon. The man with the plank seemed to hug it up to his bosom, as if it were the embodiment of all good qualities; and with a most devout expression of countenance, appeared to be murmuring a kind of soliloquy, in which one could infer the most touching and pathetic interjections strung together in this wise "Dear, dearest Plank! thou art my great supporter in tribulations and trials! Thou wert constructed for my especial use! I've watched thee for the last three minutes with the intense agony of a frantic lover Thou know'st I love thee! thou art my bed and board! on thee are predicated life and happiness; and from thee do I derive sweet and sustaining counsel in the night of my adversity; buoyantly expecting by thee to be enabled to outride this terrific storm, and escape the dangers of the merciless deep! Dear Plank! I am thine, and thou'rt mine!"

During this temporary excitement, the Captain and Clerk were flying about all over the boat, singing out, "No harm done, gentlemen; keep quiet, be calm, all will be right in a few minutes and, true enough, all was right in a few minutes, and the Wilson G. Hunt, with a becoming equilibrium, was moving off as gallantly as though nothing had happened. In an hour and a half afterwards, we were safely moored alongside the Pacific Street Wharf, with the fullest confidence in this excellent steamboat, and its "exceedingly courteous and accomplished officers. The damage to the wheelhouse was trivial, and did not in the least interfere with its regular trip on Monday. — Truly yours. J. F. M.
June 7, 1851, Daily Alta California
San Francisco, California
SACRAMENTO INTELLIGENCE: The Wilson G. Hunt ran aground in Cache Creek on her trip to Sacramento on Wednesday night, and was towed off on Thursday by the Senator, and proceeded on her trip to Sacramento. She left at an early hour yesterday morning and arrived in the afternoon.
July 31, 1851, Daily Alta California
A collision occurred in, or near "the slough," on the passage down of the Senator, between that boat and the Wilson G. Hunt. It it stated, we know not with how much correctness, that the Hunt was the intentional cause of the collision. She was the most injured of the two by the encounter, it appears. The Hunt "went aboard" the Senator about midships, tore away a part of too wheel house of the Senator, and damaging the bows of the Hunt considerably.
October 2, 1851, Daily Alta California
The Wilson G. Hunt. — This beautiful steamer is yet undergoing repairs. When she comes again from the hands of the workmen she will not be surpassed in elegance by any boat on the river. Ten days more are required before she will be ready to resume her trips between Sacramento and this city. Meanwhile the Senator has an easy time of it, and in the parlance of her popular commander, "loafs" up and down. While, on the contrary, the New World and Confidence are each straining every shaft and walking beam to walk by the other. The consequence is, the passengers who come down on either of them arrive here in time to spend a pleasant evening. Opposition is the life of trade and when the Wilson G. is again placed upon the route the Senator will be steaming up to the wharf at a reasonable hour also.
December 1, 1851, Sacramento Daily Union
WE, the undersigned, have this day assumed the the agency of the Union line of steamers. "Confidence" and "Wilson G. Hunt." All business connected with said steamers will hereafter be conducted by us at the counting-room formerly occupied by F. Vassault & Co., on Pacific Wharf. All persons are hereby forbid contracting any debt on account of the following vessels and owners, viz : steamers "Confidence" and "Wilson G Hunt;" barques "Albree" and "Apthorp;" brig "Globe" and ship "Tuskina."

ABRAHAM TURNURE.
J. P. GANNETT,
San Francisco, Dec. 1.1851. [dl 1w] Agents.
Business of the Union Line at Sacramento will be conducted, as heretofore, by John Bensley, on board brig Globe.
May 27, 1853, Sacramento Daily Union
We learn through Anthony & Co's messenger that the steamer Wilson G. Hunt broke her starboard crank while coming up last evening, in San Pablo Bay.
August 29, 1853, Sacramento Daily Union
A Quicker and the Quickest Trip Yet.
The steamer Wilson G. Hunt was advertised on Saturday morning as having made the quickest time ever accomplished between San Francisco and this city. We have now to record a quicler trip by the New World, on Saturday night, showing the time of the Hunt to have been beaten one minute, including three landings. The time of the Hunt was 7 hours and 19 minutes; that of the New World, (Capt. Hutchins,) is 7 hours and 18 minutes. Her landing was made here at 11 o'clock and 18 minutes.
February 12, 1881, Sacramento Daily Union
BRITISH COLUMBIA
Steamers Purchased
Victoria, February 10th -- It is announced tha tthe Canadian Pacific Railway syndicate has purchased the Pioneer line of steamers on Frazer river, and it is also reported that negotiations are pending which in less than forty-eight hours will effect the ownership of the steamers Wilson G. Hunt, Cariboo, Fly and Maud.
June 6, 1890, San Francisco Call
The Wilson G. Hunt.
Victoria, June 5.— The steamer Wilson G. Hunt, which ran on the Hudson in 1849, and later on piled on the Sacramento River and in British Columbia waters, was burned to the water's edge this morning. She was owned by Colin of San Francisco, who bought her for the old metal in her.
SS Winfield Scott
Builder: Westervelt and Mackay, New York. Superintended by Captain William Skiddy. Engine: Two side-level by Morgan Iron Works. Launch: October 27, 1850. Original Owner: Charles Augustus Davis, Sidney Brooks, Theodore Dehan, Jacob A. Westervelt, Philip Woodhouse, William Skiddy, Francis Skiddy. Wooden side-wheel steamer, 3 decks, 3 masts, man's bust figurehead. 1,291 tons, 225 feet. White oak, live oak, locust, cedar and Georgia yellow Pine. Double iron braced. Accommodations for 165 cabin, 150 steerage. The 96-foot-long dining salon could seat over 100 and had couches along each side running the length of the room. The staterooms were lighted and ventilated from the sides and from the deck above.
Her first voyage to San Francisco was April 28, 1852, where she was hailed as a remarkably fine vessel, superior to all the early lines. She made the run from Panama in fourteen days, and brought up 700 passengers. The Winfield Scott became a popular vessel on the Panama route, and was purchased in July 1853 by The Pacific Mail Steamship Company. She wrecked on Anacapa Island off the California Coast in late 1853. She struck in a dense fog, and though passengers, mail and treasure were safely landed, the ship filled and sank. Wrecked: December 2, 1853, Anacapa Island, California.
SS Yankee Blade
The June 15, 1853 New York Daily Tribune reported that the Yankee Blade was built for Edward Mills and was to be ready to launch on December 1. She launched Friday, November 11, 1853 and was It was scheduled for Vanderbilt's Independent California Line, to run from New York to Chagres in connection with the Uncle Sam on the Pacific side. She was 285 feet length, 38 feet beam, 22 feet deep, 2,000 tons burden. The information presented below is from sources found in the collections of the California Historical Society.
"On October 1, 1854, she left for Panama with nearly 1000 souls on board. Other thousands cheered themselves hoarse in bidding them farewell and godspeed."
Now it is timely to quote the letter of Clarence M. Burton, the president of the Title Company of Detroit:
"Early during the evening of the same day she was wrecked on a rock near Point Concepcion, west of Santa Barbara. There were more than 900 passengers on board, and many of them were drowned. In the early evening, in response to alarm bells and signals, the tug Goliath came alongside and took off as many of the passengers as she could carry. Those of the remainder who could do so reached the mainland in the ship's boats. One boat, commanded by the second mate, capsized in the surf and eighteen of its passengers were drowned.

Half of the Yankee Blade cracked off and sank out of sight before 9 o'clock that night; but the other half remained on the rock until 2 o'clock next morning, when it, too, slid off its perch into deep water and disappeared. In addition to its passengers, the vessel carried a large amount of gold that returning miners were taking back to their Eastern homes. Nearly all of it was lost. My father and mother -- Dr. Charles S. Burton, and Mrs. Burton -- my elder brother and myself constituted our family, and we were all saved. My people who reached the land found only a broken coast; but they managed to live on whatever they were able to pick up on the shore and what floated to them from the wreck. They thus subsisted for ten days, when they were taken back by this same old tug, Goliath, on her return trip to San Francisco. It seems hardly conceivable that I am the only survivor of this wreck; yet so far I have been unable to find any other."
Embarking on the Uncle Sam, Ralston arrived in San Francisco March 20, 1854, and was put in charge of Garrison, Fretz & Co.'s San Francisco office with headquarters on Sacramento Street adjoining the Chinese Salesroom. As agent of the Independent Opposition Line for New York, via Panama, Ralston had a fleet of magnificent ships under his charge, notably, the Uncle Sam and the Yankee Blade. Of these the Yankee Blade, launched June 1, was the pride of the Coast. Built for speed, it was believed nothing on the Pacific could pass her.
On the 30th of September, when the Yankee Blade made ready to sail for Panama, Ralston was at the Jackson Street wharf to give final sailing directions to Captain Henry Randall. Competition demanded a speed record. On board were 800 passengers. In her hold was $153,000 in California nuggets. Ralston impressed the captain with what the company expected of him.
Several boats sailed out of the Golden Gate at the same misty hour that the Yankee Blade weighed anchor. Bets were freely laid, fog or no fog, the Yankee Blade would be the first into Panama. Almost immediately she outstripped her competitors and took the lead. As she disappeared through the Gate, some gambler made a $5000 bet that she would be the first ship into Panama. Ralston was delighted at the splendid way the Yankee Blade had gotten under sail.
In the dawn of a few days later a mounted expressman was pounding on the door of Ralston's Stockton Street home. Encompassed by dense fogs, the Yankee Blade had piled up on the hidden reefs of Point Arguello and had sunk in fathoms of water. Three hundred men, women and children and $153,000 in California nuggets and gold dust had been lost forever.
In the wake of the messenger, the survivors, aboard the Brother Jonathan, arrived in San Francisco and held an indignation meeting in Portsmouth Square. Ralston was roundly censured for sheer negligence in directing the Yankee Blade's course. Speed had been the main issue. The mob marched on Ralston's office demanding passage to New York. Police had to be called to quell the disturbance. Forever after, the sea tragedy palled upon Ralston.
Shortly thereafter, Ralston's firm went out of the shipping business.
Continuation of the Annals of San Francisco. June 1854.
This portion of the "Continuation of the Annals of San Francisco" is adapted from the "Monthly Summary of Events" in the Pioneer, Vols. II and III (California History Vol. 15 , p. 178)
October 9. News was received of the loss of the steamship Yankee Blade, while on her passage to Panama. She struck a reef of rocks off Point Arguello, about fifteen miles above Point Concepcion, and soon afterwards became a total wreck; about thirty lives were lost, and about $163,000 in treasure and specie. The steamship Goliath reached the scene of the disaster in time to save many of the passengers, some of whom she brought to San Francisco, while others remained on shore in the neighborhood, or found their way to San Diego, Los Angeles, and other places. It was said immediately after she struck, the notorious Jim Turner and about thirty of his confederates, who had been secreted on board, enacted a scene of murder and rapine too horrible to be described. As soon as possible after the receipt of the sad intelligence, the steamship Brother Jonathan was dispatched to rescue the unfortunate passengers.

October 10. A man named Samuel Kenny was arrested on a charge of being one of the robbers on board the Yankee Blade. Articles of jewelry to the value of $60 were found upon his person.

October 15. The passengers of the Yankee Blade, brought up on the Brother Jonathan, had a meeting on the Plaza, in which they passed several resolutions, condemning the conduct of Captain Randall and of the Independent Line, and others complimentary to the Nicaragua Line and Captain Seabury of the Brother Jonathan to whom they also made a present of a handsome gold chronometer and chain as a token of their appreciation of his kindness to them during the passage up.
SS Yosemite
In 1865, this river steamer's boilers blew up in San Francisco Bay, killing 50 people. The side wheel steamer Yosemite went aground in Orchard Narrows, near Bremerton, Washington, on July 9, 1909. She was a total loss.
RMSS Zealandia
Daily Alta California, October 7, 1875
The Zealandia, built expressly for the mail service by John Elder & Co., Clyde ship builders, who constantly employ over 7,000 workmen. Register: 3130 tons British measurement (about 4600 tons American), 375 feet in length, 38 feet, 6 inches beam, and 28 feet 9 inches depth of hold. Each is fitted with one of the new style three cylinder compound engines, the high pressure cylinder having a diameter of 45 inches, with 5 feet stroke, and the two low pressure cylinders having a diameter of 62 inches and 5 feet stroke. A sea speed of 14 knots is guaranteed by the builders. The passenger accommodations are on the same liberal scale as in the American ships — 180 saloon, 60 second-class and 120 steerage. The dining saloon is of ample dimensions, 60 feet by 38, with 16 inch side ports, and a dome 16 feet in diameter. The Zealandia will leave London December 16th for Sydney, to take her place in the line. The price of passage through from San Francisco to Sydney, or to Port Chalmers, in New Zealand, a distance of over 7000 miles, will bs $200 or £40— the cheapest rate on any ocean route in the world. Passengers will be allowed two stoppages — one at the Eijis, and again at Honolulu; and, can, if they choose, remain over a mouth at each point.
Daily Alta California, February 10, 1876
The following will be interesting to our Australian neighbors and all intending passengers on the Australian route, as descriptive of the two British steamers of the service: The Zealandia and Australia are sister steamships, built specially by the well-known firm of John Elder & Co., Glasgow, for the new mall service between San Francisco anil the Colonies of New South Wales and New Zealand. For the purposes of the service five powerful steamships are required: three of these— the City of San Francisco, City of New York and City of Sydney, each 3500 tons, 600 horse power, have been built by the Pacific Mall Company, at Chester, Delaware, U. S. A. The Zealandia and Australia complete the fleet, and have to proceed by the Cape of Good Hope to Australia to take up their stations on the mail route. They are expected to make the voyage to Melbourne within 43 days.
The Zealandia sailed from Plymouth at noon on December 19th, and arrived at St. Vincent, Cape de Verde, on the morning of December 28th, making the run in 8 days, 17 hours, or at the rate of over 12 knots an hour.
Steamer Zealandia of the Spreckels fleet at San Francisco has been sold to C. L. Dlmond, an eastern steamboat man, who will utilize his purchase to tow the steamer Olympian from this city to Boston, and thereafter the Zealandia will go Into the Atlantic coast trade.