Ships arriving at the Port of San Francisco
---
Arrivals 1856
Please note: Generally, these arrivals are merchant ships, included to give a sense of the volume and type of goods into early San Francisco. If you had the money in San Francisco during the 1800s, you could have anything your heart desired. They are by no means complete, and passenger lists for these vessels are often unavailable. Click here for lists of passengers.
JANUARY
January 4: Clipper ship Morning Star, Foster, 135 days from New York. Merchandise to W.T. Coleman and Co. Memoranda: Had heavy weather off the Horn, was 35 days from east end of Staten Land to 50 in the Pacific; crossed the Equator Dec 14th, long 113, thence had light winds from WE; for the last 3 days have had light winds from N.W.
January 4: Clipper ship Winged Arrow, Bearse, 125 days from Boston. Merchandise to Flint, Peabody & Co. Memoranda: Was off Cape Horn 25 days in very heavy gales; had three gales of wind, in which the ship lay to 32 hours at a time; split sales, broke chain plates, and sustained other damage; crossed the equator Dec 16th, lon 119 30; has been off the coast, within 100 miles, for the last five days; anchored on the bar on Thursday night.
January 9: Clipper ship Black Warrior, Murphy, 121 days from New York. Merchandise to D.I. Ross & Co. Memoranda: From New York to Cape Horn had light winds, crossed the Equator on the Atlantic Oct 6, lon 31, was off the Horn 35 days, with strong westerly gales lost foretopsail yard, split sails, and crossed the Equator on the Pacific Dec 15, long 112; from thence had light N.E. winds and calms; have been ten days within 280 miles of this port with continual calms and head winds. Dec 18th to 22d, was in company with a large clipper ship with full figure head, supposed her to be the Defender, from Boston for this port. Died at sea Nov. 16th, David Atkins Stuart.
January 10: Clipper ship Samuel Appleton, Deshon, 149 days from Boston. Merchandise to Flint, Peabody & Co. Memoranda: Was off Cape Horn 35 days with strong westerly gales; stove bulwarks, split sails, stove quarter boat, and done other damage; crossed the Equator Dec 16th, lon 113; from thence had fine weather; have been off the coast the last 7 days, in light winds and calms.
January 10: Bq. Emily Miner, Metzger, 50 days from Valparaiso. Merchandise to Crosby & Dibbles. Memoranda: Left in port ship Simoda, Knight, uncertain; ship A.M. Lawrence, do; ship Louisa Erskine do; ship Magelan, King, to load on the coast for Boston; ship John Cummings, Adams, to sail on the 23d for Hampton Roads; ship Elizabeth Ellen, Brightman, in distress, repairing; barque Milford, Corry, to load for Australia; brig Boston, Hutchins, to sail for Iquiqua to load for this port, had fine winds from S.E. and south up to 7 north, crossed the line Dec 6., lon 95, in 15 days 21 hours from Valparaiso, had the Doldrums on one day and then took light breezes from the W. and E. from 8 to 20 north, had light baffling winds from 20 to 34 N, had moderate breezes from E. and N.E., was becalmed one day in 35 N. and took light breezes from the S; since then have experienced short severe gales from S.E. Dec 31 passed in sight of Socorro Island, this Island is laid down in the old chart (that is 1849) a degree east of its true position, but on the chart dated 1852 it is correct; navigators sailing on this route would do well to notice the two dates.
January 10: Ships Golden West and Wild Rover have anchored in the steam; brig Wyandot, for Valparaiso, have anchored off Meiggs' wharf.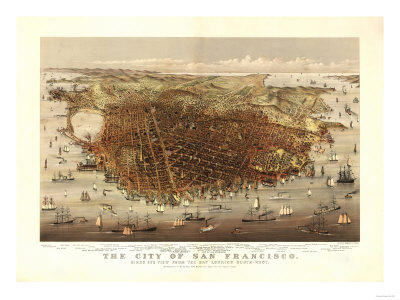 San Francisco, California 
Panoramic map from the 1800s 
(Quality images are available by clicking on the image.)
(Oxford Handbooks)
Editors: Alexis Catsambis, Ben Ford, Donny L. Hamilton
A comprehensive survey of the field as seen through the eyes of nearly fifty scholars at a time when maritime archaeology has established itself as a mature branch of archaeology. This volume draws on many of the distinct and universal aspects of maritime archaeology, bringing them together under four main themes: the research process, ships and shipwrecks, maritime and nautical culture, and issues of preservation and management.

"Master Under God"

Captains exercised absolute authority at sea and so were dubbed "Master Under God" by early insurance writs, agreements with ship owners and passengers and the Board of Trade.

The captain is responsible for its safe and efficient operation, including cargo operations, navigation, crew management and ensuring that the vessel complies with local and international laws, as well as company and flag state policies.

All persons on board, including officers and crew, other shipboard staff members, passengers, guests and pilots, are under the captain's authority and are his ultimate responsibility.

On international voyages, the captain is responsible for satisfying requirements of the local immigration and customs officials.Immigration issues can include situations such as embarking and disembarking passengers, handling crewmembers who desert the ship, making crew-changes in port, and making accommodations for foreign crewmembers.

Customs requirements can include the master providing a cargo declaration, a ship's stores declaration, a declaration of crewmembers' personal effects, crew lists and passenger lists.


Under Full Sail: Silent Cinema on the High Seas

° The Yankee Clipper
° Around the Horn
° The Square Rigger
° Ship Ahoy
° Down to the Sea in Ships

DVD bonus features include an audio reminiscence by Frank Junior Coghlan about the filming of The Yankee Clipper. An enclosed booklet includes detailed program notes by film scholar and U.S. Navy marine engineer John E. Stone and an essay about the scoring of The Yankee Clipper by organist Dennis James.

(Oxford Handbooks)
A comprehensive survey of the field as seen through the eyes of