VIPS in the Port of San Francisco
---
Captain Sir Richard Francis Burton
March 19, 1821 - October 20, 1890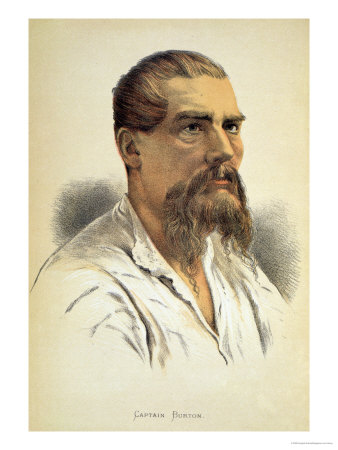 Portrait of Sir Richard Burton
Captain Sir Richard Francis Burton, KCMG FRGS, was a British explorer, translator, writer, soldier, orientalist, ethnologist, linguist, poet, hypnotist, fencer and diplomat. He was known for his travels and explorations within Asia and Africa as well as his extraordinary knowledge of languages and cultures.
According to one count, he spoke 29 European, Asian, and African languages.
Burton's best-known achievements viendolo include traveling in disguise to Mecca, making an unexpurgated translation of The Book of One Thousand Nights and A Night (the collection is more commonly called The Arabian Nights
in English because of Andrew Lang's abridgment) and the The Kama Sutra of Vatsyayana (The Classic Burton Translation)
, and journeying with John Hanning Speke to discover the Great Lakes of Africa in search of the source of the Nile, resulting in Speke's publication: What Led to the Discovery of the Source of the Nile
.
Burton was a prolific author and wrote numerous books and scholarly articles about subjects including travel, fencing and ethnography. He was a captain in the army of the East India Company serving in India (and later, briefly, in the Crimean War).
By 1860, Sir Richard Burton was a celebrity. At the age of 39, he had fought in the Crimean War and in India; had explored Africa with an expedition that found the principal source of the Nile River; and, disguised as an Arab, had slipped into the Moslem forbidden holy city of Mecca.
In his role as a man of letters, Sir Richard wrote books and articles on almost every conceivable subject, from falconry to military tactics to the folkways of African tribes. He published thirty-nine volumes on his travels and explorations, three grammars of Oriental languages, five volumes of folklore and achieved enduring fame with his great sixteen-volume edition of The Arabian Nights.
In 1860, Burton decided to focus on the American West. His starting point of Burton's tour was the railhead of St. Joseph, Missouri. His stagecoach followed the overland route to Salt Lake City where he spent three weeks. From Salt Lake City he continued westward to San Francisco. The accounts of these travels were reported in The City of the Saints, and across the Rocky Mountains to California originally published in 1861 and now available from the Cambridge Library Collection - Travel and Exploration.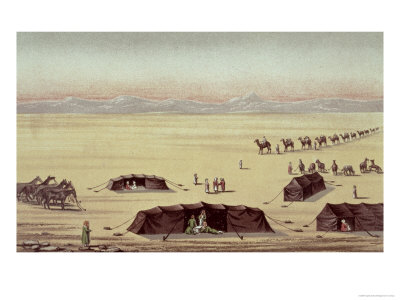 The Desert Camp of Sir Richard Burton
He was also engaged by the Royal Geographical Society to explore the east coast of Africa and led an expedition which discovered Lake Tanganyika.
In later life he served as British consul in Fernando Po, Damascus and, finally, Trieste.
He was a Fellow of the Royal Geographical Society and was awarded a knighthood (KCMG) in 1886.
Burton was considered a controversial figure in his day; some considered him a hero, others a scoundrel."
The Kasidah of Haji Abdu El-Yezdi, written Sir Richard Burton under the pseudonym Haji Abdu El-Yezdi after his return from Mecca in 1854.
The Kasidah contains many references to 19th Century scientific and philosophical concepts, most notably the evolution of species. Nonetheless, it is a Sufi text, and one of the few instances of Burton writing in the first person about his belief system, albeit under the cloak of pseudonymity.
According to the Oxford English Dictionary, a Kasidah is a classical Arabic or Persian panegyric, which must begin with a reference to a forsaken campground, followed by a lament, and a prayer to one's comrades to halt while the memory of the departed dwellers is invoked. The same rhyme has to run through the entire composition, no matter how long the poem is.
September 4, 1886, Putney and Wandsworth Borough Newspaper
Now that Sir Richard F. Burton's translation of The Thousand Nights and a Night is approaching its end? vol. ix. out of the 10 volumes originally proposed was last week issued to subscribers?he has been encouraged to complete his undertaking by the addition of five more volumes, consisting for the most part of Arabic tales not found in the Macnaghten or Bulak editions.

The two first of these supplemental volumes, which are already written, will exhaust the terminal stories of the Breslak, edition; the third will comprise the "Selection of New Tales" found in vol. vi. of Dr. Jonathan Scott's "Arabian Nights Entertainments" (1811), which Sir Richard Burton intends to translate afresh from the Wortley Montague MS. in the Bodleian, collated with other MSS.; and the fourth and fifth volumes will contain 10 of Galland's most popular tales, which have never been traced to an Arabic source. Among these are our old friends "Aladdin" and " Ali Baba." In order to preserve the style, Sir Richard Burton proposes to convert three first from the French into Arabic, and then retranslate them into English.
October 21, 1890, Daily Alta California, San Francisco, California, USA
Death of an English Explorer.
London, October 20th.--Captain Sir. Richard Francis Burton, well know for his explorations in Africa and other countries, died today.
September 11, 1892, San Francisco Call, San Francisco, California, USA
LADY BURTON.
She is Engaged in Writing a Life of Her Famous Husband.
Lady Burton, the widow of the well-known traveler and explorer, Sir Richard Burton, is engaged in writing a life of her distinguished husband. Lady Burton will be always remembered in the annuls of womanhood as having deployed a valuable manuscript, the price of which might have made great difference in the comfort her old age, because she thought it wrong that literary poison should be distilled to the public. All England could not but admire the spirit with which she accomplished the deed, even though many thought it a pity that so valuable a work on Persian life and morals should be lost forever to the English-reading, world.
Lady Burton looks the ideal widow -- cheerful and resigned. For thirty years she was her husband's constant and hourly companion; he was her first and only thought, and she seldom goes away from the cottage at Mortlake, which is situated close to the churchyard of the Catholic church where her husband lies buried under the fine marble memorial tent, subscribed for and erected by his grateful country in recognition of his services. Lady Burton does all her work at Sir Richard's own table in his study; round the apartment are scattered many souvenirs that the great traveler and his wife picked up in their travels through the interior of Syria, Morocco, Jeddo, North Africa and Dahomey.
She married her husband, then a young lieutenant in the Bombay army, in strong opposition to the wishes of her family. For five years she was engaged to him, during which period he was away on his famous expedition with Speke to discover the sources of the Nile, and during the whole of that time she only heard from him four times. Although Lady Burton now looks a white-haired, gentle old lady, she has had many adventures. Often when the couple were Journeying in some wild and lonely district, Lady Burton traveled with her husband in masculine attire as his son and thus was able to see a great many curious eastern customs and interiors which would otherwise have been entirely barred to her. She has written several charming books of travels and also compiled an expurgated edition of her husband's "Arabian Nights."