San Francisco News and Stories
---
Wreck of the Steamship Arctic
Mountain Democrat, November 18, 1854
Placerville, California
The Wreck of the Arctic.
CAPTAIN LUCE'S STATEMENT.
Quebec, October 14, 1854
E. K. Colllins--Dear Sir: It becomes my painful duty to inform you of the total loss of theArctic, under my command, with many lives; and I fear among them must be included your own wife, daughter, and son, of whom I took a last leave the moment the ship was going down without ever expecting to see the light of another day to give you an account of the heart-rending scene.
The Arctic sailed from Liverpool on Wednesday, September 20th. at 11 A M with 233 passengers and about 150 of a crew. Nothing of special note occurred during the passage until Wednesday, September 27th, when at noon we were on the Banks in lat 4G 45 north, and long 52 west steering west by compass.
The weather had been foggy during the day; generally a distance of half to three quarters of a mile could be seen, but at intervals of a few minutes a very dense fog, followed by being sufficiently clear to see one or two miles. At noon I left the deck for the purpose of working out the position of the ship. In about fifteen minutes I heard the cry of "Hard starboard!'' from the officers of the deck. I rushed on deck, and had just got out when I felt a crash forward, and at the same moment saw a steamer under the starboard bow; at the next moment she struck against our guards and passed astern of us. The bows of the strange vessel seemed to be literally cut or crushed, off for full ten feet; and second that she must probably sink in a few minutes, and taking a hasty glance at our own ship, and believing that we were comparatively uninjured, my first impulse was to endeavor to save the lives of those on board the sinking vessel. The boats were cleared, and the first officer and six men left with one boat, when it was found our own boat was leaking fearfully.
The engineers were set to work, being instructed to put on the steam pumps, and the four deck pumps were worked by the passengers and crew and the ship headed for the land, which I judged to be about fifty miles distant, I was compelled to leave my boat with the first officer and crew to take care of themselves.
Several ineffectual attempts were made to stop the leak, by getting sails over the bows: but finding the leak gaining on us very fast, notwithstanding all our very powerful efforts to keep her free, I resolved to get the boats ready, and as many ladies and children placed in them as possible; but no sooner had the attempt been made than the firemen and others rushed into them in spite of opposition. Seeing this state of things I ordered the boats astern to be kept in readiness until order could be restored; when, to my dismay, I saw them cut the ropes in the bow, and soon disappear astern in the fog. Another boat was broken down by persons rushing at the davits, and many were precipitated into the sea and drowned. This occurred while I had been engaged in getting the starboard guard boat ready, and placed the second officer in charge, when the same fearful scene as with the first boat was being enacted—men leaping from the top of the rail twenty feet, pushing and maiming those who were in the boat.
I then gave orders to the second officer to let go, and row after the ship, keeping under or near the stern, to be ready to take on board women and children, as soon as the first were out and the engines stopped. My attention was then drawn to the other quarter-boat, which I found broken down, but hanging by one tackle. A rush was made for her also, and some fifteen got in, and cut the tackle, and were soon out of sight. I found that not a seaman was left on board, or carpenter, and we were without any tools to assist us in building a raft, as our only hope. The only officer left was Mr. Dorian, the third mate, who aided me, with the assistance of many of the passengers, who deserve great praise for their coolness and energy in doing all in their power up to the very latest moment before the ship sank.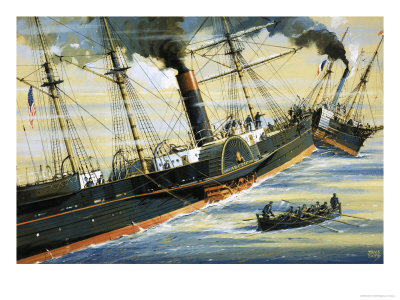 The Arctic, Paddle Steamer,
sinking after a collision with a French Steamer. 1854.
John S. Smith
The chief engineer, with a part of his assistants, had taken our smallest deck boat, and, before the ship went down, pulled away with about fifteen persons. We had succeeded in getting the fore and main yard and two top gallant yards overboard, and such other small spars and materials as we could collect, when I was fully convinced that the ship must go down in a very short time, and not a moment was to be lost in getting the spars lashed together to form a raft, to do which it became necessary to get the lifeboat--our only remaining boat--into the water.
This being accomplished, I saw Mr. Dorian, the chief officer of the boat, taking care to keep the oars on board to prevent them from leaving the ship, hoping still to get most of the women and children in this boat at last. They had made considerable progress in collecting the spars, when an alarm was given that the ship was sinking, and the boat was shoved off without oars or anything to help themselves with, and when the ship sank the boat had got clear—probably an eighth of a mile to leeward.
In an instant—about a quarter to five P. M.—the ship went down, carrying every soul on board with her. I soon found myself on the surface, after a brief struggling with my own helpless child in my arms, when again I felt myself impelled downwards to a great depth, and before I reached the surface a second time, had nearly perished, and lost the hold of my child. As I again struggled to the surface of the water, a most awful and heart-rending scene presented itself to my view—over two hundred men, women and children struggling together amidst pieces of wreck of every kind, calling on each other for help, and imploring God to assist them. Such an appalling scene may God preserve me from ever witnessing again.
I was in the act of trying to save my child, when a portion of the paddle-box came rushing up edgewise, just grazing my head, falling with its whole weight upon the head of my darling child. Another moment I beheld him lifeless in the water I succeeded in getting on to the top of the paddle-box, in company with eleven others: one, however, soon left for another piece, finding that it would, not support so many. Others remained until they were one by one relieved by death. We stood in water, at a temperature of forty-five degrees up to our knees, and frequently the sea broke directly over us. We soon separated from our friends on other parts of the wreck, and, passed the night, each one of us expecting every hour would be his last. At last the wished for morning came, surrounded with a dense fog—not a living soul to be seen but our own party--seven men being left. In the course of the morning we saw some water casks and other things belonging to our ship, but nothing that we could get to afford us relief. Our raft was rapidly settling, as it absorbed water.
About noon Mr. S. M. Woodruff, of New York, was relieved by death. All the others now began to suffer severely for wont of water, except Mr. George S. Allen and myself. In that respect we were very much favored, although we had not a drop on the raft. The day continued foggy, except just at noon, as near as we could judge, we had a clear horizon for about half on hour, and nothing could be seen but water and sky.— Night came on thick and dreary, with our minds made up that neither of us would see the light of another day.— Very soon three more of our suffering party were relieved by death, leaving Mr. Allen, a young man and myself. Feeling myself getting exhausted, I now sat down for the first time, about 8 o'clock in the evening, on a trunk which providentially had been found on the wreck. In this way I slept a little throughout the night, and became somewhat refreshed.
About an hour before daylight—now Friday, the 29th—we saw a vessel's light near to us. We all three of us exerted ourselves to the utmost of our strength in hailing her, until we became, quite exhausted. In about a quarter of an hour the light disappeared to the east of us. Soon after daylight a bark hove in sight to the northwest, the fog having lightened a little—steering apparently for us; but in a short time she seemed to have changed her course, and again we were doomed to disappointment; yet I felt hopes that some of our fellow-sufferers may have been seen and rescued by them.
Shortly after we had given up all hopes of being rescued by the bark, a ship was discovered to the east of us, steering directly for us. We now watched her with the most intense anxiety as she approached. The wind changing caused her to alter her course several points. About noon they fortunately discovered a man on a raft near them, and succeeded in saving him by the second mate jumping over the side, and making a rope fast around him, when he was got on board safely. This man saved proved to be Frenchman, who was a passenger on board the steamer which we come in collision with.
He informed the captain that others were near on pieces of the wreck, and, going aloft, he saw us and three others. We were the first to which the boat was sent, and safely taken on board about 3 P M. The next was Mr. James Smith, of Mississippi, second class passenger. The others saved were five of our firemen. The ship proved to be the Cambria, of this port, from Glasgow, bound to Montreal, Captain John Russell, who commanded the bark Jesse Stevens, and was rescued by Captain Nye of the Pacific. Of Captain Russell it would scarcely be possible to say enough in his praise for the kind treatment we every one of us have received from him, during the time we have been on board his ship. His own comforts he gave up, in every respect, for our relief. The Rev. Mr Walker and lady, and another gentleman, who were passengers by the Cambria, have been unceasing in their endeavors to promote our comfort. To them and to all on board, we shall ever owe a debt of gratitude for their unbounded kindness to us.
From the Frenchman who was picked up, we learned that the steamer with which we came in collision was the screw steamer Vesta from St. Pierre, bound for an belonging to Grenville, France. As near as we could learn, the Vesta was steering east southeast and was crossing our course two points, with all sails set, wind west by south. Her anchor-stock, about seven by four inches square, was driven through the bows of theArctic, about eighteen inches above the water line, and an immense hold had been made, at the same instant, by the fluke of the anchor about two feet below the water line, raking fore and aft the plank, and finally breaking the chains, leaving the stock remaining in and through the side of the Arctic; or, it is not unlikely that, as so much of her bows had been crushed in, that some of the heavy longitudinal pieces of iron running through the ship may have been driven through our side, causing the loss of our ship and, I fear, hundreds of most valuable lives.
I have safely arrived at Quebec, and I am left without a penny in the world with which to help myself. With sincere gratitude to those from whom I have received such unbounded kindness since I have been providentially thrown amongst them, I am about to separate to go to New York -- a home of sorrow.
I learned from the doctor, at quarantine, last evening that the Vesta had reached St. Johns with several passengers from the Arctic, but could not learn the particulars. As soon as I can get on shore, I shall make arrangements to leave for New York with the least possible delay.
I take the steamer for Montreal this afternoon.
I am, very respectfully,
Your ob't servant,
JAMES C. LUCE
---

If you cannot find your preferred books locally, please consider utilizing links provided to
Amazon.com or AbeBooks, both of which have proven to be reliable on service and delivery.

The Oxford Handbook of Maritime Archaeology
(Oxford Handbooks)
Alexis Catsambis
A comprehensive survey of the field as seen through the eyes of nearly fifty scholars at a time when maritime archaeology has established itself as a mature branch of archaeology. This volume draws on many distinct and universal aspects of maritime archaeology, bringing them together under four main themes: research process, ships and shipwrecks, maritime and nautical culture, and issues of preservation and management.

Encyclopedia of Underwater and Maritime Archaeology
Executive Director James P. Delgado, Editor


This comprehensive reference book on the discovery and recovery of underwater archaeological remains around the world was directed by noted author and diver James Delgado, along with archaeologists and scientists who have made the discoveries.

It offers a wealth of authoritative and accessible information on shipwrecks, drowned cities, ritual deposits, and other relics of our submerged past. Published in association with the British Museum Press.

X Marks the Spot: The Archaeology of Piracy
(New Perspectives on Maritime History and Nautical Archaeology)
Prof. Rusell K. Skowronek, Editor, Charles R. Ewen, Editor
A collection with historical evidence about the actual exploits of pirates as revealed in archaeological records. The recent discovery of the wreck of Blackbeard's Queen Anne's Revenge, off Beaufort Inlet, North Carolina, has provoked scientists to ask, "What is a pirate?

Were pirates sea-going terrorists, lawless rogues who plundered, smuggled, and illegally transported slaves, or legitimate corsairs and privateers?" Highlighting such pirate vessels as the Speaker, which sailed in the Indian Ocean, and the Whydah, the first pirate ship discovered in North America (near the tip of Cape Cod), the contributors analyze what constitutes a pirate ship and how it is different from a contemporary merchant or naval vessel.

Maritime History as World History
(New Perspectives on Maritime History and Nautical Archaeology)
Daniel Finamore
"In the 21st century the division between the maritime and terrestrial worlds has virtually disappeared. Events and issues that previously involved only maritime subjects need to be reexamined today from the perspective of those events and developments occurring simultaneously ashore. It is through this approach, as demonstrated by this fine collection of essays, that maritime history becomes a vehicle for understanding global history." Essays by many of the world's leading scholars present an up-to-date assessment of the field of maritime history in the early 21st century, offering fresh insights into the impact of seaborne exploration, warfare, and commerce on the course of history, from the independent traditions of ancient Japanese, Arab, and Mediterranean seafarers to the rapid European expansion around the globe from the 16th century onward. Auth Daniel Finamore is Russell W. Knight Curator at the Peabody Essex Museum in Salem, Massachusetts.

Admiral Lord Keith and the Naval War against Napoleon
(New Perspectives on Maritime History and Nautical Archaeology)
Kevin D. McCranie