Seaports of the World
---
United States: Benicia, California (Solano County)
CALIFORNIA
° Alameda ° Benicia ° Berkeley ° Long Beach ° Los Angeles ° Mare Island ° Martinez
° Mendocino ° Oakland ° Monterey ° Petaluma ° Port Costa ° Point Reyes
° Sacramento ° San Diego ° San Francisco ° Santa Barbara ° Santa Monica
° Sausalito ° Vallejo (Mare Island, General Vallejo)
In June of 1846, Lieutenant Robert Semple, a young dentist from Kentucky, was escorting Mexican General Mariano C. Vallejo to Sutter's Fort in Sacramento. It was then that he saw the Strait of Carquinez for the first time. Most of the land north of the straits was owned by General Vallejo.
Later, Semple and Vallejo came to an agreement that they would found a town on the land. Vallejo deeded a half-interest in a large tract to Semple on December 22, 1846 with the agreement that it would be named after Vallejo's wife, Francisca Benicia Carillo de Vallejo. Because the preferred name of Francisca conflicted with the newly designated town of San Francisco, it was decided to use her second name Benicia. In 1847, Semple enlisted the support of the prominent American settler Thomas O. Larkin. Semple and Larkin each took half-interest in the land paying Vallejo the nominal sum of $100.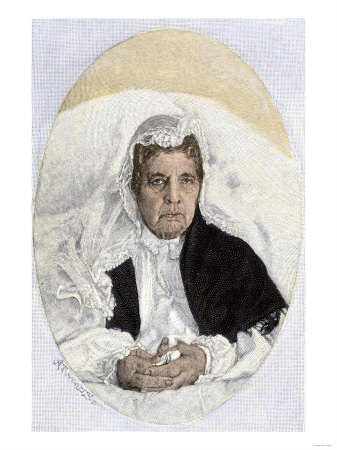 Francisca Benicia Carrillo Vallejo
Wife of Mariano Guadalupe Vallejo
William I. Tustin who had been living in Sonoma, arrived in Benicia with his wife and son in late June of 1847 to find nothing but surveyors' stakes and fields of grass.  Tustin's 40x18 foot adobe house was the first building in Benicia.
It was quickly followed by a wood frame home built by Semple then another adobe built by Benjamin MacDonald which was quickly turned over to Captain E. H. von Pfisterand became a store during the day and an informal hotel at night. (This building may still exist as there is an adobe covered in wood siding in the alley between C and D streets today.)  By November of that year, there were fifteen buildings and by the end of the year, Semple had constructed a wharf, the first hotel had been built and enough people had settled in Benicia to receive a local government.
Alta California, June 18, 1849
San Francisco, California

CO-PARTNERSHIP SHIP NOTICE
The undersigned have entered into a co-partnership under the firm of Semple & Robinson, for the purpose of conducting a general shipping, importing and commission business at Benicia city.
Alta California, July 10, 1849
San Francisco, California



DEED FOR BENICIA CITY, FROM M. G. VALLEJO
TO SEMPLE AND LARKIN
(TRANSLATION)

In the Town of Sonoma, Upper California, this nineteenth day of the Month of May, one thousand eight hundred and forty-seven.

I Mariano G. Vallejo, resident of this jurisdiction and lawful owner of the estate known by the name of Soscol in this district, by these presents do declare in my own name, and in the name of my heirs, administrators and others, who through them may have any voice and cause voice and cause, that I cede and transfer freely, and spontaneously in favor of Don Thomas O. Larkin and Don Robert Semple, for them, their heirs and successors, and whoever through them may have title, voice and cause, for ever and ever, five miles of land in the said estate of Soscol, in the Straits of Carquinez Bay of San Francisco, according to the measurement made by Don Jasper O'Farrell, which is as follows:

Beginning at a stone marked R.S., and running North seventy-six degrees West to a corner or angle, five English miles; from thence in the direction of South fourteen degrees West to another angle; one mile, thence South seventy-six degrees East to the Bay of the Straits, three quarters of a mile, or one mile in a little more or less; thence following the sinuosities of the Bay of the Straits to the place where the measurement commenced, which altogether makes extent of the English miles, following the turns of the Bay and its sinuosities of the land according to the measurement made by Don Jasper O'Farrell, Surveyor.

The said place with all its entrances and land rights, I cede, transfer and bestow to the before-mentioned Don Thomas O. Larkin and Don Robert Semple by way of (missing words) hereditary, that they may enjoy it freely, by virtue of the rights granted to them by these presents, guaranteeing to them the ownership thereof for ever, against whatever reclamation may occur they agreeing to, and strictly fulfilling the following conditions.

1st.—The said Don Thomas O. Larkin and Don Robert Semple, oblige and bind themselves, in the most solemn manner, and under the legal guarantees to found a city; which shall be called Francisca, or Benicia on the said land, and divide it into lots for houses, to be disposed of by (sale or otherwise as soon as they can obtain purchasers, land in the course of the present year they shall establish at said place, means of conveyance (ferry boats) to pass from one side of the strait to the other, passengers, carriages, &c.

2nd.—As Soon as the city contains one hundred families, a magistrate or municipal authority shall be named for the administration of justice, and the ferry boats, together with the landing, places shall belong to the town, and their products destined for the establishment of public schools for the benefit of the families who colonize said city.

3rd.—Until the hundred families and the municipal authorities mentioned in the proceeding article be established, the ferry boats and their products shall belong to Don Robert Semple.

In proof said testimony of the mutual agreement of all and each of the contracting parties, they signed these presents in triplicate in the said town, day, month and year, in presence of the Alcades of the jurisdiction, Don L. W. Boggs, and the undersigned witnesses.

Territory of California, District of Sonoma:


Personally appeared before me, the undersigned, Alcades of the District of Sonoma, Don Mariano G. Vallejo, Thomas O. Larkin and R. Semple, all being personally known to me to be the persons whose names are subscribed to the above instrument of writing and acknowledged the same to be their act and deed for the purposes therein mentioned.

Given under my hand and private seal, at the office in Sonoma, this 19th day of May, 1847.

Alta California, September 13, 1849

NEW GOODS AT BENICIA CITY

Salt Marsh and lands 
adjacent to San Francisco Bay and San Pablo Bay
c. 1874

WETMORE & GRAY are receiving, per ship Jane Parker and other arrivals, a general assortment of desirable goods, which they offer for sale at their new warehouse in Benicia; including boots and shoes, ready-made clothing, of all descriptions; blankets and dry goods, fine-cutlery; hardware and builders' materials; plated and Britannia ware; looking glasses; beads; jewelry; military and fancy goods; gold scales; saddlery and harness; books, paper, and stationery; crockery and glass ware; tin ware, wooden ware, and house keeping utensils.-

Also, to arrive per barks Hebe. KirkJand, Edwd. Fletcher, and ships Duxbury andCharlotte, now due, a lot of fresh peaches, fresh tomatoes, and Baltimore fresh oysters, in cans; pilot and navy bread; splendid premium cooking stoves; iron hollow ware; platform and counter scales; flour, groceries, and a few choice wines, with additional articles as above. These goods are all of the best quality. Traders from the mining and other districts, will find in Benicia, at a great saving of time, travel, and expense, every description of desirable goods, at lowest prices. Several new stores will be opened during the present month. Storage taken at moderate rates.

Daily Alta California, December 15, 1852

BENECIA CORRESPONDNECE

Benicia, Dec. 12, 1852

View of SP Ferry Boat Solano in Dock
Benicia, California

Messrs. Editors: — It is almost impossible to believe this is the rainy season, for more than a week has passed since a particle of rain has fallen. The hills look beautiful n their new liveries of green and "old Sol" smiles fiercely.

There is nothing of interest going on, and in fact Benecia may be voted at present a dull place. The stages for Napa go out loaded with passengers, principally Mexicans. A great bull fight comes off there ou the 12th instant, and hence the great attraction.

Mr. W. J. Lewis, Chief Engineer, assisted by Colonel Stockton, commenced the survey of the Benecia and Marysville Railroad last Monday. They are accompanied by Messrs. Clark, Skinner, Nivon, Stockton and Robinson. It will be a great thing for Benecia if this road is built. I understand Mr. Lewis considers the route perfectly feasible. There is no doubt there are capitalists enough in your city willing to take stock.

A large, fine brick edifice has been erected here, intended for a City Hall, but it is rumored strong efforts will be made to induce the Legislature to hold its meetings within its walls. Nous verrons.
AMIGOS.

The author of an 1863 book entitled The Resources of California described the budding city: "Vallejo has a magnificent site for a town. The present village is built on the slope of hills about a hundred or a hundred and fifty feet high, which rise from the harbor so gently, that a heavily laden wagon can be drawn over without an extra team. About a half a mile back from the landing lays a beautiful and very fertile plain several miles wide and extending from the lower part of the harbor. I have never seen a city provided with such a magnificent place for country residences as this."

May 7, 1881, Sacramento Daily Union.

Knocked Overboard and Drowned.

Benicia, May 6th. — About 8 o'clock last evening John Lucy, an employe on George W. McNears' wharf at Port Costa, was drowned by falling from a sail boat, in passing between the railroad ferry slips on this side and the islands south of it. Three men were in the boat, coming from Port Costa, and while passing the above place a sudden gust of wind struck the sail and the boom hit Lucy in the head, knocking him overboard. As he went over he grasped and carried with him an oar. The boat was brought about as soon as possible and search made for the body, but without avail. Dragging was resorted to until a late hour in the night, and it is now going on. Deceased was about 25 years of age, and has a wife and two children in the East.