Seaports of the World
---
United States: Benicia, California (Solano County)
CALIFORNIA
° Alameda County: ° Berkeley ° Oakland
° Contra Costa County: ° Crockett, ° Martinez ° Port Costa
° Los Angeles County: ° Long Beach ° Santa Monica
° Marin County: ° Point Reyes, ° San Rafael (China Camp), ° Sausalito, ° Tiburon
° Mendocino County ° Monterey County
° Sacramento County ° San Diego County ° San Francisco (City and County)
° Santa Barbara County ° Solano County: Benicia, Vallejo, Mare Island, (General Vallejo)
° Sonoma County: Petaluma

In June of 1846, Lieutenant Robert Semple, a young dentist from Kentucky, was escorting Mexican General Mariano C. Vallejo to Sutter's Fort in Sacramento. It was then that he saw the Strait of Carquinez for the first time. Most of the land north of the straits was owned by General Vallejo.
Later, Semple and Vallejo came to an agreement that they would found a town on the land. Vallejo deeded a half-interest in a large tract to Semple on December 22, 1846 with the agreement that it would be named after Vallejo's wife, Francisca Benicia Carillo de Vallejo. Because the preferred name of Francisca conflicted with the newly designated town of San Francisco, it was decided to use her second name Benicia. In 1847, Semple enlisted the support of the prominent American settler Thomas O. Larkin. Semple and Larkin each took half-interest in the land paying Vallejo the nominal sum of $100.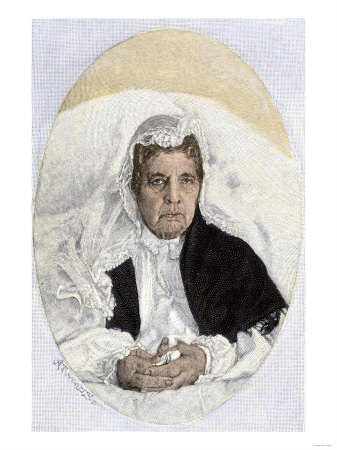 Francisca Benicia Carrillo Vallejo
Wife of Mariano Guadalupe Vallejo
William I. Tustin who had been living in Sonoma, arrived in Benicia with his wife and son in late June of 1847 to find nothing but surveyors' stakes and fields of grass.  Tustin's 40x18 foot adobe house was the first building in Benicia.
It was quickly followed by a wood frame home built by Semple then another adobe built by Benjamin MacDonald which was quickly turned over to Captain E. H. von Pfister and became a store during the day and an informal hotel at night. (This building may still exist as there is an adobe covered in wood siding in the alley between C and D streets today.)  By November of that year, there were fifteen buildings and by the end of the year, Semple had constructed a wharf, the first hotel had been built and enough people had settled in Benicia to receive a local government.
September 29, 1847, Californian
NEW FERRY HOUSE AT BENICIA
The subscriber is now building a house on the opposite side of the Straits for the comfort and accommodation of persons wishing to pass from the south side. He intends hereafter to keep a boat on each side, that persons will not be detained a moment longer than the tide and weather requires. He has, and will keep on hand, barley and corn for horse feed.
R. SEMPLE, Proprietor. Benicia City, Sept. 1847. y-20
January 22, 1848, California Star
Alcalde at Benicia City
Know all Men by these Presents: That I Richard B. Mason, Col. 1st Regiment of Dragoons, United States Army, and Governor of California, by virtue of authority in me vested, do hereby appoint Stephen Cooper an Alcalde at Benicia City, at present in the District of Sonoma.
Given at Monterey, the Capitol of California, this third day of January A. D. 1848, and of the Independence of the United States, the 72nd.
March 29, 1848, Californian
FERRY AT BENICIA CITY

Persons wishing to pass the Bay of SAN FRANCISCO will hereafter find a good substantial FERRY BOAT at the Straits of Carquinez There is a good level road from the Mission of Santa Clara by the Mission of San Jose and Amador's Ranch, distance fifty miles; from Benicia City to Sonoma 25 miles; from Benicia City to New Helvetia fifty miles. It will be perceived that this is the nearest, and much the best road from Santa Clara to New Helvetia, and from Santa Cruz, to Bodega .

RATES OF FERRIAGE

For crossing, a man and horse, $1.00
For crossing horses, each, $1.00
For crossing a footman, $0.50
Alta California, June 18, 1849
San Francisco, California

CO-PARTNERSHIP SHIP NOTICE
The undersigned have entered into a co-partnership under the firm of Semple & Robinson, for the purpose of conducting a general shipping, importing and commission business at Benicia city.

Alta California, July 10, 1849
San Francisco, California


DEED FOR BENICIA CITY, FROM M. G. VALLEJO
TO SEMPLE AND LARKIN
(TRANSLATION)
In the Town of Sonoma, Upper California, this nineteenth day of the Month of May, one thousand eight hundred and forty-seven.
I Mariano G. Vallejo, resident of this jurisdiction and lawful owner of the estate known by the name of Soscol in this district, by these presents do declare in my own name, and in the name of my heirs, administrators and others, who through them may have any voice and cause voice and cause, that I cede and transfer freely, and spontaneously in favor of Don Thomas O. Larkin and Don Robert Semple, for them, their heirs and successors, and whoever through them may have title, voice and cause, for ever and ever, five miles of land in the said estate of Soscol, in the Straits of Carquinez Bay of San Francisco, according to the measurement made by Don Jasper O'Farrell, which is as follows:
Beginning at a stone marked R.S., and running North seventy-six degrees West to a corner or angle, five English miles; from thence in the direction of South fourteen degrees West to another angle; one mile, thence South seventy-six degrees East to the Bay of the Straits, three quarters of a mile, or one mile in a little more or less; thence following the sinuosities of the Bay of the Straits to the place where the measurement commenced, which altogether makes extent of the English miles, following the turns of the Bay and its sinuosities of the land according to the measurement made by Don Jasper O'Farrell, Surveyor.
The said place with all its entrances and land rights, I cede, transfer and bestow to the before-mentioned Don Thomas O. Larkin and Don Robert Semple by way of (missing words) hereditary, that they may enjoy it freely, by virtue of the rights granted to them by these presents, guaranteeing to them the ownership thereof for ever, against whatever reclamation may occur they agreeing to, and strictly fulfilling the following conditions.
1st.—The said Don Thomas O. Larkin and Don Robert Semple, oblige and bind themselves, in the most solemn manner, and under the legal guarantees to found a city; which shall be called Francisca, or Benicia on the said land, and divide it into lots for houses, to be disposed of by (sale or otherwise as soon as they can obtain purchasers, land in the course of the present year they shall establish at said place, means of conveyance (ferry boats) to pass from one side of the strait to the other, passengers, carriages, &c.
2nd.—As Soon as the city contains one hundred families, a magistrate or municipal authority shall be named for the administration of justice, and the ferry boats, together with the landing, places shall belong to the town, and their products destined for the establishment of public schools for the benefit of the families who colonize said city.
3rd.—Until the hundred families and the municipal authorities mentioned in the proceeding article be established, the ferry boats and their products shall belong to Don Robert Semple.
In proof said testimony of the mutual agreement of all and each of the contracting parties, they signed these presents in triplicate in the said town, day, month and year, in presence of the Alcades of the jurisdiction, Don L. W. Boggs, and the undersigned witnesses.
Territory of California, District of Sonoma:

Personally appeared before me, the undersigned, Alcades of the District of Sonoma, Don Mariano G. Vallejo, Thomas O. Larkin and R. Semple, all being personally known to me to be the persons whose names are subscribed to the above instrument of writing and acknowledged the same to be their act and deed for the purposes therein mentioned.
Given under my hand and private seal, at the office in Sonoma, this 19th day of May, 1847.
Alta California, September 13, 1849
NEW GOODS AT BENICIA CITY
WETMORE & GRAY are receiving, per ship Jane Parker and other arrivals, a general assortment of desirable goods, which they offer for sale at their new warehouse in Benicia; including boots and shoes, ready-made clothing, of all descriptions; blankets and dry goods, fine-cutlery; hardware and builders' materials; plated and Britannia ware; looking glasses; beads; jewelry; military and fancy goods; gold scales; saddlery and harness; books, paper, and stationery; crockery and glass ware; tin ware, wooden ware, and house keeping utensils.-
Also, to arrive per barks Hebe. KirkJand, Edwd. Fletcher, and ships Duxbury and Charlotte, now due, a lot of fresh peaches, fresh tomatoes, and Baltimore fresh oysters, in cans; pilot and navy bread; splendid premium cooking stoves; iron hollow ware; platform and counter scales; flour, groceries, and a few choice wines, with additional articles as above. These goods are all of the best quality. Traders from the mining and other districts, will find in Benicia, at a great saving of time, travel, and expense, every description of desirable goods, at lowest prices. Several new stores will be opened during the present month. Storage taken at moderate rates.
February 1, 1850, Daily Alta California
Trip to Benicia
The fine steamship Panama, Capt. Bailey, performed a trip to Benicia on Wednesday last, returning yesterday at about two o'clock. Time consumed in going, three hours and nine minutes. This is the second visit by vessels of the Pacific Steamship Company's line to the above thriving town, and it has been as highly successful as the first, which, it will be recollected by those of our citizens who enjoyed the delightful excursion, was accomplished by the pioneer steamer, California, Captain Forbes, in April last. The trip of the Panama was purely for the attainment of some immediate benefit to the machinery of the noble vessel.
Two or three of our fair townswomen, escorted by a small party of hastily-assembled gentlemen friends, constituted the guests of the occasion. The morning exhibited a marked improvement on the weather of the preceding few days, and the Panama left her moorings, fired a gun when off the town, and gaily glided over the slumbering surface of our bay of bays, beating a merry response, on the sounding brine, to the joyous laugh and becoming mirth of our delighted fellow passengers. The appearance, to the good citizens of Benicia, of our trim, gallant steamer in the offing, was announced by the quick flash, the smoke, and soon the distance-deadened sound of great guns, from the vessels of war at the naval station. Salute upon salute, to our prompt responsive guns and cheer upon cheer, returned "with a vengeance," through the iron lungs of our steam whistle, welcomed our arrival at the growing town of Benicia. From the shipping, as we slowly advanced, emerged the barge of the Commodore of the Pacific Squadron, moving onward to intercept our course; as nearer we approached, the ponderous wheels were stilled, and soon the venerable chieftain stood among the number of friends and acquaintances assembled on our quarter deck.
Immediately upon casting anchor, the company repaired to the saloon, where a sumptuous repast had been spread, and to which sat down several of our most distinguished army and navy officers. The wines which followed the removal of the cloth, the ladies having retired, were of quality superior; but neither in plenitude nor excellence did they surpass the flow of wit, nor rival the song and the toast. At a late hour the party broke up, and when the moon arose upon the peaceful scene, we were prepared to bid adieu to the quiet green hills of Benicia and return on our watery way.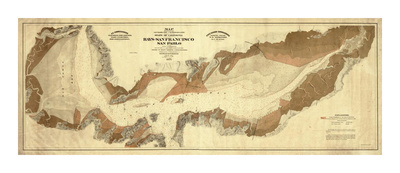 Salt Marsh and lands 
adjacent to San Francisco Bay and San Pablo Bay
c. 1874
Yesterday morn, about five o'clock, the Panama entered San Pablo bay and continued on her course, until a dense fog shut in the land from view, and it was deemed hazardous after one narrow escape, to grope our way with the lead. Anchor down, and in a blissful state of mystification, as to our locus in quo, we remained until about ten o'clock, when, to the perseverance of old Sol, we acknowledged our thanks for a joyful release.
A single gun proclaimed our arrival off San Francisco, and soon a score of small boats came dancing over the bright waters, in quest of passengers by the Panama steamer!
Our trip was ended, not so in its multiplicity of incident, all of which were of pleasure, for when years shall have produced their changes, and Fate chastened, or Fortune prospered the heroes of the day, Time will have dealt kindly with memory, and the Benicia trip of the Panama exist fondly in recollection. Nor shall the kindness and attention of her gentlemanly officers, who contributed so largely to the comfort of the guests, be forgotten. They have the best wishes of all who were on board for their boundless prosperity.
The Panama was piloted to Benicia, in handsome style, by Lieut. Duer. U. S. N., and conducted to her anchorage here with equal success.
Daily Alta California, December 15, 1852
BENECIA CORRESPONDNECE
Benicia, December 12, 1852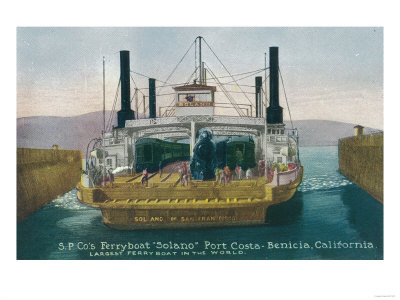 View of SP Ferry Boat Solano in Dock
Benicia, California
Messrs. Editors: — It is almost impossible to believe this is the rainy season, for more than a week has passed since a particle of rain has fallen. The hills look beautiful n their new liveries of green and "old Sol" smiles fiercely.
There is nothing of interest going on, and in fact Benecia may be voted at present a dull place. The stages for Napa go out loaded with passengers, principally Mexicans. A great bull fight comes off there on the 12th instant, and hence the great attraction.
Mr. W. J. Lewis, Chief Engineer, assisted by Colonel Stockton, commenced the survey of the Benecia and Marysville Railroad last Monday. They are accompanied by Messrs. Clark, Skinner, Nivon, Stockton and Robinson. It will be a great thing for Benecia if this road is built. I understand Mr. Lewis considers the route perfectly feasible. There is no doubt there are capitalists enough in your city willing to take stock.
A large, fine brick edifice has been erected here, intended for a City Hall, but it is rumored strong efforts will be made to induce the Legislature to hold its meetings within its walls. Nous verrons.
AMIGOS.
January 11, 1854, Sacramento Daily Union
The First Steamboat in California.
Few of our citizens who arrived in California after 1819, are aware that the first steamboat in California was built at Benicia, and launched in August, 1819, by the celebrated Boston Association, known as the "Edward Everett Company." This boat was brought out in pieces from Boston, and she was put together at the West Point, in Benicia, and launched as above stated. She was seventy feet in length, with twenty-five feet beam. She had an engine of eight horse power, and made about 4 knots an hour, against wind and tide. Her cabin and decks would contain comfortably about forty passengers. She made her first trip to Sacramento in September, and returned shortly after, when she was sold to Simmons, Hutchinson & Co. for $6,000. cash. She was afterwards engaged on the Yuba River. We well remember the arrival of this steamer (the "Pioneer") at the then inconsiderable collection of huts and tents at Sacramento, for Sutter's Embarcadero.) Guns were fired, and loud cheer, and congratulations welcomed the advent of the first steamer.
The McKim owned by Simmons, Hutchinson & Co. arrived in Sacramento about a month later, and was soon followed by the Senator. The ship Leonore also built a steamboat, which failed to reach its destination. We also learn that as early as 1847, the Russians, from Sitka, fitted out a small steamboat about the size of a ship's long-boat, which made a trip, or part of one, to Sutter's Embarcadero. A Philadelphia vessel brought out in 1849, a miniature steamboat about eighteen feet long, which made excellent time from San Francisco to Sacramento in the latter part of September. But with the exception of the Russian attempt, the "Pioneer" claims to be what her name designated the first steamboat ever ploughing the waters of the placid Sacramento. The Placer Times, then published in Sacramento," had a notice of her arrival, which may easily be found, if files are yet in existence. The "Pioneer" was commanded by one of the editors of this paper. — Adv. and Chronicle
February 25, 1854, Sacramento Daily Union
From our Benicia Correspondent
The Military Barracks near Benicia.
Perhaps the fewest number of the people of California are aware of the existence, within a mile and a half of Benicia, of the only military barracks on the Pacific coast. I propose to enlighten the readers of the Union to the extent of the information in my possession on this subject; premising that the facts which I may state were collected on a tour of actual observation, and can be relied upon as substantially correct.
The grounds on which the military barracks are located, lie east of Benicia, and almost immediately in the rear of the manufacturing establishment of the Pacific Mail Steamship Company. They are upland, with gently undulating hills, verdure clad and pleasing to the eye; extending off to the north as far as the vision can trace them, and their bases washed on the south by the wastes of Suisun Bay. They comprehend an area of four hundred acres, enclosed, and are known as the Reserve, which was ceded to the Government of the United States in 1849, by Messrs. T. O. Larkin and Robert Semple. The enclosure contains some fifteen buildings, among which are officer's quarters, and the Quartermaster's and subsistence depots, erected in 1849-50. The barracks was erected in 1850.
1851 the Arsenal was commenced, where are kept all the medical, ordinance and other military stores for the Government service on the Pacific coast. The expense for erecting the Quartermaster's, subsistence and barracks buildings is estimated at $400,000, including the wharf, which was constructed during the last year, at a cost of about $15,000. There are now on hand, in the various departments enumerated, supplies for the Pacific coast for one year. The principal store house is constructed of Benicia granite, obtained at a distance of not wore than a hundred yards from its site, where is a quarry exhaustless in its supplies, which jut from the surface of the earth, and are obtained with the least possible effort in that department of human labor.
At this time there are in the barracks small arms necessary to supply five thousand men, and ammunition for over half a million rounds.
In the ordnance department are carriages for fifty heavy guns, intended as a sea coast defense; the guns belonging to which are now at San Diego. To supply these, the eye of the visitor falls upon thirty thousand cannon balls, painted black, and neatly piled up on the enclosed grounds. This computation includes a due proportion-of bombs, with mortars to send them on their mission of destruction and death. Powder to the extent of one hundred tons is also in storage here.
At present there are thirty-four ordnance men in quarters, and one hundred and thirty dragoon recruits. The following list includes the various departments into which the military post is divided, and the officers in command:
Quartermaster's Department — Capt. R. E. Clary, in charge.
Subsistence Depot— Lieut. J. Hamilton, in charge.
Arsenal— Brevet Capt. C. P. Stone, in command.
Lieut. W. J Welcker.
Benicia Barracks— Lieut. W. Dye, in command.
Lieuts. Webb, Latimer and Hood.
As yet but little or no manufacturing is done at the barracks, although there are blacksmiths, carpenters, carriage-makers, armorers' shops, saddleries, &c, for purposes of adjustment and repair.
The traveler who pastes through the waters of Suisun Bay, on an upward or downward trip between Sacramento and Benicia, will discover the Stars and Stripes floating proudly out on the breeze from an eminence in the near vicinity of the latter place. This point commands a view of the entire bay and its opposite shore. At the base of this flag-staff is a cannon, timbered and ready for use -- small in calibre, to be sure, but possessing unusual interest to the American citizen. on amount of that defence of which it is an emblem, and from the train of thought which it awakens with reference to the very position it occupies, as one marked out by Nature, when fortified, as suitable for the utmost degree of protection and defence. At no distant day, the threatening aspect of a hundred cannon will be seen to bristle from its height, inviting the approach of an enemy's fleet, that they may scatter its vessels to fragments in their audacious attempt to penetrate a single mile beyond. These works are worthy the attention of visitors, and I advise every one who finds himself compelled to remain a day in this vicinity, to escape from the imprisonment of Benicia, and repair to the barracks for a personal inspection of its curiosities and wonders. It is a source of pride to California, like many of her other pleasant features, as being ore of those remarkable advances to progress which have almost perfected themselves in a day. ~~ B.
June 4, 1858, California Farmer and Journal of Useful Sciences
Splendid Horses
On our trip up to Napa Valley, we tarried awhile at Benicia, the depot and terminus of the "Great Railroad now about to connect Marysville with the Bay City via Vallejo, Benicia, etc."
While at Benicia we visited Neville's Stables, to see the famous stallion John Kerr, owned by T. J. Bedford, Esq. This animal is of the heavy draught-horse species, Canadian, and of very remarkable qualities; the very animal for procuring a race of real "work-horses." John Kerr is a dark chestnut, of remarkable points, and all excellent. He was brought across the Plains in '52. Those who desire the very best kind of farm-horse should secure this kind of stock. His weight is about 1700 pounds.
Young Argyle — This superb stallion stands at the Solano stables, opposite the Solano House, at Benicia, and for size, action and beauty, we look upon him as one of the finest animals in our State. Young Argyle is owned by James McGee, of Morocco Valley, and he now stands alternate weeks at Benicia and Suisun city. His color is between a light bay and chestnut, inclining to a cream, and it is rarely we find a horse of so graceful carriage. He reminds us of those beautiful "wild Arabian coursers," as his action and the carriage of his head seems so perfectly natural. He has made his three-mile heats in 5:45 and 5:40. His sire Old Argyle; dam, of the Sumpter stock.
Big John — A large and very fine stallion stands at Brown's stables, at Napa, bearing this name. He is very large and finely formed in frame, fine neck and head, good action, and splendid limbs. He is four years old, and weighs about 1300 pounds. Sired by Davidson's Morgan, one of the fine Vermont horses. Big John is owned by G. W. Warden. Esq. of Clear Lake, and is certainly a remarkable animal for his years.
Black Hawk Gen. Scott — This noble horse stands at Shattuck & Co.'s stables, Oakland. This animal was sired by the Vermont Black Hawk, and his size, form and action, mark him as one of the finest breeders on our coast.
California ran boast of as fine entire horses as can be found, and there can be no doubt that with our climate, and a proper care on the part of those who control this class of stock, in a few years we shall show some of the finest stock in the world. One thing is very important, those who own and control the first class of breeding stock, should take a stand never to permit their animals to degenerate by a union with stock of an inferior quality; for by such a course the name and fame of sire or damn are reproached by their progeny. The great object should be to make the subsequent stock of as high a character as is possible, and this never can be done when a careful regard is not had to the character of the stock with which the sire unites. We hope owners of blood stock, and all fine stock, will look to this matter, and pay a higher regard to the stock they introduce into our State, than merely to labor for the "almighty dollar."
May 15, 1859, Daily Alta California
Letter From Solano County
Condition Present and Prospective of the County
Benicia, May 13, 1859
By an act of the Legislature of 1858, the county seat of Solano was removed from Benicia to Fairfield, Suisun Valley, twenty-five mils distant. Since the removal, the latter has grown into a place of consideration importance. It is situated on high and dry land, and will be a more desirable place of residence than Suisun City, although the latter now monopolizes the trade of that section of the county. A temporary structure has been erected for county purposes, but this is to give way to two new and substantial buildings now under contract. Laborers are now employed in quarrying stone for the Court House, which will be completed the ensuing fall. The Court House, which is to be built of brick, will not be finished until next season. The county buildings will cost some $25,000, and when completed will add greatly to the appearance of the capital . . .
Benicia
At the last session of the Legislature the city charter of Benicia was so amended as to transfer, with certain restrictions, the management of her financial interests to a Board of Trustees. Messrs Alison, Hayes & Barry have been elected as such officers, and will shortly enter on the discharge of their duties. They are to take possession of all the city property, dispose of it from time to time, ad appropriate the proceeds of such sales towards defraying the outstanding indebtedness against the city, which amounts to about sixty thousand dollars.
The quondam capital of both State and county depends mainly for its support on the Pacific Mail Steamship Company, the U.S. barracks, and the public seminaries of learning. Apart from these, there is scarcely any sign of vitality about the place. The streets look like those of the deserted village. Occasionally a wagon from the adjacent country may be seen in front of a store, and at evening some bustle is apparent on the wharf, where the entire population congregate to see the stopping steamers.
The town, nevertheless, is considered a very desirable one as a place of residence. The climate is invigorating and healthful, and the society intelligent and refined.
The schools are all exceedingly prosperous, and applications keep constant pace with increasing accommodations. The seminary of Miss Atkins now numbers some fifty or more boarders, amongst whom are pupils from Oregon, and the most remote settlements of the State. Many of the citizens evince exquisite taste in the beautifying of their gardens, and grounds, and despite the westerly winds, their exertions are amply rewarded.
Pacific Company's Works
The extensive and thorough overhauling of the steamer Golden Gate, and particularly of her machinery, required a vast accession to the ordinarily large force of laborers employed at the works of the Pacific Mail Company. These having been effected, the surplus hands were discharged, but the foundry, machine shops and dock still look as busy as a bee hive. The British propeller Otter has been undergoing repairs for a month past, and only left this morning for San Francisco, prior to her departure for the Russian Possessions, whither she goes to engage in the fur trade. Her engine and boilers were taken out and overhauled, a new propeller put in, upper deck built, and, in fact, so thoroughly improved as to fit her admirably for the Northern waters.
August 8, 1862, California Farmer and Journal of Useful Sciences
Benicia
This quiet city, that has so many years seemingly stood stood still, is making a steady and healthful growth, and marching on to prosperity. It has been well for this place that it had no feverish speculations of late years Once Benicia felt the effects of public excitements, and then lots went up so high and fast, that those who held on went up, too, and have never come down since. But Benicia is all right now, a steady improvement is manifest in all sections of the place. The stores are enlarged and improved, numerous dwellings have been built, and more are building, grounds fenced, gardens laid out and improved. These are all true signs of a healthful condition. These improvements are not a spasmodic effort, but they are the evidence of real stability, for these improvements are made by the resident citizens, and are therefore permanent.
The streets are much improved, buildings are repaired and finished, and many of the former waste places along the main street are built upon and now occupied by store of valuable goods, and also many kinds of goods made, thus giving employment to numbers of workmen. These are the things that build up a place. The grounds around the once capitol are much improved by being built upon with good stores and dwellings. The several colleges are enlarged, and the grounds ornamented with trees and flowers. The Catholic institutions occupies a commanding position, and is very flourishing indeed. The Collegiate Institute of Mr. Flatt's is also flourishing. The school of Miss Atkins' has a very large number of pupils. The American Hotel (now the Stage House), has been much improved, the proprietor giving every attention to the comfort of his patrons. It is an excellent hotel. Stages leave regularly on arrival steamers, for Vallejo, Napa, and Sulphur Springs, distance 42 miles, cost only $3; to Napa, 22 miles $2. This line connects at Napa with Sonoma, Petaluma, Healdsburg, &c. A line to Suisun, also, 25 miles, $2.
Benicia has well stocked stores, where all the needed wants of the family can be supplied. Messrs. Scott & Danforth have a large and excellent stock of goods. Mr. S. G. Gray, dry goods, and many others. J. W. Sanborn has a well stocked periodical and book-store. Mr. Sanborn is the old Pioneer Newspaper-Man, and has the monopoly of this business, and he richly deserves it, for he is a very honorable and industrious man.
August 22, 1862, California Farmer and Journal of Useful Sciences
Reward of Industry.
"Show me an industrious man and I will show you a prosperous one."
This great truth is often verified against great odds. We love to see the hard-working, industrious man prosper and succeed in all his plans. Although the working-man often works at great disadvantage, and for want of means cannot compete with other men in the race for wealth, yet, after all, by slow and steady gain, they very often outrun those whose chances seemed much better at the start.
When at Benicia, a short time since, we called at the Mill of Mr. Summers, near the American Hotel, to see how a man can succeed "little by little." Mr. Summers has a snug little Mill, built by his own hard earnings. This Mill is put in operation high wind-power, has thirty feet fans, and one hundred and twenty feet surface each fan. With this power can grind two tuns of barley for feed, and cut twenty-five cords of wood per day. Mr. Summers is a hard-working man, doing all this work alone.
Some six years since we had occasion to employ a gardener for a few days, at Benicia, and gave Mr. Summers employment. It was his first work. Since that time he has worked steadily, first at gardening, and then purchased a horse and dray, and with this worked on. Next worked in building the road to the Steamship Company's Foundry; next, the new wharf-road — the latter he did wholly himself — and more recently completed his Mill. During this time he has earned and built himself a snug little "Cottage House," where we met him and his family, in a quiet and neat home, with an industrious wife and bright children. Thus beginning without a dollar, Mr. Summers has, by real hard labor, made himself and family comfortable. Here is an example for thousands, who are unfortunately too proud or too lazy to work. We make this record, in the hope to awaken an increased desire among working-men to win a way to comfort and independence. Mr. Summers deserves well, and will do well. Benicia should encourage all such industrious men.
July 19, 1863, Daily Alta California
The Execution of the Deserter.— Early on Friday morning, the garrison of the barracks at Benicia were formed on the parade ground to witness the execution of the unfortunate deserter, Conrad Kleinhopf. Sick and well, prisoners and guard, officers and servants, every living soul, were required to be present. The procession was formed with the prisoner sitting on his coffin in the wagon, and the firing party (twelve picked men, of nerve and unfaltering aim) marching with arms reversed as at a funeral. The column marched until it occupied three sides of a square, where it was halted and faced toward the open side. Here the prisoner was seated on his last narrow tenement, the bandage placed over his eyes by the Officer of the Day, the twelve muskets loaded by the Adjutant with eleven ball cartridges and one blank, and the order was given to "fire." One simultaneous, flash, one ringing report, and the doomed man's body was lifted nearly eight inches from the coffin, and tumbled over by the force of the 11 balls which pierced a vital part. Five shots had perforated his heart, and the whole eleven were within a circle of three inches in diameter. The dead man was a private in the Fourth Infantry, four of the prisoners' confined at the barracks are arrested deserters, who have not yet been tried, and they were very much saddened by the prospect before them, for they were particularly informed that desertion was the crime for which the execution was ordered. They will be speedily tried, and, if found guilty, suffer the same fate without delay, as the sentence requires the approval only of the Commander of the Department, and is not required to be sent on to the President, as in the case of Kleinhopf. An unusual number of passes were given the soldiers by Col. Black, after the execution—this example being deemed sufficient to deter any from violating their privilege.
The author of an 1863 book entitled The Resources of California described the budding city: "Vallejo has a magnificent site for a town. The present village is built on the slope of hills about a hundred or a hundred and fifty feet high, which rise from the harbor so gently, that a heavily laden wagon can be drawn over without an extra team. About a half a mile back from the landing lays a beautiful and very fertile plain several miles wide and extending from the lower part of the harbor. I have never seen a city provided with such a magnificent place for country residences as this."
February 6, 1873, Sacramento Daily Union
The U. S. Revenue Cutter Wayauda.
Benicia, February 5th. The U. S. Revenue cutter Wayanda anchored off Benicia arsenal last night. To-day her officers are boarding all vessels passing up or down the river and examining the papers. The Custom-house office at this place was abolished some time since, which may account for this movement.
May 7, 1881, Sacramento Daily Union.
Knocked Overboard and Drowned.
Benicia, May 6th. — About 8 o'clock last evening John Lucy, an employe on George W. McNears' wharf at Port Costa, was drowned by falling from a sail boat, in passing between the railroad ferry slips on this side and the islands south of it. Three men were in the boat, coming from Port Costa, and while passing the above place a sudden gust of wind struck the sail and the boom hit Lucy in the head, knocking him overboard. As he went over he grasped and carried with him an oar. The boat was brought about as soon as possible and search made for the body, but without avail. Dragging was resorted to until a late hour in the night, and it is now going on. Deceased was about 25 years of age, and has a wife and two children in the East.

Merchants of Grain:
The Power and Profits of the Five Giant Companies at the Center of the World's Food Supply
Dan Morgan
Details how a handful of families have controlled the worlds grain trade for centuries. A great piece for families that till the soil, but one that is even more important to the people who live in the city; and have no idea of the power and control that these families wield.
From Captain John R. Sutton: "I am a captain on Mississippi River towboats. I have pushed millions of tons of grain down the Mississippi River for years. But I never really understood the global impact of the world's grain company's until I read this book."