Passengers arriving at the Port of San Francisco: 1800s
---
Whirlwind
Arrive San Francisco
March 11, 1853
Clipper Whirlwind
Captain Burgess
From Boston, Massachusetts
Passage
During 1852, 95 clippers ships along with ten clipper barques sailed from northeastern ports around the Horn for San Francisco. Seventeen of them made the passage in less than 110 days and the race became known as "The Deep Sea Derby."
This clipper took part in the Derby.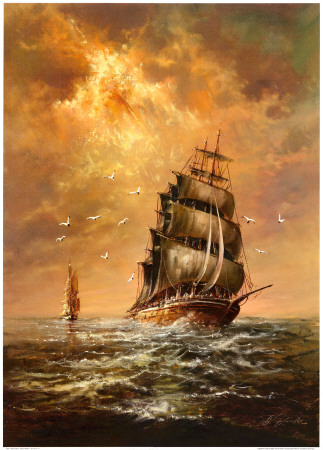 Clipper in Stormy Weather
Helmut Glassl
118 days from Boston, Massachusetts.
Was off Cape Horn for 18 days with heavy gales. Crossed the Equator on February 17, 1853 in long. 113, since which time had light easterly winds.
Anchored in San Francisco off Griffin's Wharf.
Cargo
Grindstones, furniture, hardware, almonds, paperhangings, coffee, white lead, sugar, rainsins, fish, whiskey and oil.
Passengers
George P. Soren
G. W. Snow
Mary A. Snow
H. P. Castleton
B. D. Henry
B. Taber
Mrs. S. F. Taber
H. E. Taber
C. W. Taber
Abby A. Taber
W. J. Fash
R. Thompson
C. B. Thompson
S. A. Hassey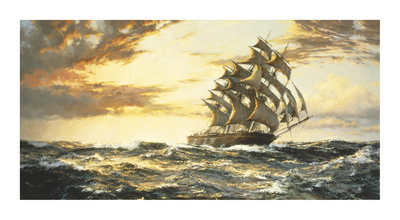 Squally Weather
Montague Dawson
Montague Dawson's father was a yacht handler and an engineer, which led to growing up learning about shipping and sailing; his natural talent for painging evolved into a position at a commercial art studio in Bedford Row, London. There he received on-the-job education in illustration and poster design. At the onset of WWI, Dawson enlisted in the Navy. His superiors recognized his talent and assigned him the duty of visually recording the war at sea.
---

If you cannot find recommended books locally, consider the links provided to
Amazon.com which has proven to be reliable on service and delivery.

Immigration at the Golden Gate: Passenger Ships, Exclusion, and Angel Island
Robert Eric Barde
Perhaps 200,000 immigrants passed through the Angel Island Immigration Station during its lifetime, a tiny number compared to the 17 million who entered through New York's Ellis Island.

Nonetheless, Angel Island's place in the consciousness of Americans on the West Coast is large and out of proportion to the numerical record. Angel Island's Immigration Station was not, as some have called it, the Ellis Island of the West, built to facilitate the processing and entry of those welcomed as new Americans. Its role was less benign: to facilitate the exclusion of Asians, starting with the Chinese, then Japanese, Koreans, Indians, and all other Asians.

The Children of Chinatown: Growing Up Chinese American in San Francisco, 1850-1920
Wendy Rouse Jorae

Family Skeletons: Exploring the Lives of Our Disreputable Ancestors
Simon Fowler, Ruth Paley
Most families have a skeleton. You may have already discovered yours via the grapevine or your own research. Or you may simply be intrigued by the dark side of our past. This popular history explores the behaviour of our disreputable ancestors from the unfortunate to the criminal, and introduces a host of colourful characters including 17th century witches, 18th century 'mollies' and Victorian baby farmers. Thematically arranged by skeleton, the text also describes how society punished and provided for its 'offenders' - as well as the changing attitudes that could ultimately bring acceptance.

Italy on the Pacific: San Francisco's Italian Americans (Italian and Italian American Studies)
Palgrave Hardcover)
Sebastian Fichera
San Francisco's Italian immigrant experience is shown to be the polar opposite of Chicago's. San Francisco's Italian immigrants are shown as reintegrating into the host society fairly smoothly, whereas the Chicago group's assimilation process broke down in dramatic ways.

Russian San Francisco (Images of America) (Images of America)
Lydia B. Zaverukha, Nina Bogdan, Foreward by Ludmila Ershova, PhD.
Even before San Francisco was founded as a city, Russian visitors, explorers, and scientists sailed to the area and made contact with both the indigenous people and representatives of the Spanish government. Although the Russian commercial colony of Fort Ross closed in 1842, the Russian presence in San Francisco continued and the community expanded to include churches, societies, businesses, and newspapers. Some came seeking opportunity, while others were fleeing religious or political persecution.

Migration in World History
(Themes in World History)
Patrick Manning
Drawing on examples from a wide range of geographical regions and thematic areas, noted world historian Patrick Manning guides the reader through trade patterns, including the early Silk Road and maritime trade, effect of migration on empire and industry, earliest human migrations, major language groups, various leading theories around migration.


History of Alta California:
A Memoir of Mexican California
Antonio Maria Osio, Robert M. Senkewicz, Rose Marie Beebe
The first complete English translation of Osio's 1851 memoir of Mexican California, this account describes day-to-day life of the common people in what is now central and northern California from 1821 to 1846, before the Mexican-American War, a tense period marked by skirmishes resulting from land and power disputes between the Anglos and the Mexicans. This is a daily account, so there is a lot of detail-perhaps more than the general reader really wants.

Children of Coyote, Missionaries of Saint Francis: Indian-Spanish Relations in Colonial California, 1769-1850
Steven W. Hackel
Recovering lost voices and exploring issues intimate and institutional, this examination of Spanish California illuminates Indian struggles against a confining colonial order and amidst harrowing depopulation. To capture the enormous challenges Indians confronted, Steven W. Hackel integrates textual and quantitative sources and weaves together analyses of disease and depopulation, marriage and sexuality, crime and punishment, and religious, economic, and political change. As colonization reduced their numbers and remade California, Indians congregated in missions, where they forged communities under Franciscan oversight. Yet missions proved disastrously unhealthful and coercive, as Franciscans sought control over Indian beliefs and instituted unfamiliar systems of labor and punishment. Even so, remnants of Indian groups still survived when Mexican officials ended Franciscan rule in the 1830s. Many regained land and found strength in ancestral cultures that predated the Spaniards' arrival.