Home
°
October 2015: Major Construction Underway
Sea Captains: 1800s
Captain Stephen Smith of the bark George Henry is credited with first bringing pianos to California, and he established an early sawmill and the first steam-sawmill in the Bodega Bay area north of San Francisco.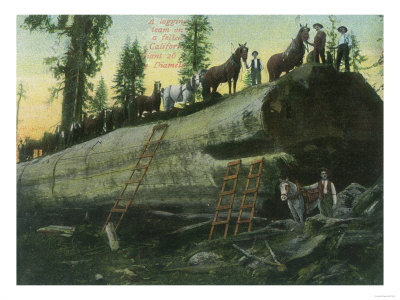 Logging team on a fallen redwood.
In 1841, he sailed north from San Francisco Bay and saw the tall redwoods through coastal mists. He realized a business opportunity in that people had been shipping lumber from as far away as the Sandwich Islands where here prime lumber grew less than 100 nautical miles north of San Francisco.
He returned in 1843 with a sawmill from Boston, hired white laborers from San Franicsco to help him build the mill, and began his operation. He was the first American to settle in this area.
Captain Stephen Smith married a 15-year-old Peruvian, Manuela Torres, and became a Mexican citizen in order to receive a land grant. He petitioned the government to establish a ranch and In August of 1844, Captain Stephen Smith was granted the 35,487 acre Bodega Rancho, bordered by the Russian River to the north and Estero Americano to the south, a large portion of the Bodega Bay Area.
Then he built the first steam-powered saw mill in California with parts he also brought in by ship. Bodega suited him well with its abundant source of wood and nearby bay for shipping and he helped establish the commercial and fishing shipping industries out of Bodega Bay.

By the mid-1880s, more than 400 mills operated in California's Humboldt forest region alone.
~ ~ ~ ~
Taking the Sea

Perilous Waters, Sunken Ships, and the True Story of the Legendary Wrecker Captains

In the late 19th century, an intrepid, reckless group of men ruled the ocean. Known as wreckers, they earned their living by rescuing and raising sunken ships, even in the face of monstrous waves and fierce weather. To some, they were heroes, helping to rescue both passengers and ships with courage and skill. To others they were ruthless pirates, who exploited these ship wrecks purely for their treasure.

In Taking the Sea, Dennis M. Powers uncovers a fascinating, yet largely unknown, period in our history. Here he traces the journey of these legendary men through the story of Captain Thomas P. H. Whitelaw, the most important ship salvager of his day.

From their early beginnings when greedy villagers would lure ships to the rocky coasts of Europe to their heyday during the era of the fast but vulnerable American clipper ships and their founding of the city of Key West, Powers offers a compelling portrait of the wrecker captains and the dangerous lives they and their men led. From the East Coast to the Pacific, travel along with these men as they faced savage seas to save ships and plunder untold wealth.

Beautifully written and vividly told, this is a magnificent look at the untold history of the fearless and often mercenary men who made their living from the sea.

Before the Wind

A Mayfair Game for Shrewd Merchants by Torsten Landsvogt

A fleet of commerce ships lies aside the quays, waiting to be loaded with valuable goods. An assortment of goods will fill the captain's bill, as his crew readies the ship for the sea. You are a prominent merchant trying to fill your warehouse with the goods these captains need to fill their holds. A ship's captain will only accept goods from one merchant, so quickly collecting the right combination of goods is the key to victory. Fill your warehouse with care and spend your guilders with prudence Tary not, and let not a moment pass before you load your goods, for the fleet will leave the harbor with the whim of the winds If you wait too long, your precious goods may spoil before you fill a captain's hold. Can you keep your merchant empire running Before the Wind? Or will the winds of Fortune blow ill upon you?

Gold Rush Port

The Maritime Archaeology of San Francisco's Waterfront
James P. Delgado
Described as a "forest of masts," San Francisco's Gold Rush waterfront was a floating economy of ships and wharves, where a dazzling array of global goods was traded and transported. Drawing on excavations in buried ships and collapsed buildings from this period, James P. Delgado re-creates San Francisco's unique maritime landscape, shedding new light on the city's remarkable rise from a small village to a boomtown of thousands in the three short years from 1848 to 1851. Gleaning history from artifacts -- preserves and liquors in bottles, leather boots and jackets, hulls of ships, even crocks of butter lying alongside discarded guns -- Gold Rush Port paints a fascinating picture of how ships and global connections created the port and the city of San Francisco.