The Maritime Heritage Project - 16 Years
---
Ships, Captains, Merchants, Merchandise, Passengers
The Maritime Heritage Project focus is passenger lists of immigrants and opportunists sailing from world seaports into San Francisco Bay during the 1800s.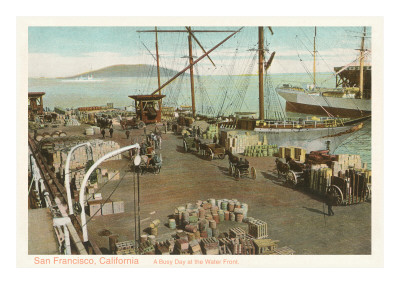 Along San Francisco's Waterfront
The Project is in honor of sea captains, including James H. Blethen, a Master Mariner based in San Francisco during the 1800s.
Ship commanders are committed to protecting shorelines and to safely move merchandise, livestock, and people under unpredictable and often dangerous conditions in vessels of all sizes.
Along with thousands of other commanders, Captain Blethen's ships were crowded with gold seekers and venturists for a burgeoning city.
Stories from San Francisco and other world seaports are added as news is located to illustrate the causes of mass world migration during 19th century. Historical images are included to depict the events of the day.
Seaport News Includes: