VIPS in California during the 1800s
San Francisco, Thursday, August 30, 1849

We are requested to announce the death of Mr. John Sinclair on board the Crescent City, yesterday morning. Mr. S. was returning from California, in company with his wife and sister-in-law, with a competent fortune. He was attacked with diarrahea on the passage and was convalescent, but a relapse, from imprudence, proved fatal. Previous to his death, he made his will. He was a native of Brooklyn, and about 39 years of age Ex. June 30.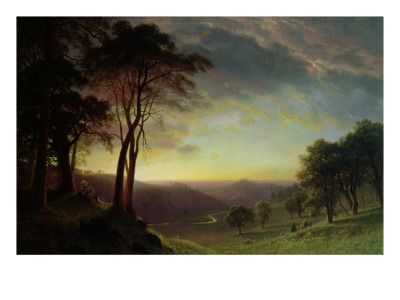 The Sacramento River Valley
Albert Bierstadt
Mr. Sinclair was among the earliest Anglo-Saxon adventurers to California. Fifteen years ago he emigrated to this country, a member of the pioneer company of Mr. Graham.
Having obtained a grant of land from the Mexican Government, he raised his lone cot in the then unsettled valley of the Sacramento, and turned the first furrow in that wild region. He was one of the first to adapt to the purposes of agriculture the rich waste surrounding him, and encounter the dangers of hardships, and endure the privations attendant upon its settlement.
During his residence in California, he had enjoyed offices of trust, and uniting integrity, industry and energy of character with the endearing qualities of a generous nature, a numerous circle of friends rejoiced in his prosperity, and witnessed with regret his departure from their midst for the scenes of his youth and a "dear native land." Many and warm were the wishes for a speedy voyage, and a happy new home on the "banks of the Hudson."

The remainder is told. It is a sad frustration of fond earthly hopes, and will be melancholy tidings to those who cherish in memory his many virtues.
~ ~ ~ ~
Frank Soule, John H. Gihon, James Nisbet, 1855.
Written by three journalists who were witnesses to and participants in the extraordinary events they describe. The Annals of San Francisco is both an essential record for historians and a fascinating narrative for general readers. Over 100 historical engravings are included. Partial Contents: Expeditions of Viscaino; Conduct of the Fathers towards the natives; Pious Fund of California; Colonel John C. Fremont; Insurrection of the Californians; Description of the Golden Gate; The Mission and Presidio of San Francisco; Removal of the Hudson's Bay Company; Resolutions concerning gambling; General Effects of the Gold Discoveries; Third Great Fire; Immigration diminished; The Chinese in California; Clipper Ships; Increase of population; and Commercial depression.