Passengers at the Port of San Francisco: 1800s
---
Charles Nordhoff
August 1830 to July 1901
Charles Nordhoff was born in Erwitte, Germany (Prussia) in 1830, and emigrated to the United States with his parents in 1835. He was educated in Cincinnati, and apprenticed to a printer in 1843.
In 1844, he went to Philadelphia where he worked for a short time in a newspaper office, but then joined the United States Navy, where he served three years and made a voyage around the world. After his Navy service, he remained at sea in the whaling, mackerel fishery and merchant service until 1853.

Northern California, Oregon, and the Sandwich Islands
From 1853 to 1857, Nordhoff worked in various newspaper offices, first in Philadelphia, then in Indianapolis. He was then employed editorially by Harpers until 1861, when he went to work the next ten years on the staff of the New York Evening Post, and he later contributed to the New York Tribune.
From 1871 to 1873 Nordhoff traveled in California and visited Hawaii. He then became Washington correspondent of the New York Herald.
May 14, 1872, Daily Alta California
Nordhoff on California.
Mr. Charles Nordhoff writes as follows in Harper's Monthly about travelling in California: "Certainly in no part of the continent is pleasure traveling so exquisite and unalloyed a pleasure as in California. Not only are the sights grand, wonderful, and surprising in the highest degree, but the climate is exhilarating and favorable to an active life; the weather is so certain that you need not lose a day, and may lay out your whole tour in the State without reference to rainy days, unless it is in the rainy season: the roads are surprisingly good, the country inns are clean, the beds good, the food abundant and almost always well cooked, and the charge moderate: the journey from New York to San Francisco, which costs no more than the steamer fare to London, and is shorter than a voyage across the Atlantic, is in itself delightful as well as instructive. Probably twenty Americans go to Europe for one who gone to California: yet no American who has not seen the Plains, the Rocky Mountains, the Great Salt Lake, and the wonders of California, can honestly say that he has seen hie own country, or even that he has an intelligent idea of its greatness."
September 5, 1874, Pacific Rural Press
How Sea Lions Enjoy Life.
Charles Nordhoff,in the April number of Harpers', has this interesting account of the habits of sea lions: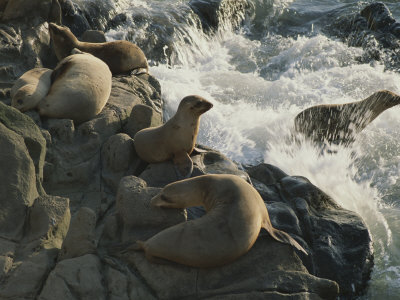 California Sea Lions (Zalophus Californianus)
Jim Sugar
It is an extraordinary, interesting sight to see the marine monsters, many of them bigger than an ox, at play in the surf, and to watch the superb skill with which they know how to control their own motions when a huge wave seizes them and seems likely to dash them in pieces against the rocks. They love to lie in the sun upon the bare and warm rocks; and here they sleep, crowded together, and lying upon each other in inextricable confusion.
The bigger the animal, the greater his ambition appears to be to climb to the highest summit; and when a huge, slimy beast has, with infinite squirming, attained a solitary peak, he does not tire of raising his sharp-pointed, maggot-like head, and complacently looking about him. They are a rough set of brutes?rank bullies, I should say; for I have watched them repeatedly, as a big fellow shouldered his way among his fellows, reared his huge front to intimidate some lesser seal which had secured a favorite spot, and, first with howls, and if these did not suffice, with teeth and main force, expelled the weaker from his lodgment. The smaller sea lions, at least those which have left their mothers, appear to have no rights which any one is bound to respect. They get out of the way with an abject promptness which proves that they live in terror of the stronger members of the community; but they do not give up their places without harsh complaints and piteous groans.
Plastered against the rocks, and with their lithe and apparently boneless shapes conformed to the rude and sharp angles, they are a wonderful, but not a graceful or pleasing sight. At a little distance they look like huge maggots, and their slow, ungainly motions upon land do not lessen this resemblance. Swimming in the ocean, at a distance from the land, they are inconspicuous objects, as nothing but the head shows above water, and that only at intervals. But when the vast surf, which breaks in mountain waves against the weather side of the Farallones, with a force which would in single sweep dash to pieces the biggest Indiaman?when such a surf, vehemently and with apparently irresistible might, lifts its tall white head, and with a deadly roar lashes the rooks halfway to their summit ?then it is a magnificent sight to see a dozen or half a hundred great sea lions at play in the very midst and fiercest part of the boiling surge, so completely masters of the situation that they allow themselves to be carried within a foot or two of the rocks, and, at the last and imminent moment, with an adroit twist of their bodies, avoid the shock, and, diving, re-appear beyond the breaker.
He died in San Francisco, California.
Note:
His grandson, Charles Nordhoff (1887-1947), was born in London on February 1, 1887, to American parents. He wrote the Bounty trilogy: The Mutiny on the Bounty Trilogy, Men Against the Sea, Pitcairn's Island.