VIPS in California during the 1800s
Jonathan Nichols
Arrived San Francisco on board the Eliza, 1848
On the morning of December 2, 1848, the Eliza sailed from Derby Wharf in Salem, with a cargo of flour, pork, sugar, dried apples, bread, butter, cheese, rice, figs, raisins, pickles, boots, shoes, stoves, axes, picks, domestics, and a variety of small articles, lumber, a store, and materials for building a boat or scow, for dredging the rivers or on sand bars, together with a small steam engine, a lathe, and tools for repairs. The Eliza is recorded as the first ship to sail from Massachusetts with an assorted cargo and passengers direct to San Francisco.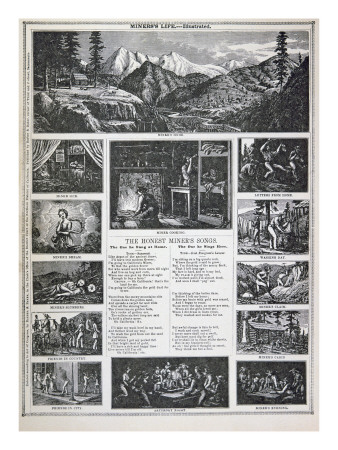 The Honest Miner's Songs
The Mary and Ellen, also a Salem ship, reached San Francisco prior to the Eliza, however, she was originally slated to go to the Sandwich Islands (Hawaii).
Jonathan Nichols was among the six passengers, who also included John Beadle, Dennis Rideout, George Buffum, George Kenny, and James Parker, all from Salem. One of a boat builder, one a carpenter, and two machinists. They were selected from numerous applicants.
Jonathan Nichols, wrote his famous stanzas to the tune of Stephen C. Foster's "O Susanna!" before sailing for California.
Sacramento River Valley. Albert Bierstadt.
This Gold Rush parody traveled around the world with the help of an English writer who learned it at the mines and took it back with him to publish in the Edinburgh Review. It was sung in England, France, Germany, and all over the rest of Europe and most parts of Asia and Australia and in South America.
As they were casting off the Eliza s fasts, a song, composed for the occasion by some friends of one of the passengers, was struck up by him:
I came from Salem City,
With my washbowl on my knee,
I m going to California,
The gold dust for to see.
It rained all night the day I left,
The Weather it was dry,
The sun so hot I froze to death,
O! brothers, don t you cry!

Oh! California
That s the land for me!
I m going to Sacramento,
With my washbowl on my knee.

I jumped aboard the Liza ship,
And traveled on the sea,
And every time I thought of home
I wished it wasn t me!
The vessel reared like any horse
That had of oats a wealth;
I found it wouldn t throw me, so
I thought I d throw myself.

Oh! California
That s the land for me!
I m going to Sacramento,
With my washbowl on my knee.

I thought of all the pleasant times
We ve had together here,
I thought I ort to cry a bit,
But couldn t find a tear.
The pilot bread was in my mouth,
The gold dust in my eye,
And thought I going far away,
Dear brothers, don t you cry.

Oh! California
That s the land for me!
I m going to Sacramento,
With my washbowl on my knee.

I soon shall be in San Francisco,
and Then I ll look around,
And when I see the gold lumps there,
I ll pick them off the ground.
I ll scrape the mountains clean, my boys,
I ll drain the rivers dry,
A pocket full of rocks bring home,
So brothers, don t you cry.

Oh! California
That s the land for me!
I m going to Sacramento,