VIPS in the Port of San Francisco during the 1800s
Mark Hopkins Born: September 1, 1813, Henderson, Jefferson Co., New York
Died: March 29, 1878, Yuma Arizona Territory
Ezra A. Hopkins, Michigan, was also on board the ship Pacific from New York to San Francisco with Mark Hopkins
Moses Hopkins, brother of Mark Hopkins.
Mark Hopkins and Ezra A. Hopkins were on passenger lists on on the SS Pacific sailing from New York on January 22, 1849 via Rio de Janeiro/Cape Horn, arriving San Francisco on August 5, 1949.
(At least one researcher is sure there were two Mark Hopkins, however, thus far, news stories in San Francisco papers indicate only one Mark Hopkins.)

Notes regarding Mark Hopkins and related material, Edward H. Miller, 1878-1888 are held by the Bancroft Library, University of California, Berkeley, California, Recollections of his voyage to California in 1849 in the ship Pacific and experiences in California. Includes some information of Hopkins' role in the dismissal of Captain Tibbits by the U. S. Consul. Miller was involved in Hopkins' railroad businesses for many years.

Mark Hopkins is also noted as arriving in San Francisco -- on the SS Columbus, May 23, 1851 -- "Mark Hopkins came to San Francisco by an unknown, indirect route with his twice-divorced, corn whiskey-drinking, horse-thief brother Moses, arriving on the SS Columbus on May 23, 1851," along with Mr. Newell and lady and J. Bidwell. The Great American Swindle, June Naugle indicates that they are from North Carolina and that is where Moses stole the horse. According to a researcher Moses was not "twice divorced," but was a bigamist. )
Hopkins, whose full name was Mark Hopkins, Jr., was born on September 1, 1813 in Henderson, New York. His family moved to St. Claire, Michigan when he was just 10 in 1824 and he only attended school until the age of 15 when he father passed away in 1828. From this point forward Hopkins spent much of his younger years working in business, first as a merchant at the age of 16 and soon after starting his own company, Hopkins & Hughes, upon moving back to New York. After this venture he eventually became manager of the firm James Rowland & Company.
While modestly successful with these early careers and also trying a brief but unsuccessful stint in law in 1837, Hopkins, like the rest of the "Big Four" group, decided to head west with the California Gold Rush that hit the country in 1849.
Hopkins and 25 other men formed the firm New England Trading & Mining Company in late 1848 as a means to provide goods for miners in California. Each invested $500 in the venture. Hopkins traveled aboard the shipment of goods himself, which had to sail around Cape Horn of South America (as these were days before the Panama Canal), arriving in San Francisco in August, 1849.

With a capital of $13,000, they bought a large supply of mining equipment, which they intended to sell in California. They sailed from New York on the SS Pacific on January 22, 1849, arriving in San Francisco on August 5, 1849. A card from this group was printed in the San Francisco's Alta California newspaper on August 23, 1849:
San Francisco, August 10, 1849
To Captain George T. Estabrooks:

Dear Sir -- The undersigned passengers recently arrived on board the ship Pacific from New York, beg leave to use this method of expressing to you some small degree of the gratitude we owe you for the kindness shown us, on all occasions, during your command of that ship from Rio Janeiro to this port. We assure you we shall ever carry with us a pleasing recollection of a voyage that, though often attended by trials and dangers, has been a source of so much pleasure to us through your humanity and unsurpassed seamanship.
Ezra A. Hopkins, Michigan; E.H. Miller, Jr., W.K. Sherwood, New York; Mark Hopkins.
In 1849, he owned the New England Trading & Mining Company. In 1850, he worked as a wholesale grocer with a partner, Edward H. Miller. By 1855, he was in partnership with Collis P. Huntington.
In 1850 he set up a grocery business with friend E. H. Miller, Jr that proved to be modestly successful. However, it was in 1855 that Hopkins started down the path towards a railroad career when he partnered with Collis P. Huntington to open an iron and hardware business in Sacramento during the Gold Rush, and was connected for a number of years with the Central Pacific Railroad.
Of this group, Hopkins probably did the most to promote the great transcontinental railroad line across the rugged Sierra Nevada. Hopkins' had one of the largest Victorian homes built atop the City's famous Nob Hill. His mansion (or palace, as Robert Louis Stevenson called it), built in 1878, burned to the ground in the great earthquake and fire of 1906. The man that eventually bought that site named the hotel after Mark Hopkins.
October 21, 1857, Daily Alta California, San Francisco
COURT PROCEEDINGS
Tuesday, October 20, 1857
U.S. Circuit Court - McAllister, J.
WITNESS BEFORE THE GRAND JURY
Teese vs. Huntingdon (cq.)-- This is a suit brought by Lewis Teese and Son against C. P. Huntingdon and Mark Hopkins, hardware dealers, of Sacramento. The plaintiffs allege that they are inventors of a sluice fork with eight tines or prongs, thirteen inches long, the tines being triangular in shape, flat on the bottom, with blunt points, and the whole width of the fork being 9 inches. They further aver that they obtained a patent for this fork on the 27th February, 1855; and their fork has been of great value to miners; some kind of a fork being necessary in sluice mining, to throw stones and coarse gravel from the sluices, and no fork being at all suitable for the purpose unless it infringe upon their patent. The main merits of the invention are alleged to consist in the flatness of the bottoms, and the bluntness of the points of the tines; the sharp tined forks having the fault of tearing the bottoms of the sluices, thereby affording hiding places for the gold to catch, and of being checked with stones, which would get fast between the prongs. The plaintiffs further aver that they have gone to much expense in manufacturing forks according to their patent and have made much profit from selling them, and have been deprived of much profit from the sale of their said forks by imitation forks, made in violation of their patent privilege, and sold by the defendants. In consideration of these alleged facts, the plaintiff, pray the Court to award them a judgment of $5,000 as damage for the injury done to them.
The trial was commenced, and a number of witnesses were introduced on behalf of the plaintiff to show the value of Teese's fork, and to show that a certain fork, known as the "Tuttle Fork," is an imitation of the plaintiff's invention, and is injurious to the sale of the former article.
May 2, 1861, Daily Alta California, San Francisco
CENTRAL PACIFIC RAILROAD OF CALIFORNIA.-- The stockholders of this company met yesterday in this city, and took the first steps towards a permanent organization. The length of the road from Sacramento to the State line is given at one hundred and fifteen miles. For that distance a thousand dollars per mile has been subscribed, and ten per cent, paid in, as the law requires. Articles of association were adopted, a Board of Directors, and one of Commissioners elected. The Directors are L. A. Booth, James Bailey, 0. P. Huntington, T. D. Judah, Leland Stanford, Charles Crocker, Mark Hopkins, Sacramento; D. W. Strong, Dutch Flat; Charles Moore, Dutch Flat; Edward Brickell, Illinoistown; E.G. Waite, Nevada; Mr. McLaughlin, Grass Valley; Samuel Cross, Sacramento. -- Sacramento Union, 1st inst.
November 29, 1878, Daily Alta California, San Francisco
Overland Passengers
Omaha, November 28th -- Through-bound passengers on todays' train, leaving at 1 p.m. to arrive at San Francisco on December 2d: Mrs. Leland Stanford, Mrs. Mark Hopkins, Moses Hopkins, Tim Hopkins and party of friends, San Francisco, travelling in a special car.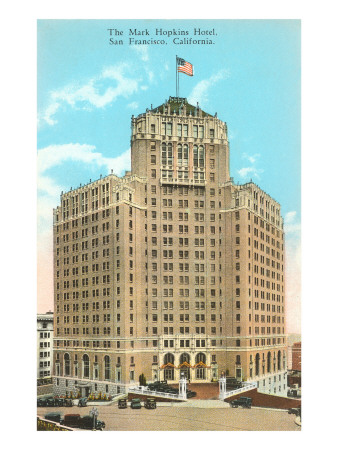 Mark Hopkins Hotel, San Francisco
In 1878, Mark Hopkins died before moving into his 40-room mansion on Nob Hill. His widow Mary moves in and shortly after takes up with Edward T. Searles, an East Coast interior designer thirty years her junior, to whom she later left her $70 million estate and her late husband s mansion when she died in 1891. In 1906, the mansion was destroyed in the San Francisco earthquake and the ensuing fire.
The San Francisco Art Institute, who had received the mansion from Searles, erected a modest building in its place. An ambitious young mining engineer and hotel investor, George D. Smith, saw potential in the site, promptly purchased the building and tore it down in preparation for something much grander. A year later, in 1926, the luxurious 19-story Mark Hopkins Hotel opened its doors.
Writing in 1879, the year after the original Hotel de Hopkins was finished, Robert Louis Stevenson observed that Nob Hill was the Hill of Palaces. It is here that millionaires gathered together, vying with each other in display.
June 17, 1880, Daily Alta California, San Francisco
The Hopkins Estate
John H Barke Files a Protest Against the Application by the
Administratrix for a Reduction of Assessment.
John H. Burke has filed with the State Board of Equalization a protest against the reduction of the assessment of the personal estate of the late Mark Hopkins, as asked by the administratrix, Mrs. Mary F. S. Hopkins, from $4,000,000 to $573,644,74 or to any amount less than the assessment. Protestant avers, on his information and belief, that the administratrix, acting through the advice of S. W. Sanderson, attorney for the Central Pacific Railroad, and Leland Stanford, has failed to file an Inventory in the Probate Court, for the purpose of enabling Leland Stanford, Charles Crocker end C. P. Huntington to
CONCEAL FROM THE KNOWLEDGE
Of the United States and other Federal officials, the fact that they, the said Stanford, Crocker, Huntington and Mark Hopkins, deceased, while acting as directors and officers of the Central and Southern Pacific Railroad Companies, entered into certain fraudulent contracts and engagements with Charles Crocker, C. P. Huntington, Leland Stanford and Mark Hopkins, doing business under the various firm names and styles of Charles Crocker & Co., I. H. G. & Co., Contract and Finance Company, Western Development Company, Pacific Improvement Company, and divers other devices, known only to the said Stanford, Crocker, Huntington and Hopkins of the one part, and said Crocker, Huntington, Hopkins and Stanford of the other part, whereby said Stanford, Crocker, Huntington and Hopkins, being and acting as Directors of the Central Pacific and Southern Pacific Railroad Companies, did appropriate for and transfer to said Crocker, Huntington, Hopkins and Stanford, certain bands, stocks and moneys the property of said railroad companies, exceeding in the aggregate $100,000,000, without receiving any adequate consideration therefor. Second For the purpose of thereby concealing from the Assessor of San Francisco the fact that the personal estate of said Stanford, Crocker and Huntington, was of a value exceeding $20,000,000 each, and should be assessed at such valuation. For the purpose of concealing the fact that
THE ESTATE OF MARK HOPKINS
Was the owner and possessor of moneys, stocks, bonds, solvent credits and other personal estate, in an amount, March 1st, 1880, exceeding $8,000,000, and that the widow of Marie Hopkins was, on that date, the owner and possessor of stocks, etc., worth $15,000,000. Protestant states that no statement by the administratrix in writing was filed with the Assessor by the administratrix, showing the character and value of the personal estate of Mark Hopkins, so that the Assessor wan compelled to assess an arbitrary valuation on the estate at $4,000,000, and of the estate of the administratrix at $1,136,140, both of which valuations are believed to be far below the actual amount of property on hand. Protestant asks that the assessment on the estate of Mark Hopkins be increased from $4,000,000 to $8,000,000, and that the personal assessment of Mary F. S. Hopkins, on money, stocks, bonds, diamonds, jewelry, furniture, solvent credits, etc., be raised to $15,000,000. The Board are asked to compel the attendance, with books and papers, of certain witnesses to prove the assertions of the protestant. Names of witnesses to be given whenever the Board signify their attention to compel their attendance.
June 24, 1882, Daily Alta California, San Francisco
The Hopkins Estate.
Judge Finn, under an agreement between the attorneys of the several heirs, yesterday signed a decree confirming the partial distribution of the estate of Mark Hopkins, as made between Mrs. Hopkins, the widow, Moses Hopkins and S. W. Hopkins, brothers, a few months after the demise of the decedent, subject to all taxes being paid. There has also been filed a statement that S W. Hopkins has sold all his interest in that portion of the estate yet undistributed to Moses Hopkins, the present administrator. Under these circumstances, it may be accepted that all litigation connected with the distribution of the estate has ceased.
October 30, 1882, Sacramento Daily Union, Sacramento, California
PASSENGER LISTS. Omaha, October 28th. Left here to-day, to arrive in Sacramento November 1st: E. W. Hopkins, wife and daughter. Mrs. Mark Hopkins and daughter, H. P. Stanwell and wife. Miss Wolfe, Mrs. Townsend, San Francisco; Mrs. W. H. L. Wallace, Miss Isabel Wallace, Ottawa, Ill.; W. B. Gordon and family, Montreal; Mrs. Sinnott, Susie Sinnott, San Jose; William Reid, wife and child, Detroit: John F. Henry and wife, New York; L. P. Weatherby and wife, Hudson, Wis.; Louis Ettlinger, Mrs. Mary F. Smith, New York.
June 5, 1885, Daily Alta California, San Francisco
RUINED BY PROSPERITY.
Happy in Poverty, Made Miserable by Prosperity.
Detroit, Jane 4th. Judge Chipman of the Superior Court yesterday granted Permelia Hopkins absolute divorce from Mark Hopkins on the ground of extreme cruelty. The testimony showed that the parties were married at Minneapolis, Minn., in 1869, each having a child by a former marriage. Hopkins was a pattern maker in reduced circumstances. They lived happily together until 1878, when the uncle of Hopkins died in California intestate, leaving an estate valued at $5,000,000, of which the defendant received a large portion. He immediately built an elegant residence at St. Clair, and adopted a luxurious style of living. "From this time," Mrs. Hopkins said, "the domestic misery began." Hopkins became morose, and frequently applied vile epithets to his wife in the presence of the children. A sister of Mrs. Hopkins testified that on one occasion she heard complainant calling for help in her bed-room late at night, and on entering the room she found Mrs. Hopkins lying prostrate and Hopkins standing in a threatening attitude over her. Hopkins turned with an oath to the intruder and drove her out and locked her in her own apartment. Hopkins admitted that he had used profane and violent language toward his wife, and said that separation was necessary. The question of alimony was arranged out of Court by lawyers.
July 9, 1885, Daily Alta California, San Francisco
A Millionaire Sued
Harriet H. Moore has filed an action in the Superior Court against Moses Hopkins, to recover $225,000 damages for breach of promise to marry. She alleges that on or about August 1, 1883, the defendant agreed to marry her and she consented. She also states that after making the above promise of marriage, the defendant married some other woman, which so wrought upon her feelings that she was incapacitated for any kind of work and was forced to employ skillful physicians at great expense, therefore she asks for damages in the above sum. The plaintiff is a widow of mature years. The defendant is a brother of the late Mark Hopkins and inherited a large share of his estate. He is nearly seventy years of age.
November 6, 1885, Daily Alta California, San Francisco
The Hopkins Breach of Promise Suit.
The breach of promise suit brought against Moses Hopkins by Harriet A. Moore, to recover $251,000 for outraged feelings, etc., was recently dismissed by Judge Head of the San Mateo County Court, on a technical error. A few days after the dismissal, however, another complaint was filed, bringing suit in the same amount. The new complaint is literally a copy of the old one. The case will be heard shortly before Jadge Head of the Redwood City Superior Court.
March 17, 1887, Sacramento Daily Union, Sacramento, California
A BUCOLIC NOVELTY.
Moses Hopkins' Ranch to be Lighted by Electricity.
Redwood City, March 10th. Moses Hopkins has made arrangements to light the grounds and residence of his Redwood farm by electricity. The system to he used is that of Professor W. S. Keith, of San Francisco. Ninety lamps will be put up and power furnished from the water works on the ranch. The work will be completed on or before May 1st. An effort will be made to light this town by the same process
November 8, 1887, Sacramento Daily Union, Sacramento, California
A SOCIAL SURPRISE.
Mrs. Mark Hopkins About to Discard Her Widow's Weeds.
The San Francisco Examiner yesterday had the following, which will no doubt be interesting to Sacramentans generally:
Mrs. Mark Hopkins is about to furnish society people here, in New York city and in her present home. Great Barrington, Mass., with one of the choicest bits of gossip they have had for many moons. She has elected to follow the lead of the Baroness Burdett-Couits, and take a young husband to share her millions and her magnificent home.
The fortunate young man is Mr. Searles, the Superintendent of her estate at Great Barrington, and his age is somewhere between 25 and 30 years.
The marriage is to take place in New York next Tuesday, and every effort has been made to keep the knowledge that such an event was in contemplation from the general public. When the death of the oldest member of the great railroad line left Mrs. Hopkins one of the wealthiest widows in the world, a great deal of speculation about the chances of her bestowing her hand and fortune upon a second husband was indulged in. It was stated positively, after a few years, that she had consented to marry a well-known jurist of this city, but the report was always denied by the members of her family.
Several times since she made Great Barrington her legal residence rumors have floated out to San Francisco that she was about to marry a New York gentleman of about her own age; but until now her relatives felt reasonably sure that she had no idea of bestowing her hand and fortune upon a young man.
Where the bride and groom will spend their honeymoon, and whether the great expectations of Mrs. Hopkins' natural heirs are doomed by this unexpected and, to them, unwelcome event, are questions which will furnish no end of conversation for the traditional nine days at least. It is said that Mr. Searles' excellent management of the vast possessions of Mrs. Hopkins in her adopted town has been one of his chief recommendations to her favor.
---

Photographs from 1856 exist of the North Carolina Hopkins' in Huntington, Hopkins & Co., 54 K Street, a dry-goods store. One or both of them made repeated trips on steamers to/from the Eastern Seaboard after their arrival in San Francisco: A Mark Hopkins is listed several more times on the passenger lists as arriving in The City. As both were merchants, it is conceivable that they went East on buying trips.

Estelle Latta, a descendant on her father's side of North Carolina Mark Hopkins brother James and on her mother's side of Mark Hopkins' brother Martin, wrote a book of the Hopkins in an attempt to unravel the story of the two Mark Hopkins and to reveal the fate of the North Carolina Hopkins' fortune. Unusual circumstances surrounded the death of Hopkins and it was her contention that there was fraudulent distribution of Mark Hopkins' wealth after his death.

Her book: Controversial Mark Hopkins: The Great Swindle of American History (Cothron Historical and Research Foundation, Duke University, 1953, reprinted 1963) opines that when Mark Hopkins died in 1878, he was stripped of his true identity and his vast wealth, which went to satisfy the ruthless ambition and greed of his associates.