VIPS in California during the 1800s
1832 - 1906
Tom Sawyer is quite typical of the thousands of men who came to the West during the Gold Rush. He settled in San Francisco and held several jobs and minor political positions. He would have died in relative obscurity except that he is reputed to have known Samuel Clemens when the author was a reporter for the Daily Morning Call newspaper, writing under the name Mark Twain.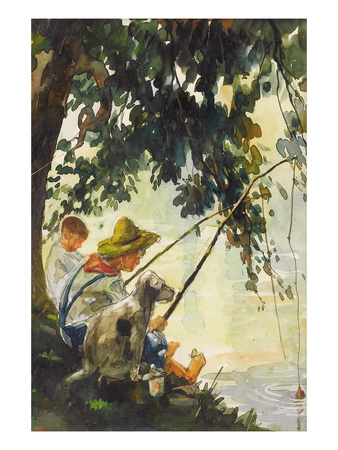 Tom Sawyer Fishing
Howard Pyle
Twain is supposed to have named his book, Tom Sawyer after his San Francisco acquaintence. Twain scholars have been unable to verify any claim that Mark Twain named his book for this particular Tom Sawyer. However, the claim was published in repeatedly in newspapers during the late 1800s to early 1900s when all of the principals were alive, including Twain, Sawyer, and probably several hundred San Franciscans who knew them both, and could have authenticated or challenged the claim.
TOM SAWYER
The life of Tom Sawyer is replete with stirring scenes and adventures in many parts of the country.
He was born in New York City on January 1, 1832. His first duty was in a bakery, from which employment he soon graduated and went to opening oysters in Washington market, where he remained until the first rumor of the new El Dorado in California struck New York; then the roaming spirit born in him came to the front, and he was soon on his way to the gold diggings in a staunch ship that safely weathered the storms that were so fatal to many vessels that rounded the Horn at that time.
He arrived in San Francisco Bay in February, 1850, with $11.50 in his pockets, and immediately went into steam shipping, running as a fireman between this port and San Juan and Panama. He continued at this occupation for some years during which time his vessel, the
steamer Independence, was wrecked on a reef off the Southern coast and burned to the water line and sunk.
Through his ingenuity and heroism he saved the lives of ninety people aboard, among them being Jas. L. Freeborn, the banker (who is listed as purser on this voyage), and Jason Collins, the chief engineer, both of whom had lost consciousness in the water and were rescued by his diving down and bring them up and swimming ashore with them on his back.
When nearly exhausted with the great task of swimming ashore with each passenger on his back, his great mind came to his rescue. By putting the rest of them in life preservers he towed them ashore and landed in the boiling surf safe and sound.
After returning from a long trip on the water he concluded to try his fortune in the mines, where he was associated with John W. Mackay.
But Dame Fortune failed to smile upon his efforts, and he soon returned to a life upon the surging billows, where he remained until 1859 when he left the ocean for good and became a special patrolman, a position he filled until 1863, when he was appointed Inspector at the Custom House. There he remained until 1884 when he retired from public life and opened up the saloon at No. 935 Mission street (the southwest corner of Mission and Mary streets), where he has lived with his wife for forty-three years. His place is fitted out with pictures and momentoes of Volunteer Firemen s days.
Tom Sawyer s fire record dates back to his boyhood days in New York, when he was a member of Columbian Engine Company No. 14. Before that time he was signal boy for Hudson, No. 1, under Cornelius Ruderson, afterwards Chief Engineer of the New York Department. After coming to San Francisco, he assisted in organizing Liberty Hose Company, No. 2, and was elected foreman, which position he held for three terms.
Daily Alta California,
September 4, 1885
Held Over for Trial.
George Howard, who was caught in the act of burglarizing the saloon of Thomas Sawyer, No. 935 Mission street, at an early hour Wednesday morning, was held to answer by Judge Rix yesterday, with bail fixed at $2,000.
Daily Alta California, May 16, 1891
Society of Old Friends.
The Society of Old Friends yesterday elected the following officers to serve through the ensuing year: President, Charles H. Gough; Vice-President, James H. Riley; Secretary, John H. Gilmore; Treasurer, Phil Hartman; Surgeon, Dr. F. F. Lord: Marshal, M. C. Brydes; Sergeant-at-Arms, J. B. Forner; Board of Directors E. M. Cottrell, James McKinley, James Perry,Tom Sawyer, John Niessen.
San Francisco Call, August 3, 1894
THEY WILL FIGHT.
Saloon- Keepers Arrested for Violating the Side-Entrance Law.
Several saloon-keepers were arrested last night and charged with violating the side-entrance law. They were taken to the Southern station and released after each had given $50 bail. They will test the validity of the ordinance in the courts.
The men who were arrested were: Edward Homan, 771 Market; Johannes Moller, Fremont and Mission; Thomas Sawyer, 935 Mission; W. G. Schroeder, 925 Mission; James Craig, 211 Stevenson; Dennis Chesney, 133 Sixth; Charles Lenhardt, 1306 Market; John C. Staat, southwest corner of Market and Eighth; John J. Hallinan, 771 Market; Alfred Nickels. Market and City Hall avenue, and H. Bou, 118 Fourth.
San Francisco Call, July 14, 1895
THE REAL TOM SAWYER.
Now Living in This City and Doing Business on Mission Street.
Kipling had his Mulvaney and Haggard had his Quartermain. Both of these characters existed and performed the feats and did the things which their immortalizers gave them credit for.
Mark Twain had his Tom Sawyer, but Tom, the real Tom did nothing but meet Mark when he was about 30 years old.
That Tom Sawyer, from which Mark Twain's book derives its name, is at present in this City and has lived here for good many years. His boyhood days were not mingled with those of the writer, neither did he go to school with the humorist. The reason Twain called his book "Tom Sawyer"' was because he was fond of the individual by that name, who keeps a small saloon at 935 Mission street, and decorates his walls with photographs and prints of veteran firemen and old election tickets. Just how it all occurred; is best told by Tom himself:
"Me and Jack Mannix, who was afterwards bailiff in Judge Levy's court, was walkin' down Montgomery street. We drifted into the Capitol saloon, where the Mills building now stands, and Mark caught sight of us from a window across the street in the Russ House. Well, as soon as he seen us he come down and we all went in and had a few jolts together. The result was, to be plain with you, we got full. Mark was as much sprung as I was, and in a short time we owned the City, cobble-stones and all. Toward mornin Mark sobered up a bit and we all got to tellin' yarns. I dished up a few, Mark dished up a few, but Mannix was speechless.

"The next day I met Mark down by the old Call office. He walks up to me and puts both hands on my shoulders. 'Tom,' he says, 'I'm goin' to write a book about a boy, and the kind I have in mind was just about the toughest boy in the world. Tom, he was just such a boy as you must have been. I believe I'll call the book "Tom Sawyer." How many copies will you take, Tom, half cash?"

"That's the way it came about, and you can bet when Mark shows up here next August he'll bear me out. Have a drink?"
Sawyer is now about 66 years of age, and speaks of Twain with that feeling which signifies the invisible bond between the old-timers and their comrades.
San Francisco Call, February 13, 1895
THEY WILL TURN OUT
Veteran Firemen Will Celebrate With the Native Sons.
The monthly meeting of the Veteran Volunteer Firemen's Association was enlivened last evening by an interesting ceremony which consisted in the presentation of a gold badge to the president of the association, Senator J. H. Mahoney. It is Mr. Mahoney's second term of office as president. The presentation speech was made by "Tom" Sawyer, one of the oldest of the veterans, also one of the pioneers, who was Mark Twain's friend when that renowned humorist was a a bohemian reporter in this city. The recipient iof the badge responded to Mr. Sawyer's remarks in fitting terms. It was decided by the association to accept the invitation of the Native Sons of the Golden West to turnout on the 22d inst. in full uniform on the occasion of the laying of the cornerstone of the new buildng of the order.
San Francisco Call, February 27, 1896
Children of Old Friends.
The order of Old Friends, one of the oldest social and protective organizations of the City, is to have an extension. The children of its members have for some time past been arranging the plans for a society to be known as the Sons and Daughters of Old Friends. Two hundred and forty have already signified their intention of joining it. The primary meeting of the new chapel is to be held this (Thursday) evening at Red Men's Hall, 510 Bush street, when the first officers will be elected. The officers pro tem and organizers are: Mrs. Major Edwin Lewis, president; Mrs. Governor J. A. Johnson, vice-president; Mrs. Dr. Franklin F. Lord, secretary; Mrs. Colonel J. E. Slinkey. Mrs. Captain H. E. Borneman, Mrs. Colonel A. Perrier, Mrs. Captain Tom Sawyer, Mrs. Captain P. H. Hink, Mrs. Judge A. Craig and Mrs. M. C. Brydges.
San Francisco Call, January 29, 1896
HE TOOK MORPHINE.
T. L. Adlington, an Aged Bartender Out of Work, Sought to End His Life.
Thomas L. Adlington, a bartender, 65 years of age, swallowed a dose of morphine yesterday morning in his room, 110 Ninth street. The landlady found him unconscious and immediately notified the Receiving Hospital. The man was taken to the hospital and attended by Drs. Weil and Rinne.
Adlington had been out of work for several weeks and went to the Cliff House on Monday to seek employment, but was disappointed. In his room a letter was found stamped and addressed to P. C. Poole, Rio, Vista, California," but not sealed. It is as follows:
Dear Friend: If anything should happen to me I wish you would see Mr. Tom Sawyer, 935 Mission street, and ask him to intercede to have me buried in the Old Friends' plot, and I think if he would call on my friends, Edward O. Burns, 197 Crocker building, also George H. Hansell, teastore, 1900 Market street. John Ross has been to me one of the best of friends, and am sorry that I should give him so much trouble; but I cannot live this way any longer, and I hope he will forgive me. Please call at the Bank Exchange, Washington and Montgomery streets, and see Mr. Dunson and Mr. Brown. So good-by, and God bless everybody. Yours truly, T. L. Adlington.

P.S. Friend Tom: Do what you can. I can write no more. I think l am going crazy. - A.
Adlington expired last night at the Receiving Hospital.
San Francisco Call, December 11, 1902
Lost Money at Dice Game.
J. W. Howard, who says he is a salesman, was arrested yesterday at First and Howard streets by Detectives Crockett and Riordan and booked at the City Prison on a charge of grand larceny. The complaining witness is A. Anderson, from Connecticut, who alleges that a week ago to-day Howard and another man took him into a saloon at 935 Mission street and in a few minutes he lost $100 at shaking dice. They gave him 520 back and told him not to notify the police.
He was a member of the Board of Delegates, and when the Veteran Fireman s Association was organized in 1888 he was elected vice-president. When Sam Clemens was a reporter on one of the daily papers in San Francisco he was an associate of Tom Sawyer and dedicated his first book to his old time friend who had been the inspiration for his best work. It was a source of much gratification to look back upon a life so well spent and treasure up the marks of esteem tendered him by his fellow men. At one time Mr. Sawyer held the highest office in the gift of the people, bell-ringer in the tower, forty yards above the mayor.
San Francisco Call, January 15, 1905
Rough on Iowa Boys.
"Tom Sawyer" and "Huckleberry Finn" will hereafter be denied boy patrons of the Dcs Moines, lowa, public library. That is, it will be within the discrimination of the librarian to determine whether the boys look as if they would be immune to the harmful influence of "Mark Twain." At least the books will no longer be permitted on the open shelves and only particularly good little boys or, it may be, hopelessly bad little boys will be given them. All others will be directed to "How Charlie Learned to Be a Good Little Boy" or other high-class juvenile literature of this sort. The more one reflects the more wonderful does it seem that boys turn out as well as they do to-day considering the fearful handicaps they are obliged to overcome, such as now furnished by this lowa library. New York Globe.
San Francisco Call, October 1, 1906
Tom Sawyer, Whose Name Inspired Twain, Dies at Great Age.
A man whose name is to-be found in every worthy library in America died in this city Friday at the age of 79 years. He was Tom Sawyer, pioneer, steamboat, engineer, veteran volunteer fireman and Vigilante, who in the early days was a friend of Mark Twain. So highly, did the author appreciate Tom Sawyer, that he gave the man's name to his famous boy character. In that way the man who died Friday is godfather, so to speak, of one of the most enjoyable books ever written.
Tom Sawyer was born in New York January 1, 1827. He came to California in 1850 and was first employed as a marine engineer. He was one of the organizers of the volunteer fire department and later was amember of the regular department. For the last twenty-five years he conducted a saloon at 935 Mission street, which was a museum of relics of pioneer days. Sawyer was married nearly fifty years ago. His wife and three sons -- Joseph, Thomas and William -- survive him. The funeral will be held today at 1 o'clock from Maass' undertaking parlors, 1335 Golden Gate Avenue, under the auspices of the Veteran Firemen's Association.
Sawyer's death occurred in his home on Minna street, near Fifth.