Captains in the Seaport of San Francisco during the 1800s
James Lick was born in Stumpstown (now Fredericksburg), Pennsylvania, on August 25th, 1796, the eldest of seven children. His father was a skilled woodworker and on his thirteenth birthday James became his apprentice, learning carpentry and cabinetmaking under the master's stern and demanding tutelage.
James Lick is one of California's earliest millionaires and an extraordinary eccentric, covers half the globe.
Although he was born in Pennsylvania, Lick left America as a young man after the father of the woman he fell in love with, and with whom he had a baby, decided Lick was not a suitable suitor for his daughter.
Lick's South American years - nearly thirty in all - were prosperous and colorful ones. He established his first workshop in Buenos Aires where his honesty and fine craftsmanship soon placed him in high regard. The business of building pianos prospered despite chronic - and often violent - political turmoil. He accumulated money over the years and arrived in California before the gold rush. In 1825, even with his business thriving and command of the language attained, Lick wrote to his father that he was "one minute in the clouds of heaven and the next in the depths of the sea and death always before my eyes in ten thousand forms. This is far from peaceful living", he continued, "and I would not wish it on my worst enemy."
In 182, he tried to reunite with his early would-be bride in Stumpstown. However, she was then married.
With ample funds in his pocket, Lick returned to Buenos Aires and left when revolution threatened. By 1846, he decided to return to North America . . . to San Francisco. After a brief journey to the gold fields, he returned to San Francisco and went on a land buying spree in the city and its environs. Some of the land was under water, but after gold was discovered and a mass migration to the gold fields began, land prices exploded. Moreover, parts of San Francisco Bay were reclaimed, these "water lots" became premium land holdings.
Now in his mid-fifties, Lick's wealth and holdings increased and his interest turned more and more to the land. He left the management of his San Francisco properties to an agent, and focused his attention on a large tract of land he owned near San Jose. He gave rein to his gift for horticulture, transforming his orchards into some of the finest in the state and selling produce to the hungry residents of San Francisco.
Lick provided the funds to build the world's then largest telescope -- the Lick Observatory.
Oakland Tribune, July 24, 1890
The Work of Lick Observatory.
Astronomy, the James Lick Observatory

The great public gift which James Lick made in the form of the Observatory on Mount Hamilton was designed by him to educate the people of this State in the science of astronomy.

It was to perform this in a double function -- as an institution belonging to the people of the State and as an auxiliary of the State University. The observatory has been in operation for several years. It is, therefore, in order to consider the manner in which it is fulfilling the intentions of its founder. Located at an elevation much greater than that of any other observatory, surrounded by an exceptionally clear and steady atmosphere, commanding an extraordinary range of horizon, equipped with the most delicate and most powerful instruments in existence, operated by the latest improved mechanical appliances, and manned with a picked corps of skilled astronomers, great expectations have reasonably been cherished concerning its accomplishments.

Thus far, it must be confessed, these expectations have not been realized . . .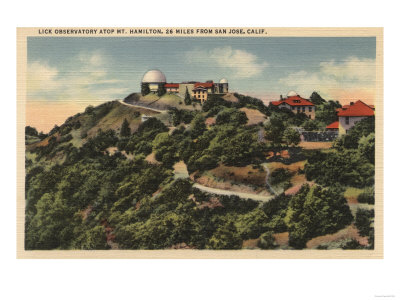 San Jose, California - View of Lick Observatory
The popular benefits have been limited to glimpses of the starry heavens a couple of hours a week through the great equatorial . . .

But there is scarcely a visitor to the Lick Observatory that does not, after all, regard the magnificent natural panorama exposed to his vision from the high mountain top as the greater reward he receives for his toilsome trip.
Lick is also credited with persuading Domingo Ghiradelli of Ghirardelli Chocolate Factory fame to come to San Francisco. Ghiradelli had been a neighbor of Lick's in Peru.
Late in 1861, Lick began work on a hotel in San Francisco that came to be regarded as the finest west of the Mississippi. The dining room, with its seating for 400, was modeled after one which Lick had seen 35 years before in the palace at Versailles. Lick meticulously cut and placed much of the exquisite wood inlay in the dining room with his own hands. Lick House opened in August 1862; it was only three stories high to account for earthquakes, even though it covered more than two blocks. The magnificent hotel, known as Lick House, was sold to James G. Fair in 1889; it was ultimately destroyed in the great San Francisco fire which followed the earthquake of 1906.
---
Click for a Selection of California History Books, including

The Annals of San Francisco
by Frank Soule, John H. Gihon, James Nisbet
Historical Atlas of California uses nearly five hundred historical maps and many other illustrations -- from rough sketches drawn in the field to commercial maps to beautifully rendered works of art. This lavishly illustrated volume tells the story of California's past from a unique visual perspective covering five hundred years of history from before European contact through the Gold Rush and up to the present. The maps are accompanied by a concise, engaging narrative and by extended captions that elucidate the stories and personalities behind their creation.