Ship Passengers arriving in San Francisco: 1800s
---
Vincennes
Arrive San Francisco
August 4, 1851
Vincennes, U.S. Sloop of War
Captain William L. Hudson
From Maztlan, Mexico
Passage
34 days from Mazatlan, Mexico, and a cruise on the Pacific Coast. On July 22 in lat. 28-22N., long 133-03W. On July 19, in lat 37-13W, 124-30W, spoke the schooner Adelaide, Captain Gardner, 45 days from Maztlan, Mexico bound for San Francisco. Supplied her with provisions, and took a prisoner out of her at the request of the captain.
Passengers
Ship's Officers:
Augustus J. Case, Lieutenant
Dominick Lynch, Lieutenant
Joseph N. Burney, Lieutenant
Mathew C. Perry, Jr., Lieutenant

Edward J. Rutter, Surgeon
S. Allen Engles, Assistant Surgeon
John Wilkinson, Master
W. Stokes Boyd, Lieutenant Marines
Passed Midshipmen:
Oscar C. Badger
Walter O. Crain
George T. Simes
Midshipmen:
J. C. Sullivan
George D. Hand
John W. Hudson, Comander's Clerk
Eugene Mack, Gunner
William Leighton, Carpenter
Thomas Tatem, Sailmaker
William B. Forrester, Acting Boatswain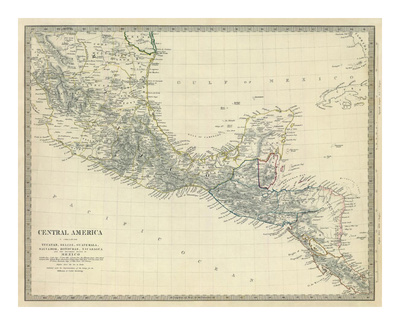 Central America, Southern Mexico, c.1842
Reproductions available by clicking on the image.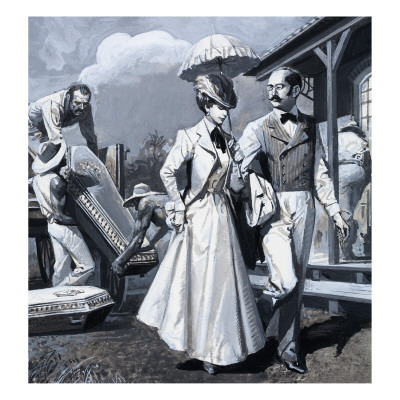 The passage across the Isthmus of Panama from Eastern Seaboard ships to West Coast Ships bound for San Francisco
Prints available by clicking on the image.
---

Singapore and the Silk Road of the Sea, 1300-1800
John N. Miksic
This book synthesizes 25 years of archaeological research to reconstruct the 14th-century port of Singapore in great detail. The picture is of a port where people processed raw materials, used money, and had specialized occupations. Within its defensive wall, the city was well organized and prosperous, with a cosmopolitan population that included residents from China, other parts of Southeast Asia and the Indian Ocean. Illustrated, with more than 300 maps and color photos, Singapore and the Silk Road of the Sea presents Singapore's history in the context of Asia's long-distance maritime trade between 1300 and 1800. The author is Associate Professor, Southeast Asian Studies at the National University of Singapore, and Head of the NSC Archaeology Unit, Institute of Southeast Asian Studies.

Religions of the Silk Road: Premodern Patterns of Globalization
Richard Foltz
Drawing on the latest research and scholarship, this newly revised and updated edition of Religions of the Silk Road explores the fabled cities and exotic peoples that make up the colonial era while examining how cultural traditions also travelled to the people encounted on the Silk Road. The author, Richard Foltz, is a cultural historian specializing in the Iranian world. He has also worked as a musician, film critic, and travel writer. He holds a Ph.D. from Harvard University and has taught at Brown, Columbia, and the University of Florida. His work has appeared in over a dozen languages."This brief but tightly packed book is a wonderful counterweight to romanticized notions of the so-called Silk Road . . . Foltz masterfully deals with disparate histories from one point of the compass to its seeming opposite, while weaving a wonderfully lucid story of merchants, pilgrims, and missionaries." -- The Journal of Asian History

When America First Met China
An Exotic History of Tea, Drugs, and Money in the Age of Sail
Eric Jay Dolin
Ancient China collides with America in this tale of opium smugglers, sea pirates, and dueling clipper ships. Best-selling author Eric Jay Dolin traces our fraught relationship with China back to its roots: the unforgiving nineteenth-century seas that separated a rising naval power from a ancient empire. It is a prescient fable for our time, one that continues to shed light on our modern relationship with China. The furious trade in furs, opium, and bêche-de-mer -- a rare sea cucumber delicacy -- might have catalyzed America's emerging economy, but it also sparked an ecological and human rights catastrophe. Peopled with fascinating characters -- from Robert Morris: Financier of the American Revolution to the The Glorious Reign of Emperor Qianlong: Splendors of China's Forbidden City, who considered foreigners inferior beings -- this saga of pirates and politicians, coolies and concubines becomes a must-read for any fan of Nathaniel Philbrick's Mayflower or Mark Kurlansky's Cod. Two maps, and 16 pages of color and 83 black-and-white illustrations.

The Explorer's Eye: First-Hand Accounts of Adventure and Exploration
Fergus Fleming, Annabel Merullo, Michael Palin
During the eighteenth century, exploration entered a new phase: many more explorers were motivated by scientific inquiry rather than greed. Their job was to open new lands, but also to investigate the globe's mysteries. They were expected to make a full record of everything they encountered, and include pictures as well as words. Combining firsthand accounts with original images, The Explorer's Eye gives insight into who these people were, how they operated, and, above all, what they saw. Here you have Alexander von Humboldt braving the electric eels of South Africa, Robert Peary explaining the rigors of polar travel (and his wife giving her own slant), Umberto Nobile lamenting the loss of his Zeppelin in an ice floe, Jacques Cousteau examining the planet from under the waves...

Antique Map Price Guide No. 20: Printed Maps of India, Ceylon, Indian Ocean, Pakistan, from 1477 to 1850.
Details of nearly 500 different antique maps of India, Ceylon, Indian Ocean, Pakistan. They are listed by region and in date order from 1477 to 1850. The prices given are the current rated values, all of which are for maps in fine condition.

This serves as a general guide; prices frequently change based on supply and demand.