Passengers at the Port of San Francisco: 1800s
---
SS Panama
Arrive San Francisco
June 29, 1853
SS Panama
Captain W.H. Hudson, U.S. Navy Commander
From Panama
Passage
Daily Alta California, June 30, 1853
ARRIVAL OF THE PANAMA

TEN DAYS LATER FROM THE ATLANTIC.
The P.M. Steamer Panama, W.H. Hudson, commander, from Panama, June 12th, arrived at her berth about 2-1/2 oclock P.M. yesterday, bringing dates from New York to May 30th.
We learn from a note from Mr. Corwine, Consul at Panama, that eight bags of the New York letter mail had not reached Panama when the steamer left.

We are indebted to the officers of the Panama for the facilities extended to our marine reporter, and to Berford & Co., Adams & Co., and Wells, Fargo &, for the delivery of packages, correspondences, files &c.

The following is the memoranda of the steamer Panama
MEMORANDA. - Pacific Mail Steamer Panama, W.H. Hudson, Commander, left Panama with passengers and the U.S. mails of May 30th from New York, on Sunday, June 12th, at 9:30 P.M. Passengers per P.M.S. Co. steamer Golden Gate, hence for Panama, May 1st, were landed in New Orleans in twenty days, and in New York in twenty-three days, from san Francisco, being the shortest passage ever made between these ports. The health of the Isthmus continues remarkably good.
June 14th, 6 A.M., passed steamer Cortes, and at 5 P.M., steamer California, both for Panama.

19th, 10 A.M. Arrived at Acapulco, and left at 9 P.M.
P.M.S. Co. steamer Columbus left Acapulco for Panama on the 18th inst.

25th, 4:30 P.M. Off Cerros Island, dist. 4 miles, saw a bark at anchor close into the island, showing no colors

28th, 9 A.M. Passed a steamer steering south, supposed to be the Thomas Hunt.

Arrived at San Francisco, June 29th, at 9 A.M.
Died on board June 19th, Mr. A. Handford, from Va., and Mrs. S.A. Fagan of Philadelphia. Their remains were buried at Acapulco. 23rd, Mrs. Ann Gray, from New York.
The news by this arrival is very meager. There appears to be a perfect stagnation in the political world, and strange as it may seem, there is no account by this mail of a terrific steamboat or railroad disaster. The newspapers, for want of a better subject, are discussing "Uncle Tom" in England. Every paper is full of long articles about poor Uncle Tom and the long articles from the London Times are copied at length in the New York Times, Tribune and Herald. The Pope has prohibited Uncle Tom in his dominions.
The Washington Union got into a snarl recently by publishing an editorial article defending the course of Russia and the Czar Nicholas. It created such tumult in the ranks of Young America that Mr. Prior, one of the editors, was obliged to come out and acknowledge the authorship and relieve the administration from the odium of it. In a long defence of the article, Mr. Prior sustains the position he has taken. Among other things which he commends Russia for is that she has never raised a voice against American slavery.
A strong attempt is to be made at the South to retain the trade which now finds its way to the North, within the limits of the Southern States. A line of steamers direct from Baltimore to Liverpool is determined upon, and a Convention is to be held at Memphis, Tenn., for the purpose of devising ways and means so that the South may be more independent of the North in articles of commerce and manufactures . . .
The clipper ship Northern Light, Capt. Hatch, arrived in Boston May 29th, in seventy-six days from San Francisco . . . Mr. Vanderbilt sailed for Southampton in his yacht North Star on the 20th.
A large naval force is concentrating near Halifax for the protection of the Colonial fisheries.
Mr. E. Mills, the owner of the steamer Uncle Sam, and late owner of the Brother Jonathan, has contracted with the builders of these vessels to construct him another, to be called the Yankee Blade. She is to run between New York and Aspinwall, to connect with the Uncle Sam at this port, for which she sails from New York on the 15th inst.
The following are Consular appointments for Pacific ports--

Panama: Thomas W. Ward, of Texas
Acapulco: Charles L. Denman, of California
Honolulu: Benjamin F. Angell, of New York
Lahaina: George W. Chase, of Maine
Melbourne: James M. Tarleton, of Alabama
Rio Janeiro: Robert J. Scott, of Virginia
Taicabuana: William B. Pluto, of Illinois
Valparaiso: Reuben Wood, of Ohio
MARRIED.
On board the U.S.M. steamer Panama, in the harbor of San Francisco, on Wednesday, the 29th inst., by the Rev. Mr. Wyatt, of Trinity Church, JOHN SEARLE, Esq., Her Most Faithful Majestys Consul, to MISS SOPHIA LAIDLEY, of Figueria, Portugal, and MR. HENRY E. WILBY to MISS ELIZA SEARLE, both of Operto.
Cargo
To E. Knight.
Passengers
Anderson, R.
Batia, G. (Might be Batra or Batta)
Batru, Mr.
Benbauer, Mrs. A.
Brian, Enoch (Might be Bliun, Bilun)
Brownell, R.J.
Buttrick, T. A.
Cameross, A. (Might be Camcross)
Carter, Mrs.
Clark, J.
Clark, Samuel
Coning, D.
Cook, J.
Corning, D.
Cronin, E.
Dane, J. S. (Might be Dano)
Den, Dr. E. H.
Fairchild, G.
Fairchild, G. B.
Ford, Mrs.
Franchion, G.
Free, Jacob
Gill, J.
Givier, W. S.
Godie, S. (Difficult to read. Needs to be checked)
Gray, Mrs.
Haslaw, S.
Hasse, F.
Herbert, J. P.
Herriton, H. E.
Hopkins, Sheldon (Might be Shelden)
Jackson, R.
Jannett, N.
Jelly, Dr. W.
Jones, T.
Jones, W. (Might be Jooes)
Kitteridge, J.G.
Knelph, Mr. and wife
Laidley, Miss and servant (Married on board. See above)
Lake, Mrs.
Lake, W. B.
Latham, W. B.
Lawrence, J.L.
Leomoney, S.
Madsen, Jas
Mann, H.V.
Manson, M.
Manson, R., Jr.
McCann, W.
McGuire, T.
McQuade, J.
McWilliams, R.J.F.
Miller, H. and wife
Money, W.A.
Moore, H.
Moore, J.C.
Murray, A.P.
O'Connor, J.
Portugal, A.
Read, A.J.
Riordan, J.
Sange, J. (Gange Needs to be checked)
Savage, J.
Schname, J.H.
Schneidor, H.P.
Searle, Eliza (Married on board. See above)
Smith, J.C.
Swartwoun, N.J. (Difficult to read. Will check this)
Talmadge, A.C.
Wade, A. and wife
Waini g, R. (Letter missing. Might be Waining)
Welch, W., Wells, Fargo & Co. messenger
White, C.R.
Wigram, J.A.
Willett, C.
Winter, Mr.
Wisener, Mrs.
Woods, G. and wife
Young, Mrs.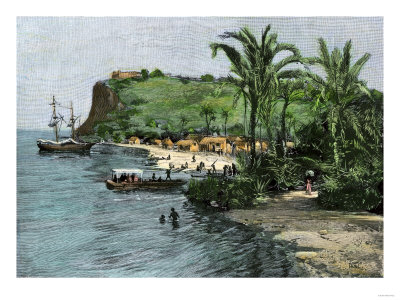 Boat Landing at the Chagres River, Panama.
Prints available by clicking on the image.