Passengers at the Port of San Francisco: 1800s
---
SS Moses Taylor
Arrive San Francisco
September 5, 1867
SS Moses Taylor
Captain James H. Blethen
From San Juan del Sur, Nicaragua
Passage
Daily Alta California, September 6, 1867
The steamship Moses Taylor, Captain Blethen, from San Juan del Sur, arrived at her berth yesterday afternoon. Following are her memoranda, passenger list, etc.
Memoranda.

The N.A.S.S. Co's steamer Moses Taylor, J.H. Blethen, commanding, left San Francisco August 5th, at 11 A.M.; August 17th, at 5:15 P.M., arrived at San Juan del Sur; left August 24th, at 8:40 A.M. Returning, received coal and usual supplies, and 203 United States troops for Nevada, from New York August 10th; August 30th at 6 A.M., passed steamship America, bound south; September 2d, at 2:55 A.M., passed a steamship supposed to be the Golden Age, bound south; arrived at San Francisco September 5th, at 3:30 P.M.
The Transit route is in excellent condition, high stage of water in the river, and perfectly healthy. No serious ilness has occured since leaving New York.
Cargo
153 packages slow and 314 packages fast freight to I.W. Raymond; 7 packages limes, 5 bundles hides to Ivancovhic & Co.; 7 bags coffee to Bray Bros.
Passengers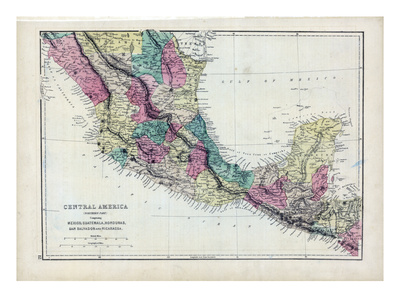 1873, Central America:
Mexico, Guatemala, Honduras, San Salvador, Nicaragua
Column 1 in Newspaper:
Capt. J. H. Gazeby, 37th Infantry, U.S.A.
Assistant Surgeon Robt. O'Reilley, U.S.A.
Act. Asst Surgeon L.E. Holmes, U.S.A.
John B. Moffitt
J. Apel and wife
Chas. Allen
T. Engleken
D. L. McPherson and wife
C. A. Lennox
G. O. Grey
L. O. Roller
L.G. Harvey
Chas. Grey
Mrs. Flanagan and nurse
Mrs. McGill and sister
H. Winklen
James Brown, wife and 4 children
Miss Maggie O'Malloy
Mrs. Martha Garner
W. J. Hassett and wife
C. Flathman
Martin Kuek
Adell Ecker
H. Vandenboom
William Gonnby and wife
Jas B. Armstrong
Mrs. Thomas and daughter
M. W. Fangton, wife and 3 children
John McKee
H. W. Case
Mrs. M. A. Roder
Dr. M. E. Shaw
Mrs. Jones and daughter
Mrs. C.E. Fredson
Mrs. Emma Carnes
A. James, wife and child
H. Atwood
And 302 others.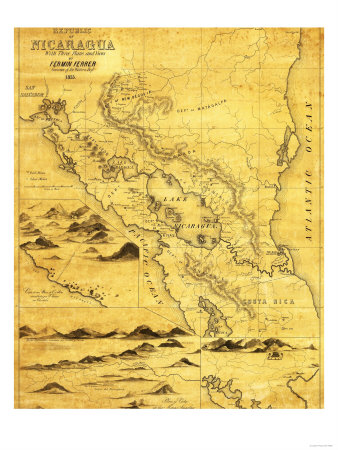 Nicaragua - Panoramic Map
Column 2 in Newspaper:
Capt. Wm. E. Green, 1st Infantry, U.S.A.
Act. Asst. Surgeon Jno. M. Dickson, U.S.A.
M. Israel
C. L. Morrison
Mrs. A. J. Stevens and two children
J. J. Wine
James Armstrong
J. B. Stephenson and wife
Thos. Gammell
E. R. Hess
J. Harvey, wife and child
G.W. Spencer
H. Casey
H.C. Hudson
James Caughlan
Miss A.E. Bailey
John Emond
Chas Steele
H. Ingon
J.H. Offerman
John Bacon
Anna Hofferman
B. Koshman
W. E. Stanton
G. W. Nicholson
Miss Mary Rich
Fred Potter
Mrs. E. R. Hathaway, mother and 3 children
Miss H. Hodges
J. W. Merrill and wife
John D. Fraser
Mrs. M. E. Knight and daughter
Mrs. M. J. Mourey
J. Neighbor and sister
Mr. Mayo and wife
And 203 United States troops.