Passengers at the Port of San Francisco: 1800s
---
SS Fremont
Arrive San Francisco
July 29 1851
SS Fremont
Captain McLane
172 days from New York via Panama

Passage
Daily Alta California, July 31, 1851
ARRIVED: July 29. Steamship Fremont, McLane, 172 days from New York via Panama 27 days, via Acapulco 7 days, via San Diego 4 days, to P.M.S.S. Co., 75 passengers.
Cargo
1 case merchandise, 36 packages, 2 box, 3 trunks, 2 cases. Consignees: G.A. Van Bokelin, John McCracken, D.L. Flanagan, Evans & Carter, J.F. Atwill, Lazard Freres, J. W. Gregory, Gibb & Holt, Dodge & Co.
Passengers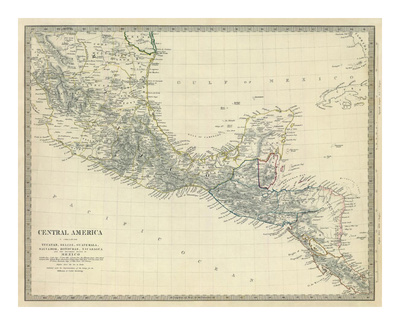 Central America, Southern Mexico, c.1842
Reproductions available by clicking on the image.
Ackley (Alta indicates "Three Mr. Ackleys" -- no first names or initials)
Andrews, Mr.
Barrett, M.
Berger, Mr. and wife
Bird, M.
Brisbee, A.
Burrows, A. M.
Butler, J. W.
Cambridge, Capt.
Carson, John
Cavan, James
Clark, Miss
Coats, J.
Coats, Thomas
Cowan, W.
Crappe, John
Criswell, C.
Crypson, R.
Curtis, J. A.
Darrow, J. H.
Davis, P.
Elliott, S.
Evans, Richard and servant
Haliburton, Mr. and two servants
Haliburton, Mr., Jr.
Hamilton, Mr.
Hathaway, S.
Hoffman, D.B.
Hook, W.
Humphreys, D.
Johnson, A., wife and child
Ketchum, E.S.
Liender, F.
Lockett, E.F.M.
Lockett, M.
McIntyre, A.
Millerson, M.
Murphy, D., wife and two sons
Otis, Mrs.
Packard, S. C.
Patton, R. E. and servant
Pride, Mrs. and child
Sheam, Mrs. and daughter
Smith, Robt
Smith, Thos
Tacy, Mr.
Torrey, D. J.
Valentine, Miss and two servants
Warner, Henry
Whorle, Mrs. W.
Wilson, P. J.
Wood, Abram

Great Stories of the Sea & Ships
N. C. Wyeth
More than 50,000 copies of this exhilarating collection of high-seas adventures are already in print. Not only does it showcase the fiction of such classic writers as Daniel Defoe, Jules Verne, and Jack London, but the entries also feature historic first-person narratives, including Christopher Columbus s own account of his famous voyage in 1492. Every page offers excitement, from vivid tales of heroic naval battles and dangerous journeys of exploration to the thrilling stories of castaways and smugglers. The astonishing variety of works includes The Raft of Odysseus, by Homer; Hans Christian Andersen s The Mermaid ; The Specksioneer, by Elizabeth Gaskell; Washington Irving s The Phantom Island ; and Rounding Cape Horn, by Herman Melville. Eighteen extraordinary black and white illustrations by Peter Hurd add to the volume's beauty.