Passengers arriving at the Port of San Francisco
---
SS Winfield Scott
Arrive San Francisco
Daily Alta California, November 27, 1853
Shipping Intelligence
Port San Francisco, November 26, 1853
Arrived
Nov. 26-Ship Winfield Scott, McLellan, 163 days from New York; mdse to Hussey, Bond & Hale; 6 passengers.
Memoranda
Per Winfield Scott-Was off Cape Horn 36 days, in continual westerly gales; lost jibboom and sustained other damage. Crossed the equator Oct 31, lon 117, and have had light winds and calms most of the time since. Have been off the Heads 3 days in fog and gales. The ships Hero and Winfield Scott, barques Curraghmore and Miceno have anchored off North Beach.
Sacramento Daily Union, September 21, 1853
Arrival of the Steamer Winfield Scott
The mail steamer Winfield Scott. Capt. Blunt, arrived at San Francisco on Monday afternoon, 15 days from Panama bringing by way of the Ramsey Route, across Mexico, New Orleans papers to Sept. 1, a fortnight later dates from New York, by telegraph, to Aug. 30, ten days later and from Europe to Aug. 18, 12 days later than previous advices. The news has therefore been but eighteen days on the way from New Orleans, twenty from New York, and most remarkable of all, but thirty-one days from Europe. This is by far the quickest time ever made. She brings 144 passengers, and 221 bags of mail matter, under the charge of Capt. J. M. Thornton, Mail Agent. The following is her memoranda :
Memoranda. P. M. Co.'s steamship Winfield Scott. Capt. Blunt got under weigh from Panama Sept. 4th. at 2 P.M. with mails and passengers for San Francisco. Sept. 9. at 9 45 p.m. arrived at Acapulco; coaled ship and sailed Sept. 10. at 10.30 a. m. Left the steamship Oregon, from San Francisco. in port, for Panama. Sept 16. at 6 P.M. arrived at San Diego; took in 30 tons of coal, and sailed at 830 p. m Sept. 18. at 10 a. m arrived at Monterey: exchanged mails and started at 10 30 a. m Sept. 18 at 7 P.M. arrived off the Heads, and anchored the fog being too thick to run Sept. 19. at 1.30 P.M. got under weigh, and arrived at the wharf at 3:45 p. m. The Winfleld Scott brings 12 Jays later news from the State.s, via Vera Cruz, City of Mexico and Acapulco. Sept. 17th passed the steamship John L. Stephens, in long 120 04 W., lat 34 18 N., 18 miles west of Santa Barbara. Died. September 14, William Bingham, of Philadelphia, a fireman, about 35 years of age.
Cargo
Among the cargo recently discharged from the sailing vessel Winfield Scott says the San Francisco Chronicle, were eight splendid Concord coaches, which are destined for the different lines branching out from Sacramento into the mining regions.
Passengers
Very Important Passengers: Mlle. Leo Picard, "an actress of considerable reputation, from Paris."
Allman, W.
Baker, Dr. J. W. H.
Beals, Capt.
Bego, G. (Might be Rego)
Bernard, T.
Berry, M. (Might be Barry)
Bogart, Capt. J. C.
Bowman, R.
Brewer, T.F.
Brown, D.
Brown, F. T.
Brown, W.
Buffam, E.Gould., Berford & Co.'s messenger
Burns, J.
Burns, Mrs. Caroline and child
Bussey, L. B.
Byrne, Edward Esq.
Cadete, G.
Cady, J.
Caldwell, W. D.
Calliere, F.
Cally, A. L.
Cambell, James
Canady, T.
Carman, J.
Cepana, J.
Cinhofts, G.
Clark, A.
Cummiskey, Mrs. E. J. and child
Cunningham, J. A.
Davidge, H. S.
Dawson, S. P.
Dearborn, John, Adams & Co.'s messenger
DeBuny, H.
del Castillo, Pedro
Devoe, Mrs.
Doherty, T.
Doncett, J.
Dunham, E.
Durfee, A. A., Wells, Fargo & Co.'s messenger (of Sacramento)
Forton, P.
Fuco, J.
Gardner, J.
George, Mrs.
Giles, Edward
Giles, Wm.
Goodrich, G.
Gorch, J. G.
Gregory, E.
Gribber, H.
Griffith, M. and lady
H zee, P.
Hall, C.
Hallett, W. P.
Hennsman, P.
Hess, Mrs. N.
Hopkins, M.
Howard, T.
Hughes, Mrs. Susan and child
James, J. P.
Johnson, G.
Kane, D.
Kelly, J., lady and child
Killett, J. H.
Killett, J. H. (Might be Kidett)
Koppeig, Mr.
LeBaron, Henry
Lilly, Mr. C. and lady
Lockes, L. W. and daughter (Might be Locker)
Loveland, L. Z., lady and child
Lynch, B. W.
McCullen, G. W.
Melartz, E.
Mildrom, D.
Miller, James
Millhoen, H.
Millhoen, J.
Mince, E.
Mingoice, J.
Moores, P. and lady
Mortimer, George
Mullard, C.
Murphy, Mrs.
Myers, H. and lady
Myers, L.
O'Neil, D.
Oghamburn, G.
Parker, F. C.
Pate, P.
Perry, Mrs. Mary
Petry, John
Picard, Mille. Leo
Porter, D.
Ranspect, H. J.
Rayn, Mrs. and child
Richardson, W.
Robertson, F.
Robertson, J. C.
Rockel, Chas.
Ryar, A.
Schaffer, Mrs. C.
Schriler, L.
Scott, B. H.
Sermon, J.
Spoon, Mrs. and child
Stephens, E. (Alta notes Stephees, but this directly follows Stephens on the list, so it might be a typographical error)
Stephens, L. B.
Stransyner, F.
Strobridge, Miss Mary
Sullivan, J. P., Esq.
Townsend, A. A. (of Stockton)
Trebane, Berrat
Trebane, G.
True, J.
Tryer, L.
Tyler, Joseph
Tylus, Mr. (Difficult to read. Might be Tyler, as he immediately follows Joseph Tyler on the listing.)
Undarti, Miss S.
Waber, Miss D.
Webster, W. H.
Wheeler, M. B.
Wilcox, A.
Willmott, J. H.
Wilson, W.
Woodrie, H. J.
Woods, Mrs. I. C., child and servant
Sacramento Daily Union, December 1, 1853

Sailing of the Steamers
San Francisco, Dec. 1, 9 P.M.
The steamer Winfield Scott left at a quarter before 12 o'clock, taking 300 passengers.
December 2, 1853
SS Winfield Scott lost at Anacapa Island
Lieutenant S.F. Blunt, Commander
From Panama
Sacramento Daily Union, December 7, 1853
Loss of the Steamer Winfield Scott! Passengers and Treasure Saved!
On the 4th December, the steamer California saw the steamer Winfield Scott ashore at Anacapa Island ran close to her and received the ladies and children on board, and also her treasure. She went ashore about midnight on December 2d, during a dense fog her passengers were landed without loss of life or confusion, owing to the coolness of Capt. Blunt and his officers. They are quite comfortably situated. The Winfield Scott will be a total loss.
Sacramento Daily Union, December 7, 1853
SECOND DISPATCH!
FURTHER PARTICULARS OF THE LOSS OF THE WINFIELD SCOTT
On Friday night, Dec. 2, at 12 o'clock, the Winfield Scott struck upon a rock on the Island of Anacapa, off the coast of Santa Barbara, about twenty-five miles. She first struck bow on, and then with her stern, next on her side, carrying away her rudder. A great deal of confusion was created on board.
The fog was dense, but weather calm, and by half past one the boats were lowered, and first filled with women and children, who were safely landed, the beach being but a short distance off. In this way all on board were taken ashore, and they were amply supplied with provisions from the wreck.
The California brought off 5 passengers, 2 children and the purser. The remainder were left on the Island, there being but one tent. The wreck of the steamer was left hanging on the rock by her bow, her stern being in eight fathoms of water. She will be a total loss, and must go to pieces in the next storm. The passengers had experienced no suffering, except that of the mind. Treasure and valuables all saved.
THIRD DISPATCH!
Decisions by the U. S. Land Commission Loss of the clipper ship Eclipse
San Francisco, Dec 6, 10 p. m.
The steamship California will leave this port to-morrow morning for the wreck of the Winfield Scott, where she will take aboard her passengers and treasure and proceed to Panama.
Intelligence was received here to-day of the loss of the American clipper ship Eclipse, of New York. She was totally wrecked in the bay of Spila, Mexico, having gone ashore in a gale of wind on the 19th October, and soon went to pieces. Her cargo, which consisted of Brazil wood, was lost. Captain and crew saved.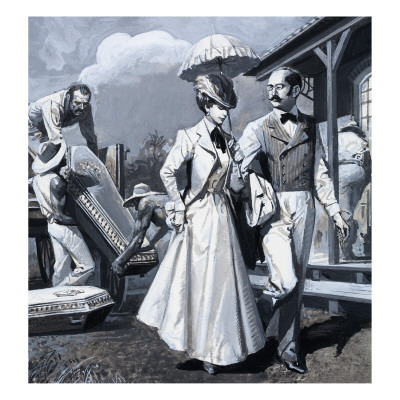 The passage across the Isthmus of Panama from Eastern Seaboard ships to West Coast Ships bound for San Francisco
Prints available by clicking on the image.