Passenger Lists: San Francisco 1800s
---
SS Golden Gate
Arrive San Francisco
January 9, 1852
Captain Patterson
From Panama
Passage
Saturday Morning, January 10, 1852, Alta California, San Francisco
ARRIVAL OF THE GOLDEN GATE
Quickest Passage Ever Made
Through from New York to San Francisco in twenty-nine Days!!
The new and magnificent steamship Golden Gate C.P. Patterson, Esq., commander, astonished our community last night by her unexpected arrival, after the quickest run from Panama that has ever been made. She left Panama on the night of the 27th ult. At 11 o'clock, and brings the large U.S. mail which left New York on the 11th of December, together with the largest number of passengers ever brought to this port in one vessel, among whom are seventy ladies and fifty children. But of this mass of human beings, we have but one death to record; the ethers, through the watchfulness and skill of her Surgeon, Doctor Holmes, will land to-day free from sickness.
The Golden Gate has thus made the passage from Panama to San Francisco, including stoppages at Acapulco, San Diego and Monterey, in less than thirteen days, and her passengers, many of whom left New York on the evening of the 11th ult. are in this city after a passage of only twenty-nine days from port to port. This is the quickest trip yet made. Her run down to Panama was made in 12 days and 1 hour.
January 12, Alta California, San Francisco
SPEED OF THE GOLDEN GATE.
As this splendid ship has already earned a very distinguished reputation for speed, an account of her performances from this port and back, will no doubt be read with interest. The minutes are exact, having been furnished through the politeness of Mr. R.B. Macy, her Purser.
The Golden Gate, belonging to the Pacific Mail Company, left San Francisco on the 5th of December at 10 o'clock A.M., and has made the voyage in thirty-five days and fifteen hours to and from Panama, during which time she remained at the latter port nine days and eighteen hours; at Acapulco one day and sixteen hours; at San Diego three hours; and at Monterey two hours, making the running time twenty-four days. In this twenty-four days she has run 6,800 miles, averaging 283-1/2 miles per day, or about 11-5.6 miles per hour. With the exception of 48 hours she had to content against strong head winds. Her passage to Panama was performed in twelve days and one hour running time, and her passengers, treasure and mails were at Chagres and embarked on board the Cherokee with fifteen days from San Francisco. Should the same despatch be accomplished on the Atlantic side, they would reach New York in less than twenty-four days from port to port.
Her passengers and mails by this trip left New York on the 11th of December, and have thus been a little more than twenty-nine days coming through This trip from Panama to San Francisco has been performed in 11 days and 23 hours running time the quickest ever made. When the mails can be sent through without the almost necessary detentions at Havana and on the Isthmus, we shall be able to make the trip in such vessels as the Golden Gate in less than twenty-two days. The mails cause invariable a delay of from four to six days. Which evil, when remedied, will give universal satisfaction, and place us nearer our Atlantic friends.
Cargo
Her cargo included a supply of books, which were offered by Burgess, Gilbert & Still, Portsmouth Square on January 12: Arms and Obstacles by James; Fortune Teller of St. Avoye by Eugene Sue; Feraly Manor by Miss McKenzie Daniel; Life in New York, In and Out Doors: 45 illustrations; Ellen, or the Wanton's Revenge; Harry Burnham by Buckingham; Celestine by the Author of Herwentwater; Percival Keene by Captain Marryait; Mysteries of New Orleans by Ned Buntline; 1500 assorted Plays; Sixteen Months at the Gold Diggings by Daniel B. Woods; Rifle Rangers by Capt. Mayne Reid Illustrated; Kossath, his Life and Speeches. Also, Longon Art Union Journal; London Lancet; Hunt's Merchant's Magazine; Knickerbocker; Eclectic Review; Whig Review; Edinburgh Quarterly; Blackwood for December. Together with French, Spanish, English, and American papers. For sale wholesale and retail.
Passengers
Adair, James 
Adams, Mr. 
Alexander, J. M. 
Allen, O. 
Alten, G. N. 
Altice, W.P. (Letter missing before "A") 
Ames, L. 
Anderson, J. 
Andol, J. 
Andol, R. 
Andrews, L. 
Arenon, L.F. 
Armstrong, 
Armstrong, Miss 
Armstrong, Mrs. 
Arnold, W. 
Arpent, J. 
Asher, J. 
Austin, A. C. 
Austin, E. H. 
Babcock, E. R. 
Bacon, J. A. 
Bad, P. 
Bado, N. 
Bailey, F. P. 
Bailey, J. N. 
Baker, Mrs. 
Balch, S. 
Ballison, S. 
Barker, M.C. 
Barnwell, W.W. 
Barton, J. 
Bates, C. 
Bayley, E. 
Beach, H. D. 
Beck, Jeffry 
Bedall, Rubin and lady 
Belcher, T. 
Bell, S. 
Bell, W.H. 
Bergen, J. 
Berrifield, 
Berry, O. H. 
Bess, G. S. 
Betty, G. 
Bilden, M. 
Birdsall, S.H. 
Black, John 
Black, T. 
Blaidlock, D. 
Blood, A.G. 
Bloom, J. 
Bloom, Mrs. 
Boice, M. S. 
Boice, W. M. 
Bolahio, L. 
Booth, E. and lady 
Borel, J. 
Borel, M. 
Bothus, A. 
Bower, C. 
Bowles, R. 
Bowman, W. 
Boyer, W. 
Boyley, D. 
Bradford, W. 
Brahinson, W. 
Brannon, Captain, lady and two children 
Brewster, G. P. 
Bridges, G. 
Briscall, J. 
Bristol, C. 
Bristol, J. 
Brown, E. 
Brown, G. W. 
Brown, G. W. H. 
Brown, H. R. 
Brown, J. W. 
Brown, John 
Brown, Mr. 
Brown, N. 
Browning, A. 
Bryant, Judge 
Bryson, J. 
Buck, O. O. 
Buckland, M. 
Bude, F. D. 
Bullard, B. D. 
Bullard, J. E. 
Bungarden, 
Burch, S. D. 
Burk, A. A. 
Burke, Mrs. 
Burnett, T. 
Burrage, N. 
Burt, H. (Butt ) 
Busby, H. 
Buskirk, G. 
Cable, W. 
Cake, H. H. 
Cake, W. M. 
Campbell, D. W. 
Canney, Dennis 
Carlyle, G. 
Carpenter, G. 
Carter, P. and lady 
Caulkins, E. 
Chambers, J.H. 
Chapman, H. 
Chapman, J. 
Chapman, W.J. 
Chase, A.N. 
Chase, J. 
Chase, Mrs. 
Cheeney, F. 
Cherevoy, E.B. 
Clapp, J. S. 
Clark, E. M. 
Clark, J. 
Clavendy, G. A. 
Cluch, D. (Couch ) 
Cluney, R. 
Coates, J. 
Coates, T. J. 
Cobb, C. J. 
Coffin, A. 
Cole, P. 
Comstock, Mr. 
Conger, J.W. 
Connor, E. and lady 
Corey, Miss 
Corey, Mrs. and child 
Corey, O. 
Corey, S. 
Cowan, J. 
Cowan, J. R. 
Cowan, O. 
Cowan, S. D. 
Cowan, T. 
Crittenden, , lady, six children and two servants 
Crocker, C. 
Crocker, Mrs. 
Crocklin, T. 
Crockllin, C. 
Crosby, J.E. 
Cummings, A. 
Cummings, Miss 
Cummings, T. and lady 
Cunningham, H. 
Cushman, M. 
Cusick, J. 
Dalter, A. R. 
Dalton, J. 
Dannisgeam, J. (Dannigeam ) 
Davidson, D. 
Davidson, Mrs. 
Davis, D. 
Davis, E. 
Davis, H. E. 
Davis, H. G. 
Davis, P. 
Day, H. 
Deming, E. 
Devo, J. 
Dexter, A. 
Dickey, J. 
Dickson, J. 
Dingee, J. 
Dixon, A. 
Dixon, D. 
Dixon, J.A. 
Dixon, P. 
Dobbs, D. 
Dodge, J. 
Doherty, G. 
Doherty, W. 
Douce, A. 
Douglass, H. 
Doyle, R. 
Drake, 
Dubois, W.A. 
Dudley, C.S. 
Dudley, J.C. 
Dudley, M.S. 
Dudley, Mrs. and child 
Duff, J. 
Duffy, P. 
Dunning, Thomas 
Dutton, J.W. 
Eacres, 
Eagan, A. 
Eaton, G. 
Eaton, H. 
Eccles, J.M. 
Eccles, J.M. (two are listed) 
Eccles, M.P. 
Eders, Mrs. and children 
Edwards, A. 
Edwards, W. 
Elder, Mrs. 
Elmore, D.P. 
Ely, Mrs. E. 
Emory, J.B. 
Evans, D. 
Evans, E. 
Evans, W. 
Eveleth, A. 
Ewing, J. 
Eyre, J. 
Faibother, F.M. 
Falls, P. 
Farington, J. 
Feener, B. 
Fenner, D. 
Fetters, Mr. 
Fetters, Mr. 
Fields, R. and lady 
Filey, Jon 
Finn, J. 
Fisher, 
Fisher, J. 
Fisk, H.M. 
Fitzgerald, D. 
Fitzgerald, M. 
Fitzgerald, W. 
Fitzgerlad, L. 
Flaherty, M. 
Flanders, D. 
Fleming, J. 
Fleming, Mr. Farinolli and lady 
Flint, J. 
Floyd, S. 
Flysan, W. 
Fort, J.A. 
Fox, J. 
Franklin, S.C. 
Frease, H.H. 
Free, H. 
Fricke, F. 
Frisbee, W. 
Frye, J. 
Fuller, A. 
Furguson, J. 
Gaillane, P. 
Galagher, J. (Gallagher ) 
Gallagher, L. 
Galley, O. 
Gardner, W. 
Gaylord, G. 
Genin, R. 
George, A. 
Gibson, C.M. 
Gihon, Mrs. and two children 
Gilfillan, J. 
Gladden, Mr., lady and family 
Glover, J.E. 
Goodhart, J. 
Goodwin, A.A. 
Gordon, R. 
Gost, M. 
Gould, F. 
Gould, John 
Green, J.A. 
Greenhouse, R. 
Gregg, D. 
Gritzenger, L.F. 
Gronrry, G.G. (note letters missing between "n" and "rry") 
Groves, D. 
H, Joan (Last name H v - cannot read) 
Haggin, Eliza (Mrs. James Ben Ali Haggin), child and servant.
Hale, M. 
Hall, L.E. 
Hall, W. 
Hammond, J.C. 
Hanson, C. 
Harper, Mrs. 
Harris, H.S. 
Harris, Mrs., child and servant 
Harris, W.H. 
Hart, and family 
Hart, C. 
Hart, C. (two listed) 
Hasbarn, B.W. 
Haskell, J.L. 
Haskell, Mrs. 
Haskett, Baron J.C. (or Baron J.O. Haskett ) 
Haskins, E.M. and two children 
Haskins, J. 
Hastings, 
Hastings, C.S. 
Hatch, G. 
Hatfield, 
Hawkins, E. 
Hawley, O.F. 
Hayes, G. 
Hayes, John 
Haynes, G.W. 
Henderson, J. 
Henro, W. 
Henry, Mr. and lady 
Hervy, 
Hewle, A. 
Hicks, 
Hill, E.N. 
Hill, J.A. 
Hills, F.W. 
Hirst, E.P. 
Hitchcock, A.H. 
Hitton, J. 
Hoff, O.B. 
Holcroft, J. 
Holman, J. 
Holmes, H. 
Hope, R. 
Hope, W. 
Hopkins, H.H. 
Horne, M. 
Horst, S. 
Horton, J. 
Hose, D. (Huse ) 
Hosmer, M. 
Houghton, A.M. 
Houghton, S. 
Housten, P. 
Howes, A.F. 
Howes, H. 
Hubbard, A.M. 
Hubbard, J.C. 
Hubbard, W.B. 
Hughes, D. 
Hughes, J. 
Hunnewell, H. 
Hunters, L. 
Huscomb, J. 
Hush, J.R. 
Hustin, W.H. 
Hutton, J. 
Hutton, W.B. 
Hyatt, J.G. 
Hyatt, Miss 
Hyatt, Mrs. 
Inthe, J.W. 
Ivons, A.E. 
Jackson, J.D. 
Jackson, John 
James, J. 
James, R. 
Je-iso-, A. 
Jenkin, J.F. 
Johnson, A. 
Johnson, C.C. 
Johnson, D.A. 
Johnson, G.G. 
Johnson, J.R. 
Johnson, Mrs. 
Johnson, T.R. 
Johnson, W.R. 
Jollett, C. 
Jones, A. 
Jones, C. 
Jones, E. 
Jones, J.W. 
Jones, John 
Jones, W. 
Josephi, C. 
Josephi, C. 
Karney, C. 
Kelsey, J.M. 
Kennedy, A. 
Kennedy, J. 
Kennedy, J. 
Kents, Mrs. M.Y. 
Keon, F. 
Kimball, W. (Rasmussen questions Kimbatl) 
Kinney, A.H. 
Knapp, F. 
Koffman, J. 
Kopp, M. 
Krauth, Mr., lady and family 
Laird, P.B. 
Laird, R.B. 
Laird, T.D. 
Langley, J. 
Langmade, A. 
Lapsely, J. 
Lapsely, R. 
Larks, S. (Parks ) 
Law, R.S. 
Lawless, J. 
Lawrence H. 
Lawton, G.T. 
Lawton, T.A. 
Layford, James 
Leaf, Dr. 
Leavitt, W.F. 
Leech, C. 
Leonard, J.T. 
Leonard, Mrs. and child 
Lewis, F. 
Lewis, S. 
Libby, Miss. 
Lindsey, J.M. 
Lipper, N. 
Lloyd, S.G. 
Lock, G.S. 
Lomoie, C. 
Longley, J.P. 
Lovejoy, C. 
Ludlum, T.E. 
Lullam, Mrs. 
Maloy, F. 
Mansfield, J. 
Mansfield, W. 
Marais, A. 
Martin, A. 
Martin, H.M. 
Martin, Mrs.. 
Mason, B.S. 
Matthews, R. 
Maurey, I., lady and two children 
May, B. 
Mayfield, W. 
McCartin, N. 
McChurson, R.S. 
McClary, Miss 
McClintock, G. 
McCluskey, T. 
McClyman, A.J. 
McCrary, W.F. 
McCue, C. 
McDonald, A. 
McElwiel, J.V. 
McFarland, F.A. 
McFarlon, H. 
McGuire, J. and lady 
McGuire, Miss 
McHenry, 
McHenry, Judge and two ladies 
McKane, J.C. 
McKay, 
McKenzie, Mr. 
McKenzie, Mrs. 
McLaughlin, Dr. 
McMahon, 
McMahon, and two sisters 
Meigs, J. 
Meigs, T. 
Mellet, J.M. 
Merrill, E. 
Merriman, E.H. 
Merriman, J.H. 
Merritt, E.W. 
Metcalf, Mrs. and child 
Middlebrook, U.V. 
Miller, 
Miller, and lady 
Miller, D. 
Miller, D. 
Miller, W.H. 
Mitchell, J. 
Monroe, J. 
Montague, E.J. 
Mooney, E. 
Mooney, H.R. 
Mooney, J.N. 
Moonny, B. 
Moore, G.W. 
Moore, J. 
Moran, H.F. (Morane -- letter may be missing between "n" and "e") 
Moran, J.H. 
Mord, L. 
Morgan, E. 
Morgan, E. 
Morrell, A. 
Morrell, A.P. 
Morrell, B. 
Morrell, H.D. (Rasmussen questions "Moorcel," but that seems unlikely: this passenger was listed near A. Morrell) 
Morrison, R.F. 
Murphy, J. 
Murphy, J. 
Murray, John 
Myers, C. 
Nail, R.H. 
Nash, J. 
Nash, Mrs. and servant 
Naylor, J. C. 
Naylor, N. C. 
Nellis, G. 
Nelson, W. 
Newman, B. 
Newman, P. 
Newton, H.N. 
Nicholson, J. 
Noble, J., lady and child 
Norton, J. H. 
Nuttrass, J. (Nattrass ) 
Nye, T. 
O Neil, G. 
Ormsby, A.D. 
Ostrander, J.W. 
Owens, G. 
Owens, W.B. 
Pa et, lady and child (name is impossible to read) 
Parker, E. 
Parker, G. 
Parker, J. 
Parker, J.M. 
Parsley, J.R. 
Pass, F.H. 
Pass, W. 
Patrick, B. 
Patterson, G.W. 
Patterson, J. 
Pearson, J. 
Pearson, S.H. 
Pease, J. 
Penney, D. 
Perkins, 
Perkins, W. 
Perry, C. (Persy ) 
Phillips, W.B. 
Pierre, D. 
Pope, A.J. 
Potters, J. 
Powell, and three servants 
Powell, D. 
Praters, J. 
Praters, J.B. 
Puci, J. (Letters missing between "P" and "uci" and after "uci") 
Ransom, E. 
---rch , C. 
Redding, L. 
Redmond, W.W. 
Redn, J. 
Reese, D. 
Reone, D. 
Rhodes, J.M. 
Rhodes, John 
Rhodes, S. 
Rhye, S.M. 
Rice, N. 
Rice, Mr. 
Rice, Mrs. and child 
Rider, W. and two friends 
Riders, E.B. 
Ridge, C. (Rider ) 
Ridnor, M. 
Right, W. 
Riley, A. 
Riley, B. 
Riley, P.H. 
Robb, J.S. 
Robbins, E. 
Roberts, J.O. 
Robertson, J. 
Robertson, J. 
Robertson, W. (Roberston ) 
Robinson, J. 
Robinson, M. 
Robinson, W. 
Rodgers, James 
Root, C.M. 
Root, R. (difficult to read) 
Rosburgh, John 
Roy, J.P. 
Runt, A. (Rand ) 
Russell, C. 
Russell, P.W. 
Russell, W.J.C. 
Rutherford, J.S. 
Rye, John 
Sands, A. 
Sargeant, C. 
Sanders, Lewis (father to Eliza Haggin, above. They were sailing from New Orleans to join her husband, James Ben Ali Haggin, in Sacramento, where he was an attorney)
Saxten, E.D. 
Schumato, A. (Schumate ) 
Scott, H. 
Scott, J. 
Scoville, R. 
Scytt, E. 
Seely, D.A. 
Selack, R. 
Sellacs, Mrs. and child 
Sena, P. 
Shadlock, G.A. 
Shand, A. 
Shartswood, D. 
Shatlow, D. 
Shelton, V.B. 
Sheny, G.M. 
Shilton, A.J. 
Show, J. 
Shrive, J. 
Siles, C. (Letter missing between "i" and "l") 
Singer, M. 
Smart, Mrs. 
Smith, I. 
Smith, J. 
Smith, J.B. 
Smith, J.H. 
Smith, Mrs., three children and servant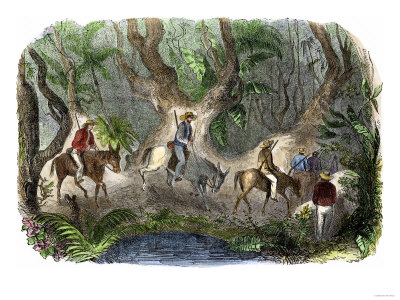 Prospectors Traveling to the California Gold Regions
Cross the Isthmus of Panama, c. 1849
Fine giclee prints are available by clicking on the image.
Smith, N. 
Smith, P. 
Smith, T. 
Smith, W. 
Smith, W. 
Snyder, H. 
Sonburne, J.C. 
Soule, P. (Scale ) 
Spear, J.N. 
Spencer, 
Spencer, I. 
Spencer, J. 
Springer, J. 
Squalls, W. 
Stafford, R. 
Stanton, B. 
Stanton, E.A. (Letter between "a" and "t" difficult to read) 
Stanton, J.A. 
Stanton, W.P. 
Steele, E.R. 
Steele, J.S. 
Steffins, L. 
Stephens, O. 
Stewart, F. 
Stewart, J. 
Stiles, A.L. 
Stiles, L.G. 
Stincen, M. 
Stott, J. 
Stratton, F. 
Strong, F. 
Sturges, E.O. 
Sturges, W. 
Sutton, J. 
Suvr, J. (Letters missing between "u" and "v" and "v" and "r") 
Talbot, R. 
Tallant, Besse 
Tallant, Mrs. 
Taylor, A.E. 
Taylor, J. 
Taylor, J. 
Taylor, M. 
Taylor, Miss E. 
Taylor, W. 
Teale, Louis 
Thatcher, J. 
Thompson, A. 
Thompson, A. (Rasmussen questions Thympson) 
Thompson, Mrs. and two ladies 
Thompson, O. B. 
Thowberg, J. 
Tilton, H. L. 
Timore, T. 
Todd, O. 
Toners, Mr. 
Toutiate, J. 
Towers, O. 
Towle, Mrs. 
Towman, H. L. 
Trask, J. M. 
Trask, R. E. 
Tuttle, 
Tuttle, Mr. 
Underwood, A. 
Underwood, N. 
Upson, L. 
Upson, W. 
Upton, F.A. 
Valentine, A. 
Van Slyke, D.S. 
Van Stoven, A. 
VanDruff, S. 
VanPelt, 
Vaugh, J.C. 
Viconey, T. 
Wade, A.M. 
Wade, C.D. 
Wade, P.S. 
Wadleigh, B.P. 
Walis, T. 
Wallace, J.M. 
Wallace, Mrs. and two children 
Wallace, W. 
Walverd, G. 
Ward, J. 
Warden, 
Warren, J. E. 
Watson, J. 
Watson, Mr. 
Watts, F. 
Weekly, J. 
Welsh, 
West, S. 
Wheeler, D.E. 
White, C.F. 
White, H. 
Whiting, W. 
Whitmore, J. 
Whitney, C. S., lady and family 
Whitney, J. 
Whitney, N. P. 
Whittemore, A. 
Widmer, J. 
Widmer, Miss 
Wilcox, Mrs. 
Wilkes, Miss M. 
William, G. 
Williams, D.D. 
Williams, J. 
Williams, John 
Williams, L. 
Williams, William 
Willis, Charles 
Willkins, J. 
Wilmot, D.E. 
Wilmot, R. 
Wilson, A. 
Wilson, B. 
Wilson, E. 
Wilson, G. 
Wilson, J. 
Wilson, John 
Wilson, W. 
Wise, D. 
Witt, W. H. 
W--mot, A. 
Wolfe, J. 
Wombler, G. 
Wood, F. 
Wood, R. C. 
Woodbick, P. 
Wool, George 
Woolsin, W. C. 
Wooster, Mrs. 
Wooster, W. W. 
Worth, W. E. 
Wright, J. M. 
Wyman, D. C. 
Yale, T. 
Yancay, J.W. (Letter between "Y" and "n" unreadable - may be different spelling) 
Young, P.S.
---
Migration in World History (Themes in World History)

Patrick Manning

Drawing on examples from a wide range of geographical regions and thematic areas, noted world historian Patrick Manning guides the reader through:
Trade patterns, including the early Silk Road and maritime trade
Effect of migration on empire and industry between 1700 and 1900
The earliest human migrations
Major language groups (illustrated with original maps)
Examination of civilizations, farmers and pastoralists from 3000 BCE to 500 CE
Various leading theories and debates surrounding the subject of migration.