Ship Passengers arriving in San Francisco: 1800s
---
Queen of the East
Arrive San Francisco
September 9, 1852
Clipper Ship Queen of the East
Captain Bartlett
From New York, 92 passengers
Passage
Daily Alta California,
September 9, 1852
Cargo
Importations: 11 bxs glass, 11 bales duck, 86 bx oysters, 3170 pcs yellos pitch board, 531 bars, 60 bdls iron, 108 bdls sheet iron, 200 pigs lead, zinc, 20 kegs horse shoes, 252 bxs tin plate, 16 pdls wire, 11 cedar posts, 20 bdls shoves, 60 bxs pepper sauce, 20 bxs sweet meats, 20 bxs bay rum, 40 bxs bitters, 50 bxs brandy cherries, 50 bxs cherry brandy, 50 bxs cordials, 12 bxs bitters, 2 cs yeast powder, 140 bales gunny bags, 3 cs piano forte, 678 bdls spruce lumber, 3232 pcs white pine, 1208 pcs plank, 2340 pieces clear lumber, 80 bbls beef, 30 bbs pork, 1 platform scale, 106 wheelbarrows, 29 tcs hams, 4400 pcs timber, 3 cs air chambers, 63 cs sheathing copper, 120 iron segments, 3 boxes trenails and pins, 45 bales felt, 6 coils rope,1 bdt thimbles, 2 hhds oil, 1 pitch pot, 24 bbls naval stoes, 18 wheels, 3 bxs sundries, 17 copper chambers, 12 bxs tin, 9 kegs nails, 40 kegs zinc paint, 12 hhds machinery, 28 iron bars and shafts, 12 iron cog wheels, 54 pump rods, 146 iron shafts, 1 bdl zinc, 134 bxs bolts, 1 hf bbl zinc nails, 8 bdls iron, 43 bbls nails and bolts, 12 iron pumps, 15 pcs pump iron, 113 bags trenails and pins, 24 bbls tar, for the government dry dock.
Consignees: Waterman, Jordan & Co., Carl & Co., Bibb & Co., Ogden & Haynes, Backus & Harrison, W. McNulty, Thos. Jones, T.H. Selby, A Edouard, Master and Order.
Passengers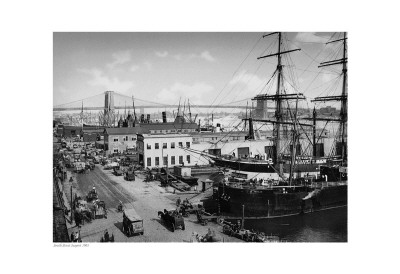 South Street Seaport, c.1901
Dr. Sinclair and lady
Mrs. Ames and two children
Mrs. Housley and two children
Thos. Ellison
H. Haskell
C. W. Moore
W. Story
W. H. Ellison
J. E. Hoan
N. Van Wagner
M. P. Townsend
N. K. Lancaster
H. Dunbar
J.G. Sumner
T. Knowlton
J. E. Waters
J. S. Bryant
Capt. J. Hitchcock
W. Neal
A. Edwart*
N. P. Burgess
E. Freeman
D. G. Haynes
J. D. Freeman
A. H. Patterson
G. W. Marriane
H. Carlton
W. H. Chapman
G. F. Heal
A. A. Heal
P. Hall
J. C. Miller
J. W. Coombs
F. A. Herrick
C. Burt
B. J. York
S. W. Blancard
J. C. Story
W. S. Card
J. H. Emerson
W. K. Ryan
J. P. Poore
M. N. Hazelton
K. Patterson
O. Stevens
M. Knowlton
B. H. Rhodes
W. W. Taylor
B. G. Herrick
H. Pitcher
J. W. Holt
D. Vincent
R. Venice
A. Patterson
J. Stevenson
J. Hussey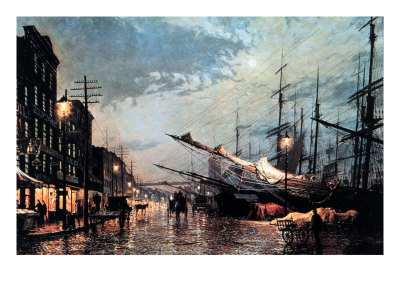 New York Seaport, 1884
Reproductions are available by clicking on the image.
H. Woodcock
S. W. York
C. Johnson
C. Stevens and wife
M. Donnoody and wife *
W. Ryan
H. Ryan
D. B. Randall
J. W. Jeffres
D. Murray
A. Harris
A. E. Zinkham
G. Hoskins
D. B. Martin
Jno A. Sampson
J. P. Stetson
C. Patterson
W. R. Harlow
W. C. Barnes
G. F. Dunham
H. Morey
E. Hathaway
J. Edos
S. Shilingsbury
D. S. Drew
P. Finney
H. Wordsworth
Henry Allen
N. Churchill
---
The Annals of San Francisco

Frank Soule, John H. Gihon, Jim Nisbet. 1855
Written by three journalists who were witnesses to and participants in the extraordinary events they describe. The Annals of San Francisco is both an essential record for historians and a fascinating narrative for general readers. Over 100 historical engravings are included.
Partial Contents: Expeditions of Viscaino; Conduct of the Fathers towards the natives; Pious Fund of California; Colonel John C. Fremont; Insurrection of the Californians; Description of the Golden Gate; The Mission and Presidio of San Francisco; Removal of the Hudson's Bay Company; Resolutions concerning gambling; General Effects of the Gold Discoveries; Third Great Fire; Immigration diminished; The Chinese in California; Clipper Ships; Increase of population; and Commercial depression.
San Francisco, You're History!
A Chronicle of the Politicians, Proselytizers, Paramours, and Performers Who Helped Create California's Wildest City

J. Kingston Pierce
Seattle-based writer Pierce presents a fascinating view of a variety of colorful people and events that molded the unique environment of San Francisco. He chronicles historical highlights: the Gold Rush, earthquakes, and fires and introduces the lives of politicians, millionaires, criminals, and eccentrics.
Click for a Selection of California History Books

including the "Historical Atlas of California," with nearly five hundred historical maps and other illustrations -- from sketches drawn in the field to commercial maps to beautifully rendered works of art. This lavishly illustrated volume tells the story of California's past from a unique visual perspective. It offers an informative look at the transformation of the state prior to European contact through the Gold Rush and up to the present. The maps are accompanied by a concise narrative and by extended captions that elucidate the stories and personalities behind their creation.
Artful Players: Artistic Life in Early San Francisco

Birgitta Hjalmarson

With a handful of wealthy Gold Rush barons as indulgent patrons, an active community of artists appeared in nineteenth-century San Francisco almost overnight. A subculture of artistic brilliance and social experimentation was the result -- in essence, a decades-long revelry that purportedly ended with the 1906 earthquake. Witness Jules Tavernier, hungry and in debt, accepting a stuffed peacock and two old dueling pistols in payment for a Yosemite landscape; Mark Twain as reluctant art critic.
Publications About San Francisco, including Infinite City
What makes a place? Rebecca Solnit's reinvention of the traditional atlas, searches out the answer by examining the many layers of meaning in one place, the San Francisco Bay Area. Aided by artists, writers, cartographers, and twenty-two gorgeous color maps, each of which illuminates the city and its surroundings as experienced by different inhabitants, Solnit offers views that will change the way we think about place. She explores the area thematically -- connecting, for example, Eadweard Muybridge's foundation of motion-picture technology with Alfred Hitchcock's filming of Vertigo. She finds landmarks and treasures -- butterfly habitats, murders, blues clubs, Zen Buddhist centers. She details the cultural geographies of the Mission District, the culture wars of the Fillmore, South of Market . . . This atlas of the imagination invites us to search out the layers of San Francisco that carry meaning for us.