Passengers at the Port of San Francisco: 1800s
---
SS Moses Taylor
Arrive San Francisco
September 28, 1864
SS Moses Taylor
Captain J. H. Blethen
Passengers from New York via San Juan del Sur, Nicaragua
Passage
Daily Alta California, September 28, 1864
The steamship Moses Taylor, with passengers from New York via Nicaragua, arrived at this port on Tuesday morning, at four o'clock, after a passage of eleven and a half days from San Juan del Sur. The passengers by this steamer left New York on 27th of August, on the steamer Golden Rule. There was a detention of a week on the Isthmus, owing to the fact of there being no coal at San Juan del Sur. The Taylor was compelled, consequently, to go down to Panama to get a supply, arriving on her return at San Juan on the 15th instant.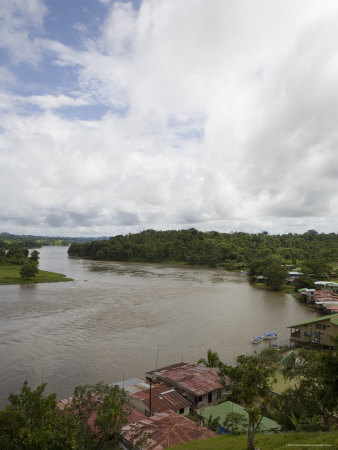 San Juan River runs past the remote village of
el Castillo, Nicaragua
David Evans
It is the rainy season on the Isthmus, and there is a fine stage of water in the river.
The boats are represented as being very commodious and comfortable.
Memoranda
Steamship Moses Taylor, J.H. Blethen, Commander, left San Francisco, August 23d, at 9:30 A.M., August 24 passed steamer America, bound up; August 26, 10 A.M. spoke U. S. steamer Saranac, on a cruise; September 4th at 8 A.M. arrived at San Juan del Sur, landed passengers and left same day at 2:45 P.M. for Panama to coal; the barque Nonantum, then fifty-two days out from San Francisco with coal for the Company, not having arrived; September 6, midnight, arrived at Panama. received coal and supplies and left same day at 3 P.M.; arrived San Francisco September 27, at 3 A.M.
The Transit route is in fine condition, and high water on the river.
Arrived at Panama, Sept. 9th, U.S. steamer Wateree.
Arrived at San Juan del Sur, Sept 8th, barque Nonantum, from San Francisco.
Passengers
Among the arrivals by the Taylor is Dr. McMurtry of Santa Clara county, late State Senator, and Delegate to the Union Convention at Baltimore. He has visited the Army of the Potomac during his absence, as one of the Christian Commission, and has returned here with a bride, a stronger Union man than ever.
There was no sickness at the moment, and no deaths amongst the passengers by this arrival.
We are indebted to Senator McMurtry for New York papers of the 27th, four days later.
Mrs. T. Crossell and two children
Rev. M. C. Briggs, wife and son
W. J. McMurtry and wife
Miss Bowers
Miss Bliss
F. Brown
Mr. Hudson
Rev. Mr. Scanlon
Janes Thompson
Mrs. G. Lehman and child
Rev. Robert Kellin
Thos. Depin and wife
Parker Smith
J. R. Durick
Jos. Garrett, wife and niece
Wm. T. Little, wife and four children
O. A. Swift, wife and infant
Mrs. W. B. Tyler
G. L. Bonner and wife
Miss Alice Priest
E. J. Smith
J. R. Medeffesser, wife and two children
Miss Mary Amin
J. P. Waight
Miss M. Schanger
Mrs. J. Griswold and child
Mrs. M. Dalton and son
Mrs. H. R. McDonald and child
Mrs. Joe Price
Wm C. Allen
J. Malesteta
Catalina G. S. Powers
John C. Schlarbaim
Jas. Friel, wife and child
C. Driscoll and sister
M. Levy
P. Hirsch
Mrs. D. Frank
Miss P. Levy
B. Garrison
P. Mellett
A. Wentworth
H. Ware and daughter
G. M. Harris
N. M. Livingstone
Wm. Odeiheimer
Mrs E. Horn and daughter
Miss M. Gron
Mrs Jefferson and infant
Mrs Glasfeld, child and niece
W. Ghun
A. T. Brown
J. Bates
and 210 others.