Passengers at the Port of San Francisco: 1800s
---
SS Moses Taylor
Arrive San Francisco
March 25, 1868
SS Moses Taylor
Captain J. H. Blethen
From San Juan del Sur, Nicaragua

Passage
Daily Alta California, March 25, 1868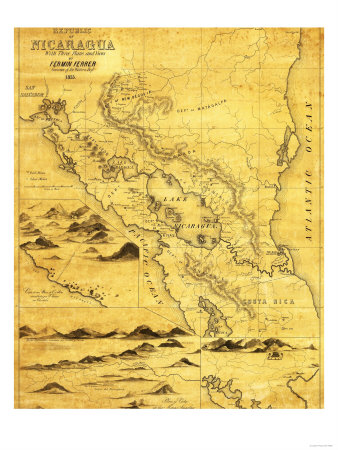 Nicaragua - Panoramic Map
The Opposition steamer Moses Taylor, Captain Blethen, from San Juan del Sur, arrived in port at an early hour this morning. Following is her Purser's report. Her passenger list has already been published in the Alta, received by Overland Mail:
Memoranda
PURSER'S REPORT
The North American Steamship Co.'s steamer Moses Taylor, Captain J. H. Blethen, from San Juan March 12th, 7 p.m. , arrived at this port this (Wednesday) morning at 2 a.m, bringing 402 passengers. On the 1st instant arrived at Manzanillo.
British brig Rein-Zia, Captain Perry was at San Juan discharging cargo of general merchandise.
The American ships Christiana and Lewis Walsh were at Manzanillo, with 2,800 tons of coal for North American Steamship Company.
The Congress of Nicaragua have ratified the Dickinson-Ayon Treaty between that country and the United States. The Congress of Nicaragua delayed their action until the ratified copy of the treaty had been received from Washington. This treaty is, therefore, now a law between the two countries.
The Government of Nicaragua has contracted with foreign capitalists for the establishment of a bank in Nicaragua, granting them an exclusive privilege; also tne privilege of issuing paper money, and giving the Bank the first lien on property.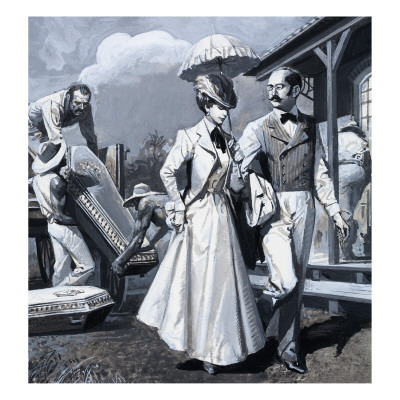 The passage across the Isthmus of Panama from Eastern Seaboard ships to West Coast Ships bound for San Francisco

Great Stories of the Sea & Ships
N. C. Wyeth
More than 50,000 copies of this exhilarating collection of high-seas adventures are already in print. Not only does it showcase the fiction of such classic writers as Daniel Defoe, Jules Verne, and Jack London, but the entries also feature historic first-person narratives, including Christopher Columbus s own account of his famous voyage in 1492. Every page offers excitement, from vivid tales of heroic naval battles and dangerous journeys of exploration to the thrilling stories of castaways and smugglers. The astonishing variety of works includes The Raft of Odysseus, by Homer; Hans Christian Andersen s The Mermaid ; The Specksioneer, by Elizabeth Gaskell; Washington Irving s The Phantom Island ; and Rounding Cape Horn, by Herman Melville. Eighteen extraordinary black and white illustrations by Peter Hurd add to the volume's beauty.