Passengers at the Port of San Francisco: 1800s
---
SS Republic
Arrive San Francisco
April 21, 1851
SS Republic
Captain Hudson
From Panama
Passage
April 21, 1851, Sacramento Transcript
ARRIVAL OF THE REPUBLIC!
We receive intelligence of the arrival at San Francisco of the steamer Republic (Law's Line) from Panama. She left the Isthmus on the 31st of March, and brings twelve days later news. She arrived in San Francicso yesterday afternoon at half past three.
The Republic brings 340 passengers, 40 of whom are ladies.
Cargo/Consignees
Freight on board steamship Republic -- M. Bernstean, 6 trunks mdse; Mayer & Kobbe, 6 trunks do; Trossham, 6 trunks do; Jno. W. Stoughton, 5 bundles and 2 boxes do; B. Levi & Co. 8 trunks and 5 bales do; H. D. Siloerman, 4 trunks do; M. Dittman & Bro, 5 trunks co; Philip Abrahams & Co, 10 pkgs do; Moore, Tuskeme Co, 4 trunks do; J. W. Stoughton, 6 pkgs do; H. Watson, 1 pkg do; A. M. Jacobs & Co., 6 pkgs do; J. Friedlander, 2 bales do; S. Herrick, 5 pkgs do; L. Gans, 5 pkgs do; Dodge & Co, 1 pkg do; A. Netter, 2 pkgs do; B. Beerman, 2 pkgs. do.
Passengers
April 21, 1851, Sacramento Daily Union
The following are the names of the passengers for Sacramento by the Republic: Messrs. Dr. Morrill and Cayle from Realejo. Mr. and Mrs. Hooker of Boston, Wm. H. Talmadge, Mrs. S. P. Dewey, E. Dewey. Capt. Northam, Dewitt, Brown & Kinney, of New York, Col. G. B. Stephens, your old auctioneer; Mrs. Willard, and two Misses Willard, of Wisconsin: Mr. and Mrs. Julian, Mr. Haywood, Mrs. Thorndyke, two Misses Thorndyke, and Miss Snow, of Maine. Messrs.
April 20, 1851,
Daily Alta California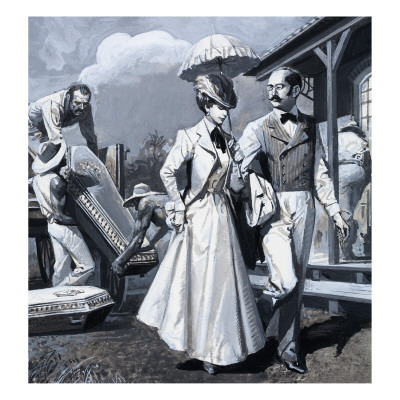 The passage across the Isthmus of Panama from Eastern Seaboard ships to West Coast Ships bound for San Francisco
Prints available by clicking on the image.
Coming to America: A History of Immigration and Ethnicity in American Life
Roger Daniels
This revised edition is an engrossing study of various waves of immigrants to the United States from the colonial era to the present. This is a useful book for anyone who has an interest in learning brief histories of most groups of immigrants to the United States. It also provides a theoretical understanding of the reasons for immigration. Though it is particularly useful in its examination of the pre-colonial and colonial periods.

Migration in World History (Themes in World History)
Patrick Manning
Drawing on examples from a wide range of geographical regions and thematic areas, noted world historian Patrick Manning guides the reader through:

Trade patterns, including the early Silk Road and maritime trade
Effect of migration on empire and industry between 1700 and 1900
The earliest human migrations
Major language groups (illustrated with original maps)
Examination of civilizations, farmers and pastoralists from 3000 BCE to 500 CE
Various leading theories and debates surrounding the subject of migration.