Passengers at the Port of San Francisco: 1800s
---
SS Panama
Arrive San Francisco
April 1, 1852
SS Panama
Captain James Watkins
From Panama

Passage
Daily Alta California, April 2, 1852
Arrival of the Panama !
FOUR DAYS LATER NEWS!
Isthmus Railroad Opened
Arrival of the Propellor Fremont.
The steamer Antelope arrived at 3 o'clock, this morning, bringing news of the arrival of the steamships Panama and Fremont, from Paaama.
We are indebted to Adams & Co. for full files of State papers. Gregory also furnished us with papers in good season.
The Panama arrived at 12 o'clock, yesterday. She brings a mail and 594 passengers, of which number, 36 are ladies. She brings dates to the 24th February. The Fremont brings 400 passengers.
The passengers by the Panama traveled on the railroad from Navy Bay to Miller's Station, 17 miles.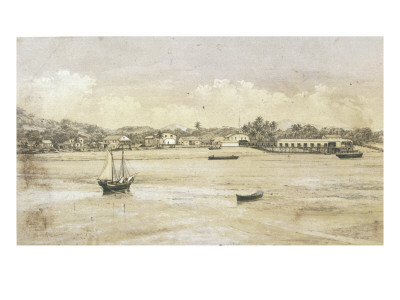 Panama City: Viewed across the Water
PASSENGERS STILL COMING -- The Ohio, which arrived at Aspinwall on the 9th, brought about eleven hundred passengers. The Cherokee, which arrived from New Orleans on the same day, also brought a large number. Large numbers of passengers are hourly arriving, and Panama continues crowded. There are between three and four thousand persons now in that city awaiting passage to San Francisco.
Cargo/Consignees
To E. Knight.
Passengers
Sacramento Daily Union, April 2, 1852
Arrived April 1, 1852