Ship Passengers arriving in San Francisco: 1800s
---
SS Orizaba
Arrive San Francisco
June 5, 1859
SS Orizaba
Captain James H. Blethen
From Panama
Passage
June 6, 1859, Sacramento Daily Union
ARRIVAL OF THE STEAMER ORIZABA AND THE OVERLAND MAIL.
The steamer Orizaba and the Overland Mail arrived last night. The news of both has been anticipated.
The Overland Mail was detained fifty-three hours by flood in the Pacheco river.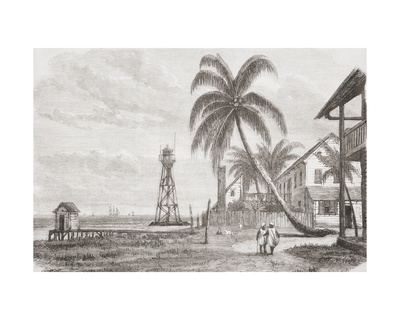 View of Colon (Aspinwall). East coast of Panama.
The New York and California Steamship Company's steamer Orizaba, Commander J. H. Blethen, left San Francisco, May 5th, at 12 M; arrived at Acapulco, May 12th; took in coal and supplies, and left on the 15th. May 19th, at 4 P.M., arrived at Panama, took passengers and baggage which crossed the Isthmus, and went to sea on the following day; left that port on the 21st, and arrived at Acapulco May 27th; received coal and supplies on board, and sailed same day for San Francisco. May 23th, passed steamer John L. Stephens, bound south.
The Orizaba brings a lull load of passengers, all in good health.
Passengers