Ship Passengers arriving in San Francisco: 1800s
---
SS Orizaba
Arrive San Francisco
June 5, 1859
SS Orizaba
Captain James H. Blethen
From Panama
Passage
July 29, 1859, Daily Alta California
ARRIVAL OF THE ORIZABA
The steamer Orizaba arrived in port last night at eleven o'clock from Panama. She brings nothing later. The following is her memoranda and passenger list:
Memoranda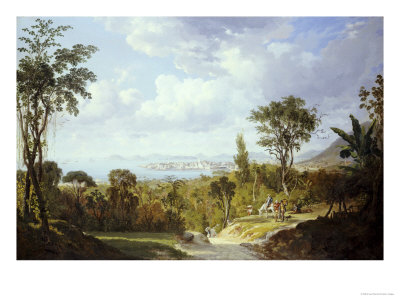 General View of Panama, 1852
Ernest Charton de Treville (1815-1877)
Ernest Charton de Treville was a French visual artist. Several works by the artist have sold at auction through Christie's King Street, including "The road from Valpara so to Santiago" for prices exceeding $100,000.
The New York and California Steamship Company's steamer Orizaba, Commodore J. H. Blethen, left San Francisco June 20th for Acapulco, and arrived on teh 28th. Took in coal and supplies, and left for Panama. Arrived on the 4th of July. The passengers crossed the Isthmus and went to sea the same night in the Company's splendid steamer North Star, and will beat the Sonora's passengers of same date from San Francisco to New York.
July 14th, received passengers and Express goods from New York, per Company's steamer Northern Light, and sailed from Acapulco. Arrived on the 20th, took coal, etc., and left on the 21st. July 28th, arrived at San Francisco. Passengers all well.
Passengers
V. D. Moody, wife and 2 ch
Mrs. S. G. Vantreyle
W. N. Burkhead
E. Duprey
Chas Ingersoll
F. G. Casey, wife and 3 ch
Mrs. Macomb and child
A. Croan and sister
Jno Young
Dr. Weise
Mrs. L. Burdell
M. Thomas and son
C. A. Shomds
Miss Hall
V. Morgin
Miss Mary Clark
Mrs. Boice
B. McKee
Miss D. Levie
Miss J. B. Wright
Miss A. Manders
L. P. Bell
Mr. David & Daughter
J. W. Haren
Mrs. W. Stamper
J. O. Forbes, wife and 4 children
W. Seeley
C. H. Bixby and wife
G. W. Collins, wife and child
Mrs. Jane Kyle
L. Lewis
Mrs. E. Collins and 2 children
C. A. Rudd
Geo. H. Coes and wife
Rev. W. F. Clark, wife and 5 children
C. L. Merriman
W. C. Wright
Mr. Wilbyner, wife and mother
Mrs. C. Carey
D. Livermore
E. Briscoe and wife
Mrs. W. Smith
C. Wilmot
Miss M. M. Smith
G. Van Voorhees
E. R. Medbury
J. Weaver, wilfe and 4 children
R. Sheppard
F. Martens
Mrs. Wolleber and 2 children
C. Whitney
E. W. Humphrey and wife
A. J. Converse
A. Aikens
J. T. Bolton and lady
Miss T. Cohen
Mrs. Kluckenhaum
Miss D. Kluckenhaum
D. Wessman and wife
Miss M. Grow
Mrs. H. Mercer
Miss C. Webber
Mr. Hoyle and mother
H. C. Hudson and daughater
J. Cain, wife and sister
Miss E. S. Smith
S. W. Smith
S. Adams
Miss E. Altenburgh
Miss L. Shirley
H. Cochran, wife and chidl
Sam Kittles
A. Campbell
Jno Donovan
H. C. Newbury, wife and child
Miss Bronstone
Miss M. Zoller
A. Kunart
And 300 in steerage