Ship Passengers arriving in San Francisco: 1800s
---
SS Orizaba
Arrive San Francisco
December 15, 1859
SS Orizaba
Captain James H. Blethen
From Panama
Passage
December 15, 1859, Daily Alta California
ARRIVAL OF THE ORIZABA
Memoranda
The Atlantic and Pacific U.S. Mail Co.'s steamer Orizaba, Commodore J. H. Blethen, left San Francisco Nov 5th; Nov 13th at 3 p.m., arrived at Acapulco; receivd coal and supplies, and left at 6 p.m. Nov 14th in the Gulf of Tehauntepec, we encountered a severe gale from the E. N. E., which lasted for three days; Nov. 20th, at 5 a.m., arrived at Panama. The passengers crossed the Isthmus and went to sea from Aspinwall at 3 p.m. in Company's steamship Northern Light.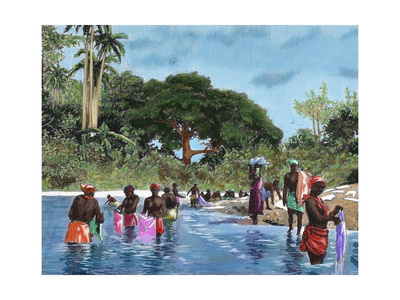 Washerwomen on the River Chagres. Mat...
Nov 30th at 3 p.m., left Panama with 450 passengers, 265 bags U. S. Mail and 298 packages of Express goods from New York per steamer Ariel, and 96 passengers and 22 bags of mail matter from New Orleans, per steamer Daniel Webster. Left in harbor of Panama, U. S. Sloop-of-war Levant, and U. S. steamer Suranac, the latter was to leave next day for San Juan del Sur. Dec 6th at 1:30 p.m., arrived at Acapulco; received supplies and left at 10 p.m. Dec 10th at 5 p.m., passed a steamer supposed to be the Cortes, bound to Panama. Dec 11th, spoke whaleship Geary, of Fair Haven, forty days from the Sandwich Islands. Dec 14th, arrived at San Francisco.
Passengers
Above: Sacramento Daily Union, December 15, 1859
Below: Daily Alta California, December 15, 1859