Passenger Lists: San Francisco 1800s
---
SS Monumental City
Arrive San Francisco
March 4, 1852
Captain Cressey
From Panama
Passage
Daily Alta California, San Francisco
Memoranda: 45 days from Panama, via intermediate ports. Left Panama on January 18, 1852. Arrived El Realejo, Nicaragua on January 25th. Arrived Acapulco, Mexico on February 2nd, put into Mazatlan, Mexico on February 12th to repair the engines. Put into San Diego, California on February 28th. Frederick Schartzer died at sea, during the passage, of congestion of the brain. No date of death noted. Isaac Gordon, aged 29 years, died at Mazatlan, Mexico on February 16th.
Cargo
11 packages of unidentified merchandise.
Passengers
NOTE: Passenger list from Daily Alta California also included below the typed list.
Scene Below Decks
Adams, T. 
Albert, F. 
Alderson, T. 
Alley, E. 
Anderson, A. 
Anderson, R. W. and lady 
Andrews, O. 
Ausrin, J. 
Bain, Calvin 
Banen, 
Barber, W. 
Barker, A. D. 
Barlow, F. A. (Barlow and Marlow are adjacent to each other on the lists. One may be a typographical error.) 
Beirman, H. 
Bingham, W. 
Block, A. 
Bodwell, H. B. 
Bordwell, G. 
Boulden, P. 
Bourn, F.A. 
Bower, Benjamin F. 
Bower, H.F. 
Boyle, M. 
Boylen, James 
Brading, J. R. 
Bramner, C. (Might be Bremner) 
Briggs, A. 
Broom, J. 
Broom, P. 
Broom, William 
Browder, William 
Brown, W. B. 
Bullard, B. D. 
Burgarner, George 
Burke, J. 
Butler, Norton 
Cahill, M. 
Carlton, P. 
Carpaux, E. 
Carpenter, George 
Carter, H. A. 
Case, A. 
Casey, Thomas 
Casterlin, E. B. 
Chamberlain, F. D. 
Chapman, J. 
Chesrand, E. 
Clark, J. 
Clear, 
Cody, H. 
Coleman, W. H. 
Colins, Hugh 
Connell, James, three boys, woman and child 
Coxell, Benjamin 
Coyle, Patrick 
Crane, J. T. 
Crawford, John 
Davis, J. S. 
Davis, N. H. 
Delpa, J. 
Dickson, S. 
Dillon, M. 
Doak, J. 
Doak, J. K. 
Donaldson, J. 
Donovan, Mr. and lady 
Dreyton, L. 
Duaster, J. F. 
Edgar, S. 
Edgill, L. 
Ellis, Mr. and lady 
Everett, J. 
Everton, A. 
Ewing, Mrs. 
Ewing, William 
Farm, S. 
Farr, J. 
Farr, Thomas 
Farrell, M. 
Ferby, George 
Ferrier, C. 
Finney, W. H. 
Fisher, Henry 
Fletcher, H. 
Flint, George 
Foster, Warren 
Francis, A. 
Francis, M. 
Freton, M. 
Garcia, A. 
Gilmor, E. G. 
Glahn, J. B. 
Godfrey, P. 
Golden, Robert (Might be Golder) 
Gomez, A. 
Goodkind, M. 
Goodwin, J. 
Graves, G. 
Greenham, J. 
Hahs, S. 
Haltimor, H. (Might be Hailtimor) 
Hamblin, E. 
Hapgood, J. 
Hapgood, John 
Harford, William 
Harten, A. P. 
Hawley, E. 
Healey, C.F. 
Hensley, J. 
Hensley, W. D. 
Herman, George 
Herman, M. 
Hicks, N. H. 
Hippell, G. 
Hoare, C. 
Holm, A. G. W. 
Holmes, J. D. 
Holmes, James 
Holmes, Thomas 
Holt, A. 
Hopkins, J. 
Horton, E. H. 
Hubbard, George 
Hubbard, W. 
Huff, J. 
Huff, R. and boy 
Huntington, H. (Might be Huntingdon) 
Huntington, James (Might be Huntingdon.) 
Hydeliff, M. 
Ide, W. H. 
Jackson, G. 
Jefferson, C. and lady 
Jones, J. 
Jones, Mrs. Joana 
Jones, Z. 
Jordan, J. 
Joseph, A. 
Joseph, Frank 
Joseph, R. 
Keating, P. 
Kennedy, E. P. 
Kentz, Frank 
Kingsley, George 
Knight, A. 
Lake, J., lady and child 
Laliaire, P. 
Larkin, P. H. 
Latimer, D. 
Lawrence, S. 
Long, George 
Lonoree, E. C. 
M scarro, Martina 
Malhom, James 
Manuel, A. 
Marlow, H. (Barlow and Marlow are adjacent to each other on the lists. One may be a typographical error.) 
Martel, J. 
Martel, Mrs. 
Massey, Mrs. 
Massey, William 
Mattox, H. E. 
Maunder, F. 
Mayer, J. 
McArcher, E. 
McArdle, H. 
McDonald, Mrs. and two children 
McHenry, A., lady, child and servant 
McIntyre, G. 
McMaraton, John 
Meker, (Might be Meket) 
Merritt, W. 
Michener, W. 
Minor, Isaac 
Morgan, Charles 
Moulten, L. B. 
Mulligen, P. 
Murlaugh, J. (Might be Murtaugh) 
Newcomer, John 
Noble, E. 
Noble, J. E. 
Norris, Elizabeth 
Norris, Sophia 
Norris, Stephen 
Offertt, M. M. H. 
Oier, Batys (Might be Oler or Oter) 
Parkhurst, E. 
Parsons, L. 
Parsons, Stephen 
Pearson, J. 
Pecktel, C. H. 
Pennocks, S. A. 
Perkins, F. S. 
Philips, D. 
Picktel, J.M. (Either Pictel or Pecktel is probably a typographical error. They are adjacent to each other on the lists, and presumably are related and travelling together.) 
Pico, J. 
Pitters, George 
Powell, S. 
Pray, J. H. 
R rt, John 
Rathbun, L. C. 
Ray, F., lady and child 
Reader, John 
Reynolds, A. 
Rice, William T. 
Rodriguez, M. 
Russell, H. S. 
Schartzer, T. 
Schumard, J. 
Scott, S.H. 
Scribner, G. S. 
Scribner, L. A. 
Shakely, A. 
Sharr, Miss 
Sherer, Mrs. H.W. 
Sherman, E. 
Shipley, P. L. 
Shirley, F. M. 
Silver, A. 
Silver, John 
Skelton, B. 
Smith, C. C. 
Smith, D. G. 
Smith, J. B. 
Spang, Peter 
St. Pierre, M. 
St.John, J. B. 
Stapleton, H. 
Stedman, Mrs. and two children 
Stevens, G. A. 
Stewart, John 
Stocktin, F. 
Stockwell, H. 
Stone, William 
Stout, J. F. 
Sturgeon, John 
Sullivan, Mr. and lady 
Tatt, J., lady and son 
Taylor, Asa 
Taylor, Edwin 
Telton, Z. A. and lady 
Tengman, Mrs. and two children 
Thetlow, S., lady and child (Difficult to read. Might be Thetlew, Thetlaw or other) 
Thomas, S. 
Thompson, E. C. 
Thompson, G. 
Tweed, Miss 
Tweed, Mr., lady, four children, servant and one child 
Vanchurch, W. E. (Might be Vancharch) 
Vandergrift, J. 
Vandergrift, John 
Vessel, J. H. 
Victory, Green 
Walcott, R. 
Walden, P. 
Warren, W. 
Washburn, P. 
Washburn, S. 
Wattsen, A. 
Whitcomb, M. 
White, L. L. 
Willett, J. C. 
Williams, F. 
Williams, J. 
Williamson, P. 
Willis, D. 
Wills, A. 
Wilson, James 
Wilson, John 
Wilson, Mrs. Cornelia 
Wilson, P. D. 
Witt, M. 
Womerly, Sarah and two children 
Woods, A. 
Woods, J. T. 
Woods, W. H. 
Work, Rufus 
Wyatt, Masters (number of "masters" not given) 
Wyatt, Miss 
Yeekley, A. 
Yeekley, Mrs. 

Boarded at San Diego: 
Bingham, C.R. 
Blackwell, J. 
Chenery, H. 
Childers, G. W. 
Childers, J. 
Craw, H. 
Davis, 
Flanders, J. P. 
Gage, L. B. 
Godfrey, H. 
Gordon, P. H. 
Green, Amos, wife and two children 
Grimshaw, T. 
Harris, J. 
Hayward, H. 
Henderson, J. S. 
Jarrett, T. 
Kelly, J. and lady 
Lucas, C. E. 
McCoy, W. A. 
Moore, L. 
Moyer, R. B. 
Orn, E. 
Osgood, T. 
Pinkerton, J. D. 
Robb, W. M. 
Smith, F. 
Spencer, J.D. 
Townsend, J. 
Tweed, J. 
Vanderveer, R. P. 
Watts, W. E. 
Whiton, Dr. 
Woody, J.
Passenger List from the March 5, 1852 
Daily Alta California
, San Francisco.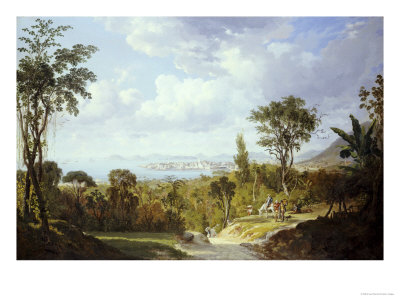 General View of Panama, 1852
Ernest Charton de Treville (1815-1877)
Ernest Charton de Treville was a French visual artist. Several works by the artist have been sold at auction, including 'The road from Valpara so to Santiago' sold at Christie's King Street 'Exploration and Travel with the Polar Sale' in 2010 for $110,861.