Ship Passengers arriving in San Francisco: 1800s
---
SS Golden Age
Arrive San Francisco
January 30, 1855
SS Golden Age
Captain J. T. Watkins
From Panama
Passage
January 30, 1855, Sacramento Daily Union
The Pacific Mail Steamship Golden Age arrived at San Francisco this morning at 8 o'clock, bringing dates from New York to January 5th, and from Constantinople to December 10th.
Memoranda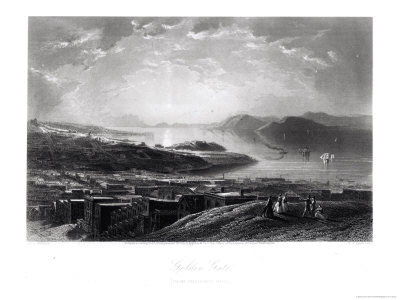 Golden Gate, from Telegraph Hill
"Picturesque America." William Cullen Bryant
James David Smillie
The P. M steamer Golden Age, J. T. Watkins, Commander, left San Francisco 10-1/2 A. M. January 1st. Encountered a very severe gale immediately after passing the Heads, which continued 24 hours. On the 8th, at 9 A. M.. arrived at Acapulco, and left for Panama at 4 P.M. of same day.
In the Gulf of Tehuantepec experienced a tremendous gale from S.E., which lasted 26 hours; arrived at Panama at 10 A. M. on the 14th. Passengers, mail and treasure, reach Aspinwall same evening, and left for New York via Havana, per steamer George Law, on the following day, having on board the passengers and mail destined for New Orleans.
The Isthmus is exceedingly healthy and the roads in good condition. It is expected that passengers leaving San Francisco Feb 1st, will cross the entire route in the cars.
The U.S.M.S. Falcon, which left Aspinwall for Havana on the 2d inst., put back on the 3d, owing to some disarrangement of her machinery. In consequence of this accident, the passengers and mails which left New Orleans have been detained at Panama, and will go on the next steamer.
Left Panama on the 16th, with 250 passengers, mails, and freight; arrived at Acapulco at 9 A. M, on the 23rd; American schooner Flying Dart was lying in the harbor, having arrived from San Francisco a few days previous.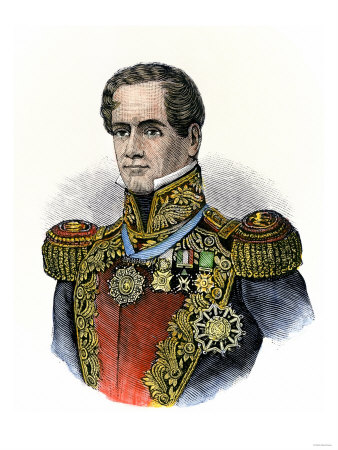 Mexican General Antonio Lopez de Santa Ana
An official dispatch had reached Acapulco, stating that a division of Santa Anna's army had capitulated to Gen. Alvarez, who was daily expected there with his prisoners.
Left Acapulco same afternoon, at 7-1/2 A.M., on 24th passed the company's Mail steamer Sonora 200 miles north and west of Acapulco; 26th, in lat. 27 north, lon 144 30 was spoken by a boat from the whaling schooner Emeline, from San Francisco. Arrived off the Heads at 8 A.M. this day, Jan 29 -- 12 days and 13 hours from Panama.
Passengers
Sacramento Daily Union, January 30, 1855
Coming to America: A History of Immigration and Ethnicity in American Life
Roger Daniels
This revised edition is an engrossing study of various waves of immigrants to the United States from the colonial era to the present. This is a useful book for anyone who has an interest in learning brief histories of most groups of immigrants to the United States. It also provides a theoretical understanding of the reasons for immigration. Though it is particularly useful in its examination of the pre-colonial and colonial periods.

Migration in World History (Themes in World History)
Patrick Manning
Drawing on examples from a wide range of geographical regions and thematic areas, noted world historian Patrick Manning guides the reader through:

Trade patterns, including the early Silk Road and maritime trade
Effect of migration on empire and industry between 1700 and 1900
The earliest human migrations
Major language groups (illustrated with original maps)
Examination of civilizations, farmers and pastoralists from 3000 BCE to 500 CE
Various leading theories and debates surrounding the subject of migration.