VIPS in the Port of San Francisco
1838-1917
Born and raised in France, L?on Trousset became known in California as a painter of landscapes, architectural and historical scenes, and city views of the type then popular in lithographs.
He was in Mazatl?n, Mexico, in 1874, but the next year he was actively working in Northern California. In Sonoma in 1875, he fulfilled commissions from Aguillon Winery, rendered a view of J. A. Poppe?s store, and produced a view of the town. He also journeyed to Oakland, where he painted Lake Merritt. That fall he went south to Monterey where he sketched and painted with other artists in the area, befriended Jules Simoneau as he socialized at his restaurant, and became, if only briefly, an important personality in the fledgling art colony.
Trousset arrived in Monterey in the fall of 1875; shortly after his arrival Trousset produced a watercolor, City of Monterey, California, November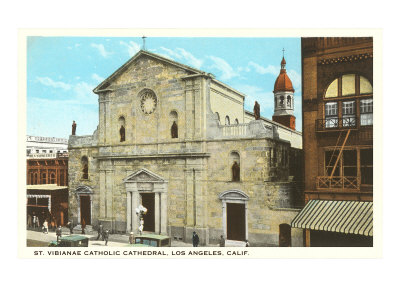 St. Vibiana Cathedral, Los Angeles, California
First, 1875, prominently titled and dated across the lower margin. Typical of Trousset?s work, the rendering suggests a lack of academic training but is charming in its attention to the unique details of Monterey life. Whaling, complete with flukes emerging from the water, takes place in the bay, and the beach is strewn with the bones of leviathans washed ashore. Architectural landmarks such as Monterey?s Presidio Chapel and the Custom House are also recognizable.
In 1876 Trousset left for Southern California, where he worked briefly for St. Vibiana?s church in Los Angeles producing two large religious scenes, The Resurrection of Christ and The Assumption of the Blessed Virgin Mary. It was perhaps on his way there that he produced a large view of San Luis Obispo.
After Los Angeles, he once again returned to the central coast, initially settling in Castroville, where he and his fellow French artist, Alexander Zins, were commissioned to make paintings for churches there and in Santa Rita.
That same year Trousset produced Moss Landing at Castroville, a large painting depicting a sweeping view of the area?s landscape and architecture. He also produced the equally large and ambitious View of Santa Cruz, along with a smaller, more intimate, view of the town and a view of the local mission.
After completing his church commissions, Trousset returned to Monterey to paint the area?s coastal scenery. He also began a series of historical Monterey subjects.
In 1876 and 1877 he produced scenes of the founding of the mission and Father Serra?s first mass, which took place beneath a large oak on the Monterey shore on June 3, 1770. The location of the event was likely the spot where Sebasti?n Vizca?no had, 168 years earlier, first celebrated the Eucharist. The presence of Indian neophytes and the fact that there is only one boat in the bay, whereas Vizca?no came with three, make clear that the padre was meant to be Serra himself and not one of the Carmelite fathers who came with Vizca?no?s expedition. A large version of the subject, dated 1877, hangs at the Mission San Carlos Borromeo del Rio Carmelo.
In February 1877 Trousset, in the company of the French artists M. Dupont and Frank Renoult, returned to San Francisco. From there the elusive artist left California.
By 1879 he was in Durango, Mexico, and left behind a view of the town. In 1884 he was in Chihuahua, Mexico, where he rendered the city plaza. He was in Texas and New Mexico in 1885 and 1886, producing views and architectural scenes in El Paso, Albuquerque, Mesilla, Socorro, and other towns. He ultimately settled in Ju?rez, Mexico. There he married Mar?a Jes?s Bustos, adopted a son, Antonio Bustos Trousset, and died of arteriosclerosis on December 29, 1917.
The Annals of San Francisco
Frank Soule, John H. Gihon, Jim Nisbet. 1855
Written by three journalists who were witnesses to and participants in the extraordinary events they describe. The Annals of San Francisco is both an essential record for historians and a fascinating narrative for general readers. Over 100 historical engravings are included. Partial Contents: Expeditions of Viscaino; Conduct of the Fathers towards the natives; Pious Fund of California; Colonel John C. Fremont; Insurrection of the Californians; Description of the Golden Gate; The Presidio of San Francisco; Removal of the Hudson's Bay Company; Resolutions concerning gambling; General Effects of the Gold Discoveries; Third Great Fire; Immigration diminished; The Chinese in California; Clipper Ships; Increase of population; and Commercial depression.

San Francisco, You're History!
Politicians, Proselytizers, Paramours, and Performers Who Helped Create California's Wildest City
J. Kingston Pierce
Seattle-based freelance writer Pierce presents a fascinating view of a variety of colorful people and events that have molded the unique environment of San Francisco. He chronicles historical highlights along with a focus on current issues. Pierce touches on the gold rush, earthquakes, and fires and introduces the lives of politicians, millionaires, criminals, and eccentrics. Pierce sparks the imagination in relating the stories of yesterday to today.

When America First Met China: An Exotic History of Tea, Drugs, and Money in the Age of Sail
Eric Jay Dolin
Ancient China collides with America in this epic tale of opium smugglers, sea pirates, and dueling clipper ships. Brilliantly illuminating one of the least-understood areas of American history, best-selling author Eric Jay Dolin traces our relationship with China back to its roots: the nineteenth-century seas that separated a brash, rising naval power from a ancient empire. It is a fable for our time, one that surprisingly continues to shed light on our modern relationship with China. The furious trade in furs, opium, and bêche-de-mer -- a rare sea cucumber delicacy -- might have catalyzed America's emerging economy, but it also sparked an ecological and human rights catastrophe. Peopled with fascinating characters--from Robert Morris: Financier of the American Revolution to the The Glorious Reign of Emperor Qianlong: Splendors of China's Forbidden City, who considered foreigners inferior beings -- this saga of pirates and politicians, coolies and concubines becomes a must-read for any fan of Nathaniel Philbrick's Mayflower or Mark Kurlansky's Cod. Two maps, 16 pages of color, 83 black-and-white illustrations.

Commodore Levy:
A Novel of Early America in the Age of Sail
(Modern Jewish History)
Irving Litvag
By all accounts, Uriah Phillips Levy, the first Jewish commodore in the U.S. Navy, was both a principled and pugnacious man. On his way to becoming a flag officer, he was subjected to six courts-martial and engaged in a duel, all in response to antisemitic taunts and harassment from his fellow officers. Yet he never lost his love of country or desire to serve in its navy. When the navy tried to boot him out, he took his case to the highest court and won. This richly detailed historical novel closely follows the actual events of Levy's life: running away from his Philadelphia home to serve as a cabin boy at age ten; his service during the War of 1812 aboard the Argus and internment at the notorious British prison at Dartmoor;  his campaign for the abolition of flogging in the Navy; and his purchase and restoration of Monticello as a tribute to his personal hero, Thomas Jefferson. Set against a broad panorama of U.S. history, Commodore Levy describes the American Jewish community from 1790 to 1860, the beginnings of the U.S. Navy, and the great nautical traditions of the Age of Sail before its surrender to the age of steam.