Passengers at the Port of San Francisco: 1800sSS Moses Taylor
Arrive San Francisco
March 30, 1873
SS Moses Taylor
Captain James H. Blethen
From Honolulu, Hawaii

Passage
March 30, 1873, Daily Alta California, San Francisco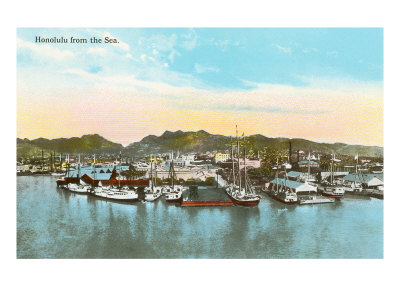 Waterfront, Honolulu, Hawaii
The steamship Moses Taylor arrived at San Francisco March 30th, 12 days from Honolulu, which port she left on the 18th of March, bringing the New Zealand mails.
The Hawaiian news by the Moses Taylor is unimportant.
The new King of Hawaii, William C. Lunalilo, had made a tour of the Islands in the United States steamer Benicia. King Lunalilo will come to San Francisco with General Schofield and make a tour of the United States for the purpose of studying our institutions.
Lunalilo's cabinet consists of three American gentlemen and one Scotchman by birth. They will look after the Sandwich Islands while the King is on a visit to this and other States of the Union.
Passengers and Merchandise to I. W. Raymond.
March 29, Sacramento Daily Union: The steamer Moses Taylor is due from Honolulu tomorrow. This will be her last trip in the Webb Lines.
Importations
300 bchs bananas, 3 pkgs saddlery, 1 bag 1 pcl 2 bxs specie; 250 bags rice; 23 do. coffee; 432 kegs sugar, 1 box tallow, 595 bls wool, 32 lambs, 4 cs 1 box 1 pkg mdse.
Consignees
Per Moses Taylor: N. Dabovich; Spruance, Stanley & Co; H. Johnson & Co; J. C. Johnson; H. W. Hyman; Bank of California; Yung Kee; J. C. Merrill & Co; Williams, Blanchard & Co; A. M. Severance; Wells, Fargo & Co; W. H. McClellan; Cutting & Co; Drexel, Morgan & Co; Watt & McLennan; Cross & Co; J. Blake; J. Brown; Order.
April 26, 1873, Daily Alta California, San Francisco
The steamship Moses Taylor, having done service as a pest-ship, has been fumigated and cleaned up, is now lying alongside Oriental Wharf waiting for further orders. She will probably soon be used in the Southern Coast trade.
SHEEP
We are in receipt, per Moses Taylor,
of a consignment of Leicesther Sheep from the flocks of R. & R. McLean
and Merino Bucks from the Bucks of Bates, Slow & Co., New Zealand.
These are all picked sheep and of the purest blood.

For participation, incquire of ASHON & SHOOBERT,
or WATT & McLENNAN
655 Sansome Street
The Annals of San Francisco

Frank Soule, John H. Gihon, Jim Nisbet. 1855
Written by three journalists who were witnesses to and participants in the extraordinary events they describe. The Annals of San Francisco is both an essential record for historians and a fascinating narrative for general readers. Over 100 historical engravings are included. Partial Contents: Expeditions of Viscaino; Conduct of the Fathers towards the natives; Pious Fund of California; Colonel John C. Fremont; Insurrection of the Californians; Description of the Golden Gate; The Presidio of San Francisco; Removal of the Hudson's Bay Company; Resolutions concerning gambling; General Effects of the Gold Discoveries; Third Great Fire; Immigration diminished; The Chinese in California; Clipper Ships; Increase of population; and Commercial depression.
San Francisco, You're History!
Politicians, Proselytizers, Paramours, and Performers Who Helped Create California's Wildest City

J. Kingston Pierce
Seattle-based freelance writer Pierce presents a fascinating view of a variety of colorful people and events that have molded the unique environment of San Francisco. He chronicles historical highlights along with a focus on current issues. Pierce touches on the gold rush, earthquakes, and fires and introduces the lives of politicians, millionaires, criminals, and eccentrics. Pierce sparks the imagination in relating the stories of yesterday to today.
When America First Met China: An Exotic History of Tea, Drugs, and Money in the Age of Sail

Eric Jay Dolin

Ancient China collides with America in this epic tale of opium smugglers, sea pirates, and dueling clipper ships. Brilliantly illuminating one of the least-understood areas of American history, best-selling author Eric Jay Dolin traces our relationship with China back to its roots: the nineteenth-century seas that separated a brash, rising naval power from a ancient empire. It is a fable for our time, one that surprisingly continues to shed light on our modern relationship with China. The furious trade in furs, opium, and bêche-de-mer -- a rare sea cucumber delicacy -- might have catalyzed America's emerging economy, but it also sparked an ecological and human rights catastrophe. Peopled with fascinating characters--from Robert Morris: Financier of the American Revolution
to the The Glorious Reign of Emperor Qianlong: Splendors of China's Forbidden City, who considered foreigners inferior beings -- this saga of pirates and politicians, coolies and concubines becomes a must-read for any fan of Nathaniel Philbrick's Mayflower
or Mark Kurlansky's Cod.
Two maps, 16 pages of color, 83 black-and-white illustrations.
Commodore Levy:
A Novel of Early America in the Age of Sail
(Modern Jewish History)

Irving Litvag
By all accounts, Uriah Phillips Levy, the first Jewish commodore in the U.S. Navy, was both a principled and pugnacious man. On his way to becoming a flag officer, he was subjected to six courts-martial and engaged in a duel, all in response to antisemitic taunts and harassment from his fellow officers. Yet he never lost his love of country or desire to serve in its navy. When the navy tried to boot him out, he took his case to the highest court and won. This richly detailed historical novel closely follows the actual events of Levy's life: running away from his Philadelphia home to serve as a cabin boy at age ten; his service during the War of 1812 aboard the Argus and internment at the notorious British prison at Dartmoor;  his campaign for the abolition of flogging in the Navy; and his purchase and restoration of Monticello as a tribute to his personal hero, Thomas Jefferson. Set against a broad panorama of U.S. history, Commodore Levy describes the American Jewish community from 1790 to 1860, the beginnings of the U.S. Navy, and the great nautical traditions of the Age of Sail before its surrender to the age of steam.