Home
°
Fall-Winter 2015: Major Construction Underway
San Francisco News and Stories: 1800s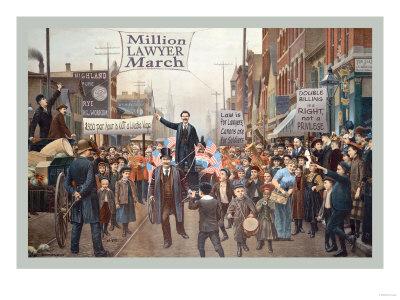 Million Lawyer March
Lawyers aplenty made their way to early California and seldom has sheer technicality unleavened by common sense been carried further than in the early California courts. Even in the most law-ridden times elsewhere a certain check was exercised by public opinion or the presence of business interests. But here was as yet no public opinion; and business interests, their energies fully taxed by the necessities of a new country, were willing to pay heavily to be let alone. Consequently, lawyers were permitted to play out their fascinating game to their hearts' content, and totally without reference to expedience or to the justice of the case. The battles were indeed intensely technical and shadowy. Points with points were fought bitterly.
Often for days the real case at issue was forgotten . . . One man killed another, on a public street, before many witnesses. The indictment was, however, thrown out and he released because it stated only that the victim was killed by a pistol, and failed to specify that his death was due to the discharge of said pistol. The lawyer who evolved this brilliant idea was greatly admired and warmly congratulated."
From The Gray Dawn, Stuart Edward White

As has been previously pointed out, nowhere before nor since has pure legality been made such a fetish. It was a game played by lawyers, not an attempt to get justice done. Sine, in all criminal cases at least, the prosecution was carried on by one man and his associates, poorly paid and hence of mediocre ability, and the defence conducted by the keenest brains in the professions, it followed that convictions were rare. Homicide in various forms was little frowned upon. Duels were of frequent occurrence, and, in several instances, regular excursions, with tickets, were organized to see them.

Street shootings of a more informal nature were too numerous to count. Invariably an attempt, generally successful, was made to arrest the homicide. If he had money, he hired the best lawyers, and rested secure. If he had no money, he disappeared for a time. Almost everybody had enough money, or enough friends with money, to adopt the former course. Of 1,200 murders -- or "killings" -- committed in the San Francisco of those days, there was just one legal conviction!

It was a point of professional pride with a lawyer to get his client free. Indeed, to fail would be the equivalent to losing a very easy game. The whole battery of technical delays, demurrers, etc., was at his command; a much larger battery than even the absurd criminal courts of our present day can muster. Delays to allow the dispersal of witnesses were easily arranged for, as were changes of venue to courts either prejudiced in favor of the strict interpretation of "law" or frankly venal. Of shadier expedients, such as packing juries, there seemed no end.

Breach of Promise, Published 1895
Walter Dendy Sadler

Your honourable, high-minded lawyers which means the well-dressed and prosperous had nothing to do with such dirty work; that is, directly. There were plenty of lawyers not so honourable and high minded called in as "counsel." These little lawyers, shoulder strikers, bribe givers and takers, were held in good-humoured contempt by the legal stars -- who employed them! Actual dishonesty was diluted through a number of men. Packing a jury was a fine art. Initially was needed connivance at the sheriff's office. Hence lawyers, as a class, were in politics. Neither the steller lawyer nor the sheriff knew any of the details of the transaction. A sum of money went to the former's "counsel" as expenses, and emerged, considerably diminished, in the sheriff's office as "perquisites." It had gone from the counsel to somebody like Mex Ryan, from him to various plug-uglies, ward heelers, shoulder strikers, from them to one or another of the professional jurymen, and then on the upward curve through teh sheriff's underlings who made out the jury lists to Webb himself. The thing was done.

It this tortuous way many influences were needed. The most honest lawyer's limit as to the queer things he would do depended on his individual conscience. It is extraordinary what long training and the moral support of a whole profession will do toward educating a conscience. Do not despite unduly the lawyers of that day. We have all of us good friends in the legal profession who will defend in court a criminal they know to be guilty as charged. They will urge that no man should go undefended; and will argue themselves into a belief that in such a case "defence" means not merely fair play, but a desperate effort to get him off anyhow -- trained conscience. If such sophistries are sincerely believed by honest men nowadays, it cannot be wondered at that queerer sophistries passed current in a community not five years old. It was difficult to draw the line between teh men who mistakenly believed themselves honest and those who knew themselves dishonest.
September 3, 1853, Daily Alta California, San Francisco
Law Books!
received by
LeCount & Strong
per Clipper Harriet Hoxie
Archibold's Civil Pleadings
Barbour's Chancery Practice
Belt's Admiralty Practice
Burrill's Practice
Chitty's Criminal Law
Collier on Partnership
Conkling's Treatise, Practice of United States
Cowe on Littleton
Cowan's Treatise
George Ticknor Curtis:
A Treatise On the Rights and Duties of Merchant Seamen:
According to the General Maritime Law, and the Statutes of the United States
East's Crown Law
English Common Law and Chancery Reports
Federalist
Gordon's Digest Laws of the United States
Harrison Coventry and Hughes' Digest
Hilliard on Sales
Hoffman's Chancery Practice in the Master's Office
Lubes' Equity Pleadings
Mitford's Chancery Pleadings
Opinions of Attorney's General
Dunlap's Paley on Agency
Phillips on Evidence
Roscoe's Criminal Evidence
Wheaton's American Criminal Law
Russell on Crimes
Saunders' Reports
Saunders' Pleading and Evidence
Sedgwick on Damages
Stephens on Pleadings
Gould on Pleadings
Stephens' Nisi Prius
Peters' Digest
Peters' United States Condensed Reports
Peters' United States Reports, 17 vols.
Troubat on Limited Partnership
Laws' Jurisprudence and Practice, US Courts
Whittaker's Practice under New York Code
Blatchford's CC Reports
McCall's Forms under the Code
McLean's CC Reports
Emmerich de Vattell's Law of Nations
Notes of a Course of Lectures on Vattel's Law of Nations
Wildman's Law of Nations
Wheaton's Law of Nations
Watson on Arbitration
Snoden on Property
Best on Evidence
Byles on Bills of Exchange and Cheques
Beck's Medical Jurisprudence
Dean's Medical Jurisprudence
William Tarn Pritchard: Digest of the Law and Practice of the High Court of Admiralty of England with notes from the Scotch, Irish, and American Reports
Wharton on Conveyancing
Robert's on Fraud's
Barbour on Set Off
McNaughten's Select Cases
George Henry Hewitt Oliphant:
The Law Concerning Horses, Racing, Wagers, and Gaming (containing recent cases, statutes, etc. )
Broom on Parties
Duer on Insurance
Hilliard on Real Property
Lee on Abstracts of Title
Worthington's Precedents of Wills
Addison on Contracts
Daniels' Chancery Practice
Starkie on Slander
Cooke on Defamation
George Atkinson: The Shipping Laws of the British Empire
(Park on marine insurance and Abbott on shipping)
Cranck's CC Reports
Charles Manley Smith: A Treatise on the Law of Master and Servant
Lewis on Perpetuities
Philmore on Domicil
Batten on Contracts
Williams on Personal Property
Blackburn on Sales
Zabriskie's New Jersey Reports
Kent's Commentaries
Angell on Carriers
Angell on Limitations
Joseph Kinnicut Angell:
A Treatise on the Right of Property in Tide Waters: And in the Soil and Shores Thereof to Which is Added an Appendix, Containing the Principal Adjudge
Angell on Corporations
Cruises Digest by Greenleaf
Greenleaf's Evidence
Story on Bailments: Story on Equity Pleadings; Story on Equity Jurisprudence;
Story on Conflict of Laws; Story on Constitution; Story on Partnership;
Story on Sales; Story on Agency; Story on Bills of Exchange; Story on Promissory Notes
Richard Peters: The Public Statutes at Large of the United States of America from the Organization of the Government in 1780 to March 3, 1845
American Leading Cases; Smith's Leading Cases; Leading Cases in Equity; Bacon's Abridgement
Tomlson's Reports
Woodrych on Commercial and Mercantile Law
New Executor's Guide
New Clerk's Assistant
Best on Evidence
Bunkerhoeh's Law of War
Oliver's Precedents
Bradford's Reports
Kaufman's Mackeldy
Holcombe's Law, Dr. and Cr.
Statutes Oregon
Lomax Digest
Gordon's Digest Revenue Laws
Land Law, California, Oregon and Texas
Holcombe's Merchants' Book of Reference
Revised Ordinances, City of New York
Burge on Suretyship
Wheaton's Elements International Law
Curtis on Copyright
Cooper's Justinian
Lewis' United States Criminal Law
Lawes on Pleading
Peregrine Bingham: The Law of Infancy and Coverture.
Edwards' Treatise
Commercial Digest
Arnold on Insurance
Digest Federal Court United States
Index Digest of Bankruptcy Decisions: Containing Decisions of the Supreme Court of the United States from 1800 to 1899, and the Federal and State Courts of Last Resort Under the Act of 1867
Holcombe's Digest, Supreme Court United States
Snyden on Vendors
New York Code
Smith's Commentaries
Jarmin on Wills
Ropes on Legacies
Holcombe's Leading Cases Commercial Law
Spense Equal Jurisdiction
Oliver's Form's
Smith's Commercial Law
Burrill on Assignments
Phillips on Insurance
Collier on Mines