Sea Captains at the Port of San Francisco: 1800s
---
Captain William Richardson
On August 22, 1822, an English whaler, the Orion, put into Yerba Buena Cove for supplies of wood and water.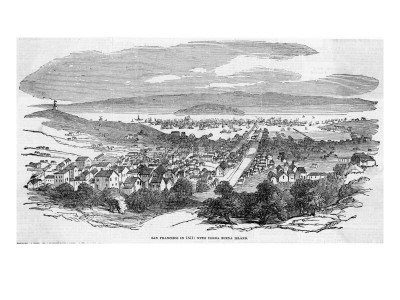 General View, Yerba Buena Island
Captain William Richardson, described as "tall, fair haired, blue-eyed and young," was sighted by Maria Antonia, daughter of Lieutenant Ignacio Martinez of the Presidio. The Captain, probably with prodding from his daughter, invited the Captain to stay for a time at their home.
Captain Richardson taught carpentry, boat building and navigation at the Mission, served as Captain of the Port of San Francisco, and began building at the Cove the first house of any substance in San Francisco. The building was to be used as a trading post. Richardson had charge of several schooners belonging to the Mission Dolores, and one belonging to the Mission Santa Clara.
The Captain soon married Maria Antonia. In order to do so, he joined the Catholic Church who baptized him "Don Antonio Richardson." This was the first great Spanish-Anglo Saxon wedding and it was held at Mission San Francisco de Asis (Mission Dolores) on May 12, 1826.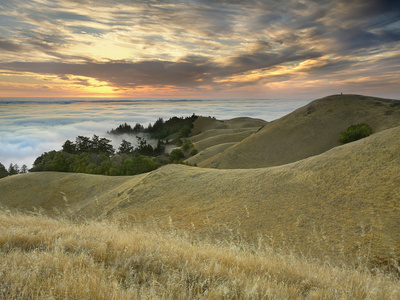 Fog Bank over San Francisco Bay
View from Mt. Tamalpais in Marin County
Patrick Smith
In 1838, William Richardson received a Mexican land grant, Rancho Saucelito (Little Willow Ranch), which is just North of San Francisco across the Bay in Marin County (a portion of which is now named Sausalito).
The grant contained all the land southeast of Mt. Tamalpais, and included Redwood Canyon and the lands now within Muir Woods National Monument. Richardson brought cattle from Spain to his ranch and hired Vaqueros from Mexico to care for them. Some vaqueros were Miwoks or Ohlones, Native Americans that lived on the Northern California coast prior to the arrival of Europeans. Two times a year the cowboys herded and slaughtered the cattle for hides and tallow. The tranquil Spanish way of life was maintained until gold was discovered in California.
Captain Richardson's fortunes waxed and waned from his businesses, one of which was in building small craft to shorten the overland route of bringing supplies in from Peninsula cities. His trade included otter skins as otters were then numerous in the bay and rivers, and their skins plentiful. Their pelts were sold to Boston traders for from $40 to $60 each. Captain Richardson commanded a vessel and traded along the coast as far south as Valparaiso. Trade at that time was practically all barter -- tallow and hides, sea otter and beaver skins being the currency.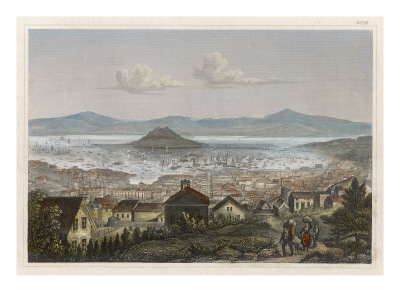 San Francisco, California
Captain Richardson was appointed San Francisco's first harbormaster in 1835. In that same year, the Captain formally established residence in Yerba Buena Cove by building a small house there for his family. Captain Richardson watched the town grow from about a dozen houses and fifty residents in Yerba Buena in 1844 to about ninety buildings, shanties, adobes and frame houses, and about 200 inhabitants by the end of 1846.
At one point Captain Richardson employed an Indian by the name of Monica who was about eighty years of age. Monica was a boatman in launches which ran goods back and forth between different points on the Bay. This old Indian told Captain Richardson that his ancestors passed on a story that a long way back there was no Golden Gate; that between Fort Point and right across to the north it was all closed by a mountain range and there was no access to the ocean there. He said the natural outlet of the bay was through the Santa Clara valley, across the Salinas plains, to the Bay of Monterey. Monica relayed the story that in a tremendous convulsion created the passage where the Golden Gate now is and that became the entrance to the Bay. In the course of time the Santa Clara valley and other land between the lower end of the Bay of San Francisco and the bay of Monterey became drained and elevated . . . "
Daily Alta California, December 30, 1852
The Protection of Sacramento
MESSRS. EDITORS: -- The discussion in your paper relative ot the best mode of protecting the Sacramentans from the periodical overflows of their rivers, induces me to call attention to a fact, or rather facts connected with the past history of that locality, which may be of service to her citizens, by preventing any future outlay of money in erecting inadequate bulwarks against these floods.

Captain Richardson, of Saucelito, states that in the winter of 1825, the water of the Sacramento was ten feet over the back in front of where the city now stands. This gentleman was up the Sacramento river during 1827, two years after, landed at the very spot and saw distinctly the water marks and drift wood on teh trees at this height.

The Indians there at the time corroborated this by saying such was the elevation of water two years previous. Gen. Vallejo and other old residents residents of Califoruia also confirm such information, well recollecting the memorable deluge of that year, which was general all over the territory. Since that period there have been frequent freshets greater than the one at present, as I am credibly informed.

Believing these reports as to so often occurring, and high rises of the Sacramento and American rivers, I must disagree both with your own opinion, at well at your correspoondent's of last week. "Sacramento," in reference to the moist efficacious plan for protecting the city and rendering it a habitable places.

"Sacramento" is entirely correct in assuming that a levee alone, however high and broad, will not answer the purpose purpose; but certainly advances a most preposterous idea, about building brick houses on wooden stilts the latter to be from fifteen to twenty feet high, if such "frames" are to be raised two feet above high water mark, as "Sacramento" advises, the flood of 1825 requiring such elegation.

Should the people of Sacramento not conclude to move en masse to some neighboring site of great eligibility, I would tender them the same advice gratuitously and unselfishly given in 1850 -- to lay down them or railroads, and bring in dirt and gravel from from outside the city, with which to raise the whole ground on which it it built. This with a greater strengthening and elevating the levee may answer.
In 1856, ailing and in financial straits, Captain Richardson put Rancho Saucelito into the hands of an administrator, Samuel P. Throckmorton, and died two months later.
~ ~ ~ ~
Gold Rush Port

The Maritime Archaeology of San Francisco's Waterfront

James P. Delgado

Described as a "forest of masts," San Francisco's Gold Rush waterfront was a floating economy of ships and wharves, where a dazzling array of global goods was traded and transported. Drawing on excavations in buried ships and collapsed buildings from this period, James P. Delgado re-creates San Francisco's unique maritime landscape, shedding new light on the city's remarkable rise from a small village to a boomtown of thousands in the three short years from 1848 to 1851. Gleaning history from artifacts, such as preserves and liquors in bottles, leather boots and jackets, hulls of ships, even crocks of butter lying alongside discarded guns. Gold Rush Port paints a fascinating picture of how ships and global connections created the port and the city of San Francisco.
The Great Ocean: Pacific Worlds from Captain Cook to the Gold Rush
David Igler
The Pacific of the early eighteenth century was a place of baffling complexity, with 25,000 islands and seemingly endless continental shorelines. But with the voyages of Captain James Cook, global attention turned to the Pacific, and European and American dreams of scientific exploration, trade, and empire grew dramatically. By the time of the California gold rush, the Pacific's many shores were fully integrated into world markets-and world consciousness. The Great Ocean draws on hundreds of documented voyages as a window into the commercial, cultural, and ecological upheavals following Cook's exploits, focusing in particular on the eastern Pacific in the decades between the 1770s and the 1840s. Beginning with the expansion of trade as seen via the travels of William Shaler, captain of the American Brig Lelia Byrd, historian David Igler uncovers a world where voyagers, traders, hunters, and native peoples met one another in episodes often marked by violence and tragedy.

Rounding the Horn
Being the Story of Williwaws and Windjammers, Drake, Darwin, Murdered Missionaries and Naked Natives. A Deck's-eye View of Cape Horn
Dallas Murphy

Fifty-five degrees 59 minutes South by 67 degrees 16 minutes West: Cape Horn, situated at the bottom of South America, is a place of forlorn and foreboding beauty that has captured the dark imaginations of explorers and writers from Francis Drake to Joseph Conrad. For centuries, the small stretch of water between Cape Horn and the Antarctic Peninsula was the only gateway between the Atlantic and Pacific oceans. Storms are bigger, winds stronger, and the seas rougher than anywhere else on earth. In Rounding the Horn, author Dallas Murphy undertakes the ultimate maritime rite of passage weaving together stories of his own nautical adventures with tales of those who braved the Cape before him from Spanish missionaries to Captain Cook and interspersing them with breathtaking descriptions of the surrounding wilderness.

"Master Under God"

Captains exercised absolute authority at sea and so were dubbed "Master Under God" by early insurance writs, agreements with ship owners and passengers and the Board of Trade.

The captain is responsible for its safe and efficient operation, including cargo operations, navigation, crew management and ensuring that the vessel complies with local and international laws, as well as company and flag state policies.

All persons on board, including officers and crew, other shipboard staff members, passengers, guests and pilots, are under the captain's authority and are his ultimate responsibility.

Customs requirements can include the master providing a cargo declaration, a ship's stores declaration, a declaration of crewmembers' personal effects, crew lists and passenger lists.