VIPS in the Port of San Francisco during the 1800s
1820 - 1891
George Hearst, father of the news tycoon, was among the first wave of aggressive developers. He had been in California since 1850, working unsuccessfully as a placer miner and then as a storekeeper.

Hearst hastened to the Comstock mines in Virginia City, Nevada, in 1859, acquired an interest in a promising mine for $3,000, dashed back to California to raise the money, then returned with his friends and started digging.

Working against the approach of winter, they managed in two months to dig out 38 tons of high-grade ore, load it onto mules, and drag it over the mountain passes to a smelter in San Francisco where it turned a profit of more than $90,000. The gleaming white bars of silver bullion were paraded through the streets to a bank, where they were stacked in window.
February 28, 1884, Daily Alta California, San Francisco
New Incorporations
The North Peer Gold and Silver Mining Company, who propose to work in Quijotoa District, Arizona. Capital stock, $10,000,000. Trustees -- George Hearst, Joseph Clark, George O'Briter, G. W. Grayson and Nixon Palmer.
As a Senator from California, George Hearst (along with Leland Stanford) attended the the Fiftieth Congress from March 4, 1887 to March 3, 1889.
April 11, 1885, Daily Alta California
WHO SIGNED IT?
The Examiner publishes the following Washington despatch: George Hearst authorized the statement to-night that he did not endorse Henley's statement, which was filed with the President last week in regard to California politics, though some California papers have stated that his name was signed to it. He said he distinctly refused to sign or endorse it on account of its personalities.
One of the "some California papers" which so stated was the Examiner. It printed a long Washington despatch containing the principal parts of the Henley statement and saying that it was signed by " Hearst, English and Tarpey." But we are Willing to accept Mr. Hearst's present denial as correct and give him credit for it. His disavowal of these slanderous personalities will go far to strengthen the prevalent belief that Mr. Hearst is a better man than any one of the gang of sharpers who are using him. But if Hearst did not sign the address, who did? Perhaps English and Tarpey, the other two of the reputed subscribers, will also deny it. Perhaps it was not signed by anybody. Henley presented it to the President, but it has never been stated that he signed it. It would not be an altogether surprising conclusion if it should be found that the slanders had been cast on the world anonymously, because no one could be found sufficiently lost to shame to give them the sanction of even an insignificant and inglorious name.
March 2, 1887, Daily Alta California
SENATOR HEARST.
He Expounds His Views on Coin Currency
He Wants Gold.
Chicago, March 1st. United States Senator elect George Hearst, of California, arrived here to-day and left in the evening for Washington, to be sworn in. He says that he will in the Senate try to effect some changes in currency denominations. He wants gold coin to be issued in denomination not less than the $20 pieces, so that all great moneyed transactions can be made with gold. He wants silver to be made to fill the medium of "small change." To do this he desires that silver certificates be issued in denominations of $5 and $10, not lower, and have silver half dollars take the place of the silver dollars. The silver dollar and the silver certificate be says are a nuisance; whereas the silver half dollar meets the convenience of all. Cleveland, he claims, is to-day more of a silver man than he was when he first went to the Capitol.
June 2, 1889, Daily Alta California
A Suit to Quiet Title.
George Hearst has sued Frank G. Newlands to quiet title on some valuable real estate in South San Francisco and on the San Bruno Road. The plaintiff avers that he bought the land with William C. Ralston and the Bank of California in 1867, and that it was conveyed by deed to Nicholas G. Kittle, who reconveyed it to William Sharon. The plaintiff, after a lapse of twenty-two years, claims that he is the real beneficiary.

Hearst alleges that one-fifth of the purchase money mentioned as having been paid by Ralston was paid by him. On the 27th of August, 1875, Ralston conveyed his one-fifth to William Sharon. The Court is asked to adjudge that Hearst is the owner of the undivided one-fifth of said tract held by Ralston, and that Sharon's trustees convey the same to him.
March 1, 1891, Daily Alta California, San Francisco
SENATOR HEARST'S LIFE.
A Successful Career, Marked by Many Vicissitudes
George Hearst was born September 3, 1820, in Franklin county, Missouri. His father, William George Hearst, was of Scotch descent, and a native of South Carolina. About twelve years before George's birth his father moved to the frontier section which has since been formed into the State of Missouri. His mother's father, Jacob Collins, was one of the pioneers of this section, and had removed from Georgia in 1803. His daughter, Elizabeth, was born prior to this removal. William George Hearst and Elizabeth Collins were married in 1817. The following year the two families removed to Texas, from which section they were only too glad to return after one year's trial. Sickness and the loss of their live stock were the bitter experiences of that early migration. On their return to Missouri the two families settled near their old home in proximity to the Missouri mines and resumed their occupation of stock-raising and farming.
It was not to be expected that young George Hearst would receive a brilliant education amid such surroundings, but the lad's quick judgment and sound common sense supplemented any deficiencies, and, unlike many promising college youths, he did not neglect opportunities lor improvement as he grew to man's estate. He had, moreover, that sort of adventurous spirit and enterprising genius which cannot be confined by accidents of location or apparently limited spheres of action. He began to study mining in a practical way in the neighboring hills, and by the time he was twenty-two years old he had proved very successful in handling the lead and copper ores which abounded in the vicinity.
It was in 1850 that he caught the California fever and started across the plains with the great human flood that was surging toward the West, it was in March that he bade adieu to his Missouri friends; it was not till October that be arrived at the camp at Placerville, El Dorado county.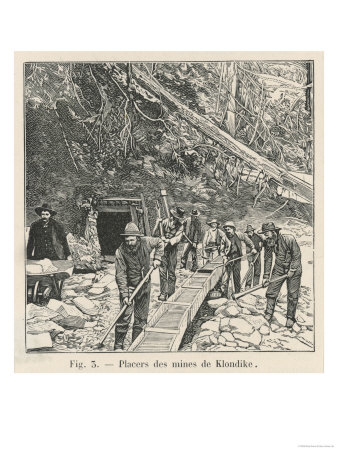 Placer Mining
Placer mining was carried on in those days under disadvantages which forcibly impressed the young Missourian, and though he was by no means disheartened, he began to look around for the source of these stray grains and nuggets. Thus it was that in the following year he located a rich quartz ledge and put up a stamp mill, one of the earliest, ever erected in the State. In the autumn of 1852 Mr. Hearst proceeded to Sacramento and engaged in general merchandizing business. It did not take him long to become dissatisfied with the small profits and slow returns of this trade. Once more he went back to the placer mines, but fickle fortune failed him, and in 1856 he was "stone broke," and "busted" about as badly as any new arrival that ever handled pick and shovel in a worked-out claim.
He had just $40 when he drifted into Nevada county and began to make a little money. It was only a little, and just then the fame of the Washoe silver mines and of the treasures of Mount Davidson smote on the young man's attentive ear. He started out from Nevada City on a prospecting trip to the Comstock lode, then in Utah Territory, on July 29, 1859, and accomplished the journey in three days. His party was the second to arrive from California. The small party already there were working the ore for gold only, but Mr. Hearst soon found that the wealth in silver was phenomenal. He at once made contracts for an interest in the Ophir mines, and having succeeded in obtaining the money, took possession of his claim and went to work. Among his colleagues and fellow-workers were James Walsh, Joseph Woodworth, Colonel Raymond, Joseph Clark, Captain Fleeson, Theodore, Joseph and John D. Winters, John Rickleton, Henry Meredith, Major Ormsby, A. H. Hagedorn and A. E. Head - all honorably recorded among the pioneers of Virginia City. Mr. Hearst soon solid one half of his interest in the first claim for $43,000. Returning to Washoe in 1860, he invested $25,000 in various claims. Among these was the Hearst and Meredith ledge on Cedar Hill, but this was found to be included in the Sierra Nevada location, which subsequently acquired possession of the property. He purchased a one-sixth interest in the Ophir mine, and had interests also in the Savage and Gould & Curry, which proved profitable investments. Some years later he became interested, with J. B. Haggin, in the Hermes mine, at Pioche, and managed the suit which the Raymond & Ely company brought in ejectment against that concern. On obtaining a verdict for the Hermes the control in that company was sold to the Raymond & Ely company for $375,000, and the Hermes company went out of existence.
It was about this period that two important events happened in Mr. Hearst's career, the one being the death of his mother and the other his marriage. On hearing of his mother's serious illness he at once started tor his old home in Missouri by way of San Francisco and Panama, returning to San Francisco in 1862.
During his stay in Missouri he met Miss Phoebe E. Apperson, a daughter of Randolph W. Apperson of Virginia, and Mr. Hearst and Miss Apperson were married in the same year. A son, William Randolph Hearst, the only issue of that union, was born in the following year. On returning to Nevada Mr. Hearst actively resumed operations on the Comstock lode and gave his entire attention to the work. He made $250,000 in 1865, but in 1866 he lost $400,000, and once more the indefatigable miner was "down upon his lack."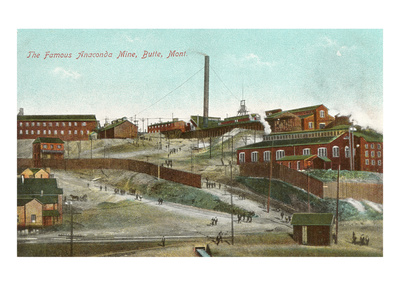 Anaconda Copper Mine, Butte, Montana
He came to San Francisco and began to make small investments in the real estate market. In a few years he had realized $150,000, and went back to the mining business with a stock of confidence not diminished by his checkered experiences. Very soon he sold the Eureka and Mineral Hill mines at great advantage. In 1872 he joined J. B. Haggin in the purchase of the famous Ontario mine in Utah, for which only $28,000 was paid, and which yielded $3,000,000 dividends in eight years. The Daly mine, adjoining the Ontario, was afterwards acquired, and had paid in dividends $1,702,500 up to December 1st of last year. It was these two mines that laid the foundation of Mr. Hearst's great fortune. About 1875 the Home Stake, in the Black Hills, was purchased, and from this also a large amount was realized in dividends. Mr. Hearst became possessed in succeeding years of other mining properties in Arizona, Mexico, South Carolina, and Montana, the last including the celebrated Anaconda mine at Butte, claimed to be the most productive-copper mine in the world.
Among Mr. Hearst's real estate 'investments was the Piedras Blanco ranch, at San Simeon, in San Luis Obispo county, containing eleven leagues of land. On this ranch he had placed a number of thoroughbred horses and mares, whose progeny has begun to attract considerable attention. He also owned a large cattle ranch in New Mexico.
Mr. Hearst's political career commenced with his election to the Legislature of the State of California in 1865. In 1882 he became a candidate for Governor before the Democratic Convention at San Jose, but was beaten by George W. Stoneman. In 1885 the Democrats in the State Legislature gave him their complimentary vote for United States Senator, and in March of the following year he was appointed to that position by Governor Stoneman to fill the vacancy caused by the death of John F. Miller. A few months later an extra session of the Legislature was called by Governor Stoneman to deal with the question of irrigation, and the Legislature, being Republican, on joint bailout immediately elected A. P. Williams in Mr. Hearst's place. But at the next regular session of the Legislature, in January. 1887, the Legislature was Democratic, and the pioneer miner was elected United States Senator for the full term, commencing March 4, 1887. His term would have expired on March 1, 1893.
Mr. Hearst leaves a widow and an only son, William J. Hearst, the present proprietor of the Examiner. Senator Hearst had many friends and few enemies. The rude surroundings of the frontier and the mining camp, where his early life had been spent before fortune came to him, had given him little opportunity to acquire the little arts and conventionalities of the world of fashion, but his unpretentious manners, his utter lack of anything approaching to ostentation, and his innate courtesy and easy good-nature, made him personally popular wherever he went. He was of a remarkably genial and convivial disposition, and peculiarly faithful in his friendships.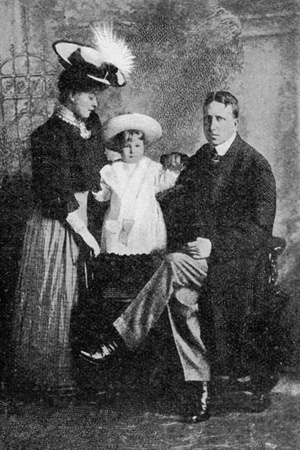 William Randolf Hearst and Family
Published in "The Graphic"
October 27, 1906
To those who had been his friends and companions in the days whan he was battling with fortune in the mining camps of California and Nevada, the millionaire United States Senator was as easily approachable as was George Hearst, tbe prospector and miner, before wealth came to him, and scores of old and broken-down miners oould testify how readily the helping hand of "Uncle George," as he was affectionately termed by those who knew him best, was extended in response to an appeal based upon the recollection of those earlier days.