VIPS in the Port of San Francisco
---
William Alexander Coulter
Born March 7, 1849, Glenariff, Ireland
Died March 13, 1936, Sausalito, California
William Alexander Coulter was born on March 7, 1849 in Glenariff, Ireland where his father was captain in the Coast Guard.
At age thirteen. the younger Coulter went to sea. For seven years his apprenticeship allowed him to learn every detail of the ships on which he sailed. He had a natural gift for drawing and color and during his off-duty hours aboard ship he sketched and painted.
After arriving in San Francisco in 1869, he worked as a sailmaker while continuing to paint in his leisure, and by 1874 was regularly exhibiting with the San Francisco Art Association. Coulter was for the most part self-taught except for a period of three years in the late 1870s when he studied in Europe with marine artists Vilhelm Melbey, Francois Musin, and Jacob Jacobsen.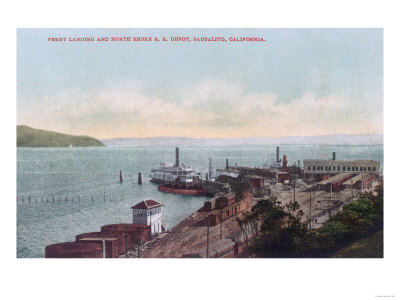 Aerial View of the Ferry Landing and North Shore in
Sausalito, Marin County, California
By 1890 he was living in Sausalito in a house that was just a few feet from the water.
He kept a studio in San Francisco at 325 Montgomery Street, which he shared briefly with Hiram Bloomer.
A prolific painter, from 1869 to 1936 he chronicled the shipping industry in San Francisco Bay as the waterfront artist for the San Francisco Call newspaper, capturing the vitality of the square-riggers, hay scows, tug boats, and schooners that sailed in and out of the Golden Gate. His pen-and-ink drawings appeared daily in the Call until the fire and earthquake of 1906 (which he also painted from the waterfront).
One of his most important commissions was done between 1909-20 when he painted five 16' x 18' mural panels for the Assembly Room of the Merchants Exchange Building. This room was the center of all the trading and maritime business of the day on the West Coast.
Captains and shipowners valued his ship portraits for their accuracy of detail.
Among his paintings of San Francisco Bay and ships in San Francisco Bay are:
View of Meiggs' Wharf
Matthew Turner's Nautilus
Donald McKay's clipper Glory of the Seas
W.F. Babcock
J. M. Colman
Three Brothers
Salinas
Coulter died on March 13, 1936 at his Sausalito home having left a great legacy to California and the maritime industry.
In 1943 a Liberty Ship was launched at the Kaiser Shipyard and named S. S. William A. Coulter.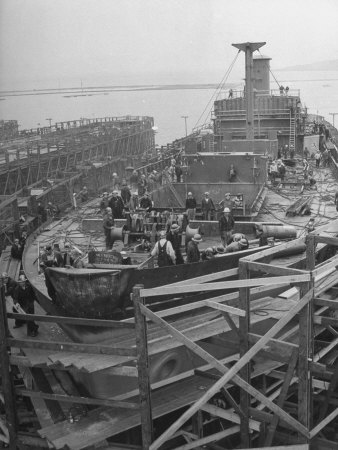 Men Working on the Liberty Ships
Hansel Mieth
Four of the Kaiser Shipyards were located in the San Francisco Bay Area (in Richmond, California). Together, these four Kaiser Shipyards produced 747 ships, including many of the famous Liberty ships and Victory ships, more than any other complex in the United States.
Liberty ships were cargo ships built in the United States during World War II. Though British in conception, they were adapted by the U.S. as they were cheap and quick to build, and came to symbolize U.S. wartime industrial output. Based on vessels ordered by Britain to replace ships torpedoed by German U-boats, they were purchased for the U.S. fleet and for lend-lease deliveries of war material to Britain and to the Soviet Union via deliveries through Iran. Eighteen American shipyards built 2,751 Libertys between 1941 and 1945, easily the largest number of ships produced to a single design.