Ships
° Vessels & Rigging ° Clippers ° Steamships ° Lines ° Builders ° Shipwrecks
Builder: William H. Brown, New York. Engine: Vertical-beam by Archimedes Iron Works. Launch: September 24, 1850. Original Owner: Major Albert Lowry and Captain Jarvis. Wooden side-wheel steamer, 2 decks, 3 masts. 1,003 tons, 225.6 feet. (878 tons in 1865.)
The SS Pacific, was temporarily used on the New Orleans-Chagres run of the United States Mail Steamship Company. She then sailed from New York for San Francisco on March 19, 1851, arrived July 2, and entered the San Francisco-Panama service when Vanderbilt purchased her. She continued on that line until September 1858 (having been laid up for some years), when she began San Francisco-Columbia River service for the Merchants Accommodation Line.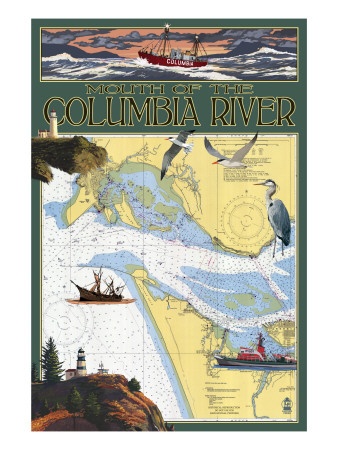 Columbia River chart and views
On July 18, 1861, she sank in the Columbia River. She was raised, repaired, and returned to service. In 1863, she was owned by S.J. Hensley of the Oregon and San Diego Steamship Line, then purchased by Holladay and Brenham, again sold in 1872 to the Pacific Mail line, then again sold to Goodall, Nelson and Perkins in 1875.
The Pacific sank when she collided with the ship Orpheus on November 4, 1875, north-bound for Puget Sound. The Orpheus, somewhat damaged herself, drifted off in the darkness, her crew unaware of the Pacific's dissolution. She went down with 250 people. Of the Pacific's 250 passengers and crew, only two survivors were picked up, clinging to bits of wreckage. One of these died shortly thereafter as a result of shock and exposure.
Washington Standard EXTRA
Loss of the St'p Pacific
OFF CAPE FLATTERY!
Fearful Loss of Life!
TWENTY PASSENGERS FROM THE SOUND ABOARD THE ILL FATED CRAFT
By W.U. Telegraph from the Regular Correspondent of the Standard
Port Townsend, November 7, 1875
The American ship Messenger, Capt. V.E. Gilkey, has just arrived here, nine days from San Francisco. She reports having picked up a part of a pilot-house 20 miles south of Cape Flattery, containing Henry L. Jelley, the only survivor of the steamship Pacific, which sailed from Victoria at 9 a.m. Thursday morning and foundered 40 miles south of Cape Flattery at 8 p.m. Thursday night. Mr. Jelly floated on the pilot-house from 8 o'clock Thursday night until 10 a.m. Saturday morning, when he was picked up by the Messenger Several boats were launched, but all foundered.
The Pacific had the following passengers from the Sound:

From Tacoma--J. Hellmute and wife, Mrs. Mahon and child. H. C. Victortor, J. T. Vining, Fred D. Hard

From Seattle--C.B. Davidson and wife, A. Robins, T. Allison, O. McPherson, Wm. Maxwell, D. Woods

From Victoria--F. Garesche, Miss A. Reynolds, Miss F. Palmer, Mrs. Lawson, Mrs. Moote, Mrs. S. T. Styles and child, D. C. McIntire, C. B. Fiarbanks (cq), Captain and Mrs. Parsons, A. B. Oadway, W. J. Ferry, J. F. Johnston, Thos. Smith, John Cochrane, S. P. Moody, T. J. Farrell, M. Summers, C. Summers, J. Cahill, John Watson, E. H. Polley, Cal. Mandeville, wife and child, R. Hudson, H. Clime, E. P. Atkins, Thos. Bevelry, R. Layzell, W. Waldron, John Lee, G. Gribbell, Geo. Morton, John McCormick, John Sampson, Wm. Wills, A. Lang, John G. Todd, Jas. Lenning, P.L. Chapman, Jas. H. Webbs, Isaac Webbs.

There were upwards of 200 passengers aboard the ill-fated craft.
Oakland Tribune, November 9, 1875
Oakland, California, USA
The Steamship Pacific Founders,
and More Than One Hundred and Fifty Lives are Lost
Late yesterday afternoon, the telegraph wires brought the sad and startling intelligence that the steamer Pacific had foundered off Cape Flattery, and that out of 107 passengers, but one life had been saved. The dispatches are ample, but thus far the story they tell emanates from one man. He holds out a gleam of hope that others may lie rescued, but it is unquestionable that the greater number of both passengers and crew sleep their last sleep beneath the waves of the Pacific. The steamer, it appears, was well equipped and in good condition, though old. She sailed from Victoria on the 4th and at 10 P. M. of the same date, sank-- one hour and a half after the occurrence had taken place which caused her to sink. What this occurrence was, is involved in uncertainty. A southeaster was blowing, but not with such strength as to make it a gale, nevertheless raising a sea which necessitated some precautions to steady the vessel. A crash was heard and lights were seen, and the more likely conclusion is that a collision with a passing vessel was the cause. Should this prove the case, there must have been carelessness, as the night was clear, and all collisions under such circumstances are preventable. What measure of negligence, of precaution, of bravery, of self-sacrifice of good judgment there was afterward, additional information is required before an opinion can be formed, but the steamer had good boats and plenty of them, also life preservers and life rafts, and there was an hour and a half of grace to save life.
HISTORY OF THE VESSEL
The Pacific was an old vessel, but considered staunch. She was built at New York in 1851 by W. H. Brown, for service on this coast, and until a year ago was owned by the Pacific Mail Company. Along with the Orizaba, the Acorn and the Senator, she was transferred to Goodall, Nelson & Perkins, upon the abandonment by the Pacific Mail Company of its California coasting trade, and since then has been employed in the passages north and also down the coast. Her engines in the American Lloyd's for 1875 are described as vertical cylinder, 54 inches. She was 876 tons register . . .
PASSENGER LIST
The following is a list of the cabin passengers on the last steamer (Editor's Note: List is difficult to read and can be compared to that above):
From Puget Sound J. Hellmute and wife, H. C. Victor, Mrs. Mahon and child, Fred D. Hard, J.T. Vimng.
From Seattle C. B. Davidson and wife, T. Allison, Wm. Maxwell, A. Hubbins. O. McPhersen, B. Wood.
From Victoria John Tarbelll, M. Wilson. A. Long, J.M. Landers, J. Fitzgerald, C. Chisholm, J.S. Webster, Miss F. Palmer, Mrs. Lawson, James Demsong, D.C. McIntyre, Capt. and Mrs. Pearson, W.J. Ferry, Thos. Smith, S.P. Moody, M. Summers, John Watson, James H. Webbs, R. Hudson, E. P. Atkins, B. Layzelle, John Lee, Geo. Morton, John Samplon, P.L. Chapman, F. Garesche, agent of Wells Fargo & Co., at Victoria, William Ammiss, William Purdary, John G. Todd, Dock Young, J. Condon, A. Frazer, Miss A. Reynolds, Mrs. Moote, Edwin H. Pally, Mrs. S. Styles and child, C.P. Fairbanks, A.B. Odway, J.T. Johnson, John Cochane, T.J. Ferrill, J. Cahill, Wm. Wills, Wm. Polley, H. Cline, Thomas Brierly, W. Waldron, G. Gribell, John McCormick, Isaac Webbs, Col. Mandeville, wife and child, and the Hurlbert and Rockwell Troupe.
In the steerage there were forty passengers, whose names we have not as yet been able to obtain.
THE COMMANDER
Captain Jeff Howell, her commander, has been eight or nine years on this Coast, first as Third Officer in the Pacific Mail Company; then in Holladay & Brenham's employ, making several trips to Honolulu, and then for a time in the Pelican, running to Eureka. He made a trip or so on the Southern route, and was appointed a few months since to the command of the Pacific. He was a popular commander, an experienced seaman and one fully capable for his position. He was thirty-five years of age, a graduate of the Naval Academy of Annapolis , and a nephew of Jeff Davis, of the Southern Confederacy . . .
THE SURVIVORS STATEMENT.
T. Henry F. Jelley, supposed to be the only survivor of the ill-fated vessel was picked up on Saturday by the ship Messenger and taken to Port Townsend. The following is his statement:
My name is Henry Frederick Jelley. I am a native of Ireland, but have lived for the last nine years in the Dominion of Canada, and am of the age of twenty-two years. I took cabin passage on board the steamer Pacific, of which J. D. Howell was master, on the morning of Thursday, the 4th inst., for a voyage to San Francisco, California, and the some morning, at about 9:15, the steamer left the harbor of Victoria, B. C. There were about two hundred people on board, more or less, and we steamed all that day against a head wind blowing from the southeast fresh. During the day the crew were constantly pumping water into the boats, to keep the steamship on an even keel, first on one aide and then on the other, and she would list to either side alternately. As I noticed, the boats ahaft the paddle-boxes had no oars in them on cither side, but the forward boats had oars in them. Between eight and nine o'clock that evening, and while I was in the cabin in bed, I heard a crash, and felt a shock as if we had struck a rock or something of the kind, and heard something fall as if a lot of rocks had broken into us and had fallen in by her starboard bow, and immediately I heard the bell strike to stop her and then to back her and then strike to go ahead.

WHAT WAS HEARD.

I went on deck, and there I heard voices say, "It is all right: we have only struck a vessel," and looking around I saw several lights some distance off on our starboard beam. I think there were three lights. I do not think they were colored lights, but did not pay much attention to them. I went back into the cabin, and was about to turn in, when I noticed her taking a heavy list to port, and then thought she was going down and went on deck. I heard some one say, "She is making water very fast forward!" Went forward to the pilot house, and there heard the purser ask the captain what boat he would take charge of. Did not hear the answer. I asked the captain if there were no blue lights or a gun. He told me I would find blue lights in the pilot house. The captain was at that time coming out of his own room, and I did not see him after that. I then, with another man, whom I did not know, went into the pilot house, found six blue lights, and set five of them off and lost the other one. I then noticed that the engines were still working, but no one was at the wheel. I then went on deck to the starboard side, forward of the paddle box where a number of the men were trying to get the long boat out, but they could not do it. I then went to see about the port boat forward, and helped five or six ladies into it and tried to get the boat off, but we could not budge the boat. There were about twenty ladies in the boat. I then heard it said that the two boats abaft the wheels had gotten off, but did not see them. The boat I was near was partly full of water and we could not get her off at all. I think it was about an hour from the time the steamer struck up to the time when she listed to port so much that the port boat was let into the water and cut loose from the davits. I was in this boat which, when it touched the water, begun to till and turned over. I crawled upon the bottom of the boat and helped several others up with me.

THE STEAMER BREAKS IN TWO.

Immediately after the steamer seemed to break in two fore and aft, and one half of the smoke stack struck our boat and pushed it away, and the steamship Pacific sank. I think about all the ladies were in our boat, and when she upset they all fell into the water, and I fear they were drowned. This was about 10 o'clock in the evening. The night was not dark nor was the sea very rough, but there was a fresh breeze. I afterwards felt the bottom of our boat and, with another man, climbed on the top of the pilot-house, which was floating near, and we held on to the upper wire that came out of the top. Next morning I got some life preservers floating near the house and with their ropes lashed myself and my companion to the house. I saw three rafts. The first had one man on, the next had three men and a woman, and the other I could not make out owing to the distance, except that there were human beings on it. I think we were thirty or forty miles south of the cape when the vessel sunk. We passed the light on Tatoosh Island between four and five o'clock on the evening of the 5th. I and my comrade were on the top of the pilothouse all of the 5th until about four p.m. when he died. I then cut him loose. The sea was running very high all day, and I think my comrade was drowned by the waves washing over him, he not being strong enough to hold his head up, and the waves constantly washing over us. Soon after he died, I sighted a vessel, and called, and also heard the people on the other raft calling. I did not see the other rafts after that, and that vessel did not come near me. I spent Friday night on my raft. There was little wind until morning, when it came on to blow again, and the sea became very rough. I was then within a mile from the Vancouver shore. I sighted two vessels on the Washington shore, that passed on, and about ten o'clock A.M. on the sixth Saturday, I saw a vessel bearing down on me. I was very weak by that lime, but waved my hat, and the vessel sent a boat and took me up. The vessel's name, I learn, is the Messenger, and the captain, whose name is J.F. Gilkey, gave me every attention and kindness possible, and did everything in his power to relieve my wants. (Signed) Henry F. Jelley.
HOPEFUL CONCLUSIONS
Notwithstanding the statement of Mr. Jelley . . . we cannot but hope that many of the passengers will be found to have been saved. If, as he says, there was not a high wind, certainly some of the boats ought to have safely carried their previous freight. Besides, it would seem hard to believe that the colliding vessel would abandon the steamer to its fate, and run by the boats, which were immediately put out. Mr. Perkins says that each boat had one ten-gallon keg of water and bread enough to support a boat's crew for twenty days. If the steamer really was struck by another vessel, it must be that many of her passengers have been rescued by that vessel. If she struck a sunken rock, there is room for hope that some of her boats will be heard from, and a number of her passengers saved. We think that a more favorable showing will be made when further particulars are received.