San Francisco Stories
Oh! No. We Never Talk in French
August 16, 1849, Alta California, San Francisco

Oh! No, We never Talk in French
FROM AN ANONYMOUS PARODY ON A POPULAR SONG.
Oil! no, we never talk in French,
Its sound no more is heard;
Our lips are now forbid to speak
The smallest foreign word;
I cannot say "Mon cher ami,
Comment vous portcz vous,"
Nor he reply "Tres bien mon ange,"
Oh! no, it would not do.

I dare not sigh "Pensez a moi,"
Or " Soyez vous fidele"
Nor can he say "Toujours a toi*'
Or "An revoir, ma belle"
And if- "Ne monbliez pas" slips out,
(As 'twill ere I'm aware,")
"They're talking French," is screamed about,
Ere I can add " Mon cher."


And "m'aimez vous" I never hear,
Nor dare he ever say
" Jusqu' la mort" so much we fear
To parlez en Francais.
All ears are open when he sits
Beside me, after tea,
Lcat he shou Id say " acceptez moi ?"
And I should answer "Oui."
Rush to Gold: The French and the California Gold Rush, 1848-1854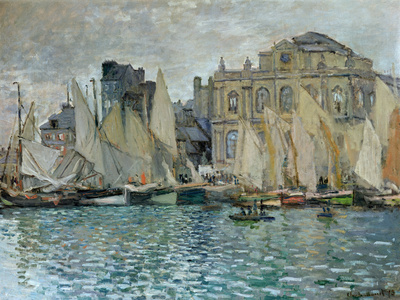 View of Le Havre, 1873
Claude Monet
In 1851, Eustache Mathet, after a series of family tragedies and inability to find work in Paris, he petitioned for free passage to San Francisco. After a series of more mishaps, he wrote his family: "In the end, for us, it's victory or death." On July 23, 1852, with his 16-year-old son Henri, they joined 267 single men under the lingotier banner on the quay in Le Havre. The hardships of these travellers are echoed in virtually every work about the desire to leave subjugation and reach new shores and a new life.
Their journey lasted more than five months and they used their time as did all sea voyagers: sights of birds and aquatic life, other ships, they gambled for money, clothes, coffee, wine, brandy or bread. A few of the educated created courses.
At Valparaiso, local officials descended on the ship: health officers, customs officials, naval officers with friendly salutes, then as now, a swarm of merchants selling goods. There were women everywhere. There was also a military presence that dominated with seemed like a colonial town in its segregated neighborhoods, ruled by brutal force, widespread prostitutions and an exploitation of the poor. They left this port of call after three days.
After 170 days enroute, the Magellan entered San Francisco harbor.
The first of these lottery ships arrived in San Francisco on February 28, 1852. The Committee of Vigilance in San Francisco sent a delegation to the French consulate to make inquiries. The consul, Patrice Dillon, assured the committee that there were no criminals among the 4,500-5,000 laborers that reached the city. The Committee ws satisfied; the Alta California prounounced the future arrivals "all respectable."
September 14, 1849: 40 Frenchmen arrived in San Francisco from Le Havre, France aboard the boat, La Meuse. All were eager to amass their portion of Californias gold that was discovered January 24, 1848. Among the thousands of hopeful French who soon followed these 40 men was the future pastor of San Francisco's Notre Dame des Victoires, Abb Dominique Blaive. Unlike his countrymen who were seeking new lives from the harsh realities of unemployment and poverty, the young priest was on his way to Stockton, where he founded the city's first Catholic Church, St. Mary of the Assumption.
September 19, 1853: The French inhabitants of the city organized among themselves the "Lafayette Hook and Ladder Company." The uniform they adopted was that common to firemen in France.
We have at different places alluded to the public spirit of this class of citizens, and their appearance in large bodies on occasions of public ceremonial. They are nearly as numerous as the Germans in San Francisco, and may now (1854) number about 5,000 persons of both sexes. They preserve many of their national characteristics, and do not seem capable of thoroughly adopting American thoughts and fashions. But a small proportion seek to become naturalized citizens, and they do not readily acquire our language.
California, and American itself, are but places where money may be made to enable them to return to their own land in Europe. In San Francisco, they have monopolized many professions of a semi-artistic character. They are the chief shoeblacks and hairdressers, cooks, wine importers and professional gamblers.
In the first-named capacity, they form one of the street features of the place. They are posted at many of the prominent corners, with seats for their customers, whose boots they are ever ready to polish at the charge of twenty-five cents; and some of them have at this singular business gathered money enough to open shops, neatly furnished, for the same purposes. It is not uncommon to see a dozen of these shoeblacks in a row upon the edge of the sidewalks, scouring and scrubbing away at the muddy or dusty boots of their patrons.
But besides these occupations, this people pursue all other callings here, and many of them are among the most distinguished, wealthy and respectable inhabitants of the city. They are partial to public amusements, and have often a theatre open, when plays, vaudevilles and operas in their own language are performed. They have a society for the relief of poor immigrants, besides several other benevolent associations. Two tri-weekly newspapers are published in their language, a portion of one of which is written in Spanish.
The presence of the French has had a marked influence upon society in San Francisco. Skilled workmen of their race have decorated the finer shops and buildings, while their national taste and judicious criticism have virtually directed the more chaste architectural ornaments, both on the exterior and in the interior of our houses. Their polite manners have also given an ease to the ordinary intercourse of society which the unbending American character does not naturally possess. The expensive and fashionable style of dressing among the French ladies has greatly encouraged the splendid character of the shops of jewellers, silk merchants, milliners and other whom women chiefly patronize, while it has perhaps increased the general extravagance among the whole female population of the city.
There are in San Francisco many natives of Switzerland and Alsace, those debatable lands between the French and German people. The Alsatians are claimed, and sometimes rejected by both. There does not seem much sympathy between the rival races, less a great deal than in between either of them and the Americans. The French complain that they are not treated so kindly by the last as are the Germans. The reason seems obvious: It is because they do not take the same pains to learn the American language and character. The naturalized Germans are professed and acknowledged brethren; the French foreign to manner and physical appearances, in thoughts and hopes can never be considered as such. The occasional devotion of Germans to old Fatherland does not so fill their hearts that they become insensible to the numberless political and social blessings which they receive in their adopted country.
But the wild glorification of Frenchmen to every thing connected with their beautiful France, is often a neglectful insult to the land that shelters them, and which they would ignore, even although they seek not to become its permanent citizens.
Both races have played a prominent part in the industrial history of San Francisco, and in that of California generally. Their numbers are very large in the various mining districts; while, as we have seen, they form a considerable proportion of the population of the city. They are not the dominant spirits of the place for these are of the true American type that every cry go ahead! but they help to execute what the national lords of the soil, the restless and perhaps unhappy people of progress contrive.
The character of a man may at least partially be inferred from his "drink." The true Germans dote on lager bier and they area heavy, phlegmatic, unambitious race; the French love light wines and they are as sparkling, yet without strength or force of character; the genuine Yankee must have a burning spirit in his multitudinous draughts and he is a giant when he begins to work, tearing and trampling over the impossibilities of other races, and binding them to his absolute, insolent will.

Life in a California Mission: Monterey in 1786

Jean Francois de la Perousse. Linda Yamane, Illustrator. Introduction: Malcolm Margolin.
On the afternoon of September 14, 1786, two French ships appeared off the coast of Monterey, the first foreign vessels to visit Spain's California colonies. Aboard was a party of eminent scientists, navigators, cartographers, illustrators, and physicians. For the next ten days the commander of this expedition, Jean Francois de La Perouse, the commander of this expedition, took detailed notes on the life and character of the area: its abundant wildlife, the labors of soldiers and monks, and the customs of Indians recently drawn into the mission. de La Perouse also recorded his time in New Caledonia.
Rush to Gold: The French and the California Gold Rush, 1848–-1854
(Lamar Series in Western History)
Malcolm J. Rohrbough

The California Gold Rush began in 1848 and incited many "wagons west." However, only half of the 300,000 gold seekers traveled by land. The other half traveled by sea. And it's the story of this second group that interests Malcolm Rohrbough in his authoritative new book, The Rush to Gold. He examines the California Gold Rush through the eyes of 30,000 French participants. In so doing, he offers a completely original analysis of an important—but previously neglected—chapter in the history of the Gold Rush, which occurred at a time of sweeping changes in France. Rohrbough is the author of Days of Gold, which is generally accepted as the essential text on the subject. This new book comes out of his extended research in French archives. He is the first to provide an international focus to these pivotal events in mid-nineteenth-century America. The Rush to Gold is an important contribution to the fast-growing field of transnational American history.
A Voyage to California, the Sandwich Islands, and Around the World in the Years 1826-1829

Auguste Duhaut-Cilly, August Fruge (Editor, Translator), Neal Harlow (Editor, Translator).
While French sea captain Auguste Duhaut-Cilly may not have become wealthy from his around-the-world travels between 1826 and 1829, his trip has enriched historians interested in early nineteenth-century California. Because of a poor choice in goods to trade he found it necessary to spend nearly two years on the Alta and Baja California coasts before disposing of his cargo and returning to France. What was bad luck for Duhaut-Cilly was good luck for us, however, because he recorded his impressions of the region's natural history and human populations in a diary. This translation of Duhaut-Cilly's writing offers today's readers a rare eyewitness account of the pastoral society that was Mexican California, including the missions at the height of their power.
A veteran of the Napoleonic wars, Duhaut-Cilly was an educated man conversant in Spanish and English. He was also Catholic, which gave him special access to the California missions. Thus his diary allows the reader an insider's view of the padres' lives, including their dealings with the military. Through his eyes we see the region's indigenous people and how they were treated, and we're privy to his commentary on the behavior of the Californios.
This translation also contains Duhaut-Cilly's account of the Sandwich Islands portion of his voyage and provides an authentic rendering of life at sea during the early nineteenth century. In the spirit of Richard Henry Dana's Two Years before the Mast, Duhaut-Cilly's reflections are a historical gem for anyone with a love of personal narratives and original accounts of the past.