International Harbors and Seaports of the World
---
United States: North Carolina
The first permanent English settlers in North Carolina were immigrants from the tidewater area of southeastern Virginia. The first of these "overflow" settlers moved into the Albemarle area of northeast North Carolina around 1650. In 1663, Charles II granted a charter to eight English gentle men who had helped him regain the throne of England. Between 1663 and 1729, North Carolina was under the control of the Lords Proprietors and their descendants, who commissioned colonial officials and authorized the governor and his council to grant lands in the name of the Lords Proprietors.
On April 12, 1776, North Carolina authorized her delegates to the Continental Congress to vote for independence. This was the first official action by a colony calling for independence.
The Queen Anne's Revenge was the name of the pirate Blackbeard's infamous flagship. Originally named Concord, the vessel was built by Britain in 1710, but captured by the French a year later. The ship was modified to hold more cargo and renamed La Concorde.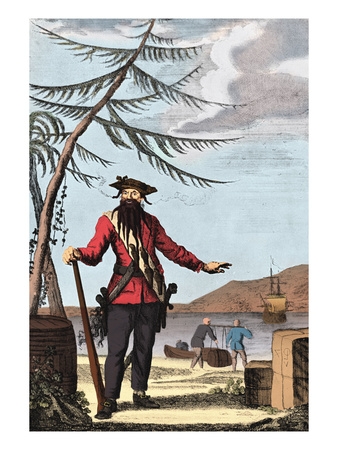 Captain Edward Teach, (Blackbeard)
(This colored version is from a drawing c. 1734)
The slave-ship was captured again by the pirate Captain Benjamin Hornigold on November 28, 1717 near the island of Martinique. Hornigold turned the ship over to one of his pirates—Edward Teach, later known as Blackbeard—and made him captain.
Blackbeard converted La Concorde into his flagship, adding 20 more cannon and renaming it the Queen Anne's Revenge. With it, he ranged the west coast of Africa and the Caribbean, attacking British, Dutch and Portuguese ships. Queen Anne's Revenge was described as a 300-ton frigate armed with 40 cannons. Her name may have come from the War of the Spanish Succession, which was known in the Americas as Queen Anne's War, and in which Blackbeard was known to have fought.
Shortly after ransoming Charleston harbour and refusing to accept the Governor's pardon, Blackbeard ran Queen Anne's Revenge aground while att empting to enter Beaufort Inlet, North Carolina. Blackbeard disbanded the flotilla, and escaped by transferring supplies onto a smaller ship, Adventure.
The pirate captain abandoned several crew members on a small island nearby, who were later rescued by Captain Stede Bonnet. Some sources suggest that Blackbeard purposefully grounded the ships as an excuse to disperse the crew. Shortly afterward he accepted a royal pardon for himself and his remaining crew from governor Charles Eden at Bath, North Carolina.
During the American Revolution, a Franco-American alliance united France and the United States against Great Britain, but by the late 1790s, the two countries almost declared war. Disagreements over shipping led to the The XYZ Affair
, in which North Carolinian Congressmen played a key role in keeping the young nation from waging war against a European power.
North Carolina seceded from the Union on May 20, 1861. During the Civil War, North Carolina supplied more men and materials to the Confederate cause than any other state. The state also suffered the largest number of losses than any other Confederate state during the war. America 's first nationwide compulsory military service law was enacted by the Confederacy in 1862. Compulsory military service, known as conscription, quickly became the most hated law in North Carolina and the rest of the south.
Biddeford Journal, Biddeford, Maine
March 1, 1884
One of the most interesting men I have fallen in with of late is M. Vnion des Lauriers, a Frenchman, now resident in New York. M. den Lauriers believes that he has solved a very vexed problem about French immigration. "The French," he says, "do not like to go west. Land costs loo much there and the climate does not suit them. But in parts of the south they can get land cheap which is adapted to the growth both of the mulberry and of the vine, and in a climate wheie they can feel at home."
This gentleman had just returned from Moore county, North Carolina, where he purchased quite a large track of land. Several French families will immediately be settled on it, and others will soon follow. They are not pauper adventurers or theorists, but plain, common sensed, hard working French people. Each family has enough money to buy twen five acres of land and put up a small and comfortable house. They will spend what remains of the present winter in preparing lor agricultural work in the spring. Then they will do gardening, making their own living and sending such truck to market as they can find sale for. This will go on until vines and mulberry trees have time to grow which of course, will be planted as soon as practicable.
M. des Laurers, who is a partner in a successful silk farm and mulberry nursery in Virginia, and has for a number of years been the secretary of the New York silk exchange, proposes to supply the colonists wiih everything they may need with which to begin silk culture. I asked M. des Lauriers if be had considered the fact that the market facilities of Moore county, N. C., were rather poor. He smiled, shrugged his shoulders, threw out both hands and said: "I have thought of that and there will be no trouble on that account. My colonists have learned their trades being farmers, silk growers and wine makers. Every one of them desires a home of his own and is willing to work. Give them only the chance they will have in North Carolina and they will make their living from the beginning; then, when the wine and silk begin to yield profits and there are large profits in both they will do very well indeed.'' The only thing which M. des Laurers fears at all is that his Frenchmen will not find the presence of negro labor pleasant. But he doesn't anticipate any serious trouble on that score. If he succeeds in his colonization scheme North Carolina may thank him for doing a great work for her, for establishing a practical and excellent basis for successful, indefinite and extensive immigration work.
December 12, 1884, Anglo American Times
London, United Kingdom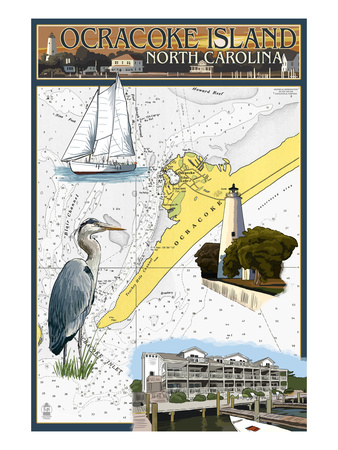 Ocracoke, Outer Banks, North Carolina
The North Carolina fisheries are the most important on the South American coast. In 1880 they yielded four times as much food fish, and employed three times as many persons, as they did in 1870, and yet south of Albemarle Sound they are practically undeveloped, on account of the lack of shipping and refrigerating conveniences. The principal commercial fisheries are the herring, shad, blue fish, mullet, Spanish mackerel, sturgeon, menhaden, bass, trout and oysters. The principal fisheries are near the junction of the Roanoke and Chowan Rivers, at the head of Albemarle Sound. In herring fisheries this State ranks first on the list, with 15,520,000 pounds. The oyster beds of the State have grown in favour during the last few years, and consequently their product has greatly increased to supply the demand. That total yield is about 200,000 bushels.
A History of Mount Airy, N. C. Commissioners' Meetings 1896 to 1903 is basically a translation of the original notes of the city. Readers will find humor in the topics which were important during the times. There are discussions about establishing streets, rules about privies, hog pins, keeping the prisoners in a calaboose, selection of a mule for the garbage wagon, the duties of the chief of police, and the yearly selection of a new mayor and commissioners. You will also discover some sketches of street layouts, and modern photos of the homes and businesses of the times.

1898: The Birth of the American Century
David Tranel During 12 months of rich confusion, wild contradiction and violent change, the United States in 1898 advanced from being viewed as a country of sharp-dealing businessmen with a second-rate military and little international influence to acknowledgment as a respected member of the Imperialists' club. It was the first and necessary step in making the twentieth century the American Century.

David Traxel chronicles the extraordinary events of 1898 -- a year without rival in United States history for its extravagant adventure and far-reaching significance. Traxel's account centers upon his vivid portrayal of America's first foray into international military affairs, the Spanish-American War. Spurred on by the yellow journalism of Joseph Pulitzer and William Randolph Hearst, the United States entered the war that garnered the nation Puerto Rico and the Philippines and initiated the ascension of a little-known assistant secretary of the navy, Theodore Roosevelt.


Clouds of Glory:
The Life and Legend of
Robert E. Lee
Michael Korda


James Madison:
A Life Reconsidered
Lynne Cheney


Team of Rivals:
The Political Genius of Abraham Lincoln
Doris Kearns Goodwin
Winner of the Lincoln Prize