International Harbors and Seaports of the World
---
United States: Connecticut
° Mystic Seaport ° New London ° Norwich ° Stamford ° Stonington ° West Haven
Mystic Seaport is cited as being the place where world's fastest clippers were built. The Maritime Museum, with its ships, docks and buildings, represent the whole era of sailing boats of the 1850s. A maritime village of the 19th century has been revived there. The last wooden whale boat, Charles W. Morgan, and other wide ocean vessels are anchored along the quay.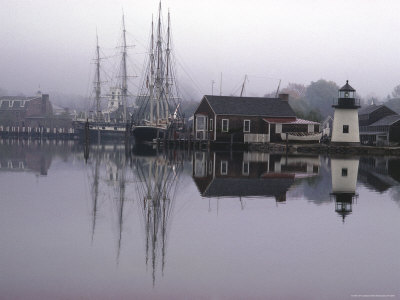 The Harbor at Mystic Seaport with Masted Ships
Alfred Eisenstaedt
Mystic Seaport occupies the site of three of the five shipyards that once lined the Mystic River and collectively launched 600 vessels between 1784 and 1919, a record unmatched by any other comparably-sized community in the United States.
In the early nineteenth century, Key West, Florida was among the places to which they brought Yankee influences as they fished southern waters during the winter months.
Skilled craftspeople and talented professionals supported the ship and boatbuilding industries and the ongoing maintenance and operation of vessels throughout their working lives, whatever their types and functions. Trades and services included sailmaking, ropemaking, ship s plumbing and provisioning of vessels. Blacksmiths -- "shipsmiths" -- provided metal fittings, and woodcarvers produced figureheads and other decorative vessel features. As the age of sail waned, Connecticut maritime industries adapted to focus on the manufacture and installation of steam, diesel and gas engines.
New London
For 80 years, New London had whaling ships at sea, a record surpassed only by New Bedford and Nantucket. And, it is true that New London sent out many fewer vessels than did New Bedford or Nantucket, but those New London vessels more than made their mark in whaling history.
In 1858, the Nile weighed anchor and sailed from New London on what was to become the longest whaling voyage on record. She did not return to her homeport until April 1869-eleven years later!
In 1866, the first American steam whaler sailed from New London. This ship, the Pioneer, was destined to meet a frigid fate. She died in the ice of Davis Strait between Greenland and Baffin Island in 1867.
The ships of New London were responsible for opening up several of the most important whaling grounds and New London whalers instituted the American seal fishery.
Norwich
In addition to ship building related to the military, Norwich harbor was critical to the Connecticut whaling industry. The American Revolution brought whaling activities to a halt but in the fifth period, 1784-1914, whaling vessels grew until they averaged up to 300 tons in the years from 1840 to 1914. The height of Connecticut whaling was in the 1840s when it ranked third among New England industries after textiles and armaments.
Eleven Connecticut ports sent out 358 vessels on 1,315 voyages from 1718 to 1913. Whale products were critical to life, providing oil for lubrication and illumination, fueling home lamps, streetlights, locomotive headlights and lighthouse lamps. Whalebone, in great demand, was heated to be shaped for many products including stiffening for garments.
A Maritime History of the Stamford Waterfront (CT): Cove Island, Shippan Point and the Stamford Harbor Shoreline (American Chronicles History Press)

The history of this Connecticut waterfront is as diverse as the people who have walked its docks, and columnist and former dockmaster Karen Jewell takes readers through its maritime history, landmarks and unforgettable characters. Jewell explores the history of such institutions as the Stamford Yacht Club and Yacht Haven, now Brewer's Marina, which have anchored premier yachters like William F. Buckley Jr., Harry Connick Jr. and the Forbes family to Stamford. A journey through time and sea, and learn how the Stamford waterfront transformed from a Native American settlement to the bustling port and destination it is today.

Stonington
Although many cities and towns in Connecticut were involved with fishing, whaling and sealing, Stonington was particularly noted for sealing, and New London, for whaling. The whaling industry reached its peak in the 1840's. Whatever their port of origin within the state, Connecticut seafarers, including those who harvested the oceans, went to all corners of the world. Sealers and whalers were involved in Arctic exploration.
West Haven
1861 saw the establishment of a shipyard on Water Street at the foot of Main Street by W. M. Gessner, a shipbuilder from Fair Haven. In 1865, he took in his brother-in-law, John E. Mar, as a partner and the business became known as Gessner and Mar. It boasted two shipways and from 1880 to 1893 became the most important industry in town while building three and four-masted schooners.
Naugatuck Daily News,
Saturday, September 16, 1899

TO BUILD $100,000 BOAT
Big Steamboat to be Constructed at West Haven Shipyards—Order of Brooklyn Firm.
Ship building is to be revived at West Haven, the old yard of Gessner and Mar, which was the building place of the Sutton Fleet of schooners and many other coasting vessels, will once more come into activity after eight years of idleness. The revival of the business will no doubt establish an enterprise more extensive than ever before. Work will begin immediately at the yards on a steamer, the plans of which call for a $100,000 boat. A Brooklyn firm has ordered the boat. A representative of the concern has made several trips to West Haven recently and finally decided on the place to have the steamboat constructed.

John E. Mar will superintend the work. He is now making contracts for lumber and hunting for men to work in his ship yard. As soon as the first consignment of materials arrives, the keel of the new vessel will be laid. The keel will be 50 feet long.
The news of the resuming of shipbuilding was favorably received by the West Haveners. It means the employment of a great many men who were thrown out of work when the schooner building was abandoned several years ago.
---
Maritime History: Fiction and Non-Fiction
The History of Seafaring, Donald Johnson and Juha Nurminen
Six Frigates: The Epic History of the Founding of the U.S. Navy, Ian W. Toll
Maritime History as World History, Daniel Finamore
Sailing into the Abyss, William R. Benedetto
America and the Sea: A Maritime History, Benjamin Labaree, William M. Fowler, Jr., Edward W. Sloan and John B. Hattendorf
Stockwin's Maritime Miscellany
Maritime Southeast Asia to 1500, Lynda Norene Shaffer and Kevin Reilly
A History of Arctic Exploration: Discovery, Adventure and Endurance at the Top of the World by Juha Nurminen and Matti Lainema
We Were Not the Savages: First Nations History - Collision Between European and Native American Civilizations, Daniel N. Paul
Tobacco Coast: A Maritime History of Chesapeake Bay in the Coloniel Era, Arthur Pierce Middleton
Stories from the Maine Coast: Skippers, Stips and Storms, Harry Gratwick
Maritime Supremacy and the Opening of the Western Mind: Naval Campaigns that Shaped the Modern World, Peter Padfield
Beyond the Blue Horizon: How the Earliest Mariners Unlocked the Secrets of the Oceans, Brian M.Fagan
A Brief History of Fighting Ships, David Tudor Davies
The Riddle of the Compass: The Invention that Changed the World, Amir D. Aczel