Home
°
2017 ~ Ongoing Updates
Passengers Arriving at the Port of San Francisco
San Francisco Call, August 14, 1906
Hongkong Maru Lands Her Passengers Early
Smooth Seas Favor Liner All the Way Across Pacific.
CARGO INCLUDES BIG SHIPMENT OF SILK
The Japanese liner Hongkong Maru, Captain Ernest Bent, which arrived late Sunday night passed quarantine early yesterday morning and was in her berth at the Pacific Mail wharf by 7:30 a. m. The Hongkong had on board about fifty cabin passengers and 2264 tons of freight. The cargo included 269 bales of raw silk, 14,020 chests of tea and 905 rolls of matting.
The Hongkong was favored with unusually fine weather. From Yokohama to Honolulu the glassy surface of the Pacific was unruffled and from Honolulu the great body of water did nothing to belie its name. In spite of the stillness, however, J. B. Duncan, secretary to W. H. Avery, general manager of the company, nearly died of seasickness. From Yokohama to the Golden Gate he was under the care of the liner's surgeon. When Duncan left here his athletic figure filled with veil-tailored smoothness such of his carefully selected and modishly made wardrobe as he took with him. His mal-de-mer left him when the Hongkong entered the bay, but the tribute he had paid to Neptune had exacted a heavy toll on his embonpoint and the clothes that fitted the man that was hung in mournful wrinkles on the gaunt frame of the ocean's victim. Dr. Hauxhurst says his patient will be fatter than ever in a few weeks, and in spite of his present weakness Duncan is cheering up at the prospect of being able to throw a well-defined shadow at an early date.
Colonel George French of the Salvation Army, who has been in the Orient for his health, was a passenger on the Hongkong as far as Honolulu. He is coming to the mainland on the Korea, which arrived at the island port yesterday.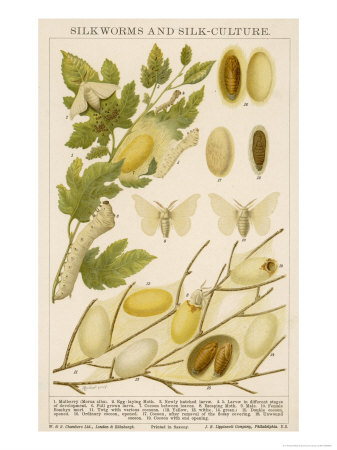 The Life Cycle of a Silk Worm and Silk Culture
A. Reichert
Among the passengers on the Hongkong was Major Ygirs Miyata, a medical officer of the imperial Japanese army. He purposes spending several months in the Eastern hospitals. Y. Sakurai, a wealthy Japanese silk importer of New York, was also a passenger on the liner.
Mr. and Mrs. Arthur W. Cornwall of this city, who have been traveling in the Orient for some months, returned on the Hongkong. They were at Honolulu, outward bound, when they learned of the calamity which befell this city April 18, and would have returned but for the receipt of cables from friends here advising them to continue their Journey. They came back sooner than they had intended, however, and it is not unlikely that Mr. Cornwall will again enter the commercial whirl. He retired from business about two years ago and yesterday he declared that a life of leisure did not realize his dream. He was tired of it, he said, and he thought the best use he could make of his distaste for idleness would be to pitch in and do his share in rebuilding San Francisco.
The Hongkong's passengers were:
From Hongkong E. B. Black, Mrs. N. B. Black, W. H. Bradley, Mrs. W. H. Bradley, Chaplain W. G. Cassard, U. S. N., Mrs. J. W. Haussermann, Mrs. J. H. Martin, H. S. McCaskey, Rev. F. L. Snyder. Mrs. L. P. D. Snyder, Leroy Snyder, Walter Snyder, Miss Mabel Snyder, Master Frank L. Snyder, H. C. White.

Kobe J. B. Speed, Mrs. J. B. Speed, Craik Speed.

Yokohama W. H. Avery. Mrs. W. H. Avery, A. W. Cornwall, Mrs. A. W. Cornwall, H. J. Crocker, Mrs. Mary L. Crocker, Miss Marion P. Crocker, Master Harry Crocker, Miss Kate Crocker, Master Clark Crocker, Miss Mary J. Crocker, Miss F. Breuner, Miss Helene Franx, J. B. Duncan. Dr. C. H. Foster, Mrs. Edith I. Foster, C A. Guldenaar, Mrs. Ida Guldenaar, Kaijiro Kondo, J. H. Martin, Miss Yae Mase, Major Yujiro Miyata, M. D. I. J. A., Motoichi Mizusaki, Professor W. E. Ritter, Mrs. Mary B. Ritter, Yoshichl Sakurai, Mrs. Chie Sakurai, Toyokichi Takakwwa, John Tyssowski, Carl Warnuke, Mrs. Kajiko Yajima, Sakimoshiu Yamaga, Mrs. Chiyo Yada. Tahara Kawaguchl.
August 14, 1906, San Francisco Call
NOTED JAPANESE LAWYER ARRIVES WITH FAMILY
Eldest Daughter of Jurist Held for Observation of suspicion of Having Trachoma.
I. Kojima, a prominent lawyer of Japan and Judge Advocate of the Criminal Court in Tokio, arrived on the steamship Hongkong Maru on Sunday night with his wife, seven children and four servants. The Quarantine officers detained the eldest girl, who is 14 years old, for observation. It is believed that she is afflicted with trachoma. In the meantime the father will remain on board the steamer with his daughter. The mother has gone to Watsonville with the other children to put them in school at that place.
Mrs. Kojima's father is a member of the imperial household of Japan. She herself is a prominent worker in the Society of Christian Endeavor. Her husband is going to Los Angeles to make a study of American Law procedure.
---

The Mammoth Book of Life Before the Mast:
Sailors' Eyewitness Stories from the Age of Fighting Ships
Jon E. Lewis, Editor
Firsthand accounts of the real-life naval adventures behind the popular historical sagas of Patrick O'Brian and C. F. Forester. Twenty true-life adventures capture the glory and gore of the great age of naval warfare from the late eighteenth to the early nineteenth century -- the age of the French Revolutionary War, the Napoleonic Wars, and the War of 1812 -- when combat at sea was won by sheer human wit, courage, and endurance. Culled from memoirs, diaries, and letters of celebrated officers as well as sailors, the collection includes accounts of such decisive naval engagements as Admiral Horatio Nelson's on the Battle of the Nile in 1798 or Midshipman Roberts' on the Battle of Trafalgar in 1805 and also offers glimpses into daily hardships aboard a man-of-war: scurvy, whippings, storms, piracy, press gangs, drudgery, boredom, and cannibalism.

Life of a Sailor (Seafarers' Voices)
Frederick Chamier
Chamier went to sea in 1809 as an officer in the Royal Navy. Like his contemporary, Captain Frederick Marryat, he enjoyed a successful literary career and is remembered for his naval novels. This book, his first, is usually catalogued as fiction, although it is an exact account of his naval experiences, with every individual, ship, and event he described corroborated by his service records. Told with humor and insight, it is considered an authentic account of a young officer's service. From anti-slavery patrols off Africa to punitive raids on the American coast during the War of 1812, Chamier provides details of many lesser-known campaigns. His descriptions of British naval operations in America, which reflected his objection to bringing the war to the civilian population, were highly criticized by his seniors.

The Nagle Journal: A Diary of the Life of Jacob Nagle, Sailor, from the Year 1775 to 1841
John C. Dann

Great Stories of the Sea & Ships
N. C. Wyeth
More than 50,000 copies of this collection of high-seas adventures are in print. Not only does it showcase the fiction of such classic writers as Daniel Defoe, Jules Verne, and Jack London, but the entries also feature historic first-person narratives including Christopher Columbus's own account of his famous voyage in 1492. Vivid tales of heroic naval battles and dangerous journeys of exploration to the stories of castaways and smugglers. The variety of works includes "The Raft of Odysseus," by Homer; Hans Christian Andersen's "The Mermaid"; "The Specksioneer," by Elizabeth Gaskell; Washington Irving's "The Phantom Island"; and "Rounding Cape Horn," by Herman Melville. Eighteen extraordinary black and white illustrations by Peter Hurd add to the volume's beauty.

The Rebel Raiders
The Astonishing History of the Confederacy's Secret Navy
James T. deKay
During its construction in Liverpool, the ship was known as "Number 290." It was unleashed as the CSS Alabama, the Confederate gunship that triggered the last great military campaign of the Civil War; yet another infamous example of British political treachery, and the largest retribution settlement ever negotiated by an international tribunal: $15,500,000 in gold paid by Britain to the United States. This riveting true story of the Anglo-Confederate alliance that led to the creation of a Southern navy illuminates the dramatic and crucial global impact of the American Civil War. Like most things in the War between the States, it started over cotton: Lincoln's naval blockade prevented the South from exporting their prize commodity to England. In response, the Confederacy came up with a plan to divert the North's vessels and open the waterways–a plan that would mean covertly building a navy in Britain, a strategy that involved a cast of clandestine characters.