Passengers arriving at the Port of San Francisco
---
Log of Passengers arriving during the 1800s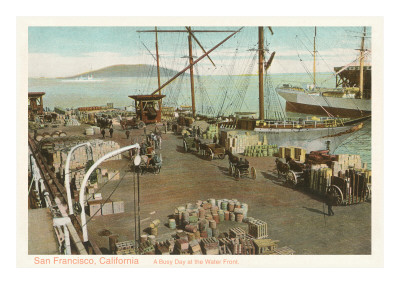 Waterfront Scene, San Francisco, Cali...
The focus is on ships carrying passengers on through-journeys from Eastern Seaboard cities to San Francisco . . . along with tons of cargo and millions of dollars in goods and gold.
New lists are uploaded as they are located. Note that for the most part, these are passengers originating from the United States Eastern Seaboard.
Click on highlighted dates in the right hand category below to view Passenger Lists

A B C D E F G H I J K LM N O P Q R S T U V W X Y Z
VESSEL
TYPE/OWNER
From/Captain/Passengers
SS Alaska

° 4,012 ton, 8 speed, side-wheel steamship launched November 27, 1867 for Pacific Mail Steamship Company.

Service between New York and Aspinwall: August 2, 1868 until June 1869

1868-1869
Panama and Hong Kong
June-July 1863
New York
May 1878
Alphonse N. Cezard
French Ship 123 days from France
February 28, 1852
France/Captain Bozec
169 passengers
SS America

° 1864: People's Line
° 1865: Central American Transit Co.
° 1867: Daily Alta California indicates the S. S. America is a North American Steamship Company steamer.

June-July 1863
New York
April 9, 1864
Panama
April 10, 1867
Nicaragua/Captain Wakeman
May 31, 1867
Nicaragua/Captain Wakeman
Amphitrite
New Granadian 150 ton Brig with 131 passenger overload. Captain Kent and 7 passengers quit the brig in Salvador; she beached near Acapulco.
April, 1852
Panama/Kent and Staples
190 passengers
Ann McKim
Clipper Ship
January 24, 1849
Valparaiso/Master Rubinet
58 passengers
SS Antelope
500 tons
° 1850-51: George Law
° 1851-52: Pacific Mail SS Company
October 25, 1850
Panama/Ackley
34 passengers
January 9, 1851
Panama
81 passengers
March 9, 1851
Panama/Ackley
60 passengers
May 29, 1851
Panama/Nicholson
More than 200 passengers
Areatus
From Boston
April 1849
Liverpool/Passenger list not located

Asenath
Bark arriving from Liverpool with merchandise
April 1849
Liverpool/Passenger list not located

Brooklyn


July 31, 1846
New York/A. W. Richardson
1849
New York/Joseph W. Richardson
SS Brother Jonathan

° 1851: Launched in New York
° 1852-1856: Vanderbilt Nicaragua Line
° 1856: California Steam Navigation Co.
October 5, 1852
New York/Baldwin
288 passengers
March 20, 1853
Nicaragua/Baldwin
306 passengers Another report cites 460 passengers
July 3, 1853
Nicaragua/James H. Blethen, Jr.
406 passengers
August 16, 1853
Nicaragua/Baldwin
221 passengers
October 2, 1853
Nicaragua
February 3, 1854
Nicaragua/James H. Blethen, Jr.
600 passengers
March 26, 1854
Nicaragua/Bodfish
1100 passengers/197 ladies
June 17, 1854
Nicaragua/Seabury
534 passengers
August 31, 1854
Nicaragua
400 passengers/59 ladies.
Cabargo
Barque with more than 125 passengers
79 days from Panama. Coal and molassses.
March 7, 1852
Panama/Barstow
Cacholet
Ship. Note: July 9, 1850 is sailing date from Panama. Arrival date in San Francisco not indicated.
January 14, 1850
Havre/Legrand
137 passengers
July 9, 1850
Panama/Taber
SS California

1050 tons

° 1848: Launched by William H. Webb, New York
° 1849: North Pacific Steamship Line
° 1860: Pacific Mail SS Line
° California, Oregon & Mexico SS Co.
° 1872: Pacific Mail SS Line
° 1874: Goodall, Nelson & Perkins
° 1894: Wrecked in Peru

February 28, 1849
New York/Lt. Thomas A. Budd
360 passengers
October 10, 1849
Panama/Lt. Thomas A. Budd
339 passengers
(list not located)
Friday, December 28, 1849
Panama/Lt. Thomas A. Budd
289 passengers
Tuesday, March 26, 1850
Panama/Thomas A. Budd
263 passengers
June 23, 1850
Panama/Lt. Thomas A. Budd
300 passengers/$166,698 in specie
August 23, 1850
Panama/Lt. Thomas A. Budd
November 21, 1850
Panama/Lt. Thomas A. Budd
339 passengers
April 23, 1851
Panama/Lt. Thomas A. Budd
August 3, 1851
Panama/Lt. Thomas A. Budd
120 passengers
October 5, 1851
Panama/Lt. Thomas A. Budd
February 26, 1852
Panama/R.L. Whiting
May 7, 1852
Panama/R.L. Whiting
January 6, 1853
Panama/R.L. Whiting
350 passengers
May 7, 1853
Panama/R.L. Whiting
333 passengers
July 7, 1853
Panama/R.L. Whiting
September 19, 1854
Panama/LeRoy
500 passengers
SS Carolina

600 tons

° 1849: Launched in Philadelphia
° 1850, 1851: Pacific Mail SS Company
° 1854: Sold for China service

Tuesday, May 7, 1850
Panama/Marks
Tuesday, July 1, 1850
Oregon/Wood
October 7, 1850
Panama/Richard L. Whiting
December 8, 1850
Panama/Richard L. Whiting
45 passengers
February 27, 1851
Panama/Richard L. Whiting
August 6, 1851
Panama/Richard L. Whiting
96 passengers
Carthagena
180 days from Liverpool, England
July 30, 1850
Liverpool/Jones
SS Chesapeake
She left New York on August 6, 1849 and reached San Francisco after an exceptionally long voyage.
August 7, 1850
New York
27 passengers
City of Panama
Pacific Mail Steamship Line
1,490 ton 10 speed. Iron.
City of Peking
Pacific Mail Steamship Line
5,080, 15 speed. Iron.
City of Rio de Janeiro
Pacific Mail Line
February 1901: Wrecked
Hawaii/William Ward
130 passengers lost
Clarissa Andrews
Type of vessel and ownership not listed. 14 died during trip.
May 22, 1852
Panama/Riddle
120 passengers
SS Colima
° Sinking of the Colima: 1895
1877
Panama
1895
Panama/Captain D. E. Griffith
SS Colorado
° 1864: Launched by William H. Webb
° 1864: Pacific Mail SS Company
° 1879: Scrapped
July 1, 1865
New York/Bradbury
SS Columbia

° 1850: Built in New York
° 1850: Holland & Aspinwall
° 1853: Pacific Mail SS Company
° 1861: Sold to China service.

February 24, 1851
Panama/Lt. Edward F. Beal
August 14, 1852
Panama/Captain Dall
1851-1855(?)
San Francisco/Portland
102 trips
SS Columbus

600 tons

° 1848: Launched in New Jersey
° 1851: Pacific Mail SS Company
° 1854: U.S. Navy
° 1855: Panama Railroad Co.
° 1861: Wrecked

June 6, 1850
New York/James B. Peck
300 passengers
August 6, 1850
Panama/James B. Peck/
300 passengers
October 12, 1850
Panama/Graham
December 6, 1850
Panama/E.H. Hitchcock
95 passengers
March 21, 1851
Panama/M'Gowan
May 23, 1851
Panama/M'Gowan
August 20, 1851
Panama/J.B.G. Isham
177 passengers
May 20, 1853
Panama/Mellus
216 passengers
Comet
An elegant Clipper with a huge cargo and few passengers

January 13, 1852
New York/E.C. Gardiner
A dozen passengers

Comet
Schooner

February 28, 1852
Panama/Burt

Comet
Bark
May 5, 1861
Honolulu/Smith
June 11, 1862
Honolulu/Smith
SS Commodore Stockton
° 1850: Launched in Philadelphia, PA.
° 1850-?: Vanderbilt's Independent Line
April 20, 1851
Philadelphia, PA./Baker
SS Constitution

There were two Constitution steamers:
One
600 tons

° 1850: Launched New York
° 1851: Empire City Line (note Daily Alta California indicates that the Pacific Mail Line owned SS Constitution as of September 1851)
° 1860: Rebuilt as a barque
Two
° 1861: Launched by William H. Webb, New York
° 1861: Pacific Mail SS Line
° 1861-61: War Department
° 1863: Arrived in San Francisco, October 1863, with a large load of goods, including 200,000 "choicest brands of Havana Cigars" and "OPIUM. 181 boxes, each 5 and 10 Tiels, Prepared Smoking Opium."
° 1879: Scraped

December 28, 1850
Panama/Lt. Bissell
August 8, 1851
Panama/Blunt
137 passengers
October 27, 1851
Panama/Welsh
May 22, 1852
Panama/Hanford
February 7, 1863
Panama/J.T.Watkins
March 20, 1863
Panama
April 28, 1863
Panama
October 11, 1863
Panama/J.T. Watkins
Cornelia
Steamer?
March 4, 1853
Mazatlan/Captain Ny
SS Cortes
° 1852: Launched in New York
° 1852: NY & SF Steamship Line
° July 1853: Vanderbilt's Nicaragua Steamship Company
° 1858: New York & California SS Company
° 1860: Atlantic & Pacific SS Company
° 1860: Pacific Mail SS Company
° 1861: Sold for China service
October 8, 1852
New York
January 5, 1853
Panama/T.B. Cropper
March 5, 1853
Panama/T.B. Cropper
470 passengers
77 females, 39 children
May 6, 1853
Panama/Hudson
350 passengers
July 16, 1853
Panama & Nicaragua/T.B. Cropper
October 15, 1853
Nicaragua/Seabury
510 passengers
107 ladies
June 3, 1854
Panama
577 passengers
July 18, 1854
Panama
September 14, 1854
Panama/T.B. Cropper
302 passengers101 females/43 children
January 20, 1856
Panama
April 25, 1860
Panama/William H. Hudson
Costa Rica
Pacific Mail Steamship Company
1,457, 7 speed. Iron
Dakota
Pacific Mail SS Company
2,135 ton, 10 speed, side-wheel steamship
Dudley
Brig
May 21, 1852
Panama/Yates
SS Ecuador


August 23, 1850
Panama/Downes
Edith Rose
Barque. 29 days from Kanagawa, Japan
November 17, 1864
Japan/Watlington
30 passengers
Eleanor Lancaster
Barque, 438 tons built 1839 at Maryport.

December 11, 1850
New Zealand/F.W. Lodge
SS (Colonel) Fremont

600 tons

° 1850: Launched in Philadelphia
° 1850: Pacific Mail SS Company
° 1861: Flint & Holladay

July 29, 1851
Panama/McLane
53 passengers
October 31, 1851
Acapulco
April 1, 1852
Panama/J.M. Dow
March 5, 1853
Panama/Cropper
April 25, 1860
Panama/Wm. H. Hudson
George Raynes
Clipper Ship
February 18, 1853
Boston/Penhallow
Gloucester
Barque
1850?
Sydney, Australia/Tardiff
SS Gold Hunter
° 1849: Launched in New York
° 1851: Vanderbilt's Independent Line
° 1852: U.S. Government
° 1860: California Oregon & Mexico SS Company
° 1870: Wrecked
April 29, 1850
Panama/Kenney Couillard
150 passengers
November 19, 1850
Acapulco June 12, 1851
Panama/J.T. Mott
October 25, 1851
Nicaragua/Thompson
December 1851
Nicaragua/Bodfish
January 2, 1852
Nicaragua/Bodfish
200 passengers
SS Golden Age
° 1853: Launched in New York
° 1854: Pacific Mail SS Company
° 1875: Mitsubishi Mail SS Company
October 16, 1854
Panama/Dow
December 18, 1854
January 29, 1854
March 28, 1855
June 30, 1855
September 12, 1855
November 29, 1855
January 15, 1856
Panama/James T. Watkins
851 passengers, 8 horses
March 14, 1854
May 22, 1856
July 14, 1856
August 28, 1856
October 14, 1856
Panama/James T. Watkins
December 1, 1856
April 12, 1857
May 29, 1857
July 31, 1854
September 14, 1857
November 17, 1857
Panama/W.F. Lappidge, Esq.
February 26, 1858
Panama
June 16, 1862
Panama/F.R. Baby
September 17, 1862
Panama/F.R. Baby
January 15, 1863
Panama
February 28, 1863
Panama
April 6, 1863
Panama
May 10, 1863
Panama
June 29, 1863
Panama
July 8, 1868
San Francisco to New York
with a ship loaded with gold
SS Golden City
° 1863: Launched by William H. Webb, New York
° 1863: Pacific Mail SS Company
° 1869: Wrecked
1863-1869
Panama
SS Golden Gate
2200 tons
° 1851: Launched by William H. Webb, New York
° 1851: Pacific Mail SS Company
° 1862: Wrecked

January 9, 1852
Panama/C. P. Patterson
February 26, 1852 (Departure)
Panama/C. P. Patterson, U.S.N.
May 21, 1852
Panama/C. P.Patterson, U.S.N.
1,050 passengers
August 19, 1852
Panama
170 passengers and the 4th U.S. Infantry
84 died on board from cholera
April 16, 1853
Panama
700 passengers
May 2, 1853
Departure to Panama
C. P. Patterson
June 1, 1853
Panama
800 passengers
120 ladies/50 children
July 18, 1853
Panama/C. P. Patterson, U.S.N.
300 passengers
November 16, 1853
Panama/J. B. G. Isham
January 23, 1854
Panama/J. B. G. Isham
750 passengers
Went ashore off San Diego
May 17, 1854
Panama
June 14, 1854
Panama
July 30, 1854
Panama/Watkins
November 13, 1854
Panama
April 12, 1855
May 30, 1855
October 16, 1855
February 14, 1856
Panama/A.V.H. Leroy
April 13, 1856
June 15, 1856
November 14, 1856
January 15, 1857
March 2, 1857
April 29, 1857
June 15, 1857
December 15, 1857
January 28, 1858
May 31, 1862
Panama/Pearson
July 27, 1862
Panama/Pearson: WRECKED!

SS Goliah
Around the Horn in 1851
January 21, 1851
New York/Thomas
January 23, 1854
From the wreck of the Golden Gate
Governor Morton

Via Cape Horn

July 15, 1852
New York/Burgess
108 passengers
SS Hermann
° 1849: Launched in New York for Ocean Steam Navigation Co.
° 1857: California, New York & European Steamship Co.
° 1859: Captain George Wright
° 1862: M.O. Roberts' People's Line
° 1866: Pacific Mail Steamship Co.
January 30, 1863
Panama/Johnson
Hong Kong Maru

Via the Sandwich Islands

March 23, 1900
The Orient
200+ Passengers
August 14, 1906
The Orient/Captain Ernest Bent
Illinois
2200 tons
° Pacific Mail Steamship Company, 1851
SS Independence
800 tons
° 1850: Launched in New York
° 1851: Vanderbilt Nicaragua Line
° 1853: Wrecked February 16, 1853 on Santa Margarita Island with a great loss of life.

July 11, 1851
Panama/Tibbits
September 17, 1851
Nicaragua/Wakeman
55 passengers
January 8, 1852
Nicaragua/T.D. Lucas
250 Passengers
February 24, 1852
Nicaragua/T.D. Lucas
350 Passengers
April 10, 1852
Nicaragua/T.D. Lucas
July 12, 1852
Nicaragua/T.D. Lucas
225 passengers
November 12, 1852
Nicaragua/T.D. Lucas
January 8, 1853
Nicaragua/T.D. Lucas
February 16, 1853
Nicaragua/Sampson
Wrecked on Margarita Island
300 passengers and crew lost

Ino
Clipper Ship

July 12, 1852
New York
117 passengers

SS Isthmus

600 tons

° 1847: Launched in New York
° 1847: U.S. Navy
° 1850: George Law Line
° 1851: Pacific Mail SS Company
° 1854: Wrecked

May 4, 1850
Panama/Hitchcock
241 passengers: 228 males, 11 females, 2 children
July 12, 1850
Panama/Hitchcock
280 passengers
September 15, 1850
Panama/Hitchcock
November 8, 1850
Panama/Ottinger
February 5, 1851
Panama
April 9, 1851
Panama/Ottinger
86 passengers
June 6, 1851
Panama/Ottinger
September 26, 1851
Panama/Ottinger
January 14, 1852
Panama/Harris
April 15, 1852
Panama/Harris
March 14, 1853
Panama/Harris
275 passengers
September 30, 1853
Panama/Hitchcock
List not located

SS Japan



March 18, 1871
China and Japan/Warsaw
Kingston

Type of ship not listed

March 7, 1850
Panama/Luscomb
August 14, 1850
Panama/Luscomb
SS John L. Stephens
° 1853: Pacific Mail Line

April 4, 1853
East Coast
June 19, 1853
Panama/R. H. Pearson
501 passengers/74 ladies, 41 children
December 16, 1853
Panama/R. H. Pearson
December 16, 1853
Panama/R.H. Pearson
309 passengers
April 3, 1854
Panama/R. H. Pearson
1,000 passengers
May 18, 1854
Panama/R. H. Pearson
701 passengers
119 women/72 children
July 1, 1854
Panama
October 2, 1854
Nicaragua/R. H. Pearson
700 passengers
165 ladies/96 children
February 14, 1868


SS Lewis
° 1852: Vanderbilt Nicaragua Line
° April 9, 1853: Wrecked on Duxbury Reef north of Bolinas
July 7, 1852
New York/Baker
653 passengers/36 died from Cholera
January 4, 1853
Nicaragua/Sheppard
480 passengers:
73 ladies; 63 children
April 9, 1853
Nicaragua

Lysa
° Brazilian owned.
Type of ship not listed. All passengers from South America.
January 2, 1852
Valparaiso, Chile/Barbazan

Magellan

A Ship with details of the voyage from Valparaiso in a letter from the Captain.
January 11, 1853
France/L. Cazalis
270 passengers

Margaret
Brig. Ownership unknown.

May 15, 1852
Panama/Hallahan
Maria
Barque

October 12, 1849
Sydney, Australia
Martha
Barque. Ownership not listed. All passengers from South America.
September 21, 1851
Valparaiso, Chile/Myrick
Meteor
Part of the Deep Sea Derby Race around the Horn
March 10, 1853
Boston, Massachusetts/Pike
11 passengers

Moana

New South Wales

June 30, 1897
New South Wales/Carey
SS Montana
° 1865: Launched in New York
° 1865: Pacific Mail SS Company
1866-1869
Panama
SS Monumental City
800 tons
° 1850: Launched at Baltimore, Maryland
° 1851: Empire City Line between San Francisco and Panama
° 1852: Chartered by Vanderbilt
° 1853: Australian coastal trade
July, 1851
East Coast
March 4, 1852
Panama/Cressey
400+ passengers
May 17, 1852
Nicaragua/Cressey

SS Moses Taylor
° 1857: Launched by William H. Webb, New York
° 1858: United States Mail SS Company
° 1860: Vanderbilt's Nicaragua Steamship Company
° 1862: People's Line
° 1864: Central American Transit Company
° 1871: William H. Webb Webb's SF-Honolulu-Australia Line
° 1875: Pacific Mail SS Company

November 27, 1862
Nicaragua/Captain Howes
April 20, 1863
Nicar./James H. Blethen, Sr.
June 7, 1863
Nicar./James H. Blethen, Sr.
July 12, 1863
Nicar./James H. Blethen, Sr.
August 21, 1863
Nicar./James H. Blethen, Sr.
November 8, 1863
Panama/James H. Blethen, Sr.
800 passengers
December 20, 1863
Nicar./James H. Blethen, Sr.
May 25, 1864
Nicar./James H. Blethen, Sr.
September 28, 1864
Nicaragua/James H. Blethen, Sr.
October 19, 1864
To Nicaragua/James H. Blethen, Sr.
May 23, 1865
Panama/James H. Blethen, Sr.
September 17, 1865
Nicar./James H. Blethen, Sr.
November 22, 1865
Nicar./James H. Blethen, Sr.
January 15, 1866
Nicar./James H. Blethen, Sr.
March 18, 1866
Nicar./James H. Blethen, Sr.
September 18, 1866
Nicar./James H. Blethen, Sr.
November 7, 1866
Nicar./James H. Blethen, Sr.
Large passenger list
December 22, 1866
Nicar./James H. Blethen, Sr.
No passengers
September 5, 1867
Nicar/James H. Blethen, Sr.
Passengers and Troops
February 15, 1868
Nicar./James H. Blethen, Sr.
March 25, 1868
Nicar./James H. Blethen, Sr.
402 passengers
May 8, 1868
Nicar./James H. Blethen, Sr.
526 passengers
March 20, 1873
Honolulu/James H. Blethen, Sr.

SS Nevada
° 1865: Launched in New York as the Paou Shan
° 1866: William H. Webb, renamed Nevada
° 1867: North American SS Company
° 1871-73: Webb's SF-Honolulu-Australia Line
° 1874: Pacific Mail SS Company
° 1875: Mitsubishi Mail SS Company

December 1871
Auckland to Sydney
Passengers and Crew

SS New Orleans
1200 tons
° 1848: Launched in New York
° U.S. Government
° 1850: Empire City Line. Purchased by Mr. Rolston of the firm of Garrison & Fretz at auction in Panama on July 12, 1851 for $50,000. Sent to San Francisco August 15th. Route: San Francisco and Panama, touching at Acapulco.
° 1852: Chartered by Vanderbilt
° 1853: Melbourne Steam Packet Company. Renamed "Governor General"
° 1861: Sold to owners in China
September 24, 1850
New York/Wood
December 11, 1850
Panama/Wood
March 6, 1851
Panama/Wood
May 3, 1851
Panama/Wood
September 19, 1851
Panama/Ralston
200 passengers
March 5, 1852
Panama/Hammersly
December 15, 1852
Panama/Wakeman
SS New World
Ownership unknown. Came around the Horn with 217 passengers from New York, Tennessee, Ohio, Maryland, Masachusetts, Pennsylvania, Vermont, Connecticut, Texas.

July 11, 1850
New York/Wakeman
217 passengers
SS North America
1,250 tons
° 1850: Launched in New York
° 1850: Norwich & New London Steamboat Co.
° 1851: Vanderbilt Independent Line; around the Horn in September 1851
° February 28, 1852: A Total Loss
October 2, 1851
New York/James H. Blethen, Sr.
November 28, 1851
James H. Blethen, Sr.
January 18, 1852
James H. Blethen, Sr.
February 28, 1852
Nicaragua/James H. Blethen, Sr.

SS Northern Light
° 1851: Launched in New York
° 1851: Vanderbilt's Nicaragua Line
° 1857: US Mail SS Company
° 1862: U.S. War Department
° 1867: New York & Bremen SS Company
1852-1856
Panama
June-July, 1863
New York
Northern Light
° 1851: Clipper Ship built for James Huckins
Jan-Feb, 1852
Boston/Bailey Loring
May 25, 1852
Acapulco/Bailey Loring
320 passengers
February 23, 1853
Boston/Freeman Hatch
SS Northerner

1200 tons

° 1847: Launched in New York
° 1850: Empire City Line
° 1850, 1851: Pacific Mail SS Company
° 1860: Wrecked

August 15, 1850
Panama/Waterman
October 22, 1850
Panama/H. Randall
December 29, 1850
Panama/H. Randall
May 5, 1851
Panama/H. Randall
July 7, 1851
Panama/H. Randall
300 passengers
September 7, 1851
Panama/H. Randall
350 passengers
January 1, 1852
Panama/H. Randall
May 25, 1852
Acapulco/Loring
August 28, 1852
Panama/J.B.G. Isham
250 passengers/184 Troops
March 23, 1853
Panama/J.B.G. Isham
443 passengers
September 7, 1853
Panama/J.B.G. Isham
200 passengers
Ocean Queen
° 1857: Launched in New York
° 1857: Morgan & Garrison's San Francisco-Nicaragua Service
° 1858?: Vanderbilt
° 1861: U.S. War Department
° 1865: Pacific Mail SS Company
Jan-Feb, 1852
Boston/Bailey Loring
May 25, 1852
Acapulco/Bailey Loring
320 passengers
February 23, 1853
Boston/Freeman Hatch
SS Oregon

2,335 ton, 13 speed Iron steamship

Between San Francisco and Panama and Intermediate ports

° 1848: Launched in New York
° 1848, 1849, 1850, 1851: Pacific Mail SS Company
° 1861: Holladay and Flint

April 1, 1849
New York/Pearson
250 passengers
August 18, 1849
Panama/Patterson
December 1, 1849
Panama/Pierson (should be Pearson)
Friday, February 23, 1850
Panama/Patterson
Monday, May 20, 1850
Panama/Patterson
July 20, 1850
Panama/Patterson
317 passengers/6 ladies
October 18, 1850
Panama/Patterson
January 21, 1851
Panama/R.H. Pearson
100 passengers
April 3, 1851
Panama/R.H. Pearson
June 19, 1851
Panama/R.H. Pearson
August 3, 1851
Panama/R.H. Pearson
September 18, 1851
Panama/R.H. Pearson
225 passengers
February 11, 1852
Panama/R.H. Pearson
April 7, 1852
Panama/R.H. Pearson
September 6, 1852
280 passengers
August 5, 1853
Panama/Captain Leroy
250 passengers
October 12, 1853
Panama
May 4, 1854
Panama/W.H. Hudson
640 passengers
December 18, 1862
Mazatlan/Edgar Wakeman
Monday, January 26, 1863
Mazatlan/Edgar Wakeman
Saturday, June 6, 1863
Mazatlan/Edgar Wakeman
Oregonian
° 1866: Launched in New York
° 1867: North American SS Company
° 1868: Pacific Mail SS Company
1867-1868
Panama
SS Orizaba

1,244 ton 8-speed, side-wheel steamship

° 1854: Launched in New York
° 1856: Vanderbilt's Nicaragua Line
° 1858: New York & California SS Company
° 1860: Pacific Mail SS Company
° 1865: California Steam Navigation Co.
° 1872: Pacific Mail SS Company
° 1875: Goodall, Nelson and Perkins
° 1887: Scrapped

October 30, 1856
New York/Captain Tinklepaugh
November 20, 1856
To Nicar./James H. Blethen, Sr.
800 passengers, including Lola Montez
January 20, 1857
To Nicar/James H. Blethen, Sr.
April 21, 1857
Nicara & Panama/J. H. Blethen, Sr.
April 5, 1859
Nicar./James H. Blethen, Sr.
June 5, 1859
Nicar./James H. Blethen, Sr.
July 28, 1859
Nicar./James H. Blethen, Sr.
September 11, 1859
Nicar./James H. Blethen, Sr.
October 29, 1859
Nicar./James H. Blethen, Sr.
601 passengers
December 15, 1859
Nicar./James H. Blethen, Sr.
450 passengers
October 17, 1862
Panama
May 9, 1863
Panama
June 19, 1863
Panama
July 31, 1863
Panama/E. S. Farnsworth
September 9, 1863
Panama/Capt. E. S. Farnsworth

Pacific
American ship

August 5, 1849
New York/George T. Estabrooks
SS Pacific
1,000 tons
° 1850: Launched in New York
° 1850: US Mail SS Company
° 1858: Merchants Accommmodation Line
° 1867: Holladay & Brenham
° 1872: Pacific Mail SS Company
° 1875: Goodall, Nelson & Perkins
° 1875: Wrecked

July 2, 1851
Panama/Bailey
August 30, 1851
Panama/Lucas
110 passengers
October 16, 1851
Nicaragua/John Bodfish
December 9, 1851
Nicaragua, Jarvis
February 5, 1852
Nicaragua/Nathaniel Jarvis
March 26, 1852
Nicaragua/LeFevre
May 13, 1852
Nicaragua/Lafevre
400 passengers
January 17, 1853
Nicaragua/LeFevre
March 7, 1853
Nicaragua/Seabury
June 13, 1853
Nicaragua and Panama
317 passengers
50 ladies/28 children
October 31, 1853
Nicar./James H. Blethen, Sr.
500 passengers
November 16, 1853
to San Juan/James H. Blethen
December 17, 1853
Nicar./James H. Blethen, Sr.
638 passengers
May 4, 1854
Nicaragua/Seabury
663 passengers
152 ladies/65 children
October 2, 1854
Nicaragua/Seabury
533 passengers
132 ladies/103 children
July 2, 1855
Nicaragua
485 passengers
93 ladies/58 children
August 8, 1858
Victoria/Captain Haley
September 9, 1858
Victoria/Captain Haley

SS Panama
1087 tons
° Pacific Mail SS Company, 1851
° Holladay and Flint

June 6, 1849
Panama
August 23, 1849
Panama/Bailey
325 passengers
Monday, January 21, 1850
Panama/Bailey
300 passengers
12 ladies
April 22, 1850
Panama/Bailey
July 6, 1850
Panama/Bailey
286 passengers
September 22, 1850
Panama/Bailey
January 2, 1851
Panama/James Watkins
March 21, 1851
Panama/James Watkins
June 1, 1851
Panama/James Watkins
August 19, 1851
Panama/James Watkins
November 4, 1851
Panama/James Watkins
February 3, 1852
Panama/James Watkins
484 passengers
April 1, 1852
Panama/James Watkins
January 11, 1853
Panama/W.H. Hudson
May 5, 1853
Panama/W.H. Hudson
350 passengers
June 29, 1853
Panama/Hudson, U.S.N.
August 19, 1854
Panama/McLane

Panama
Barque
March 4, 1853
Panama/Henly
70 passengers

Peru
658 tons.
° Pacific Company
(Panama and Valparaiso)
SS Peytona


September 25, 1854
Honolulu/Simpson
SS Pioneer
° Vanderbilt Nicaragua Line, 1852
Wrecked prior to arriving in San Francisco. Loss of 20 lives.
August 1852
New York

Queen of the East
Clipper
September 9, 1852
New York/Captain Bartlett
76 passengers
Queen of the Seas
Clipper
Part of the Deep Sea Derby Race around the Horn
March 11, 1853
Boston/Elias D. Knight
76 passengers
SS Republic

1200 tons

° 1849: Launched at Baltimore, Maryland
° 1849: Baltimore Steam Packet Co.
° 1850: Howland & Aspinwall
° 1850: George Law
° 1851: Pacific Mail SS Company
° 1861: Holladay & Flint

August 21, 1850
Panama/W.H. Hudson
405 passengers
October 31, 1850
Panama/W.H. Hudson
January 23, 1851
Panama/W.H. Hudson
April 19, 1851
Panama/W.H. Hudson
June 24, 1851
Panama/W.H. Hudson
October 6, 1851
Panama/W.H. Hudson
February 6, 1852
Panama/W.H. Hudson
SS San Francisco
1000 tons
1851: Vanderbilt's Independent Line: Route between San Francisco and San Juan del Sud, Nicaragua
°
SS Sarah Sands

1500 tons

° Sands and Company
° Empire City Line
° Pacific Mail SS Company, 1851

June 5, 1850
New York/W.C. Thompson
September 7, 1850
Panama/Thompson
December 17, 1850
Panama/W. Ilsley
April 10, 1851
Panama/Ilsley
July 1, 1851
Panama/Ilsley
49 passengers
Saratoga
Seven months at sea from New York to San Francisco

July 30, 1850
New York/Trask
SS Sea Bird

500 tons
Brought around the Horn for use on the Sacramento River.
° 1851: Vanderbilt's Independent Line. Route between San Francisco and San Juan del Sud, Nicaragua, touching at Acapulco.
July 31, 1851
New York/Williams
74 passengers
Barque Selma
A Mining Company Ship. Around the Horn in 1849
October 6, 1849
Sellew, New York

SS Sierra Nevada
° 1851: Launched in New York
° 1852: Empire City Line
° 1853: Vanderbilt Nicaragua Line
° C.K. Garrison
° 1860: Pacific Mail SS Company
° 1861: Holladay & Brenham
° 1869: Wrecked
March 23, 1853
Nicaragua/James H. Blethen, Sr.
450 passengers
May 7, 1853
Nicaragua/James H. Blethen, Sr.
500 passengers (estimate)
May 16, 1853
To Nicara/James H. Blethen, Sr.
June 16, 1853
Nicaragua/James H. Blethen, Sr.
400 passengers
July 1, 1853
James H. Blethen, Sr.
Cleared SF on July 1, 1853 for San Juan del Sur
342 passengers
July 31, 1853
Nicar./James H. Blethen, Sr.
400 passengers
September 15, 1853
Nicar./James H. Blethen, Sr.
November 17, 1853
Nicara/C. H. Baldwin, Commander
February 18, 1854
Nicar./James H. Blethen, Sr.
927 passengers
April 3, 1854
Nicaragua/James H. Blethen, Sr.
May 20, 1854
Nicarragua/James H. Blethen, Sr.
July 2, 1854
Nicaragua/James H. Blethen, Sr.
August 14, 1854
Nicarragua/James H. Blethen, Sr.
October 16, 1854
Nicarragua/James H. Blethen, Sr.
November 21, 1854
Nicarragua/James H. Blethen, Sr.
January 7, 1855
Nicar./James H. Blethen, Sr.
February 22, 1855
Nicar./James H. Blethen, Sr.
April 9, 1855
Nicar./James H. Blethen, Sr.
500 passengers
May 26, 1855
Nicar./James H. Blethen, Sr.
664 passengers (84 children)
July, 1855
Nicar./James H. Blethen, Sr.
Chloera!
October 21, 1855
To Nicaragua/James H. Blethen, Sr.
With well-armed military.
January 4, 1856
Nicar/James H. Blethen, Sr.
315 passengers
March 29, 1857
Nicar./James H. Blethen, Sr.
600 passengers
Sir Charles Napier

British Ship

May 21, 1852
Panama/Captain Webster
18 cabin/156 steerage
36 deaths
SS Sonora
° 1853: Launched in New York
° 1853: Pacific Mail SS Company
May 31, 1854
New York
July 15, 1854
Panama
August 21, 1854
Panama/Whiting
315 bags of mail from
New York
November 1, 1854
Panama
291 bags of mail from
New York
December 30, 1854
268 bags of mail from
New York
March 2, 1855
286 bags of mail from
New York
May 1, 1855
333 bags of mail from
New York
June 16, 1855
306 bags of mail 26 days
from New York
August 18, 1855
326 bags of mail 29 days
from New York
October 19, 1855
January 30, 1855
March 28, 1856
June 1, 1856
July 29, 1856
September 16, 1856
November 1, 1856
December 16, 1856
January 30, 1857
March 17, 1857
June 30, 1857
August 14, 1857
October 1, 1857
November 30, 1857
May 6, 1861
Panama/F.R. Baby
January 25, 1863
Panama/W.F. Lapidge
March 11, 1863
Panama
April 18, 1863
Panama
SS St. Louis
° Pacific Mail Steamship Company
January 4, 1863
Panama
February 16, 1863
Panama
Friday, July 9, 1863
Panama/Wm. H. Hudson
February 16, 1863
Panama
March 28, 1863
Panama/Farnsworth
November 8, 1863
Panama
SS Tennessee

1300 tons

° 1848: Launched by William H. Webb in New York
° 1848: Savannah Steam Navigation Co.
° 1849, 1850, 1851: Pacific Mail SS Company
° March 6, 1853: Wrecked off the Headlands of San Francisco Bay

Sunday, April 14, 1850
New York/Cole
551 passengers
June 20, 1850
Panama/Cole
487 passengers
September 4, 1850
Panama/Cole
November 7, 1850
Panama/Cole
65 passengers
January 8, 1851
Panama/Cole
March 4, 1851
Panama/L. Totten
May 20, 1851
Panama/George M. Totten
July 20, 1851
Panama/George M. Totten
October 17, 1851
Panama/Lt. George M. Totten
March 16, 1852
Panama/Lt. George M. Totten
May 10, 1852
Panama/Lt. George M. Totten
640 passengers
July 11, 1852
Panama/George M. Totten
11 deaths from cholera
January 19, 1853
Panama/Lt. George M. Totten
443 passengers
March 6, 1853
Panama/Mellus
Her last trip: Wrecked off the Heads
SS Uncle Sam
° 1852: Launched
° 1853: New York & San Francisco Line/C.K. Garrison
° November 1859: Vanderbilt Nicaragua Line
March 20, 1854
Panama/W.A. Mills
June 1, 1854
Panama/W.A. Mills
980 passengers
July 30, 1854
Mills/Panama
SS Unicorn

600 tons

° 1838: Launched
° 1840-1851 (+?): Pacific Mail SS Company

Tuesday, February 5, 1850
Panama/George S. Porter
August 22, 1852
Panama
226 passengers
SS Union


April 2, 1851
Panama/Marks
June 26, 1851
Panama/Marks

Whiton
American Bark
April 12, 1849
New York/Gelston
Wild Ranger
Clipper
February 15, 1856
Boston/Sears
Whirlwind
Part of the Deep Sea Derby Race around the Horn
March 11, 1853
Boston, Massachusetts/Burgess
14 passengers

William Melville
219 ton English bark
July 28, 1850
Tasmania/George Thomas
SS Winfield Scott
° 1850: Launched
° New York & San Francisco SS Line
° 1852: Independent Line
° March 1853: New York & California SS Line
° July 1853: Pacific Mail SS Company
° December 2 1853: Wrecked - Total Loss
April 28, 1852
Panama
700 passengers
June 16, 1852
Panama
600 passengers/85 ladies
December 31, 1852
Panama/E. Dunn
September 2, 1853
Panama/Lt. S.F. Blunt
144 passengers
December 2, 1853
Shipwreck Going South
SS Yankee Blade
° 1853: Launched
° 1853: Independent Opposition Line
° 1854, October 1: Wrecked
May 4, 1854
Randall/Panama
793 passengers
June 1, 1854
Panama/Henry Randall
July 1, 1854
Panama/Henry Randall
August 31, 1854
Panama/Henry Randall
October 1, 1854
Panama/Henry Randall
Shipwreck