Passengers arriving at the Port of San Francisco
---
SS Northerner
Arrive San Francisco
September 7, 1851
SS Northerner
Captain Randall
From Panama
Passage
Daily Alta California, September 8, 1851


From Our Extra of Yesterday.
ARRIVAL OF THE
STEAMSHIP NORTHERNER
Nine Days Later from the Atlantic States.
Accident to the Northerner.
A Special U.S. Government Agent dispatched to Mexico in relation to the Tehuantepec Treaty.
LOPEZ SAILED FOR CUBA!
Revolution in Quayaquil!

The P.M.S.S. Northerner, Capt. Randall, arrived in our harbor this morning at five o'clock, bringing dates from New Orleans to the 6th of August, and from Liverpool to the 26th of July.
She has brought 350 passengers, a list of whom will be found below; and also a large mail.
We are indebted tot he kindness of J.R. Mayer, the purser of the Northerner, for a list of her passengers, a report of her trip, and other items of interest, which will be found below.
Our acknowledgements are also due to Adams & Co. for the early delivery of papers and our correspondence.
By this arrival we have nine days later intelligence (August 6), from the Atlantic States, via Vera Cruz, Mexico and Acapulco, and the dates from Europe are to 26th July.
The steamer Northerner met with a very serious accident soon after leaving Panama, having broken the shaft of her starboard wheel, and she was therefore forced to run nearly the whole distance with one wheel. Capt. Randall has certainly displayed great courage, coolness and seamanship in thus successfully and quickly performing this long voyage under such unfortunate circumstances. For this reason she has been twenty-two days in making the run.
It is stated by gentlemen who have arrived in the Northerner, that the mutineers from the Commodore Stockton, and the balance of the gang of robbers not taken when their colleagues were on the Isthmus, by the Vigilance Committee of Panama, all came passengers in the Northerner, and were so disorderly during the trip as to require from the officers the strongest measures to keep them down, one of them having been put in irons by the captain. Their case will recommend itself strongly to the Vigilance Committees of California. The mountains of New Grenada afford a securer shelter for rogues and rascals than the wildest region of this State, just at this time.
The following memoranda has been furnished us by the Purser:
August 15th, at 4 P.M., sailed from Panama, with three hundred and fifty passengers, and twenty tons of freight. August 18th, at 9 A.M., five hundred miles from Panama, and in the vicinity of Cape Blano, broke the starboard shaft, close to the inner flange. Breaking it at that precise point allowed the engine to turn the larboard wheel with as much ease and facility as before the accident. Owing to the indefatigable exertions of Mr. Killduff, the first engineer, and his able assistant, in seven hours the ship was under way with one wheel, and running eight miles an hour. The starboard wheel was secured in its place by chains, and the lower sections taken off, so as to leave no drag in the water. Capt. Randall then determined to proceed on his voyage; his long experience in steaming enabling him to judge of the perfect safety and practicability of doing so. August 24 at 6-1/2 A.M., anchored in Acapulco, in a little over one day longer than usual. Found steamship Republic coaled and provisioned waiting for water; she sailed at 4 P.M., same day; California arrived at 7 A.M., on the 25th and sailed on the 26th; crew and passengers all well on both ships. Northerner sailed on the 26th, at 7 P.M. Sloop of war Vandalia was laying at Acapulco waiting orders from Washington.

Sept. 3d, at 2 A.M., arrived at San Diego and left at 7 o'clock, A.M. Steamer Tennessee arrived at 6 o'clock, A.M., and was at anchor when we sailed. Sept. 6th, at 8 A.M., arrived at Monterey and sailed at 3 P.M. Sept. 7th, arrived at 5 A.M., making the run of 3,000 miles in twenty days; a much great distance than has ever before been performed by a crippled steamer . . .
Cargo
Consignees: J.W. Gregory, E.J. Moor, J.J. Dhauviteau & Co., Rosseet, Ausser & Co., B. Davidson & May, A. Fredenburg, M. Colman, G. Molina, Adams & Co., Berford & Co., Julius Steel, C. Bertrand, Simonsfield, Bach & Co., Dodge & Co.
Passengers
Abbott, J.
Alcayde, J. and lady
Almond, J.G. and lady
Bartol, A.
Behn, E.
Belding, C.C.
Belding, J.W.
Bell, L.
Berlin, Mr. and Mrs.
Bertrand, C.
Birely, J.
Black, R.H.
Blakie, J.L.
Blenne, J.W.
Bowen, G.B.
Brooks, Miss
Caldwell, J.
Caldwell, lady and child
Carrington, J. and lady
Chapin, J., U.S.M.A.
Coghill, J. Warren
Colmar, ?
Crosby, A.B.
Curtis, C.W.
Davenport, A.
Eden, H.M.
Fegernand, Mrs. and two children
Ferte, Mrs.
Fiske and lady
Fiske, G.S.
Garrick, ?
Geltis, J.L. and lady
Giraud, Mrs.
Graham, Mrs. James S., three children and servant
Hall, E.
Hambleton, T.E.
Hangay, ?
Haws, H.
Hellman, ?
Hippell, Miss
Hoyt, F.
Jacobs, Mrs. H.R.
Keilson, Wm.
Kindler, G.
Kopp, Mrs.
Krupp, F.
Lanmaster, Mrs. and child
Lissack, ?
Lynch, J.
Madeen, Mrs. and child
Mahary, Dr.
Martin, Mr. and lady
McKensie, Mrs.
McKiggin, H.
McLeod, Dan
Mentehajen, ?
Messenger, Mrs. and child
Murphy, Jac (Note: Letter seems to be missing, so this may be Jack Murphy)
Neil, H. M.
Nichols, D.
Parker, J. R.
Perkins, ?
Perkins, T. M.
Prank, O. H.
Robinson, W.
Savage, J. E.
Tich, J.S.
Van Winkle, Mrs. and servant
Vaughan, H.S.
Wakeman, Col. A.C., lady and two servants
Winant, S.
Woodruff, J.
Woodworth, ?
Yoell, ?
206 in the steerage
~ ~ ~ ~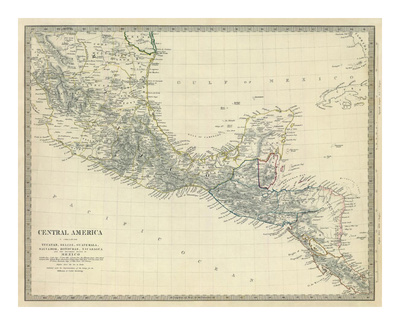 Central America, Southern Mexico, c.1842
Reproductions available by clicking on the image.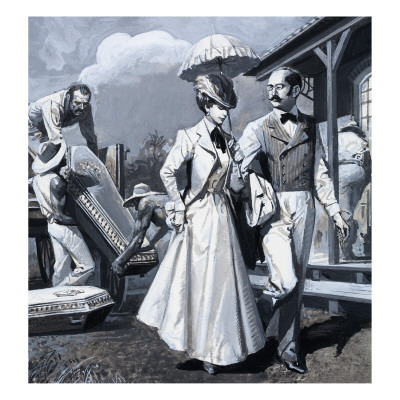 The passage across the Isthmus of Panama from Eastern Seaboard ships to West Coast Ships bound for San Francisco
Prints available by clicking on the image.