Passengers arriving at the Port of San Francisco
---
SS John L. Stephens
Arrive San Francisco
May 18, 1854
SS John L. Stephens
Captain R. H. Pearson
From Panama
Passage
Passage: Daily Alta California, May 19, 1854
ARRIVAL OF THE J. L. STEPHENS
IMPORTANT FROM EUROPE.
DECLARATION OF WAR.
England and Russia in the Fields.
ADMIRAL NAPIER'S ADDRESS TO HIS FLEET.
THE ALLIED FLEET IN THE BLACK SEA.
THE REVOLUTION IN SPAIN.
NEW TREATIES BETWEEN ENGLAND AND
THE UNITED STATES.
Terrible Shipwrecks and Loss of Life.
GADSDEN TREATY REJECTED BY THE SENATE.
Congressional Matters, c&c.
The P. M. steamer John L. Stephens, R. L. Pearson, Commander, arrived at an early hour yesterday morning from Panama, bringing a large number of passengers, and the Atlantic mails to the 20th of April.
The Stephens made an unusually long passage, owing to the bad quality of coal in use.
The latest advices from New York are to the 20th, and New Orleans 22d of April, and from Liverpool to the 8th of April.
We are indebted to the politeness of Capt. Pearson for stopping his ship for our reporter, and to Mr. Goddard, Purser, for his attentions, and for the following memoranda and list of passengers:


Memoranda.
The Pacific Mail steamship John L. Stephens, R. H. Pearson, Esq., Commander, left Panama, with the United States mails of April 20th and 22d, and 701 passengers, of whom 119 were women and 72 children, on Wednesday, May 3d, at 9 P. M., having been detained until that time in consequence of the non-arrival at Aspinwall of the steamship Falcon. With U. S. Troops from New York, April 18th.
The work upon the railroad is progressing rapidly, and its early completion through to Panama is confidently anticipated. May 9th, 11 A. M., arrived at Acapulco. Found in port steamship Panama, Capt. McLane, hence for Panama. May 1st - all well on board. She left Acapulco at 2 P. M., for Panama. Steamship Columbus, from San Francisco for Panama, left Acapulco on the 6th inst.
On the 29th April Santa Ana raised the blockade and retreated with his forces to the interior, his vessels sailing to the northward. Everything appeared to be perfectly quiet at Acapulco, though serious apprehensions were entertained that he would return with an increased force to take the place. At 5 P. M. left Acapulco; at 9 P. M. saw the lights of a steamer bound down, supposed to be the Cortes, for San Juan. 11th, 3 P. M., passed a propeller, under sail, showing Hamburg colors, apparently an iron vessel, and a fine looking craft. 18th, at 7 A. M., arrived at San Francisco. The J. L. Stephens made an unusually long passage, owing to the very inferior quality of her coal.
Terrible Shipwreck and Loss of Life
A terrible shipwreck occurred on the 15th of April, at Long Beach, nine miles below Barnegat inlet. It was at first supposed that it was the Hamburg ship Humboldt, but this was a mistake, as the Humboldt arrived safely at quarantine on the 20th. The wreck was that of the Powhattan of Baltimore, from Havre, with emigrant passengers. The following telegraphic dispatches from Philadelphia tell the terrible story. It seems by the dispatches that other vessels besides the Powhattan were wrecked:
Philadelphia, April 19th, 1854. - A dispatch received from Capsecum says that up to last night about forty dead bodies - men, women and children - had been washed ashore on the beach about a quarter mile across the channel. Those seen by our informant appear to be Germans. They are all much disfigured however.

Bodies were washed ashore all the time on the Absecon coast.

April 19th, 1854. - A letter received at the Ledger office from Long Beach, dated Monday, states that the ship Powhattan of Baltimore left Havre with emigrants about the 1st of March - she was an old vessel, of about six hundred tons.
Passengers
Abel, A. J., lady and three children, and two servants
Abernethy, Geo.
Arnold, Mrs., and child
Arrington, J. J.
Ashworth, F., wife and child
Berrien, P. R.
Bias, J.
Bittnall, J. R.
Brigham, W. L.
Brobit, J.
Brobk (Brook ?), C. H.
Broderick, Mr.
Broderick, Mrs. J.
Brummer, G., and child
Butwer (Bulwer, Buiwer ?), J.
Clark, J. P.
Clark, Mrs.
Coddington, Mrs., child and servant
Colburn, Mrs., and children
Cooper, J. R.
Cornwell, A.
Countess, A. H.
Creigh, Mrs.
Creigh, Wm.
Crosby, E. C.
Dashed, J.
Davis, G. G.
Day, H. L.
Dean, F. A.
Dougherty, J., and child
Euratiss, J. G.
Evans, Mrs. E., and servant
Evans, O. G.
Farnesworth, J.
Fisher, T. F.
Fitzpatrick, B.
Fitzpatrick
Fitzpatrick
Flannery, Mrs., and son
Forman, C.
Frederick, G.
Fuller, J. W.
Fuller, P.
Fuller, W. P.
Gallaway (Gailaway ?), J. H.
Gardner, G. C.
Gibbets, R. H.
Gilchrist, C. A.
Goodwin, C.
Gossmer, C.
Griffin, H. E.
Grove, L. E.
Gwin, Mrs., three daughters and three servants
Hall, C. N.
Hammond and 3 sisters
Hanover, D.
Hansheit, A. R.
Hardee, A. E.
Hargan, L. W.
Hassey, S. P.
Hastings, Mrs., and son
Haughton, J. F., and lady
Hellman, N. M.
Higgin, C. B.
Hillyer, J.
Hoag, J.
Holmes, N.
Hughes, M.
Hull, H. H.
Hyland, A. J.
Ingoldsby, C. L.
Ingoldsby, Mrs.
Johnson, J.
Jones, Mrs. D. R., and infant
Kelley, G.
Kennedry, E.
Ketchum, F. A., and lady
Knockenberger
Knowlton, M.
Kumsley, L. W.
Lacey, Rev. E. L.
Ladrin, J.
Larkin, A. J.
Lathrop
Lightwood, J., and lady
Lockwood, Mrs. J. R.
Lyndall, Mrs.
McDaniel, Mr., and servant
McDaniels, Mrs. C. C., servant and two children
McLauchlin, W., wife and three children
McLean, Henry
Measure, H.
Miller, Miss A. M.
Minrigg, J. M.
Montgomery, Mrs., and child
Morgan, G.
Morrell, Mr.
Morton, Mrs. J.
Mudgett, John
Murray, H. C.
Mussey, A.
Nichols, Misses
Norris, E. W.
Norton, Henry
Olney, J. N., Jr.
Olney, Mrs. J.N.
Pardee, J.
Parsons, J.
Peterson, G.H.
Piersons, P.R.
Platt, W.
Pray, A.S.
Pray, P.H.
Ravely, Mrs. A.
Ream, J.
Reed, J.
Reeves, Mrs. J.F., and 2 children
Rice, W.
Riley, Mrs., and 4 children
Ritchie, A.
Ritchie, H.
Ritchie, Miss E., and servant
Ritchie, Mrs., and 2 daughters
Ritchie, W.
Rivett, H., and child
Rollins, C. L.
Ross, J. R.
Ross, Mrs. J. G.
Royce, N. J.
Ryan, Miss
Santon, R. A.
Saullemayer, J., wife and child
Shaw
Shelley, J.
Shepard, Mrs., child and two servants
Sherrin, J.
Sherwin, O. M., and wife
Sibley, R.
Slade, Mrs., family and servant
Somnerville, Mrs.
Southworth, Mrs., and daughter
Spang, Mrs., and 3 children
Stephens, Mrs., and child
Stevens, Jas.
Stone, J. H.
Story, Mrs., child and servant
Stowe, A. W., and lady
Strobridge, J. H.
Strong, H.
Tachery
Tachney, J. H.
Tepper, J.
Thompson, C.
Tierre, Mrs.
Timmerman, Mrs., and 2 children
Vamoil, A.
Vandervoort, J. C.
Vaughn, A. J.
Ward, J.
Washburn, M. L.
Waterman, Capt., lady and servant
Waters, J. B.
Webster, Dr. J. D., and lady
Wentworth, H.
Weymouth
Wheaton, Miss
Wheeler, W. I.
White, B. (or E. ?)
White, J. H.
Wilkins, R. A.
Williams, J. A.
Wilson, J.
Wilson, Silas P.
Wiser, A.
Withern, C. C.
Wood, E.
Wood, Mr.
Young, W., and wife
419 others - 119 women and 72 children
~ ~ ~ ~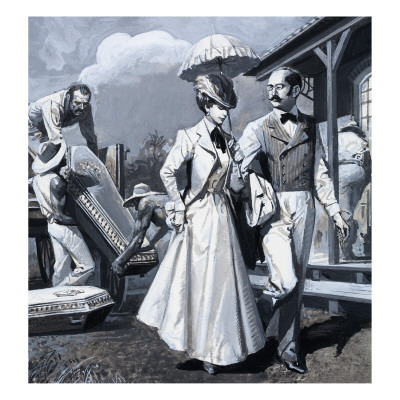 The passage across the Isthmus of Panama from Eastern Seaboard ships to West Coast Ships bound for San Francisco
Prints available by clicking on the image.